Partition glass walls are a popular way for homes and offices to divide their space into areas that can be used for different things. From providing privacy and soundproofing to creating a stylish and modern atmosphere, partition glass walls offer a range of benefits that make them an attractive option for any space.
In this article, we will explore what a partition glass wall is, the reasons why you should consider installing one in your home, and much more. Whether you're looking to improve your home's environment, enhance the aesthetics of your space, or create a functional yet stylish division, you'll find all you need to know about partition glass walls here.
See also: Glass door design trends to take inspiration from
Partition glass wall: What is it?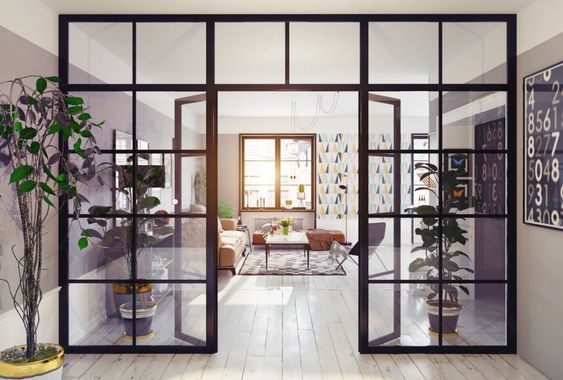 Source: Pinterest
A partition glass wall is a type of architectural element that is made up of vertical glass or glass-like panels. These panels are installed to separate or divide spaces and provide privacy, while still allowing natural light to pass through. Most of the time, the panels are 3/8″ to 1/2″ thick and made of tempered glass. They are attached to different surfaces with U-channel or clamps.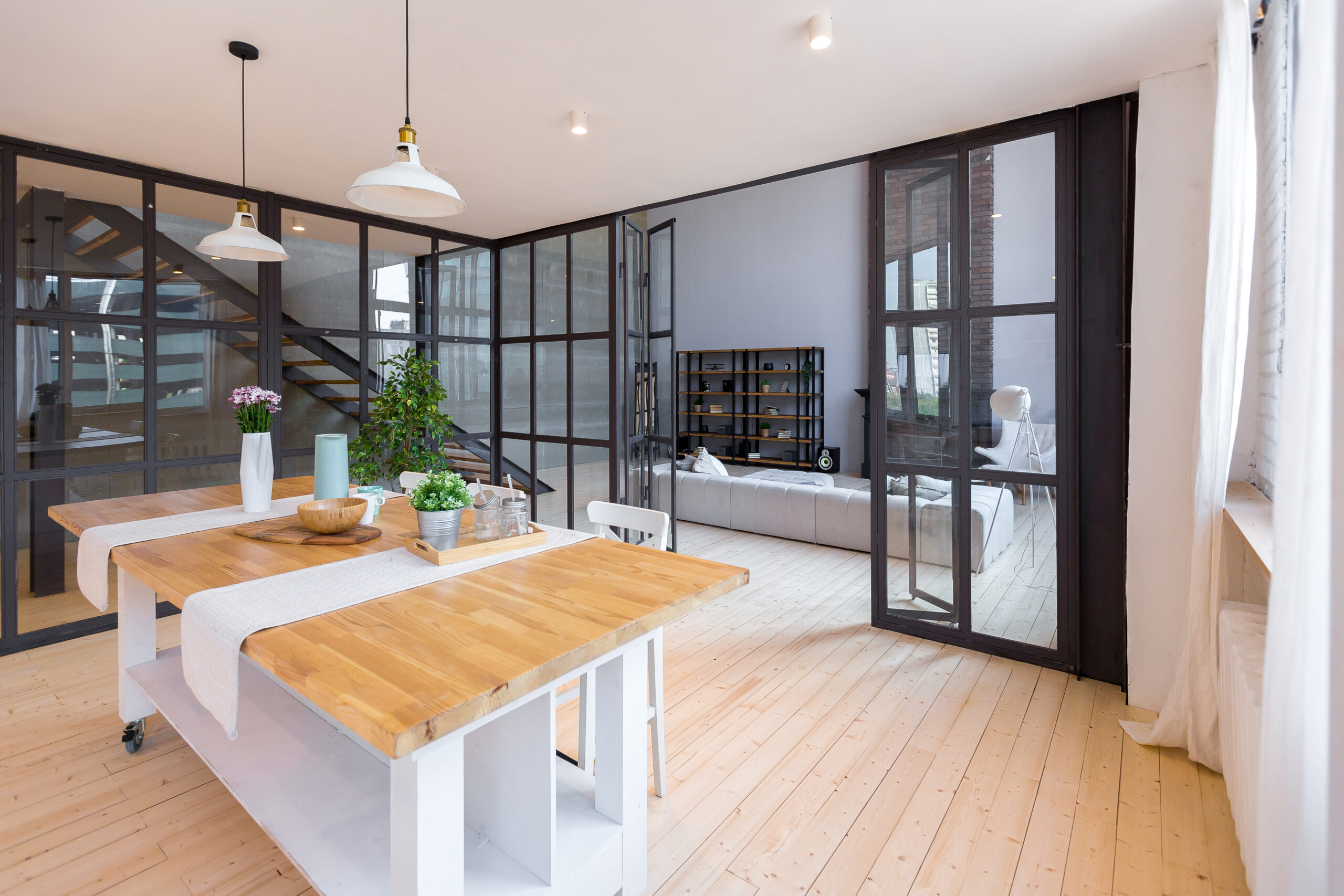 Partition glass walls can be changed in size, number of panels, angle, and whether they have a door or not. This makes them flexible and easy to use in a variety of settings. They are often used in homes, offices, bathrooms, and other places to make new rooms or change the layout of existing ones. Professionals install them to make sure they are made and installed correctly.
Partition glass wall: Glass options
The ability to change and personalise this piece of architecture is made possible by the use of glass walls. The following categories make up the types of glass that are most often used:
Clear glass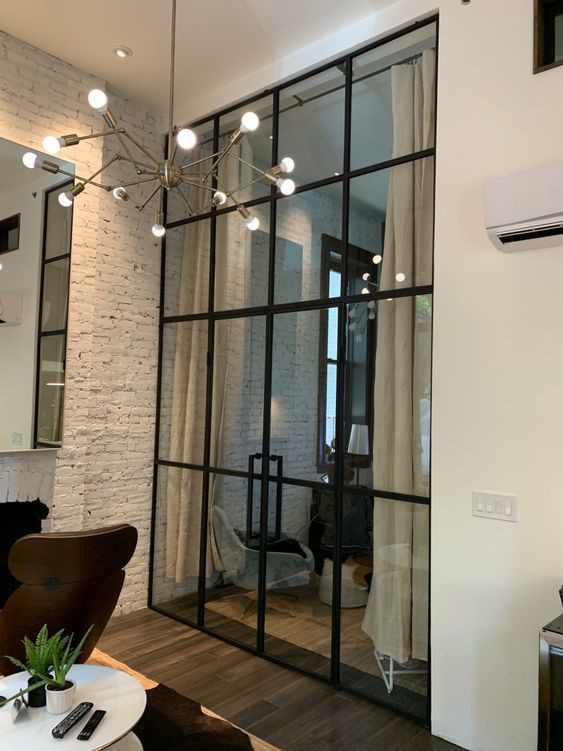 Source: Pinterest
Clear glass is a popular choice for partition glass walls due to its transparency. It is made of tempered glass and allows natural light to pass through while dividing spaces, creating a clear line of demarcation between separate areas. Clear glass is often used in homes to create separate rooms within a larger living space or to turn a portion of the living room into a home office, toy room, or any other designated area. Clear glass walls can be used in an office to give employees their own space while still keeping the space open and encouraging collaboration.
Low iron glass
Low iron glass is a variation of tempered glass that offers a clearer appearance than regular glass. It is characterised by its minimal greenish colouration that is present in regular glass near the edges. This type of glass is perfect for those who are looking for a pristine, ultra-clear look for their partition glass walls. The ultra-clear appearance of low iron glass can give spaces a more open and expansive feel.
Patterned glass
Patterned glass is a versatile option for glass walls that can be used to separate rooms while still letting in natural light. It comes in a variety of subtle or bold designs that add texture and character to the glass. Patterned glass is a great way to separate spaces while still letting in some natural light and letting people see into them. This kind of glass can be used in a lot of places, like homes, offices, and other business spaces.
Acid-etched glass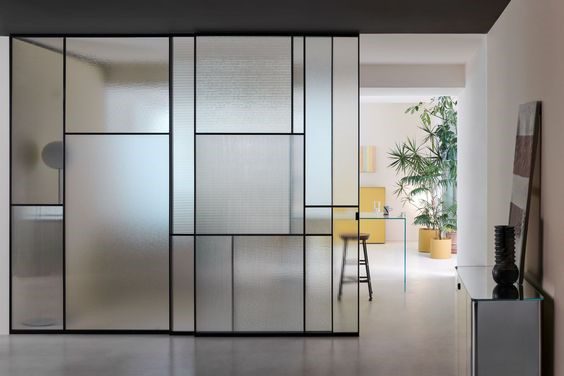 Source: Pinterest
Acid-etched or "frosted" glass is a classic option for partition glass walls. It gives you privacy while still letting in natural light, which gives the room a soft, diffused light. Frosted glass is a popular choice for people who want to keep the traditional look of an older home or add a classic look to a more modern space.
Tinted glass
Tinted glass is a translucent option for partition glass walls that gives privacy while letting natural light through. It comes in a variety of colours, like grey or bronze. Tinted glass can be used to create a sense of separation between two spaces while still letting you see through them. This is best suited for homes, offices, and other commercial spaces to create private designated areas.
Back painted glass
Back-painted glass is a fully opaque option that provides both physical and visual separation. It looks solid and isn't see-through, so it's a great choice to make completely separate private spaces within a larger area. Back-painted glass can be ordered in standard colours or custom colour-matched shades to suit any design needs, making it a versatile option for a wide range of applications, including homes, offices, and other commercial spaces.
Partition glass wall: Frames used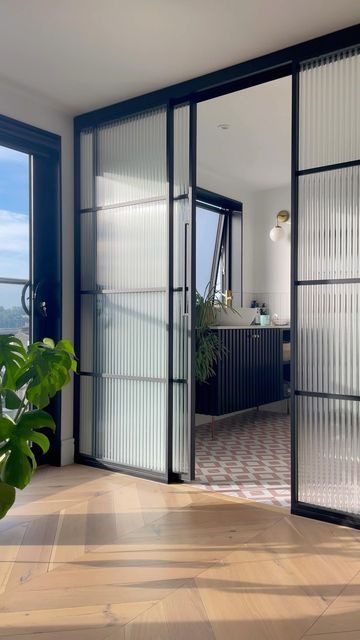 Source: Pinterest
Glass partitions can come in either framed or frameless designs, each with its own unique style and appeal.
Frameless partitions are popular for their sleek and modern appearance, and the simplicity of their design makes them easy to clean and maintain. This style of glass partition is ideal for contemporary home or office spaces, where the goal is to have a clean and unobtrusive look.
They can also be paired with frameless rolling or sliding doors, so they can be used in places like office cubicles, home bars, master bedrooms, and bathrooms. Frameless partitions are installed using low-profile metal components such as U-channel and small metal clips, allowing the glass to take centre stage and maintain an uninterrupted view from one space to the next.
On the other hand, framed glass partitions have a more traditional or classic look and work well in places where the decor needs to stand out more. The framework for these partitions can be made from aluminium and can be customised in terms of thickness, style, and layout to match the individual needs and preferences of the user.
Also, the frame can be painted in different colours to fit better with the rest of the room's design. Popular anodised finish options include clear, black, dark bronze, and light bronze. With framed glass partitions, one can also choose to install coordinating doors or leave the entrance open for an open and airy feel.
Partition glass wall: Factors affecting the price
When buying a partition glass wall, it is important to know that the final price will depend on a number of things. These include the materials used, style, specifications, and design. Let's take a closer look at each of these factors:
Materials
The price of glass partitions will depend on the type of materials used. Single-glazed glass partitions are more affordable than double-glazed glass partitions, as fewer materials are used. However, double-glazed partitions offer superior noise reduction properties, making them a popular choice for many.
Style
Frameless glass partitions are generally less expensive than framed partitions, as they use fewer materials and require less labour to install. Framed partitions, on the other hand, tend to be more effective at noise reduction, and also offer the option of incorporating blinds for privacy. The type of frame used, whether it's aluminium or wood, will also affect the price.
Specifications
The price of the partitions will go up if you add things like frosted glass, patterned glass, or back-painted glass. Other customisation options, such as bulletproof glass or laminated glass, can also add to the cost.
Design
The design of the partition will also affect the price. Etched or patterned glass partitions are more expensive than clear or frosted ones, as they offer more privacy and a decorative touch.
Partition glass wall: Benefits
Partition glass walls are an excellent choice for both home and office spaces that are looking to improve their environment. Here are five reasons why you should consider installing partition glass walls:
Flexibility
Partition glass walls offer greater flexibility compared to solid walls. They are easy to demount and less messy, with less breakage, making it possible to reuse materials elsewhere. Many demountable systems are designed to be relocated, adapting to your changing needs.
Natural light
Natural light is essential for creating a comfortable and inviting environment. Glass walls let light flow freely and are a cost-effective way to add natural light to homes and offices that don't get enough of it.
Cost effective
The competitive market for partitioning systems makes it possible to find a system that suits your budget. Glass partition walls are also easier and faster to put up than solid walls, which saves money.
Design and function
Glass partitioning systems come in a range of styles, finishes, colours, door options, and more. You can also add bespoke and unique touches, such as powder-coated glazing channels or manifestation designs. In terms of function, there are options for single or double-glazing, acoustic glass, fire-rated glass, and a variety of door options.
Privacy and noise
For privacy and noise reduction, glass partition walls have options like acoustic glass or double glazing, blinds, manifestation, and even switchable glass for total privacy. These options make glass partition walls an ideal choice for all kinds of spaces.
FAQs
What is glass partitioning?
When glass panels are used to divide up a larger room or area, this is called glass partitioning. The panels can be mounted on a framework or attached to a wall and can provide a range of benefits, such as increased natural light, improved design and function, better privacy, and noise control.
How does glass partitioning differ from solid walls?
Glass walls are more flexible than solid walls because they are easier to move or change if needed. It also provides better natural light, while solid walls block it. Glass partitions are also more cost-effective in the long term, as they require less maintenance and can be wiped clean, whereas solid walls may need to be painted or re-plastered.
What design and function options are available with glass partitioning?
Glass partitioning systems come in a wide range of styles. For example, you can choose single-glazed, double-glazed, or acoustic glass for better soundproofing, fire-rated glass for fire protection, or even smart glass partitions for total privacy control. There are also many door options, including sliding glass doors, hinged glass doors, and pivot glass doors.
How can glass partitioning improve privacy and noise control?
Acoustic glass or double-glazed systems can be used to reduce noise levels, while blinds or manifestations can provide visual privacy. If you need total privacy control, you can also opt for smart glass partitions, which can go from opaque to clear at the flick of a switch.
Is glass partitioning cost-effective in the long term?
Glass walls can save money in the long run because they need less maintenance, can be used again if they are moved, and are easier to clean than solid walls. There is also no need to re-paint or re-plaster damaged walls in the future, and damaged glass panels can be easily replaced without affecting the rest of the wall.
Got any questions or point of view on our article? We would love to hear from you.
Write to our Editor-in-Chief Jhumur Ghosh at
jhumur.ghosh1@housing.com
Housing News Desk is the news desk of leading online real estate portal, Housing.com. Housing News Desk focuses on a variety of topics such as real estate laws, taxes, current news, property trends, home loans, rentals, décor, green homes, home improvement, etc. The main objective of the news desk, is to cover the real estate sector from the perspective of providing information that is useful to the end-user.
Facebook: https://www.facebook.com/housing.com/
Twitter: https://twitter.com/Housing
Email: editor@housing.com