Lighting and electrical advice is among the most sought-after content on our blog! Lately we've noticed a lot of searches for 'tips on light locations in a new home' so we thought we'd tackle it with one of our popular dos and don'ts lists.
Providing expert advice on this piece is Andrew Fitzsimons, owner of On Point Electrical, who specialises in architectural and high-end builds.
Related article: How to design a lighting plan for your home: Learn the 3 types of lighting
Related article: What downlights to use in a contemporary home?
Do pay attention to external lighting
It's easy to focus your attention on the interior of a home but external lighting serves multiple purposes — to offer task lighting (ie safe entry into your home), to act as a security measure (sensor lights) and to provide ambience or emphasise design and landscaping features around your home.
"A well-lit entry sets street appeal and makes it easier for you to access your property at night. Generally, there are a few different types of lighting around an entry and my biggest tip is not to piggy back them — rather, you want to be able to isolate and control the different types of lighting. This could be from a bank of switches inside a cupboard near your entry," explains Andrew.
"Individually controlling each switch group allows for easy future connection of basic home automation lighting control.
"Low voltage lights in the garden is an often-forgotten location for lighting and it's much easier to plan and install from the start rather than retrofit. We suggest asking the electrician to install switched points during the build for future connection of garden lighting.
"Automated driveway lighting is another popular feature with my clients — a sensor on the wall will pick up when someone enters the driveway and come on automatically. You can set these lights into the driveway so they sit flush," says Andrew.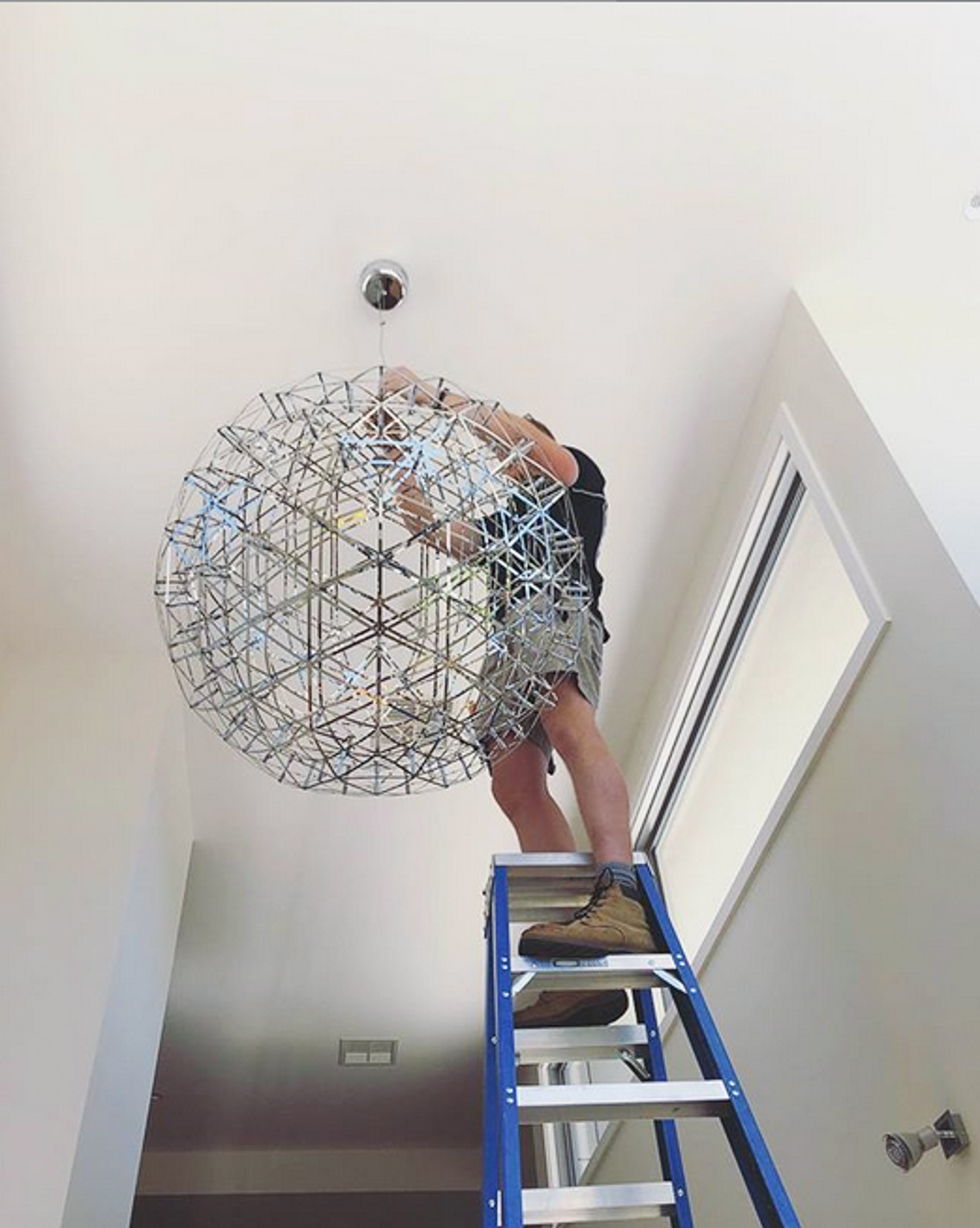 Do consider the best lighting for your entrance
"Traditionally the entrance is a place where you could have a grand chandelier or architectural pendant light but you need to consider the space. These work well in an atrium-style entry with high ceilings — if you don't have the space for it, steer away and use something more appropriate such as wall lights or a simple downlight."
Don't go overboard with downlights
We're so glad Andrew raised this point as most electricians will look at a space and only suggest using X amount of downlights. Andrew says the best lighting plans use a combination of downlights, wall lights, wall washers, pendant lights and hidden strip lighting — mix it up!
"Downlights are good for general lighting and performing
tasks, such as vacuuming your hallway, but they don't have to be used in every
zone of the home."
He adds, "In larger areas, such as an open plan living space, I always recommend breaking up downlights into smaller switching groups. This means if you have 6 downlights in your living area, you may like to break it up so 4 lights come on using one switch, but the additional 2 lights are controlled by a different switch. Smaller switching groups allows you to better control the amount of light in your home and can create better ambience."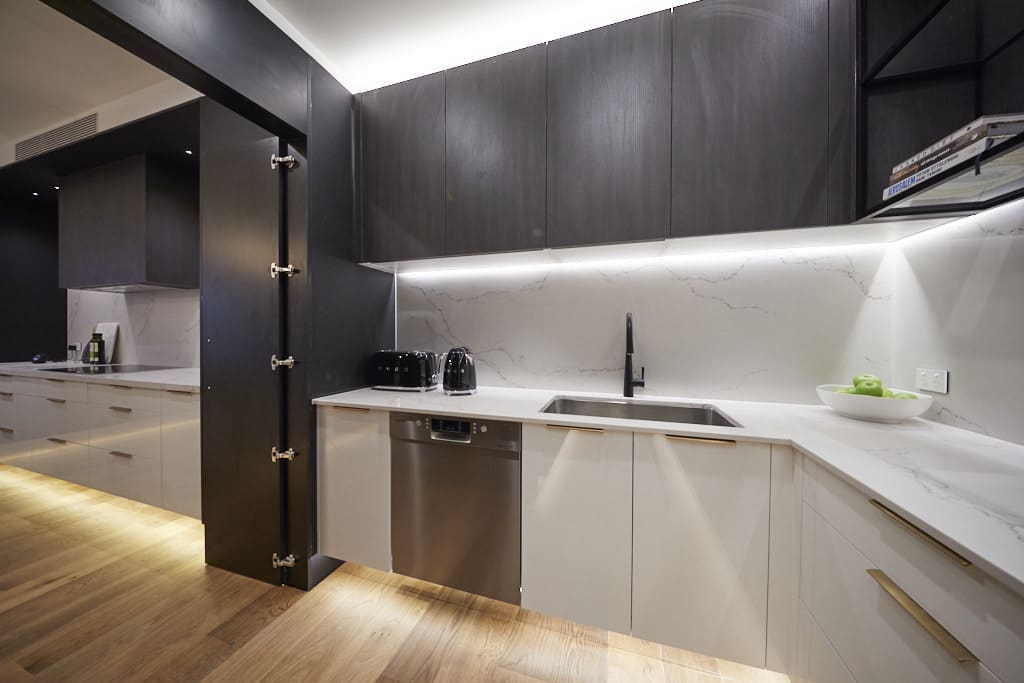 Do look into recessed LED lights
Whether it's around a bulkhead above your kitchen or down
one wall in your bedroom, Andrew says there's endless scope to create cool
architectural lighting around your home using LED lights.
"When you plan for these from the start of your build, they're not difficult or overly expensive to integrate but can really elevate the look of your space. The trick is to show some restraint — it isn't a feature you want to replicate in every room of the home. Instead, consider where you want to make the biggest lighting statements and execute them well in these zones."
Do consider custom lighting
Following on from this point, Andrew adds that you don't
have to use off-the-shelf lighting products.
"We've integrated lights into hanging garden beds above an
island bench and done all sorts of custom lighting solutions for clients. If
you can imagine it, it can probably be created. Talk with your electrician
about what's possible."
Don't hang random pendant lights
In magazine features it can look cool when there's a reading
nook with a statement armchair and hanging pendant light… but Andrew warns to
think twice before hanging pendant lights in random locations around your home.
"While it can look nice to hang a pendant over a side table in your living room, it limits your furniture layout options. You'll have rugs, furniture and all sorts of other pieces in the space that you can make a statement with so I suggest ditching a pendant light in this space."
Don't just use 2 downlights in rooms with a fan
Ceiling fans are becoming increasingly popular again,
especially as more sophisticated designs hit the market. In a space where you
incorporate a ceiling fan, Andrew stresses the need to position it in the
centre of 4 downlights
and not 2, otherwise it can create an unsettling strobing effect.
"Even if you don't have a ceiling fan in your bedrooms now, I still suggest installing 4 wide-set downlights on dimmers so you can install a ceiling fan down the track — unless of course you're sure you never want a fan where 2 downlights will suffice."
Do light your study well
Whether you occasionally work from home or have children who
will need a study space to do their homework, good lighting in this space is
essential.
"Relying on just one or two downlights can cast dark shadows over your desk, which can create eye strain. This is a space where more lighting is better, provided you break up the lights into smaller switching groups or use dimmers — you don't want to create a runway landing strip!"
Do have fun with lighting in your powder room
This is the one zone of the home where you can really have
some fun with lighting.
"I always recommend a pendant light if you have space for it or a wall-mounted light beside the vanity."
Don't underdo lighting in your bathroom
The bathroom is one of the most important spaces to light well — particularly illuminating your face by the vanity for shaving, applying make-up etc.
"As well as good face-level lighting, I suggest installing night lights such as sensor LED lights that turn on as you step into the bathroom."
Read everything you need to know about lighting your bathroom here.
Do embrace sensor lights
The bathroom isn't the only place you can use sensor lights.
"Many of my clients will make the light in their walk-in pantry a sensor light — it means you don't have to fumble for a switch when you have your hands full with groceries. And I always recommend having the garage light on a sensor."
Think about convenience and where you would want your lights to switch on automatically. Perhaps inside your wardrobe is another area?
About On Point Electrical
On Point Electrical is a Canberra-based electrical company that specialises in architectural and bespoke homes. They pride themselves on outstanding customer service and quality work. Check out their website for more about their services or connect with them on Instagram.
Do you have any other questions about where to position lights in your home? Post them in the comments below and we'll ask Andrew his advice.
This article was first published in September 2019 and continues to be updated with latest information and advice.