Anyone about to renovate their kitchen or build new will no doubt be double and triple checking their kitchen design to make sure the space is functional and flows well. A reader recently asked us to share all the kitchen design measurements they should know, like island bench depth, the distance of the walkway and depth of overhead cabinets.
Who better to ask for expert advice than Interior Designer Melissa Lunardon who has over a 14 years experience in residential and commercial design. Keep reading for her cheat sheet to designing a kitchen that's functional for many years to come!
Related article: Planning a white kitchen that's anything but boring
Related article: Top 9 kitchen splashback trends
Words by Melissa Lunardon
Benchtop height
The standard height for benchtops is 900mm which includes your kickboard. A kickboard height is 150mm but can range between 100mm-200mm.
This all depends on how tall you are and the benchtop height could range from 850mm-1000mm.
Benchtop and cabinet depth
The standard benchtop depth is 600mm but it all depends on the type of appliances you select. If you want your fridge in your kitchen, rather than in a walk-in pantry, this usually protrudes out, so you may want to slightly adjust the depth of your benchtop for it to all be in line.
Benchtop thickness
When looking at benchtop thicknesses, many reconstituted stone brands such as Caesarstone, Quantum Quartz or Smart Stone, offer a 20mm thickness as standard. If you are after a chunky looking benchtop, you could opt for 40mm.
For natural stone benchtops such as marble, terrazzo or granite, the standard thickness is 30mm.
Porcelain benchtops are relatively new to the Australian market and one of the key selling points to this premium product is the ultraslim 12mm thin profile. This can look simply stunning in a minimal modern kitchen.
Design tip — shadowlines
The difference between an average looking kitchen and the wow factor is the small details. A shadowline between the benchtop and the cabinet can give the illusion of a floating benchtop. This can be around 16mm in height and can be the same colour as the cabinet or a contrast colour for definition.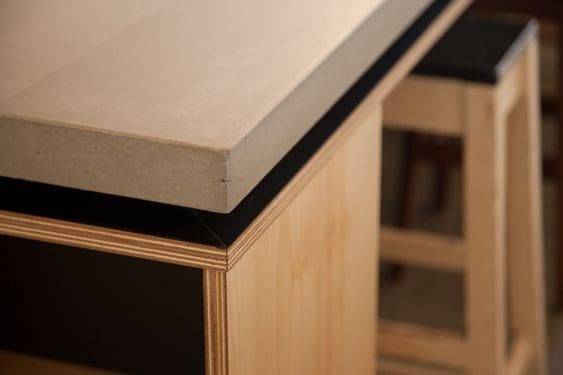 Overhead cabinets and splashbacks
The minimum required height between your benchtop and overhead cabinets is 600mm and the depth of overheads should be 320mm. This ensures that you don't hit your head when working at the benchtop!
The standard height for overhead cabinets is 720mm but can be custom made if you are wanting to achieve a full height look where the cabinets reach the ceiling. If this is not possible, you can add a plaster bulkhead above the cabinets. 
Design tip
To achieve a handleless look for your overhead cabinets, increase the length of the overhead door by 20mm. 
Island bench
Not all kitchen designs have an island bench. Galley kitchens, L-shaped kitchens and U-shaped kitchens are just a few of the other kitchen layouts that may be more suitable for your space. My tip is to take the time to design various floor plan layouts to consider all your options or engage with a professional, like an architect or interior designer, who can do this. There's plenty of great information about floor plan design on the Co-architecture website here.
It is important for the island to be in proportion with the rest of your kitchen and open plan living area.
If you do not want a join in the island benchtop, you can reference the stone slab you are using. Most slab sizes are around 3050mm x 1440mm. 
The standard depth of an island bench is 1200mm, which will still give you enough room to have stools on the other side. The optimal depth for leg room is around 300mm.
The walkway
It is ideal to leave a minimum of 900mm-1000mm around the sides of the island to create a walkway. This is enough room for people to walk and create better flow in the kitchen.
The distance between the island bench and the rear cabinets is quite important. You want to allow enough room so you can easily open the dishwasher or oven door without obstruction, so ideally this distance should be 1000-1200mm.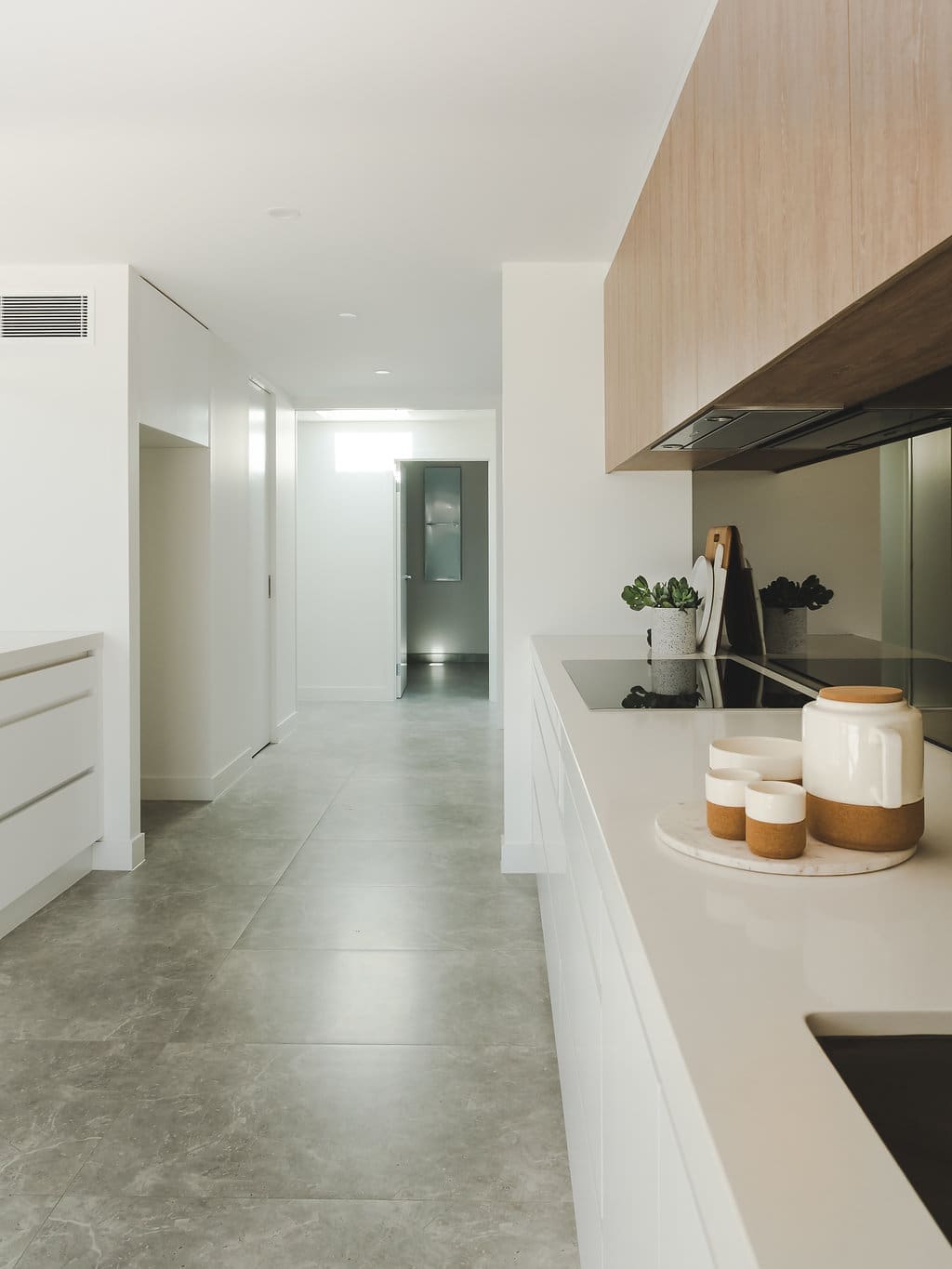 Smart storage solutions
Pull-out bin
Pull-out bins under the sink are practical and discreet. There are many brands that offer pull out storage solutions such as Blum, Hafele and Hettich. The width of the cabinet needed for the pull out bin is generally 600mm. There are many sizes available if you want the width of the bin cabinet to match the remainder of your cabinets.
Find more smart kitchen storage solutions here.
Oil and spices
Having oil, vinegar and spices near your cooktop can be quite handy and Hafele offers a pull out 2 pier solution. They can also be used to store baking trays and tea towels. 150mm is all that's needed and are perfect when positioned on either side of your underbench oven.
Drawers trump cabinets!
When designing kitchens, I firmly believe that drawers are way more practical than cupboard doors. It is so annoying trying to dig through the back of the cupboard just to find that tupperware lid! Drawers are practical as you can see all the contents at once. 
Standard width sizes for drawers and cupboards are 300mm, 450mm, 600mm, 750mm and 900mm. 
Thank you Melissa for sharing this fabulous cheat sheet on the kitchen dimensions we should all know! Do you have any questions about kitchen measurements? Pop them in the comments below and we'll answer them asap!
About the author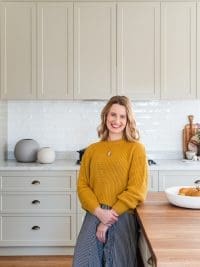 Melissa Lunardon is an award-winning perceptive interior designer and with over 14 years' experience in residential and commercial spaces. Her mission is to create beautiful interiors that reflect her client's personality and style. Her passion for sharing knowledge and advice allows her clients to feel confident in co-creating beautiful interiors that reflect their style and personality. She hosts free online design workshops in her private Facebook group 'The Design Collective Workshops', which you can join here.
Web: melissalunardon.com
Facebook: facebook.com/melissalunardonID
Instagram: @melissa_lunardon
This article was first published in August 2020 and continues to be updated with latest information and images.