With spring around the corner, it's the perfect time for home decluttering and organisation. And a zone of the home that can often do with attention is your linen cupboard! Linen closet organisation can save you time in the long run and make changing beds less of a chore. Plus, who doesn't love the feeling of opening up doors to a perfectly organised closet! I know I'm speaking with my people so keep scrolling for my top tips to create the linen cupboard of your dreams.
Related article: Fridge organisation: How I took my fridge from disgusting to dreamy
Related article: 8 kitchen drawer organising ideas: Kitchen organisation made easy
Baskets are your best friend
If, like me, you've accepted the fact that you'll never be able to perfectly fold your bedding — despite watching dozens of super simple videos — then make baskets your BFF!
Baskets are great for grouping complete bedding sets or bedding types (such as all flat sheets) so use them in whatever way makes sense to you. I also love that baskets effortlessly hide messy folds and elevate the overall look of your linen cupboard.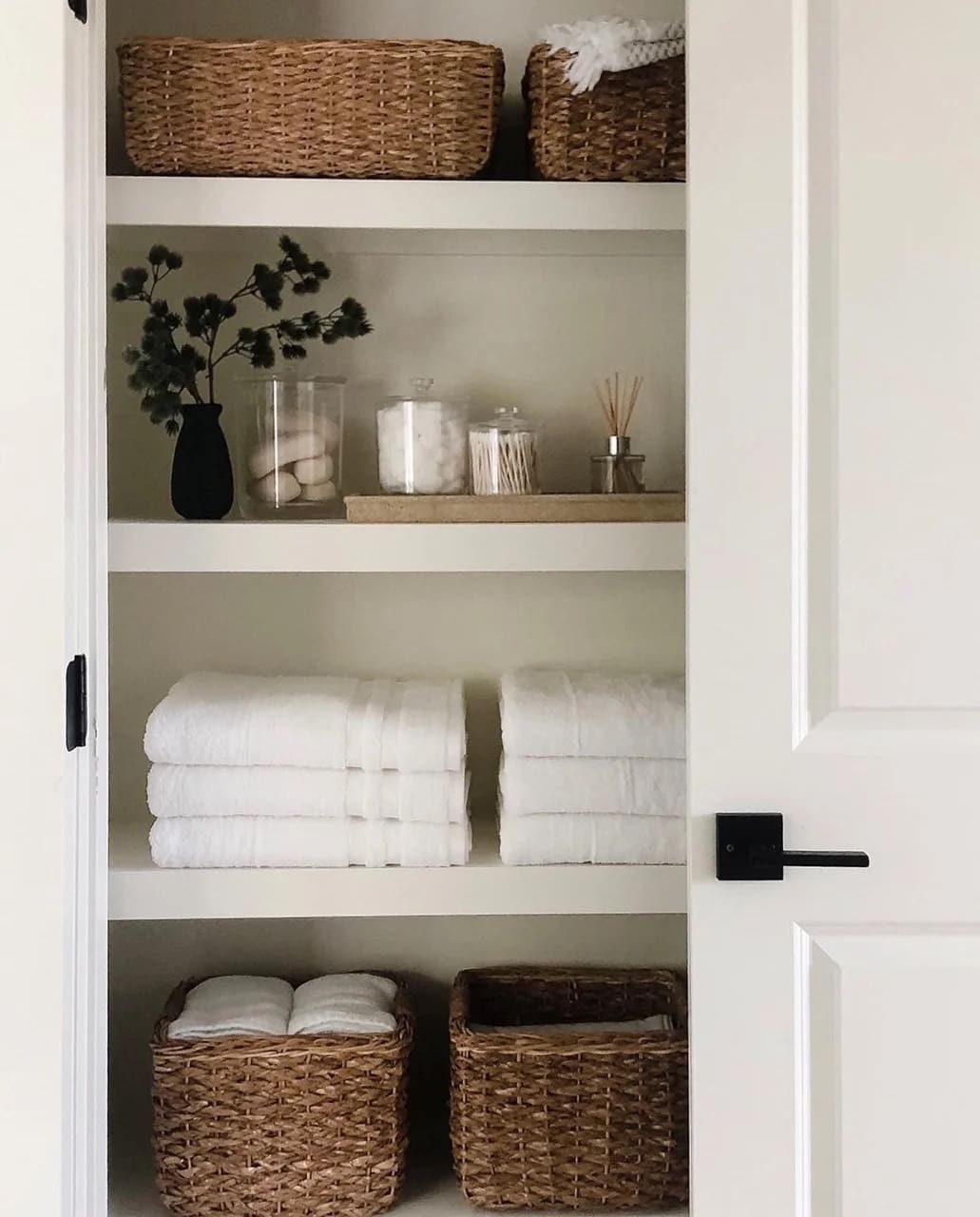 Harness shelf dividers
Does your linen closet have long shelves? Although a storage dream, things can quickly get muddled unless you add some structure. Rather than spending a fortune on dozens of baskets, consider using a few inexpensive shelf dividers as well. Available in discreet acrylic, they simply snap on and can be moved to suit your needs.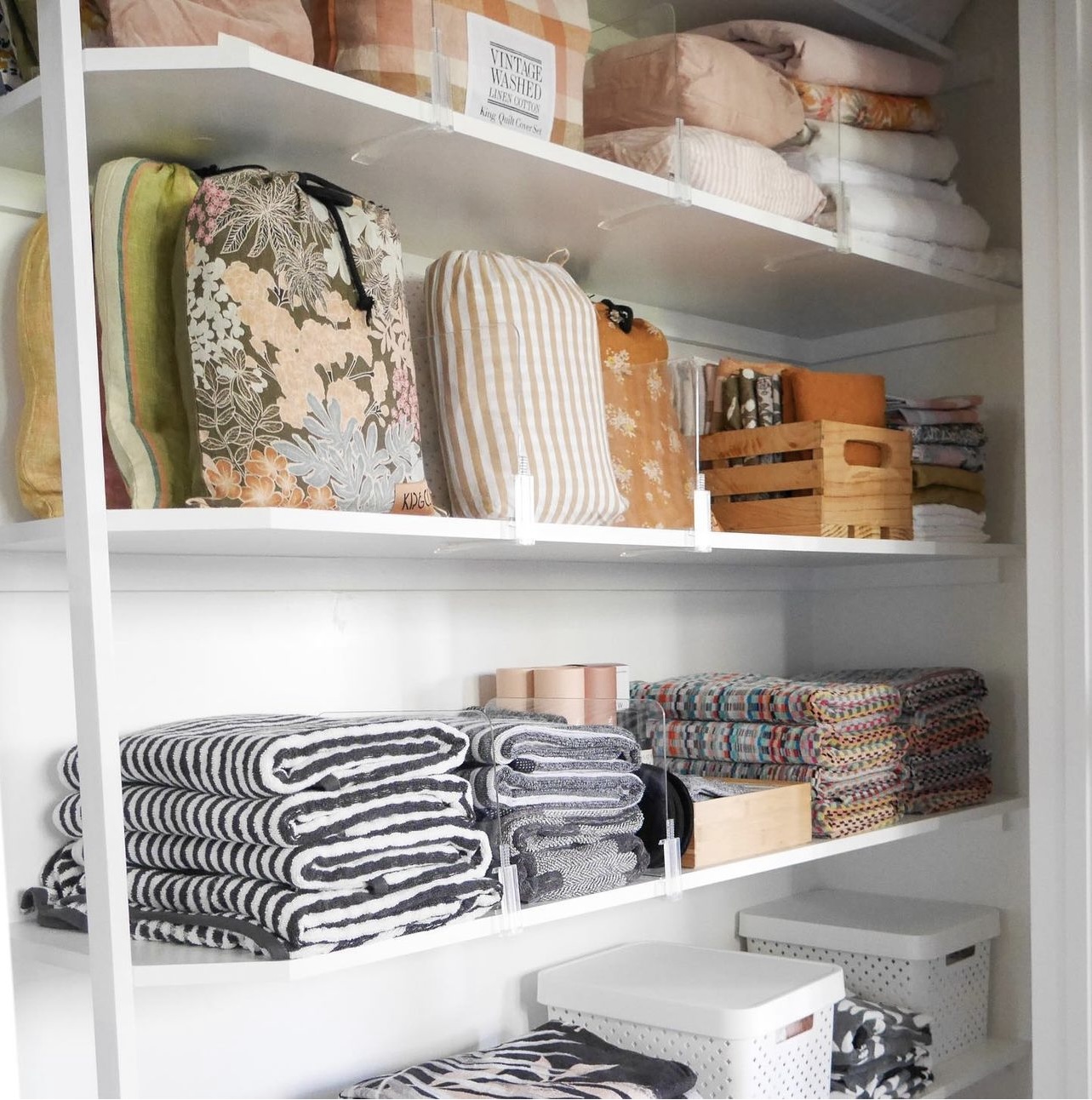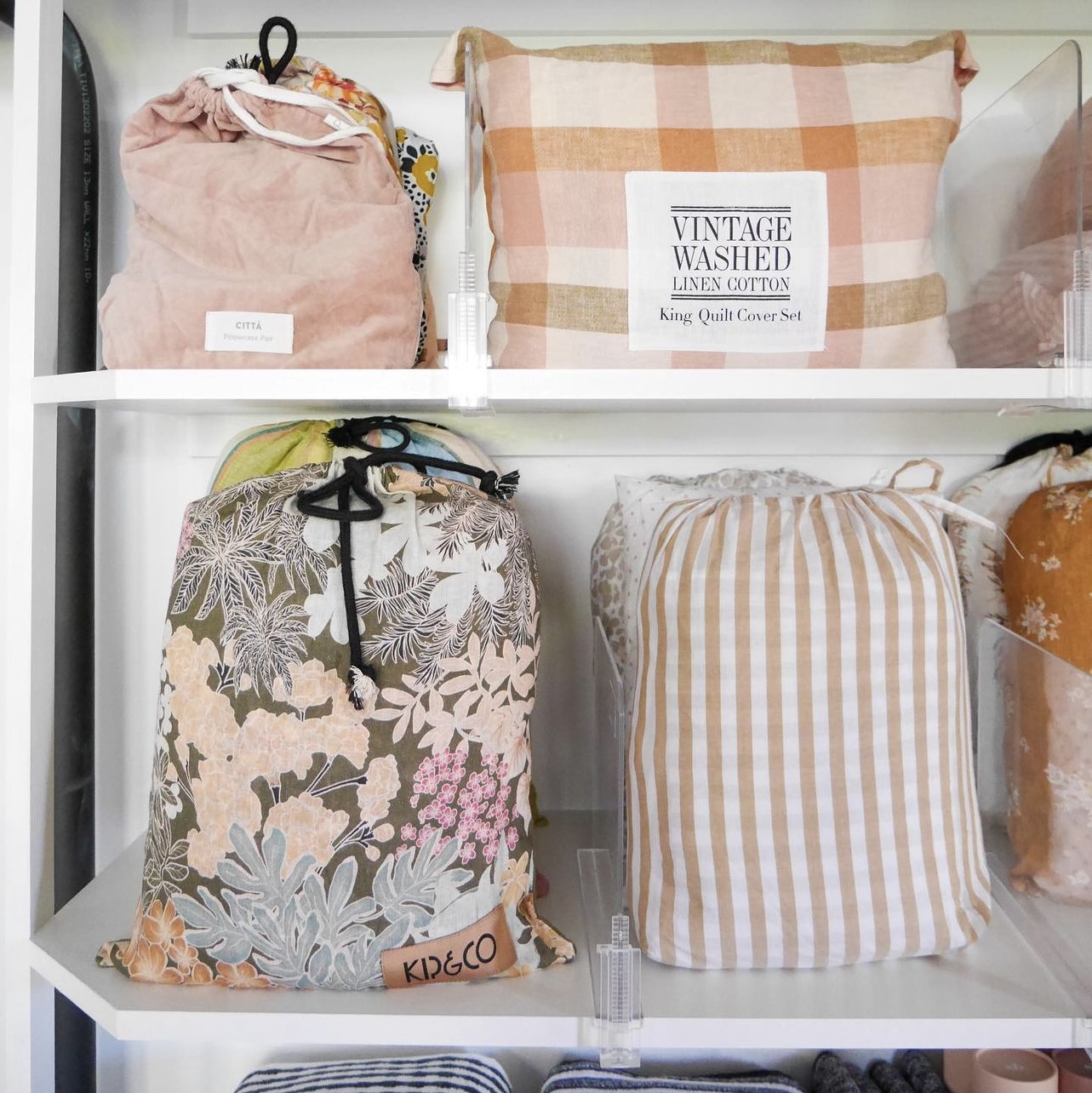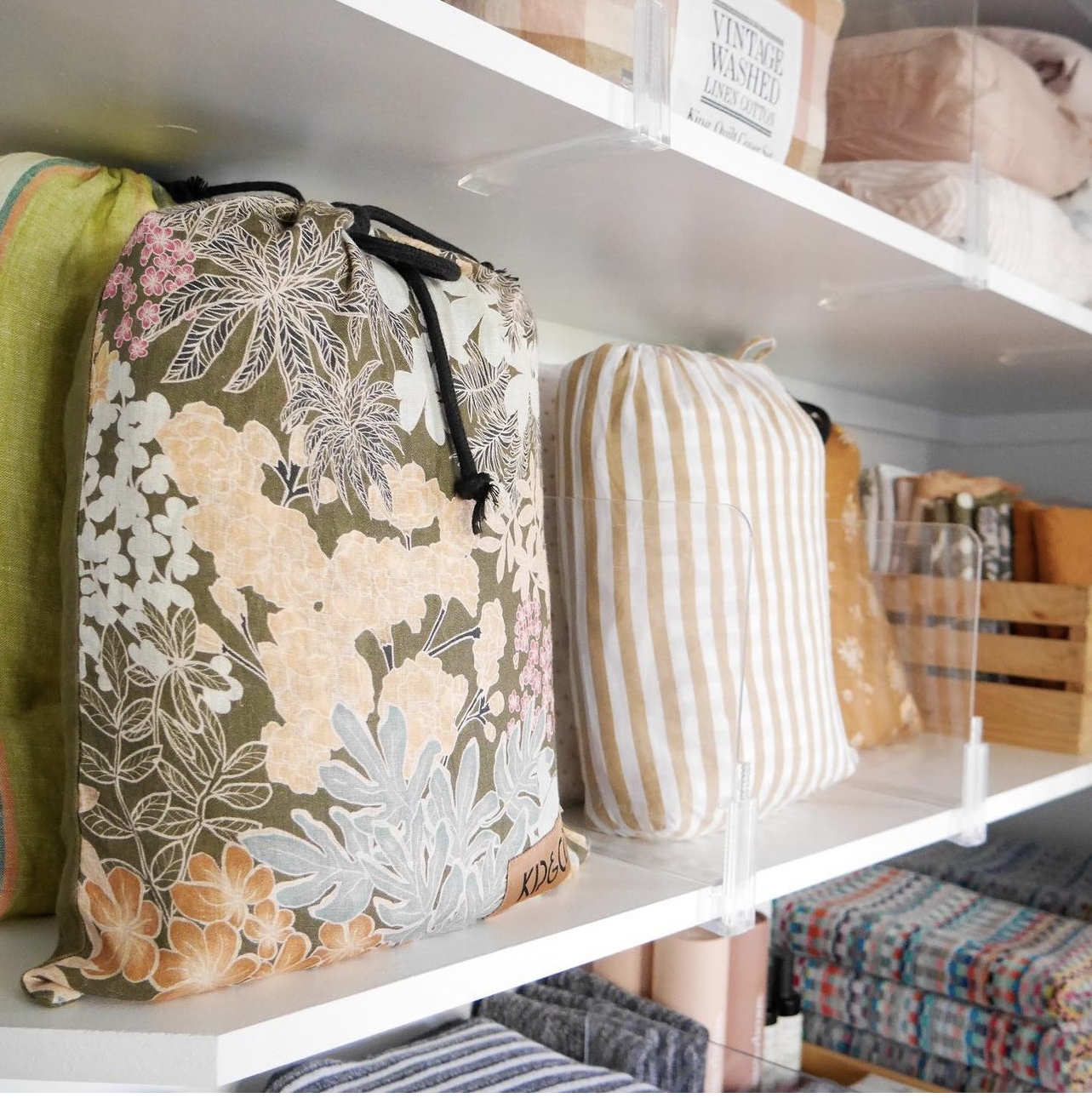 Learn how to fold towels like a pro
Although I can't fold bed sheets neatly, anyone can fold a towel like a pro! Don't underestimate the impact of a nicely folded towel. Folding towels in a uniform way can give your linen closet a clean and spa-like feel — who doesn't love that?! Watch my reel down below to see my two favourite ways to fold towels!
Consider creating a vignette
If you've got space for it, a vignette or small styled arrangement can take your linen cupboard from average to AMAZING. Just take a look at the beautiful example below where Daphne styled practical items, such as a canister of pegs and room sprays, on a tray.
Find my top vignette styling tips here.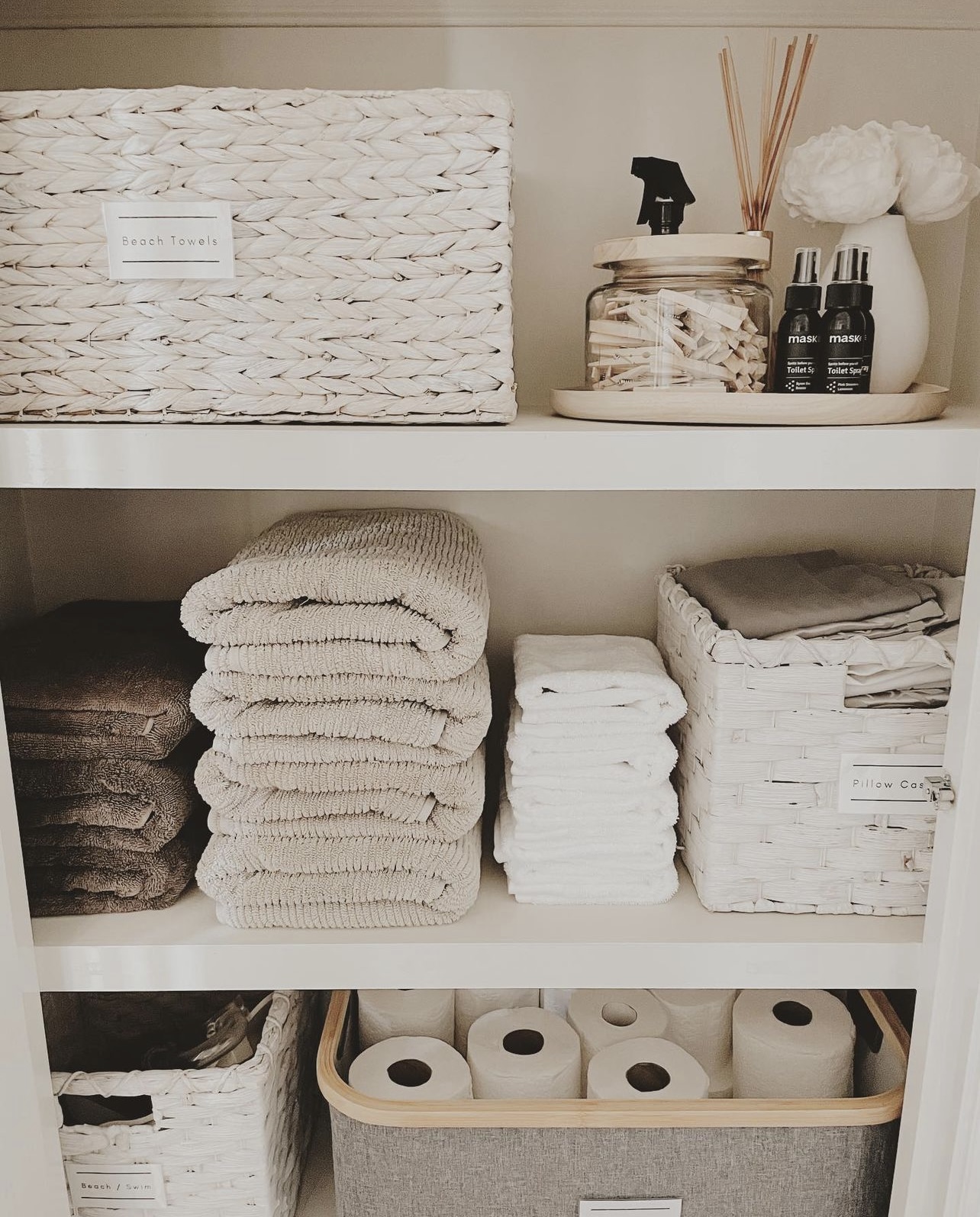 Keep it simple
The linen closet can be a tempting place to dump any miscellaneous items in the household. Guilty! Or perhaps over time you've simply accumulated more and more bedding, towels, and other items that you no longer use or need.
Keep it simple instead. Declutter and only have the items you genuinely need and use.
Label everything!
You know I love my labels and the linen closet is no exception. Swing tags from baskets or labels on the face of your shelves is a great way to give everything a dedicated spot. It will make it easier for you to find what you need and hopefully encourage other people in your household to keep your linen cupboard organised (one can dream!).
Yes, labelling is a tedious task but it's so worth! Kmart have just dropped a fab range of organisation products making it more affordable than ever and the talented Corinne shows how it's done in her reel below.
Make it smell amazing
Add that finishing touch by making your closet smell divine! You could use a diffuser or linen spray, or keep moths at bay by using a cedarwood sachet.
Another simple way to scent your linen cupboard is to add pure essential oil to a furniture protector sticker and place it inside. I share this hack in my reel below.
Do you have more linen closet tips or tricks to add? What's the best piece of organisation advice you've been given? Share it in the comments below so we can all benefit!