It's no secret that we love a glass or 2 of vino here at Style Curator! But it's important to store your wine correctly… and of course, stylishly! Whether it's a wine rack, wine storage or a full blown wine room, we've got gorgeous wine storage inspo to set your heart a flutter.
So sit back, pour yourself a glass of your fave drop and prepare to be inspired. That'll be a Barossa Shiraz for us, thanks!
Related article: Interior inspo: Pocket doors
Related article: Design inspo: 10 stunning home libraries to inspire you to create one too
Glorious arches
The arch, the elegant square tiles, the simple lighting. We loooove this look from Kirsty and Jesse from The Block 2021. It's pared back elegance that would suit a variety of home styles such as Hamptons, coastal or modern.
Likewise, we were blown away when we spied this beauty from First Avenue homes, pictured below. Finished with custom-made steel framed doors, black timber veneer wine storage, marble bench and splashback, and brass glass hangers. It's stunning!
Divine dining
We feel like this set up is so gorge that it could pass as a display in a restaurant. The chevron design is ideal for storing wine and just begs for regular wine deliveries to keep it in tip top shape!
Ready and waiting
Be prepared and ready for any occasion by incorporating a wine fridge into your kitchen design. We love the idea of a built-in wine fridge in the kitchen. They just seem to elevate a kitchen and make it feel 10 x more luxe.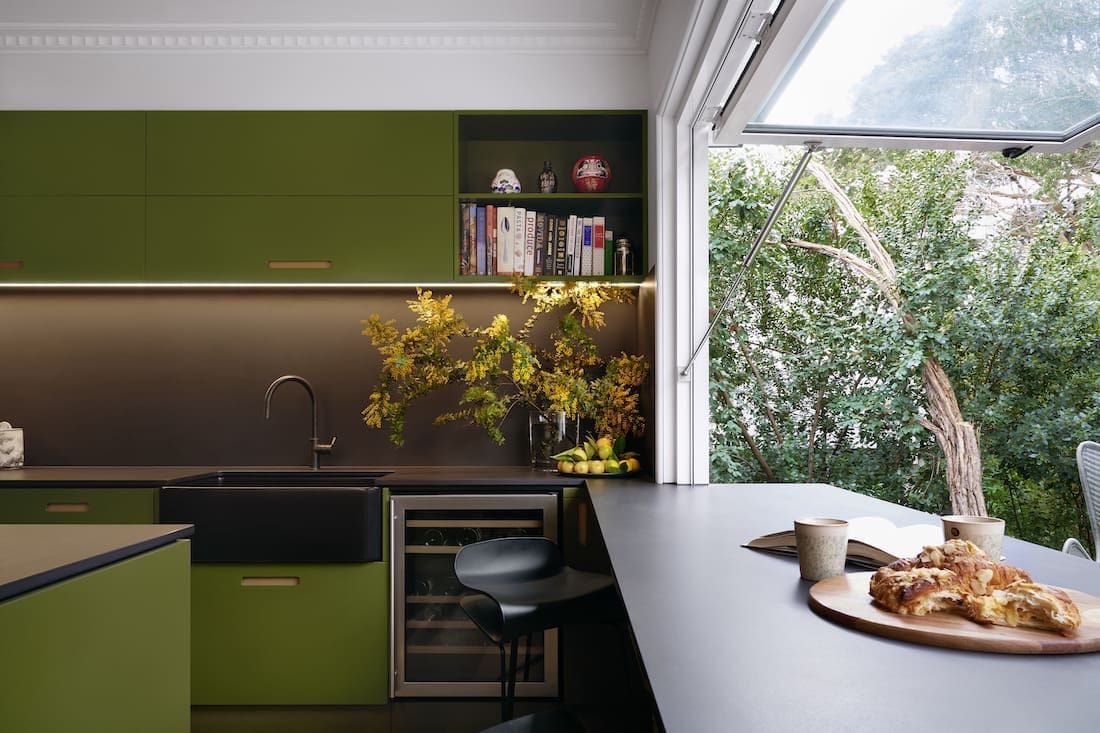 Bar smart
If you're planning a renovation, why not think about including a bar in your home design? Whether it be in the living room, dining room or kitchen, a set up like this could be just the ticket to elevate your home to the next level.
Timber wine storage pared with a marble splash back and small wet area. It's timeless elegance.
Double trouble
When you've got the space, a double-door walk-in wine cooler is just what the doctor (or in this case, interior designer!) ordered. We love the addition of the timber wine storage boxes against the chic black walls and doors.
Island getaway
Wine racks are a clever addition that can be incorporated into your kitchen island. They're not only practical, they also look great and are a wonderful way to break up the space, particularly if you've got an extra large island.
And they keep your favourite drop within an arm's reach. Case closed!
Reach for the stars
There's just something so special (and fancy) about a room with a ladder, don't you think?! And how about this for a wine storage idea?
Simple box shelving, sky-high. But really, it's the addition of the glass doors and timber ladder that stole our hearts. It's epic, but we're here for it.
Cellar dreaming
If you're blessed with space below, a cellar in the basement is a total vibe. As seen on The Block, the contestants showed us how a wine cellar could be sophisticated, funky or sexy-sleek.
Small but stylish
To the complete other end of the scale, if you don't have ample space to work with, there's no need to get disheartened. You can still have a bar, complete with wine storage no matter what size space you've got.
Take this example as seen in the Erskineville renovation project Gina completed in Sydney. Previously an awkward desk space, she transformed it into a sleek bar, complete with the wine fridge the home owners had always dreamed of having.
Or this modern farmhouse style bar space that underwent a complete transformation in a renovation from Neon White Design.
Complete contrasts
If matchy-matchy isn't really your thing, Three Birds have you covered. In another of their incredible home renos, they designed a black, moody wine space next to a light and bright bar area with brass accents.
Perforated perfection
It's not a material you spy very often. So when we came across this perforated brass bar set up, it was too elegant to pass up. Yes, we'll admit we don't see any wine storage but think those timber cabinets underneath would do the job nicely. So you can't really blame us for including this stunner, now can you?!
Black beauty
This wine storage is simple, but oh so sleek. We're especially loving the backlights to make a real feature of the bottles on display. And that sliding black and glass barn-style door is such a cool featured too.
Leather luxe
Just take a moment and imagine having this as your dining room!
Those custom-made leather wrapped slimline handles by MadeMeasure, shaker profile walnut joinery… and that wine collection! It's a stunning space that takes wine storage to the luxe level.
Hideaway bar with pocket door
Be ready to entertain with this slick bar set up. Featuring charcoal timber veneer cabinetry, marble benchtop, a mirrored splashback and bi-fold pocket door.
Or another beauty below, with its elegant fluted glass backsplash and light timber cabinetry which also showcases the cool pocket door feature.
Pocket doors are perfect if you don't want your wine or bar on show all the time as they allow you to hide it all away neatly and discreetly. You'll find more pocket door inspo here.
Showcase of elegance
With walnut timber cabinetry and that luxe waterfall island, this bar set up is the epitome of elegance. The mirrored wall makes the space look much large and would be the perfect place to perch while your other half cooked up a delicious meal in the adjacent kitchen.
Hey, we can dream, right?!
Room for all
It's the dream. Well, our dream at least… to have not just a wine rack. Not just a wine cabinet… but a wine room. And if it looks anything like these beauties, we'd never want to leave home!
We love the black framed glass doors they all have, allowing the wine to do all the talking and be a real feature. We'd even go as far as calling it drinkable art 😉 !
Adults retreat
Consider this the adult equivalent of a kids playroom. We're getting nothing but adults-only vibes from this space with luxe inclusions and finishes.
And again, we know there's not wine storage shown here, but we're just imagining those American walnut timber cabinets being filled to the brim with our fave bottles.
Living the dream
Talk about a living room feature wall! This family's eclectic living room set up makes a serious feature of their wine collection. And we kinda love how they haven't tried to fill it to the brim and make it picture perfect.
Hidden gem
Tucked away at the end of this epic kitchen island bench is a sweet but sensible wine storage space. While some people integrate a mini storage shelf or cabinets into the front of their kitchen island, we love how Sarah Yarrow Interiors integrated a compact wine rack instead.
Charcuterie ready
A built-in wine fridge is already a dream and a half for most of us. Add in a dedicated dry-aged meat fridge and you'll have to excuse us while we pick our jaws up from the floor.
Guy and Jules Sebastian certainly know how to create an OTT cool kitchen, and you can take the full room tour here.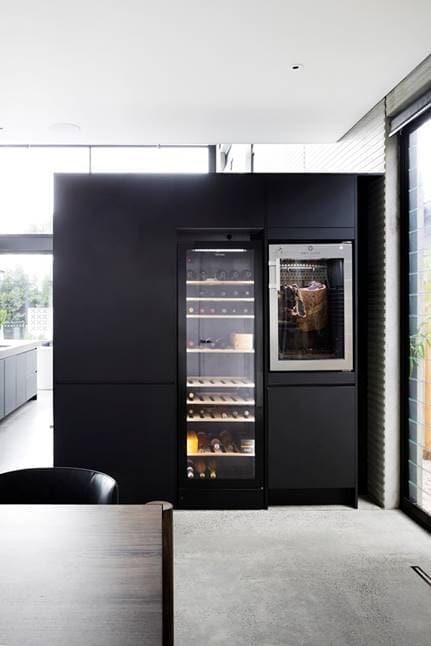 Hostess with the mostest
Bar set ups don't get much better than this one. Ample storage for wine, shelves for cocktail essentials and recipe books to help you whip up something amazing…
And the black panelling on the cabinetry looks amazing, tying in beautifully to the contrasting white kitchen.
Winery vibes
This set up from Darren and Dee on a previous season of The Block is giving us all the at-home winery vibes. We can just picture ourselves hosting wine and cheese pairings here of a Saturday evening!
Perfectly positioned
This wine room is in the absolute perfect position. Right there, front and centre in the living, kitchen and dining space. It makes for a real stand out design feature in this open plan area.
Chic and sleek
Adding a bar and wine storage area in their ample walk-in pantry was the ideal choice when it came to building this home owner's perfect kitchen.
The elegant black cabinetry and divine marble bench and splashback make for an elegant and timeless design.
Marble elegance
Karolina knew just what to do with the old-school, unused second kitchen when it came to reno-ing their forever home. And this is what she came up with! The marble herringbone tiled splashback has our heart. And we think it's such a great idea to add a sink to your bar and wine area if you can.
You can see the before and afters for the whole home here.
So has our wine storage inspiration gallery given you some ideas for your place? Which ones are you vibing? Let's chat in the comment section below!