Pune Metro
Pune, in the last decade, saw a population increase with people migrating from different parts of India owing to excellent educational facilities and job opportunities. While the city has a place on the world map for its research and development institutions, IT Parks and automobile industries, sustainable infrastructure for easy transportation was missing. With the average travel time amounting to over 100 minutes a day, there was an urgent need for a safe, reliable and affordable transport system, which led to the Pune Metro project.
Maha Metro is responsible for the smooth implementation, execution and operation of the Phase-1 of the Pune Metro rail project. Pune Metro aims at reducing traffic congestion, pollution, road accidents, travel time and travel costs.
Pune Metro: Two new stretches to be inaugurated
The two stretches  from Garware College to Ruby Hall Clinic and Civil Court to Phugewadi have received the final certificate from the Commissioner of Metro Railway Security (CMRS). These two stretches are likely to be inaugurated by Prime Minister Narendra Modi on August 1, 2023 . It will be made available for public use on the same day after a few hours of its inauguration.
The stretch between Garware College and Ruby Clinic is 4.7 km and  has seven stations – Garware College, Deccan Gymkhana, Chhatrapati Sambhaji Udyan, Pune Municipal Corporation(PMC), Civil Court, Mangalwar Peth, Pune Railway Station and Ruby Hall Clinic.
The new stretch in the Pimpri Chinchwad to Shivajinagar Court line is 6.9 km and has four new stations -Phugewadi, Dapodi, Bopodi, Shivaji Nagar and Civil Court.
Pune Metro route map
Maha Metro started the Pune metro project in December 2016. The Pune metro rail project Phase-1 is a 33.1 km metro corridor that is divided into two lines. Line 1 has 14 stations and covers 17.4 km, from PCMC to Swargate. Line 2 has 16 stations and covers 15.7 km, from Vanaz to Ramwadi. The estimated completion cost of the Pune Metro project is around Rs 11,420 crore.
see also about: Nagpur metro
Pune Metro operational lines
Lines 1 and 2 were partially made operational in March 2022 and the project was expected to be fully operational by March 2023.
Two Pune Metro routes are currently open for passengers
Vanaz to Garware College
PCMC to Phugewadi Metro Station
Pune Metro stations in Line 1
Line 1 of the Pune Metro starts at PCMC and terminates at Swargate. Of the 14 stations, 5 are underground and 9 are elevated. The stations are: 
PCMC
Sant Tukaram Nagar
Bhosari (N.P.)
Kasarwadi
Phugewadi
Dapodi
Bopodi
Khadki
Range Hill
Shivaji Nagar
Civil Court
Budhwar Peth
Mandai
Swargate
Pune Metro stations in Line 2
Line 2 of the Pune Metro starts at Vanaz and terminates at Ramwadi. All 16 metro stations in this line are elevated. The stations are:
Vanaz
Anand Nagar
Ideal Colony
Nal Stop
Garware College
Deccan Gymkhana
Chhatrapati Sambhaji Udyan
PMC
Civil Court
Mangalwar Peth
Pune Railway Station
Ruby Hall Clinic
Bund Garden
Yerawada
Kalyani Nagar
Ramwadi
Maha Metro: Pune Metro Fare
Maha Metro uses the automatic fare collection system, which is a combination of smart cards and computerized paper tickets. Mentioned below are the Pune Metro fare.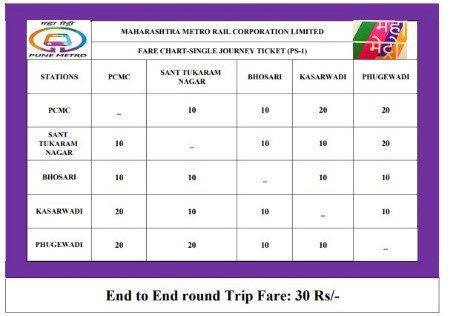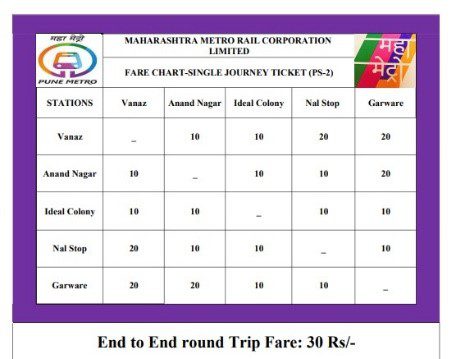 Pune Metro timetable
You can check the Pune Metro timetable at https://www.punemetrorail.org/time-table#lg=1&slide=1
PCMC to Phugewadi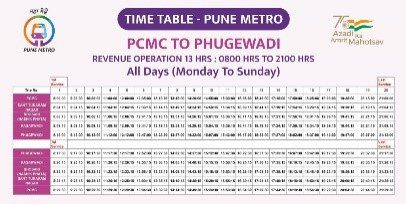 Vanaz to Garware college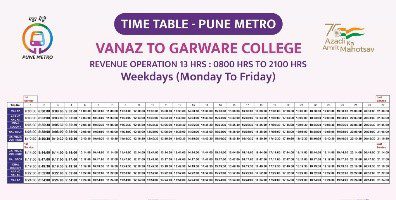 Pune Metro: Celebration on Wheels
Now you can celebrate your happy moments on Pune Metro with the introduction of the 'Celebration on Wheels' program. Mentioned below are the charges.
You have to submit an application with the itinerary to the Pune Metro customer care at customercare.pmrp@mahametro.org or contact 9022923792
Pune Metro contact information
For any queries, contact Maha Metro at:
Civil Court Interchange Metro Station Area,
Near Kamagar Putala,
Pune-411005
FAQs
Which other city's metro is being managed by Maha Metro?
In addition to Pune Metro, Maha Metro manages Nagpur and Navi Mumbai metro.
What is distinct about Pune Metro?
The Pune Metro project will get up to 65% of its energy from solar panels, making it one of the greenest metro projects in India.
Got any questions or point of view on our article? We would love to hear from you.
Write to our Editor-in-Chief Jhumur Ghosh at 
jhumur.ghosh1@housing.com