In Rajasthan, a celebration called Gangaur is held in honour of the goddess Gauri, who is associated with purity and austerity. Both married and single women participate in the event, worshipping the goddess for the happiness of their spouses and potential husbands, respectively. It is celebrated in Chaitra month, the first month of the Hindu calendar and continues for 16 days.
Source: Pinterest (Mharo Rangilo Rajasthan)
Gangaur festival rituals
Women dress up in traditional clothes during the event and adorn their hands and feet with intricate Mehandi patterns that represent love and devotion. To commemorate the event, the women perform folk dances such as Ghoomar and Gair and sing folk songs. Married women fast and worship the idols of Lord Shiva and Goddess Parvati, whose blessings are received by all females, before the fast is opened in the evening.
The traditional henna art known as 'Gangaur Mehandi' has its roots in Rajasthan, India. Usually done for special events such as weddings, festivals, and other celebrations, it is applied on the hands and feet. 
Gangaur Mehandi: Significance
The significance of Gangaur Mehandi is seen in its ties to various cultures and religions. It is believed to repel bad spirits and provide good fortune. It is an essential component of the Gangaur celebration, which honours Lord Shiva and Goddess Parvati's union. It is said that Lord Shiva blessed the entire female community with good fortune. 
Gangaur Mehandi: Designs and patterns
Gangaur Mehandi is renowned for its complex and exquisite Rajasthani patterns. The patterns frequently incorporate elements found in nature, like flowers, leaves, and birds. The peacock, a symbol of elegance and grace, is among the most appreciated patterns. Geometric patterns, paisleys and mandalas are some more typical patterns.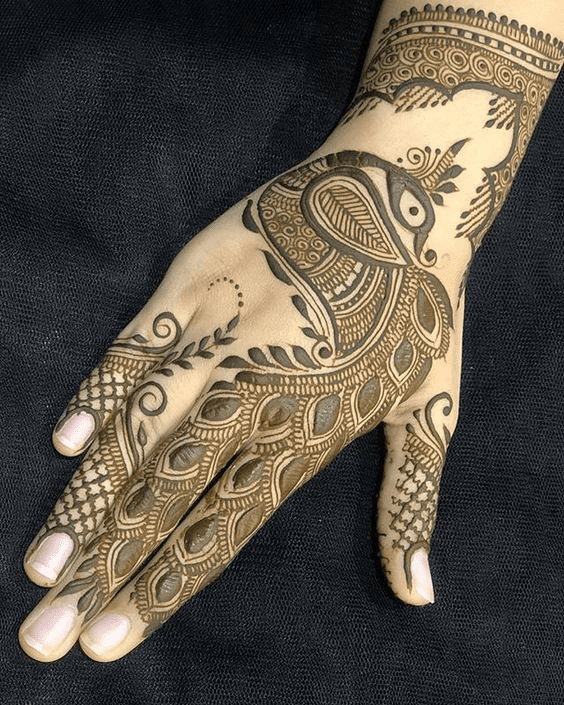 Source: Pinterest (Shaadidukaan) 
They frequently tell stories or deliver messages and are thought to have symbolic meanings. For instance, a design with a bride and groom would stand for marriage and love, while a design with the sun and moon might stand for equilibrium and harmony.
Source: Pinterest (ShaadiWish)
Gangaur Mehandi has evolved into a more ornate and detailed art form in current times. Precision and symmetry have been emphasised as the patterns have grown increasingly intricate and complicated. Modern Gangaur Mehandi artists employ a wide range of methods to produce breathtaking, one-of-a-kind creations.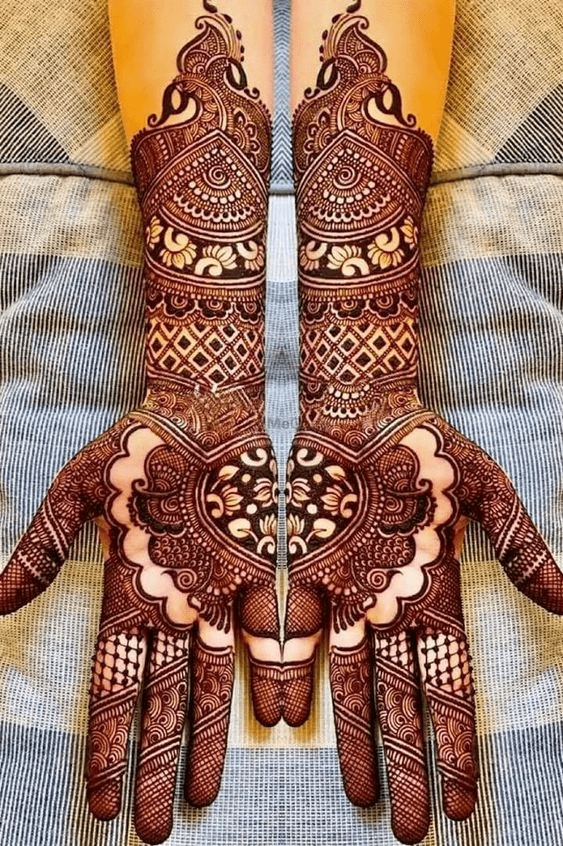 Source: Pinterest (WedMeGood)
FAQs
What is Gangaur Mehandi?
Gangaur Mehandi is a traditional form of henna art that has special cultural significance during the Gangaur festival. Women decorate their hands and feet with elaborate henna patterns.
What role does the Gangaur Mehandi play during the festival?
The Gangaur festival, celebrated in Rajasthan, is incomplete without Gangaur Mehandi. It is thought to stand for happiness in marriage, wealth and love. Applying Mehandi is a way for women to show their love to Goddess Gauri and ask for her blessings for a successful marriage.
How is Gangaur Mehandi different from regular henna art?
Due to its ethnic setting and distinctive design patterns, Gangaur Mehandi is unique. Gangaur Mehandi reflects the frequent use of traditional themes and fine workmanship.
How is Gangaur Mehandi applied?
Women typically use Gangaur Mehandi on their hands and feet during the Gangaur festival using fine-tip tubes filled with henna. Women gather on a particular occasion to apply Mehandi as part of the festival celebrations.
Can Gangaur Mehandi be applied for other occasions besides the Gangaur festival?
Gangaur Mehandi is most often linked with the Gangaur festival in Rajasthan but is often applied on festivals, marriages, and important occasions and celebrations in modern times.
How long does Gangaur Mehandi last?
The quality of the henna paste, a person's skin type, and aftercare are just a few of the variables that affect how long Gangaur Mehandi lasts. It often lasts for one to three weeks before dissipating over time.
Got any questions or point of view on our article? We would love to hear from you. Write to our Editor-in-Chief Jhumur Ghosh at
jhumur.ghosh1@housing.com