Supported by Metropolitan Plumbing
Renovating a small bathroom can be both challenging and rewarding. It's a chance to optimise your limited space while creating a functional and stylish oasis. 
Whether you're dealing with a powder room or a family bathroom, we've compiled a list of the best bathroom remodel ideas for small spaces. From a freestanding bath and black tapware to wall-mounted faucets and light fixtures, we'll explore creative solutions to make your small bathroom feel larger and more inviting. Let's dive in!
Related article: How to ventilate a bathroom: Solutions for a healthy, smart and functional bathroom
Related article: Everything you need to know about lighting your bathroom
1. Floating vanity to free up floor space
Make the most of your small bathroom's square footage with a floating or wall-hung vanity. These wall-mounted vanities create a sense of openness by freeing up floor space. They also provide additional storage without overwhelming the room.
2. Embrace the elegance of a pedestal sink
Alternatively, a pedestal sink is another way to create the illusion of space… but doesn't offer the storage benefits of a wall-mounted vanity. Pedestal sinks are typically a single construction sink on a stand. They are the perfect fit for Art Deco or period style bathrooms, and there are also contemporary versions like the one pictured below. These are ideal in bathrooms where you want to achieve a sense of elegance and storage isn't an issue. As well as enhancing the visual appeal of your bathroom, they make cleaning a breeze!
3. Floor tile patterns for depth and character
Speaking of creating the sense of visual spaciousness, you can also use floor tiles strategically to create an illusion of depth in your small bathroom. Geometric floor tiles or patterns can add visual interest while giving the room a modern touch. For example, herringbone floor tiles or brick bond rectangular tiles can accentuate the length of your bathroom. Consider light-coloured tiles to reflect light and make the space feel more open.
4. Shower curtain or fixed glass shower panel
A functional design decision is what type of shower solution to use — a shower screen, shower curtain or fixed glass panel. In a small bathroom, available space for a swinging shower door can be limited so a shower curtain or fixed glass panel may be your only solutions.
Glass panels generally look more sophisticated and also allow light to flow freely, making the bathroom appear more spacious. On the other hand, a well-designed shower curtain can lean into certain design styles while concealing the shower area effectively.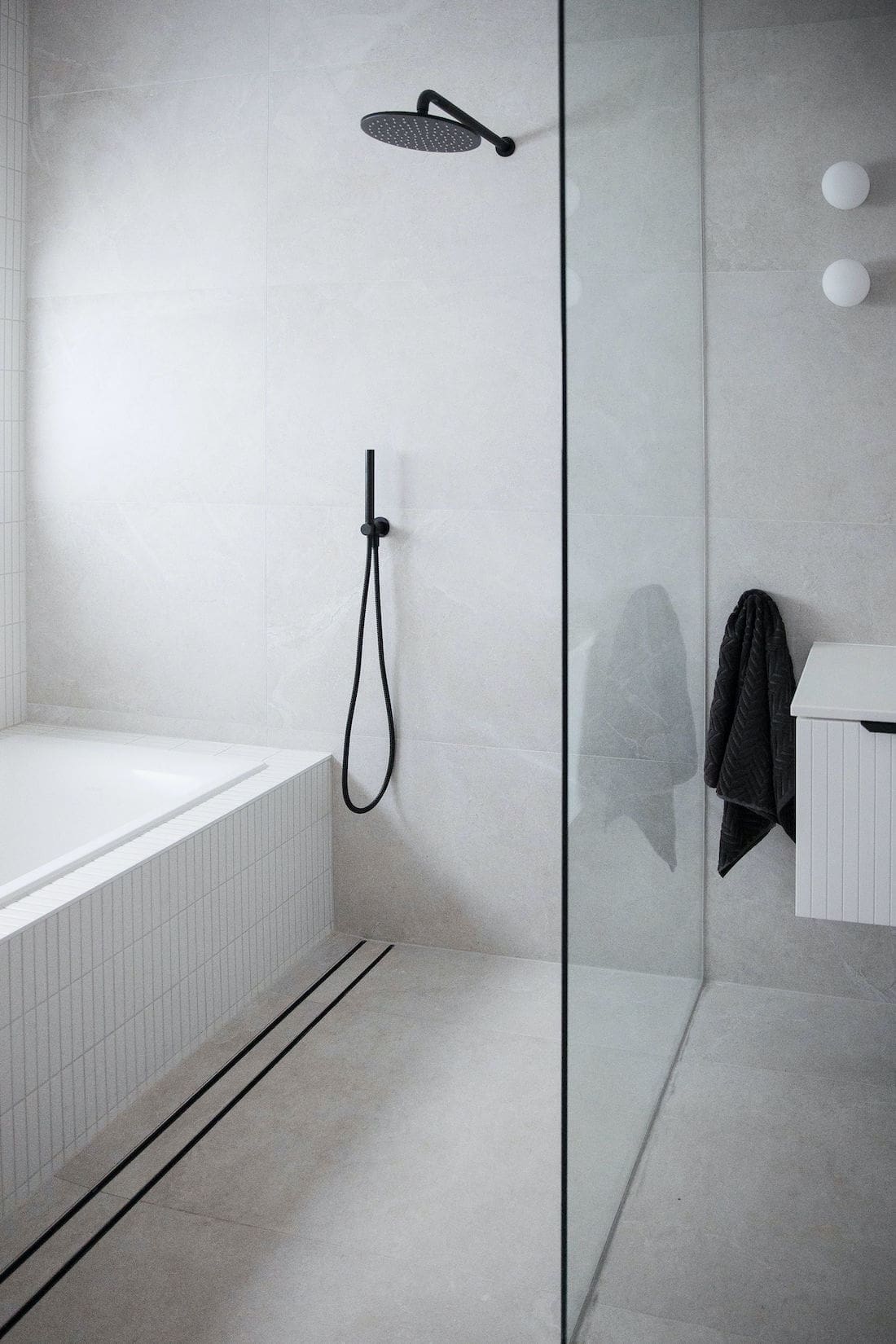 5. Brighten up with natural light
Letting natural light into your small bathroom can make the space feel larger and more inviting. Consider installing larger windows or skylights to bring in more sunlight during the day. If privacy is a concern, opt for frosted glass or window shades that allow light while maintaining privacy.
Windows can also help with bathroom ventilation and you can read more about ventilating your bathroom here.
6. Optimise storage space with built-in cabinets
Custom-built cabinets can be tailored to fit the exact dimensions of your small bathroom, using every available inch. Utilise vertical space to install wall cabinets that provide ample storage without infringing on the floor area.
7. Freestanding bath for a touch of luxury
If space allows, a freestanding bath can create a luxurious focal point. In a tiny bathroom, think outside the box (or should we say rectangle!) and look at compact bath designs. For example, the round bathtub below is ideal for a narrow bathroom and achieves a sense of spaciousness and airiness. Choose a compact design that doesn't compromise comfort and enjoy the ultimate relaxation experience in your small bathroom.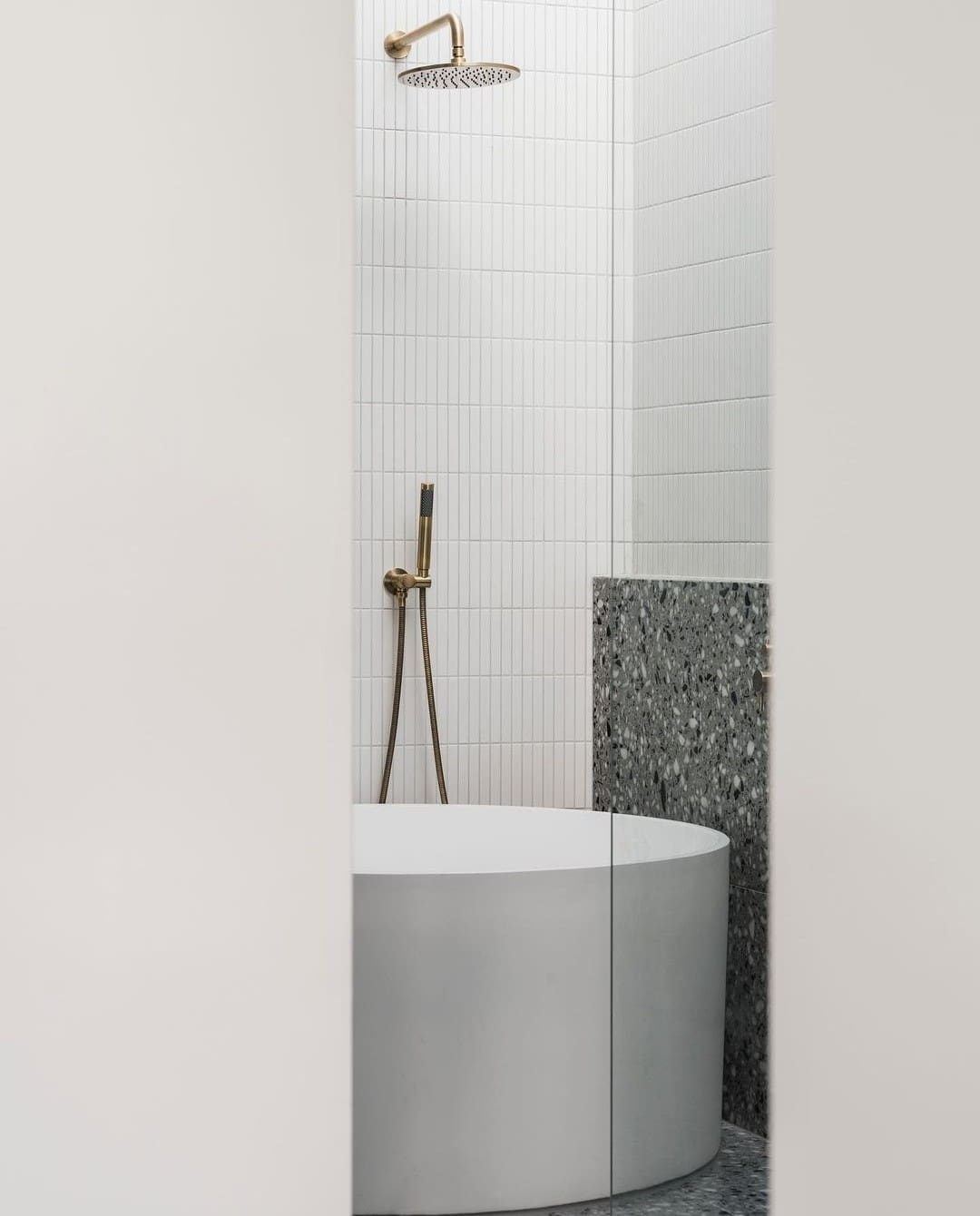 8. Double vanity for added functionality
Using small fixtures in a small bathroom can make the space feel… well, smaller! Sometimes it pays to scale up and one area where we suggest this is your vanity. A double vanity can provide extra storage space and functionality, especially if you share the bathroom with a partner or family member. Opt for a space-saving design and match it with clean lines to maintain a clutter-free look.
9. Subway tiles for timeless charm
Subway tiles are a versatile and timeless option for small bathroom walls. Their clean and classic look can visually expand the space. Use them in a light colour scheme to reflect light and create an illusion of a larger bathroom.
Check out the 5 most popular ways to lay subway tiles here.
10. Create a wet room for a luxe vibe
If your small bathroom allows, consider transforming it into a wet room. These modern bathroom remodels eliminate barriers between the shower and the rest of the space, creating a seamless, open layout that exudes luxury and elegance.
11. Embrace contemporary elegance with a vessel sink
Incorporating a statement feature can draw the eye and camouflage the size of your small bathroom. And one of our favourite visual focal points is to use a chic vessel sink. These artistic basins sit on top of the vanity, adding a touch of modernity and sophistication to the space. Vessel sinks come in various shapes, sizes, and materials, allowing you to choose one that complements your bathroom's overall aesthetic. Best of all, unlike undermount sinks these basins don't take up valuable storage space in your vanity.
12. Tap into valuable wall space
Unlock your small bathroom's potential by tapping into valuable wall space. From wall niches in the shower to recessed mirrored cabinets, these small pockets of space can make a massive difference in a tight bathroom. Plus, they can also be visually stunning and offer additional bathroom styling opportunities.
13. Enhance the aesthetics with wall-mounted taps
A wall-mounted tap or faucet is both practical and visually appealing. It saves precious bench space and adds a touch of elegance to your bathroom. Choose a sleek and modern design to elevate the room's overall aesthetic.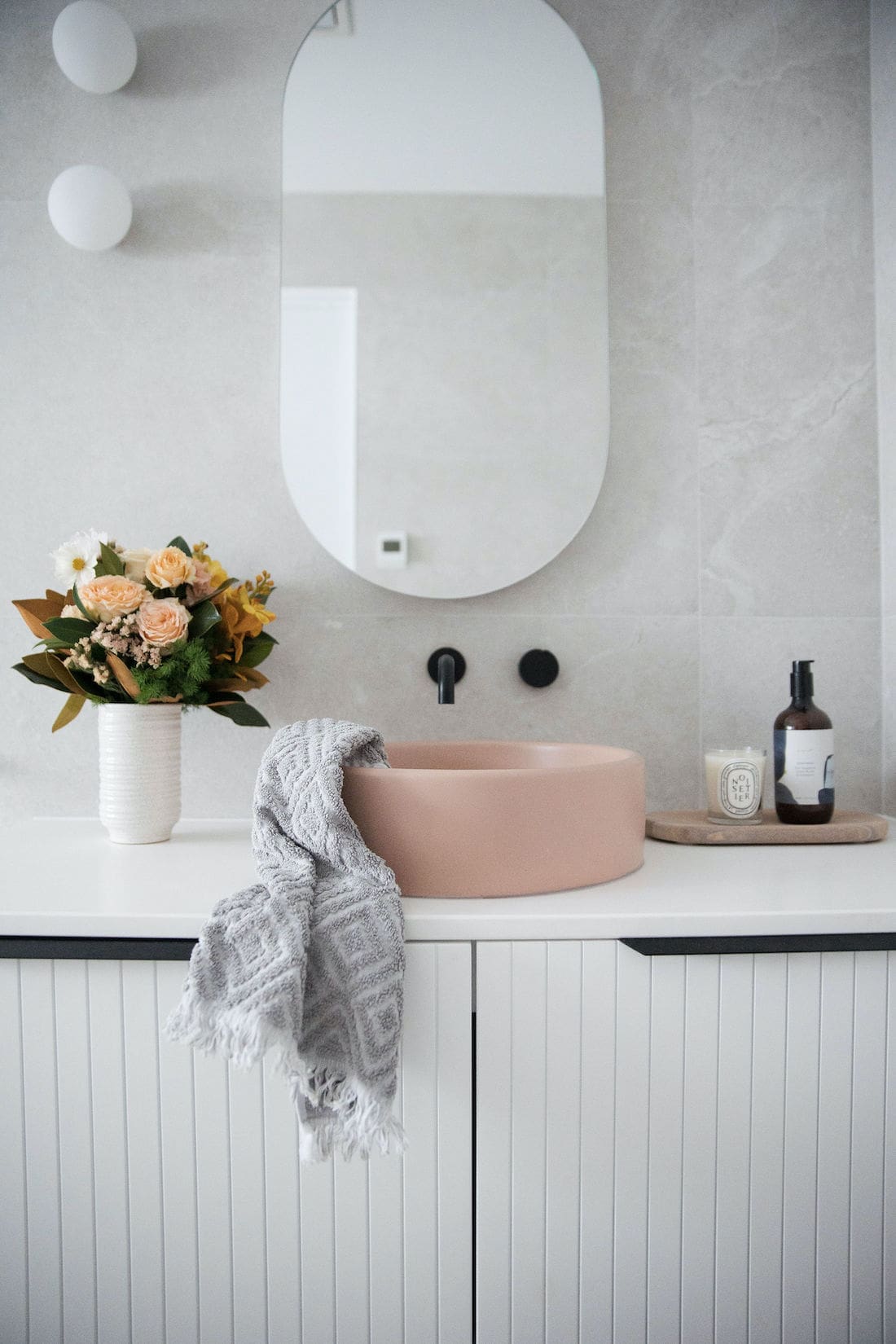 14. Create an illusion of space with vertical elements
Utilise the vertical space in your small bathroom to create the illusion of a larger room. Install tall cabinets, shelves, or mirrors that draw the eye upward, making the space more open and expansive.
15. Incorporate soft green or white tiles for a refreshing ambience
Use soft green or white tiles to infuse your bathroom with a calming ambience. Green walls can add a natural touch and a sense of tranquillity, while white tiles can brighten the space and make it feel more airy and inviting.
Check out all the green bathroom inspo you could ever need here!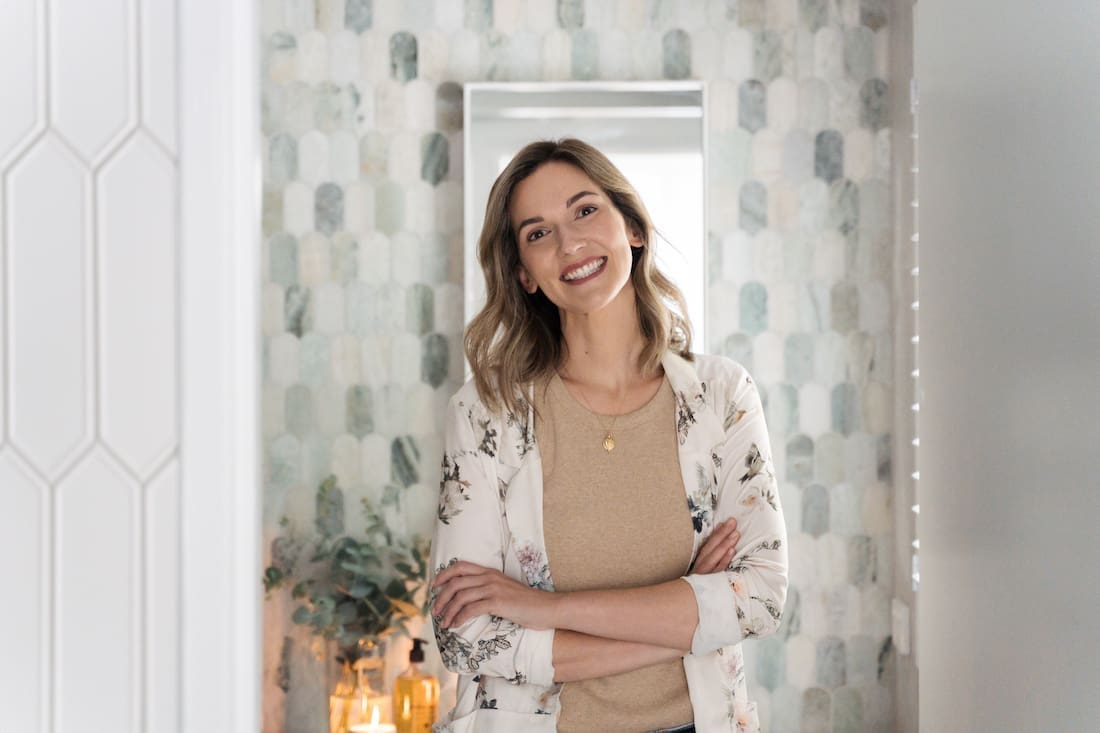 Creating your ideal bathroom oasis
We hope this article has given you plenty of ideas on how you can overcome the challenges of renovating a small bathroom space. Adding elegant fixtures like a freestanding bathtub and pedestal sinks can elevate the overall aesthetic while freeing up floor space. And using mirrors, lighting and clever tile layouts can create the illusion of space.
For those seeking expertise, consulting an interior designer can bring your vision to life while making the most of your small space. Their knowledge and skill can help you maximise space and create a stylish bathroom that will last the distance.
Moreover, seeking the assistance of professional specialists like Metropolitan Plumbing ensures that your bathroom renovation project achieves long-lasting quality. Their expertise can overcome challenges, providing reliable repair and installation services.
So, let your imagination run wild and explore the endless possibilities of design to create a small bathroom that not only maximises functionality but also oozes sophistication and style. With the right planning, execution, and professional guidance, your small bathroom can become a true sanctuary within your home. Happy renovating!
Do you have any questions on the best bathroom renovation ideas for small bathrooms? Or do you have other tips to add to the list? Let us know in the comments below.