Shraddha Kapoor needs no introduction. The petite actress has starred in numerous hit Bollywood movies in her flourishing career. She's also the daughter of yesteryear Bollywood legend Shakti Kapoor and his wife Shivangi Kapoor. She has a sibling, namely Siddhant Kapoor. Starting her cinematic journey with a role in Teen Patti that starred Amitabh Bachchan, Shraddha Kapoor made it big with the super hit Aashiqui 2, followed by successful movies like Rock On 2, Haider, Ek Villain and Stree among numerous others. She was last seen opposite Ranbir Kapoor in the movie Tu Jhoothi Main Makkaar. 
What is Shraddha Kapoor's net worth? 
Shraddha Kapoor's net worth is Rs 123 crore as per media reports.
Shraddha Kapoor Juhu house
Shraddha Kapoor lives with her father Shakti Kapoor, mother Shivangi Kapoor, brother Sidharth Kapoor and her little Tibetan Terrier, Shyloh, in their sea-facing spacious Juhu, Mumbai apartment.
Shraddha Kapoor house address
7th Floor, Palm Beach,
Gandhigram Road,
Juhu, Mumbai – 400049
Actor Shilpa Shetty is Shraddha Kapoor's neighbour. Other Bollywood celebrities stay in the vicinity.
See also: All about Madhuri Dixit new house
Shraddha Kapoor's Mumbai house: The story
Shraddha Kapoor lives in the sprawling and gorgeous sea-facing house that her father Shakti Kapoor painstakingly put together after years of struggle. He came to Mumbai in 1975 without a place to call his own. He purchased his first home in Juhu, a one bedroom apartment, just five years after he came to Mumbai.
After another seven years, Shakti Kapoor purchased the three bedroom apartment where he resides currently. He paid Rs 7 lakh for the property after taking a loan from the owner of Shringar Films, Shyam Shroff. After getting married to Shivangi, he purchased the flat next to his apartment. After his son Siddhant was born, Shakti Kapoor purchased another apartment on the same floor. Currently he owns the entire floor in the building. Actor Shakti Kapoor acquired this residence for Rs  10 crore a few years ago. 
Shraddha Kapoor: Rangoli at the entrance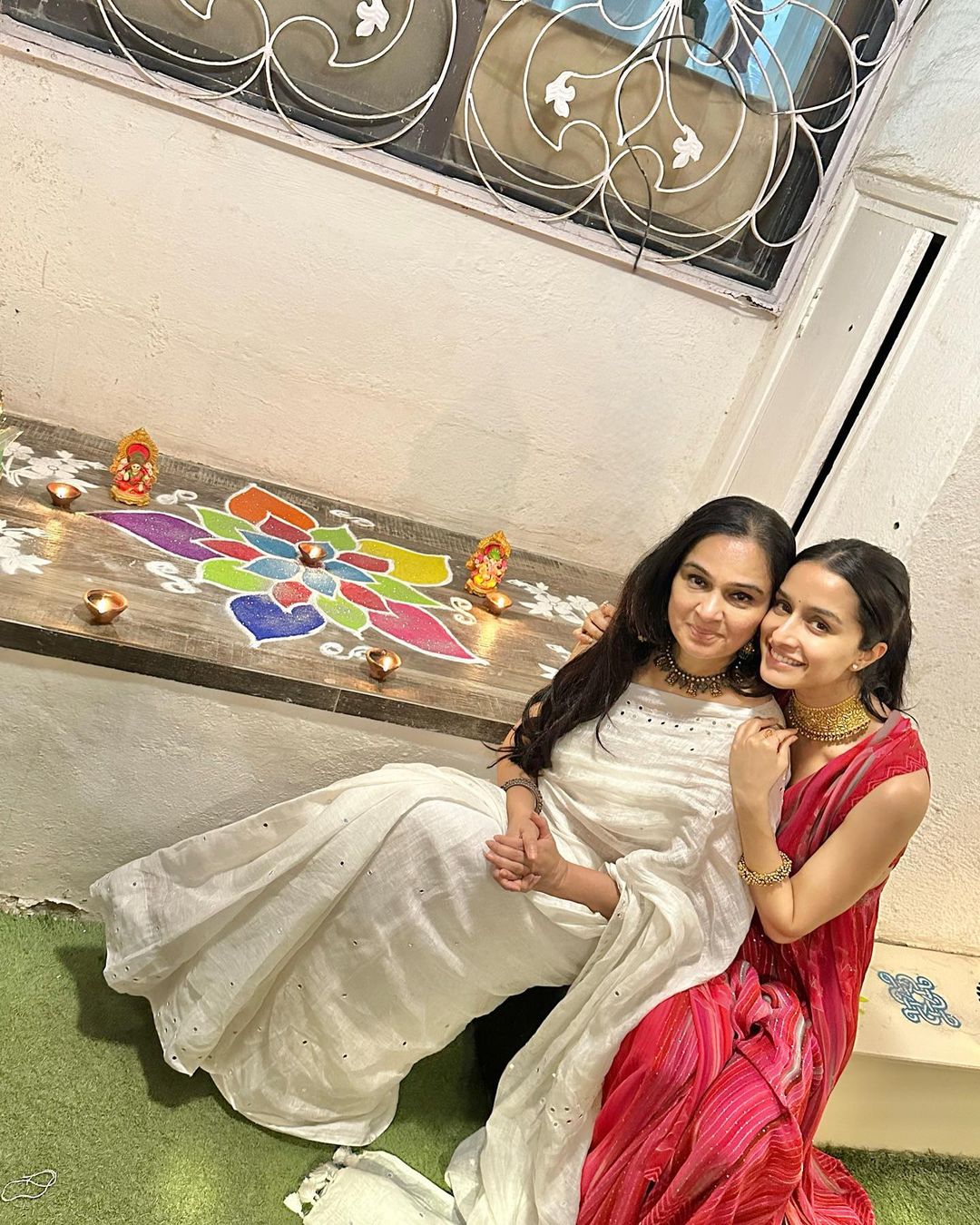 Shraddha Kapoor: Ganesh Chaturthi celebration
Every year Shraddha Kapoor celebrates Ganesh Chaturthi by getting the Ganesh idol to her house.
Shraddha Kapoor: Luxurious living rooms
The mustard, extensive ledge-turned-couches set down in a disk-like manner are perfect for hosting large star-studded get-togethers. The glassy beige marble flooring and complementary rugged white base glass top centre table accentuate the mustard, extensive ledge-turned-couches set down in a disk-like manner. 
The house also sports cozy corners that have furniture made of cane and throw cushions to match with.
However, the splendour of Shraddha Kapoor house decor does not end there. In this sea view apartment, there are several spacious living rooms with floor-to-ceiling glass windows, designer wooden sculptures adjacent to the side table, circular settings with a tranquil view of the sea, and portraits of Shraddha's mother Shivangi Kapoor and father Shakti Kapoor, indicating who is the boss in the house.
The gorgeous Juhu beach views seating area is also one of Shraddha's chill spots in the house. While strolling through the living room with a glass of wine, the guests surely cannot miss admiring the multi-level king-size cabinet showcasing the family's achievements as trophies.
Actress Shraddha Kapoor's house has an old-world beauty with a modern twist. The sleek terrariums and textured walls contrast nicely with the classic royal furnishings. 
Shraddha Kapoor loves playing the piano in the living room which she started playing right from four years of age. Shakti Kapoor has furniture in the massive apartment which is more than three decades old. There is a well-stocked bar in the living room along with architectural motifs and fabulous paintings, all chosen by Shivangi Kapoor.
Shraddha Kapoor house: The reflective, thoughtful area
The actor's calm area, this window with lush plants and dangling decorative bird feeders, is a place to meet and welcome nature.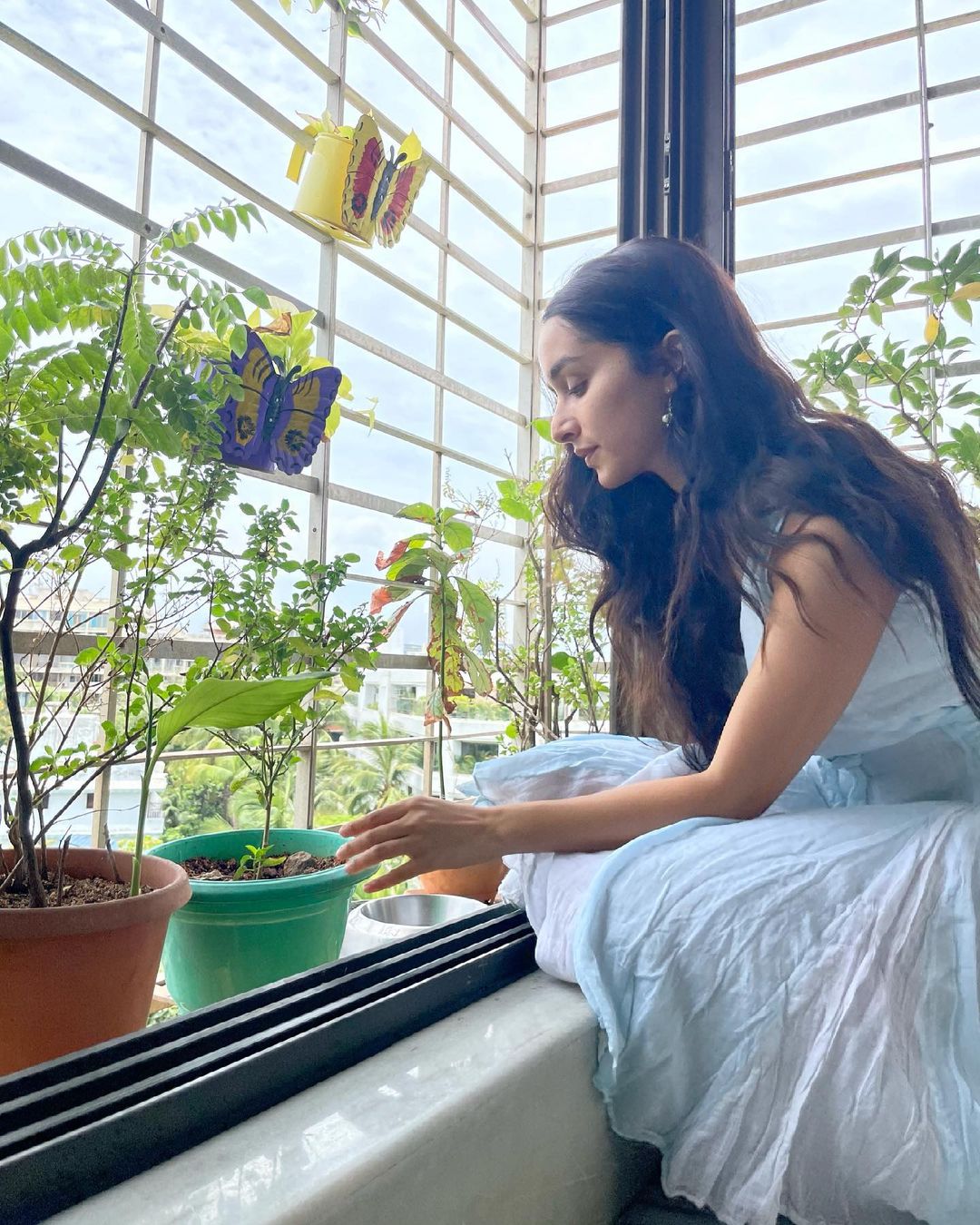 Shraddha enjoys feeding birds and has designed this home area to attract pigeons and parrots, giving it a peaceful feel.
The view from this place is so beautiful, with a gushing sea and a thick patch of palm trees, that you could easily spend an entire day simply lounging about, sipping coffee, and reading an excellent book.
Shraddha Kapoor's Mumbai house: Lavish yet elegant
Shraddha Kapoor's house has a charming side to it. The sea-facing Juhu property has traditional furniture neatly fused with modern touches via textured walls, contemporary wallpapers and chic and welcoming terrariums. Here are some details of Shraddha Kapoor's house that you will love!
It has memories splashed wonderfully across the walls along with dynamic furnishings and fixtures.
 The best areas in the family home of the Kapoors are the gorgeous viewpoints beside the windows. The home offers sweeping and unhindered views of the Arabian Sea.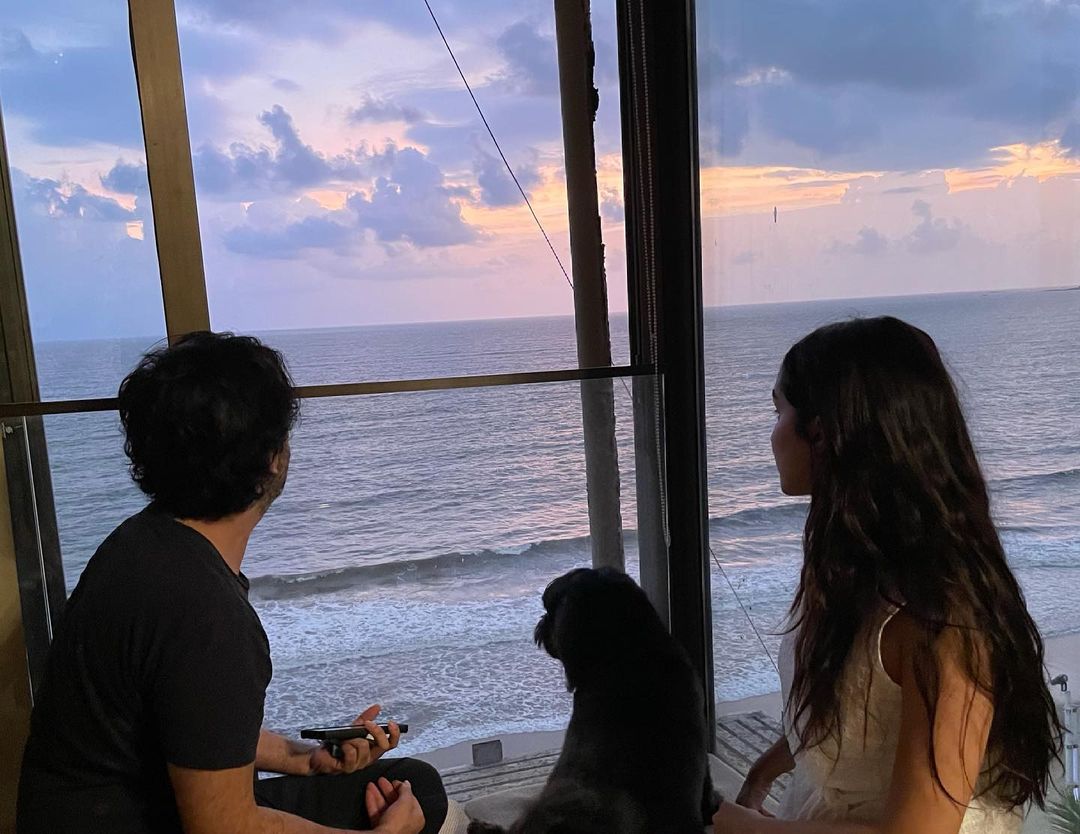 Shraddha Kapoor is often seen on her Instagram and social media feeds, enjoying a spot of relaxation with Shyloh, her pet dog and also sunsets beside the window after indulging in some cardio.
Shraddha Kapoor's room
Shraddha Kapoor's room is adorned with several elements which infuse a personal and warm vibe to her space. There is an entire wall comprising frames and pictures, covering several childhood memories and family images galore.
Shraddha Kapoor clearly prefers softer shades and hues which are seen through the elegant beige curtains in her bedroom along with wooden doors and white paneled blinds as well.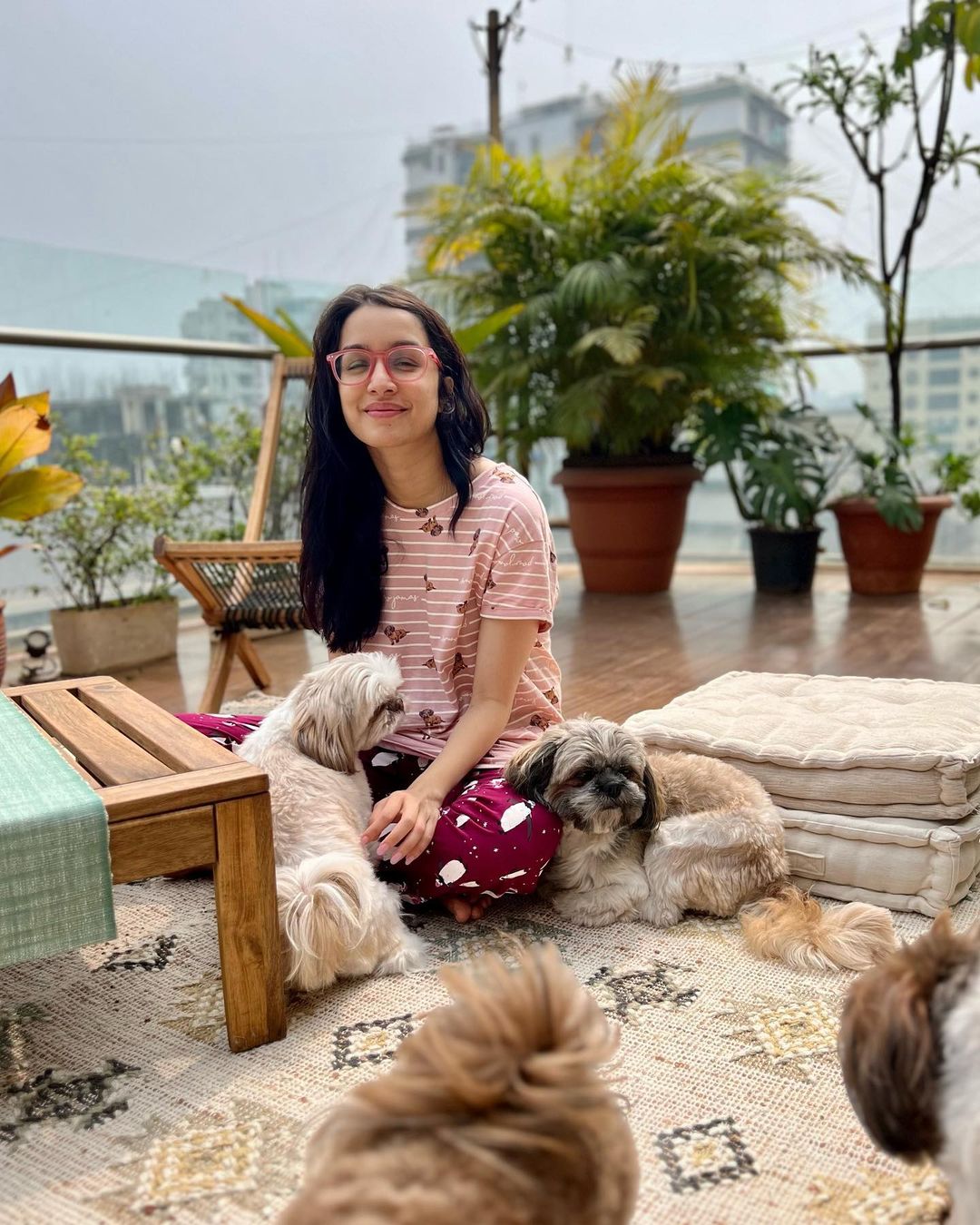 In recent news, Shraddha Kapoor has reportedly purchased her own stylish apartment in Juhu for somewhere around Rs 10 crore. However, Shraddha Kapoor is not using this as her full-time address according to the latest reports. The Kapoor family is a close-knit unit and Shraddha reportedly wishes to keep this property as a professional space for conducting dress fittings, movie sittings, script sessions, meetings and also for music classes by her mother Shivangi. Her new apartment is a single airy space once the bedroom doors are opened, in her own words. Shakti Kapoor has a plum real estate portfolio today. Along with his floor in Juhu, he also owns a luxurious home in Madh Island on the outskirts of Mumbai along with a home in Lonavala. He also has a house in Greater Kailash, New Delhi, as per reports.
FAQs
Where is Shraddha Kapoor's house located?
Shraddha Kapoor's Mumbai house is located at Juhu.
Who does Shraddha Kapoor live with?
Shraddha Kapoor lives with her father Shakti Kapoor, mother Shivangi Kapoor, brother Siddhant Kapoor and her pet dog Shyloh.
What is the net worth of Shraddha Kapoor?
The net worth of Shraddha Kapoor is around Rs 123 crore.
What is the cost of Shraddha Kapoor's house?
Reports suggest that Shraddha Kapoor bought a new house for around Rs 10 crore.
Does Shraddha Kapoor do Ganpati Staphana at home?
Yes, Shraddha Kapoor gets home the Ganpati idol every year during Ganesh Chaturthi.
Got any questions or point of view on our article? We would love to hear from you.
Write to our Editor-in-Chief Jhumur Ghosh at 
jhumur.ghosh1@housing.com