Supported by La-Z-Boy
When it comes to finding the perfect recliner, one brand that stands out for its superior craftsmanship, comfort, and style is La-Z-Boy. With over nine decades of expertise, La-Z-Boy has become a household name all over the world, synonymous with relaxation and luxury. 
So lets explore the exceptional style and comfort offered by the La-Z-Boy recliner range and delve into the benefits of their power recliners and lift chairs to discover the ultimate addition to enhance your home style and comfort.
Related article: How to style a vignette: Tips and tricks to creating styled arrangements around your home
Related article: The tips and tricks to styling your coffee table with ease
A brief history of La-Z-Boy 
The story of La-Z-Boy began in 1927 when cousins Edward M. Knabusch and Edwin J. Shoemaker invented the world's first reclining chair. Their innovative design, featuring a unique reclining mechanism, revolutionised the furniture industry. 
Over the years, La-Z-Boy has continued to refine and perfect their recliners, making them a trusted brand known for their quality and comfort.
Style meets unmatched comfort
La-Z-Boy recliners are designed for maximum comfort and exude a timeless style that complements any living space. 
Whether you prefer a classic or contemporary look, La-Z-Boy offers a wide range of recliner styles, upholstery options, and finishes to suit your personal taste. There is something to suit your home's aesthetic, from sleek leather recliners to cosy fabric options.
When it comes to comfort, La-Z-Boy takes it to another level. Their recliners are meticulously designed with ergonomics in mind, ensuring optimal support for your back, neck, and legs. The plush cushioning, combined with the patented reclining mechanism, allows you to find the perfect position for relaxation. 
With the touch of a button, you can effortlessly recline, adjust the footrest, or even find the ideal angle for napping. Each La-Z-Boy recliner is engineered to provide unparalleled comfort for extended periods, allowing you to unwind and rejuvenate.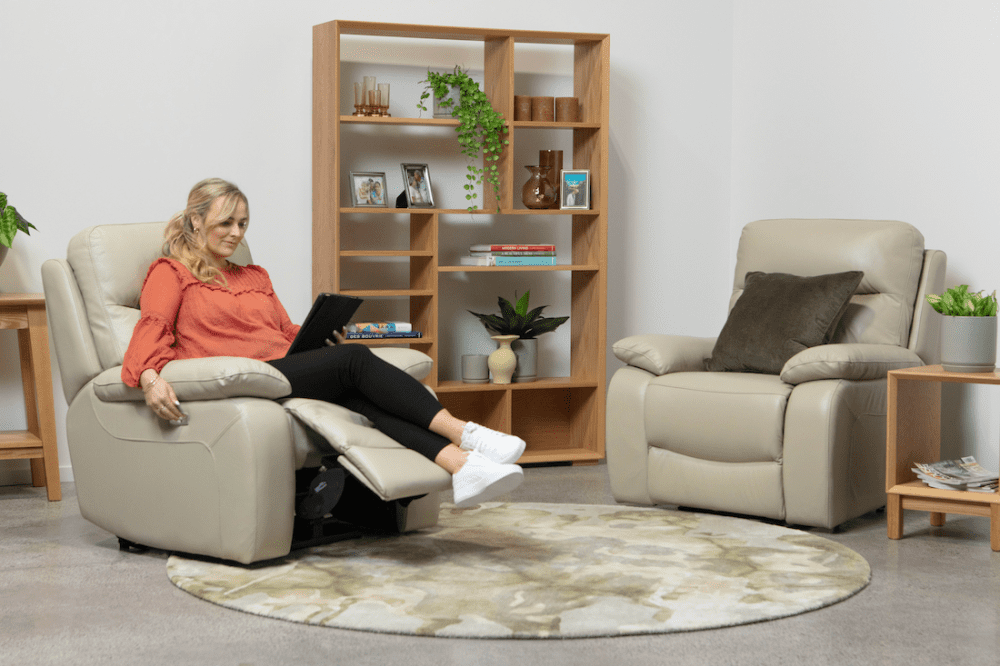 Power recliners: Modern convenience at your fingertips 
La-Z-Boy's power recliners offer the ultimate convenience. With a built-in electric motor, these recliners enable you to recline or return to an upright position effortlessly. You can control the reclining mechanism using buttons or remote control, allowing you to quickly find your desired position. 
Power recliners are excellent for individuals with mobility issues or who prefer a more automated reclining experience.
Lift chairs: Assisted comfort and independence 
For individuals who require additional assistance, La-Z-Boy's lift chairs provide comfort and independence. 
Not only do these chairs offer lower reclining at the touch of a button, but they also feature a powerful lifting mechanism that gently assists users in standing up or sitting down. The lift function is controlled by a handheld remote, making it easy to operate. 
Lift chairs are an excellent option for older adults or individuals with mobility challenges, as they offer a safe and secure transition between sitting and standing positions.
Benefits beyond comfort
La-Z-Boy recliners offer numerous benefits beyond their exceptional comfort. They are built to last, with high-quality materials and expert craftsmanship, ensuring durability and longevity. Many models feature customisable options, allowing you to personalise your recliner to suit your needs. 
The La-Z-Boy recliner range epitomises the perfect blend of style, comfort, and innovation. Whether you opt for their power recliners or lift chairs, you can trust that you are investing in a premium product that prioritises your relaxation and well-being. 
With La-Z-Boy, you get a recliner that enhances your living space and a haven of comfort where you can unwind and recharge after a long day. Discover the full range of La-Z-Boy recliners online today.