In the ever-evolving world of interior design, it can be overwhelming to decide on colour palettes, materials and design features. And this rings especially true in the most expensive room of the house — your kitchen. Whether you're looking to revamp your kitchen or build new, it pays to explore the latest kitchen design trends to stay ahead of the curve and get the maximum lifespan out of your new kitchen!
From bold pops of colour to smart tech, let's delve into the latest kitchen design trends. Keep on reading for our tips on how to create a kitchen that functions well, looks fabulous and has timeless appeal. We're all about achieving spaces that tick the boxes of form and function, so you can spend more time whipping up your favourite dishes in style and less time glancing at your phone to order from a restaurant booking system.
Related article: Tour Evergreen: The orange kitchen with a timber kitchen island, coloured joinery and lots of clever kitchen design inclusions
Related article: 7 tips for updating your kitchen: Best cosmetic kitchen upgrades
Don't hide everything behind closed doors
Cookie-cutter kitchens where everything is hidden behind closed doors have had their time… the next wave of trending kitchens embrace open shelving, glass-fronted cabinets and feature bookshelves. Just take a look at how fabulous these design elements look in the kitchen above.
They're an excellent way to visually break up your kitchen design, add character and provide plenty of kitchen styling opportunities! The trick is to use these sparingly so they can be a feature in your space — less is more.
Do embrace colour
While white kitchens will always be safe and timeless, real magic happens when you play with colour and texture. And right now, colour is having a BIG moment in kitchens.
Blue and green kitchens remain the most popular but new colours are also coming onto the scene, like that warm burnt orange colour Jacqueline used in one of her latest kitchen renovations below. See the full before and after kitchen transformation here.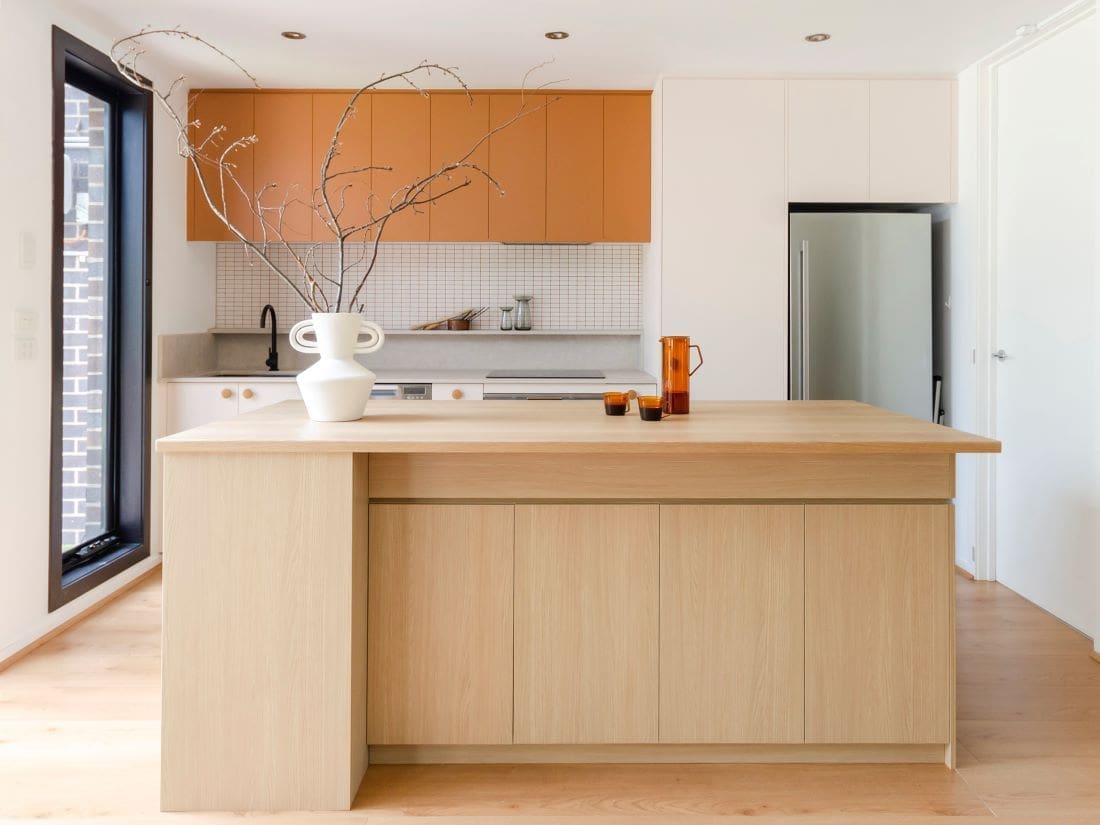 Don't neglect additional storage opportunities
In a kitchen, there's no such thing as too much storage. Future you will thank you for taking extra time in the planning stage to consider where you can incorporate additional kitchen storage.
Clever kitchen storage ideas and space-saving inclusions:
shallow cupboards on the face of your kitchen island, ideal for glassware
slim pullout drawers, perfect for spices and oil near your cooktop
corner cupboard pull out shelves
appliance cupboards, custom made to perfectly fit your most used and loved appliances.
Check out this article where Darren Palmer shares more of his favourite kitchen inclusions.
Do embrace smart tech
Latest kitchen innovations are game changing! Save time and cook with ease by integrating tech into your kitchen design.
Some new smart kitchen ideas to consider:
voice-controlled appliances and tapware
refrigerators that reorder groceries
smart ovens that monitor food for perfect cooking
cooktops with integrated extraction to eliminate the need for a rangehood.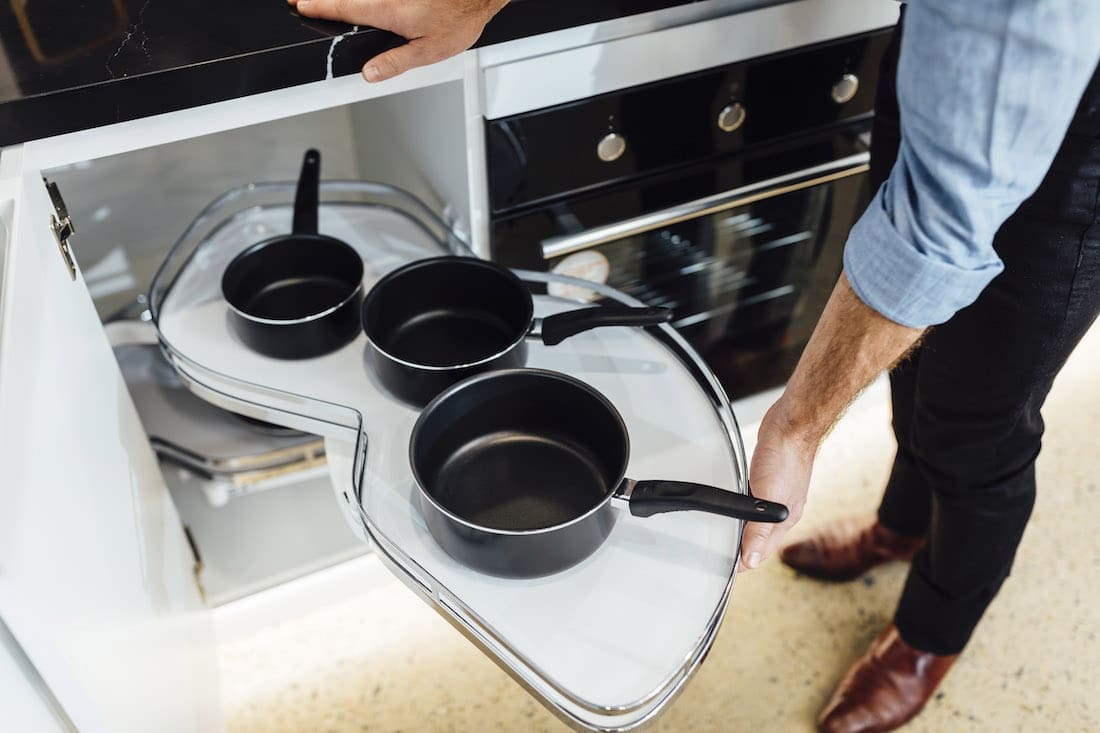 Don't overlook your lighting
You know how we feel about lighting — it's one of the most overlooked elements of interior design! Yet great lighting can transform your space, making it feel more luxe and ambient… and no one wants to be chopping veggies with shadows cast over them!
Decorative lights are having a real moment in kitchen design. As well as the ever-popular pendant light (or cluster of pendants) over the kitchen island, consider adding a wall light or two. These could be discreet lights to wash light on your walls or illuminate an artwork, or be decorative and like jewellery in your space.
Read these expert lighting tips to help you design a considered lighting plan for your kitchen.
Do think outside the box (or rectangle!) when it comes to your kitchen island
The curves trend isn't going away any time soon and one way to embrace curves is with your kitchen island. You could do this in a subtle way by adding a soft curve to your stone benchtop… or go all-in with a pill-shaped kitchen island like that stunner from Willoughby II home tour.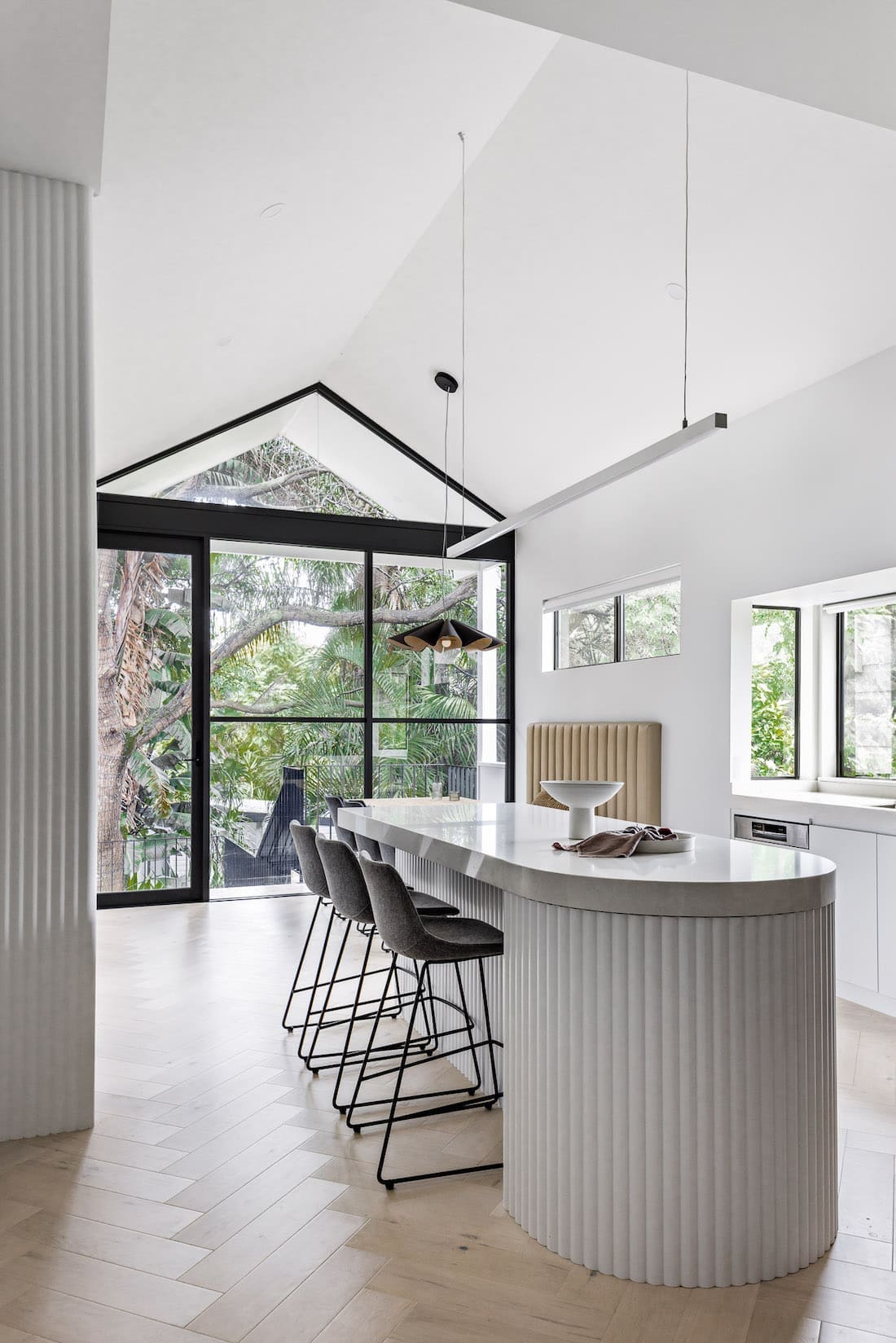 Don't forget to play with texture
We mentioned colour above but another way to add interest to your kitchen is with texture. Think different materials and finishes!
For example, using a handmade tile on your kitchen splashback will introduce an organic undulated surface. You could also use a convex or fluted profile on some of your kitchen joinery or around your kitchen island. Natural timber is another timeless material that will bring texture and warmth to your kitchen design.
Do consider sustainability
It's never been easier to create a stylish and environmentally-friendly kitchen. From recycled materials to energy efficient appliances, there are many ways you can make smarter choices in your new kitchen.
Have you found any ideas to embrace from this round up of the latest kitchen design trends? Which one is your favourite and how will you make it your own? Tell us in the comments below!