This season can be quite expensive between purchasing gifts and hosting holiday parties. Save a little money by creating a few decorations yourself. Here are several DIY ideas for making your home look fabulous without breaking the bank.
DIY Ornaments
Ornaments are a holiday staple. Try these.
Dollar Tree Salt and Pepper Shakers
This clever idea comes from eBay on Pinterest. Go out to your local dollar store and pick up a salt and pepper shaker, ribbon, and a Sharpie to make these functional and original table decorations.
Wine Bottle Christmas Craft
ThroughoutTheYellowDoor.com inspired us with their wine bottle Christmas craft, as shown in the photo below from Pinterest. Aside from old wine bottles, the project requires Mod Podge, glitter, and wooden letters. While we love this idea, if you want to save even more money while still creating a cute decoration, skip the Mod Podge and glitter and just purchase some festive colored paint. Instead of painting on glitter then applying wooden letters, apply two layers of paint. Grab some old cardboard to draw and cut letters out from. You can pick up the flowers to place inside at your local dollar or art store. Look for bouquets. Cut the flowers to separate.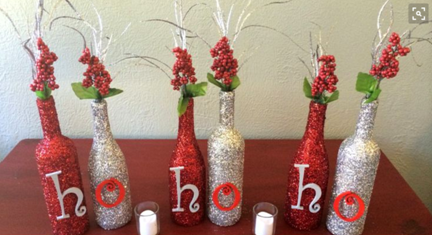 Sock Snowmen
What you'll need: White socks, buttons, rubber bands, stuffing (tissues, cotton, paper, or rice inside of a plastic bag will work), pins, and extra fabric. Visit Darkroom and Dearly on Pinterest for detailed instructions.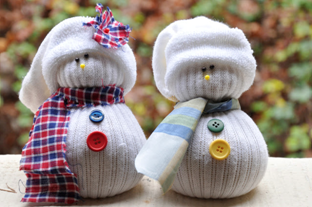 If you make any of these, we'd love to see how they turn out. Head over to our Facebook page and upload your photos.