It might seem like yesterday you were
preparing your nursery
. As your child grows right in front of your own eyes, you might find it hard to believe that he or she is already a toddler. Transforming a spare bedroom into a toddler play area might require some creative thinking when it comes to storage and space. After all, his or her toys and games will need a place to call "home." Below are a few ways to make your home a toddler's haven.
Create A Theme


Source: Pinterest
By now, you most likely have an idea of what your toddler likes and doesn't like. Toddlers have vivid imaginations and their room should reflect that. For example, if your child likes pirates, consider painting the toddler room blue and brown. From there, you can add decorations.
Keep in mind that not everything in the room needs to revolve around the theme you choose. Revolve the room around a general theme so that way your
Make Room for Reading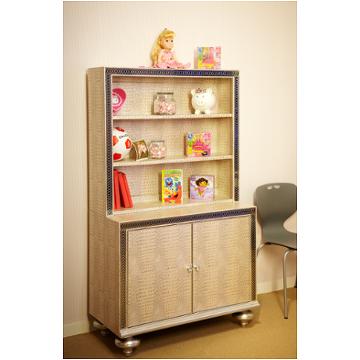 As your toddler grows, he or she might acquire a collection of books. A kid-friendly bookcase is an essential component for toddler storage. Look for bookcases that also offer room. The bookcase pictured above offers storage at both the top and bottom for plenty of toddler related items.
Closet Nook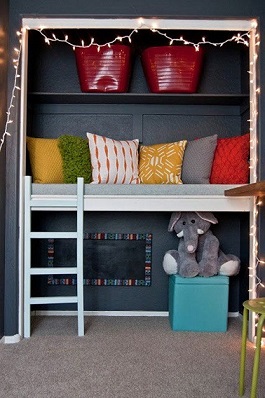 All children love to have a hiding spot where they can escape and play. If their room has a closet that isn't providing much storage, turn it into a nook. Leave enough room for clothes and shoes and use the rest for their secret spot. Adding shelving that is out of reach of the toddler could also help with keeping the room organized and tidy.
Eliminate Hazards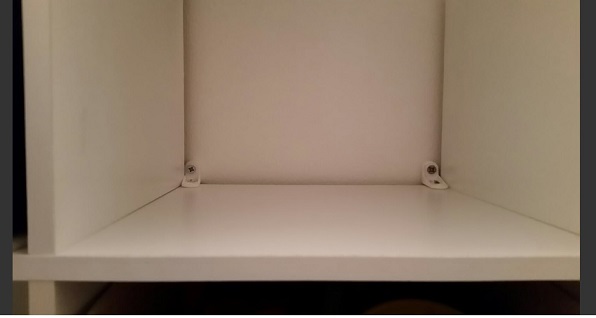 Your toddler is most likely brave and could climb up any furniture that looks appealing to him or her. Larger furniture, such as dressers, armoires, or bookcases, should be secured to the wall with either L-brackets that go into the wall with a screwdriver, or furniture anchor straps. If you have many electrical devices, consider using a wire guard so that he or she cannot reach them. Also consider installing childproof outlets as toddlers can insert items (or even worse, their fingers) into electrical sockets and get shocked.
If you ever find yourself needing more furniture for your toddler, don't worry. View our selection of kids room furniture.