When making a house into a home, lighting is important. Different moods and ambiances can be accomplished with various lighting. There are three types of lighting that you should be aware of: ambient, task, and accent. To use all three effectively, they should be used in different areas of the house. Below we will explain what the three lighting types are and then, we leave the decision up to you to choose whats best for your beautiful and unique home.
Ambient Lighting


Source: pinterest.com
Ambient lighting, also known as general lighting, allows for a comfortable level of brightness. It is usually used in dining rooms, living rooms, and bedrooms. Ambient light does not give off a glare and provides the perfect amount of light so you and your family can see and walk safely. This is good to use in rooms with large windows that bring in natural light.
In these rooms, consider installing a chandelier, flush mount lights or track lights with three to five lights.
Task Lighting


Source: pinterest.com
Task lighting works similar to its name. It is targeted to a particular area where you read, prepare food, complete homework, and even groom. Task lighting should be used in areas where your concentration is needed. It will not provide any distracting glares or possible shadows, and is good for illuminating areas that need extra light.
Use pendant lighting, portable floor and desk lamps, and under cabinet lighting (shown above) as task lights. You can use it in your kitchen, home office, bathroom, or living room to help out any readers in the family. For the handymen who work out of the garage, task lights are a great type of lighting to emphasize your workbench.
Accent Lighting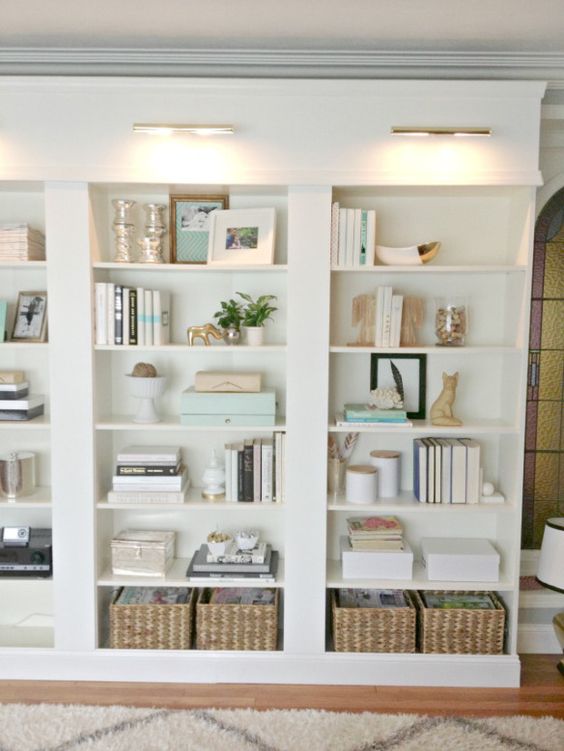 Source: pinterest.com
Accent lighting adds drama to any room it is used in. Also referred to as highlighting, it draws attention to a specific area or object. Bookcases (shown above), brick walls, paintings, or a houseplant are some common places where you will see accent lighting used in the home.
To achieve the full affect of accent lighting, you must have at least three times more light on the focal point than the general lighting surrounding it. Suggested rooms to use accent lighting: home office, living room, bedroom, or even outside to put emphasis on a particular part of your landscape.
Did you use task, ambient or accent lighting in your home? Share a picture on our Facebook page