Whether you've recently purchased new bedroom furniture or are considering making a change, you might be wondering what to do with your old furniture. Before you toss items to the side, consider the ways they could be recycled and renewed. Used furniture can be repurposed for a wide-variety of uses. By simply decorating your old dresser drawers, you can create a broad assortment of new pieces that can still have a place in your life. From stylish, space-saving storage solutions to creative, unique decor, your new bedroom furniture doesn't have to mean the end of pieces you once loved.
If you choose one of our ideas below or start on a project of your very own, there are a few steps you should take.This project will require some sanding (not the beach kind of sand.) If you plan to paint or stain the drawers, remove all of the hardware first and store it in a safe place.
Next, sand them to ensure a smooth finish. You should then prime your surface prior to painting. Choose your color and paint your drawers. Be sure to finish them off with a protective seal to protect all of your hard work and increase the lifetime of your new piece.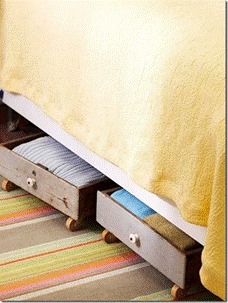 Source: pleasantlyperched.wordpress.com
The space underneath your bed is, oftentimes, wasted. Traditional storage solutions are too bulky and tall to fit in the tight space between your bed frame and your floor, and placing items under your bed in an unorganized fashion becomes messy making items difficult to locate. To make a smaller bedroom feel bigger, you'll want to get creative with your storage solution.
TIP: Purchase and install wheel casters on all four corners of each drawer. Slide your new storage drawers under your bed and enjoy!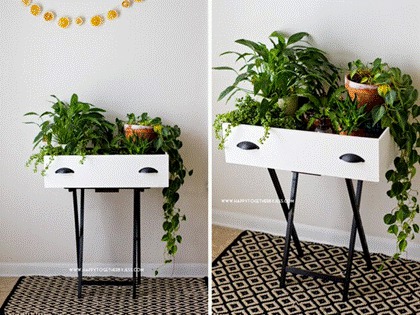 Source: happytogetherbyjess.com
Sick of terracotta pots lying around your house? Using an old dresser drawer to hold all of your plants can allow you to create a garden anywhere in your home. Happy Together by Jess has a great tutorial on how to create this. All she used was a chalky finished paint and a varnish to get her dressers white. For the bottom of the stand, she used a folding tray table. Ensure that your plants are in an area with adequate light.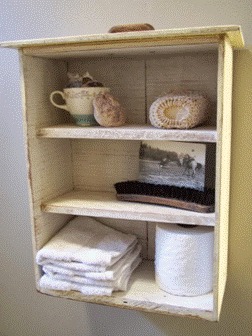 Source: beyondthepicketfence.blogspot.com
Decorating your old dresser drawers can add stylish design elements to any room of your home. Adhere a favorite picture to the inside bottom of your drawer and display it in your child's room. Or, place favorite knick-knacks and other preferred items within the drawer and hang it in your guest room to personalize your space. You can even choose to carefully remove the bottom of the drawer, attach the remaining structure to your bathroom wall and discover a whole new world of money-saving shelving options. A great way to upgrade your bathroom at a low cost!
TIP: Skip the coat of paint if you are looking for a rustic, natural feel.
Decorating your old dresser drawers can transform any room in your home and create spaces your friends and family find interesting and unique.
Looking for more inspirational ideas for your home? Follow us on Pinterest for more ideas for your home.