The hallway can be a tricky one to style. Too much and it can be cluttered and awkward. Too little and it feels stark and cold. Getting it just right is a balancing act but we're here to help you nail it and answer the question… how do you style your hallway?
We discuss hallway decorating ideas, furniture, rugs and styling tricks — this is your one stop hallway styling shop!
Related article: Nook styling: 3 ways to make the most of empty corners of the home
Related article: How to style a sideboard, console or hall table: Home décor to use and top styling tricks 
Add a rug
A sure fire way to glam up your hallway is to add a rug. Hallway rugs add warmth to the space and feel beautiful underfoot. Choosing the right one can set the tone and style for the rest of your space.
Patterned or coloured rugs help bring a burst of colour to the space. The classic Hamptons rug is perfect for a coastal or Hamptons home. And if you're not sure what your style is, a jute or knotted hallway runner is always a good choice.
We also love the idea below where Michael and Carlene used a series of different rugs for their large hallway / breezeway.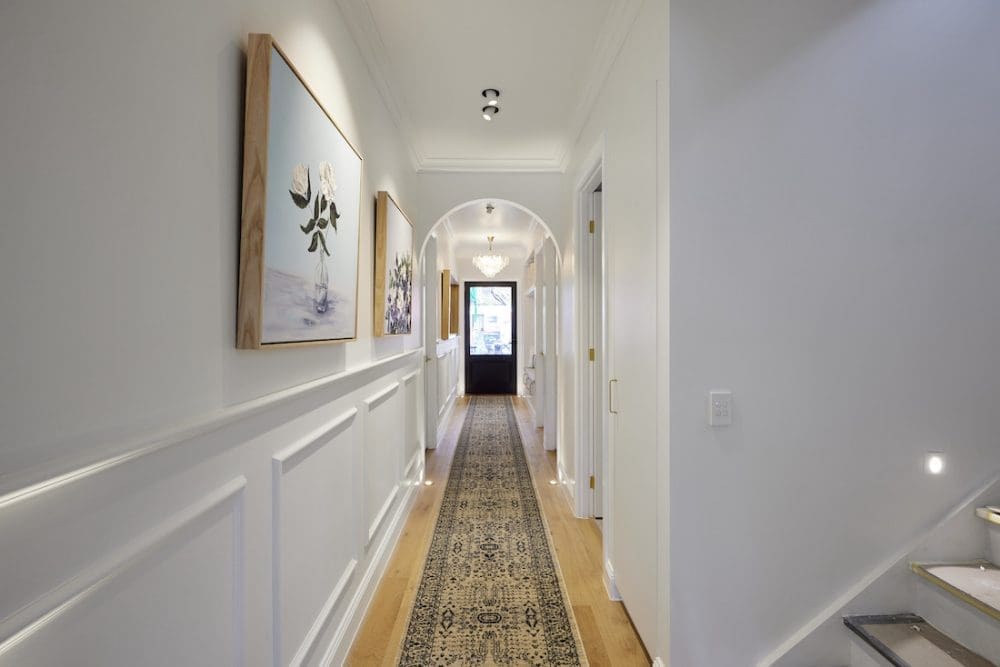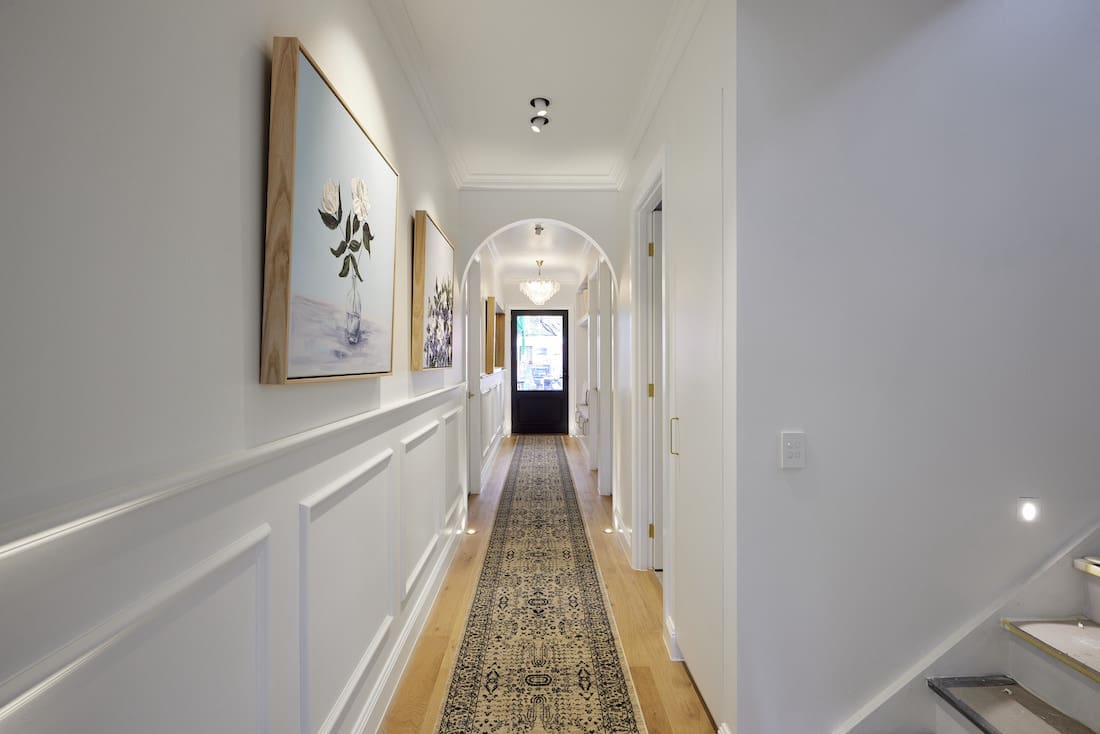 Plan your lighting
Are you sick of hearing us harp on about how important lighting is to a space yet?! Well, it is and we don't intend to stop now… even if we are just talking about the humble little hallway!
Whether it be a statement pendant light, wall sconces or simple downlights or wall lights, getting the lighting right in your hallway will make the world of difference.
If you can't change your current lighting, you could always add a statement lamp or even a floor lamp. It will make your hallway feel brighter, more inviting and just down right beautiful!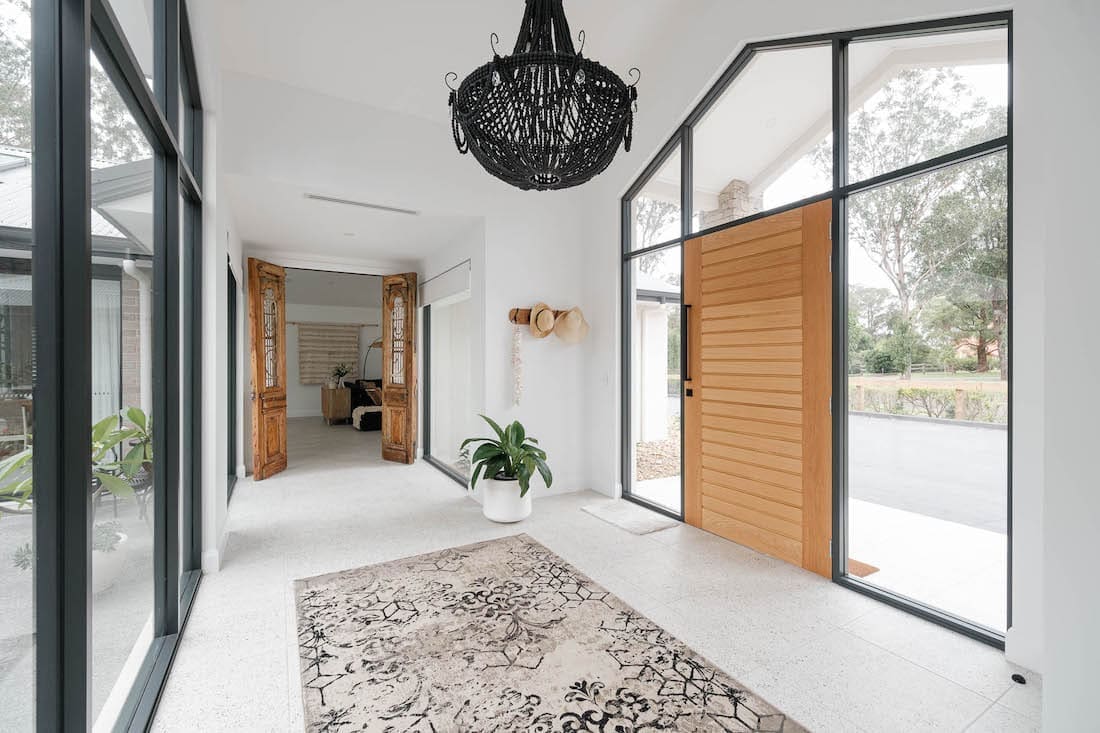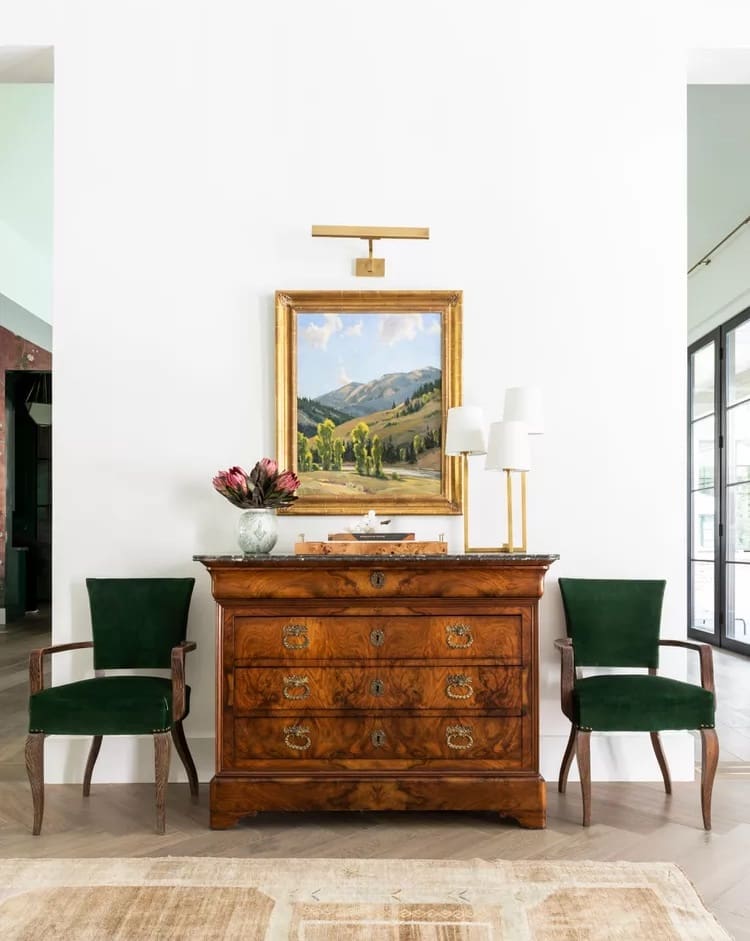 Think about furniture
Hallway furniture is a given — so long as you have the space. A slimline hallway table is an ideal choice where you can add interest, style it up with decor and have a place to pop your keys and other bits and bobs.
If there's space for it, a statement chair looks great. It can serve as a spot for people to take their shoes on and off, or even as a reading nook if the hallway is elsewhere in the home.
Incorporating a built-in bench seat is another fab option. Kind of like a mudroom / drop zone. Bonus points if it includes storage so you can stash shoes and bags out of sight!
Add depth with a mirror
A mirror is a great way to reflect light and make a space feel larger. It's also ideal to use by the front door so you can check yourself before you leave home!
Timber or rattan for those coastal vibes. Brushed brass for an art deco style home. Black for the modern space or scandi. There are so many gorgeous mirrors on the market, you'll be spoilt for choice.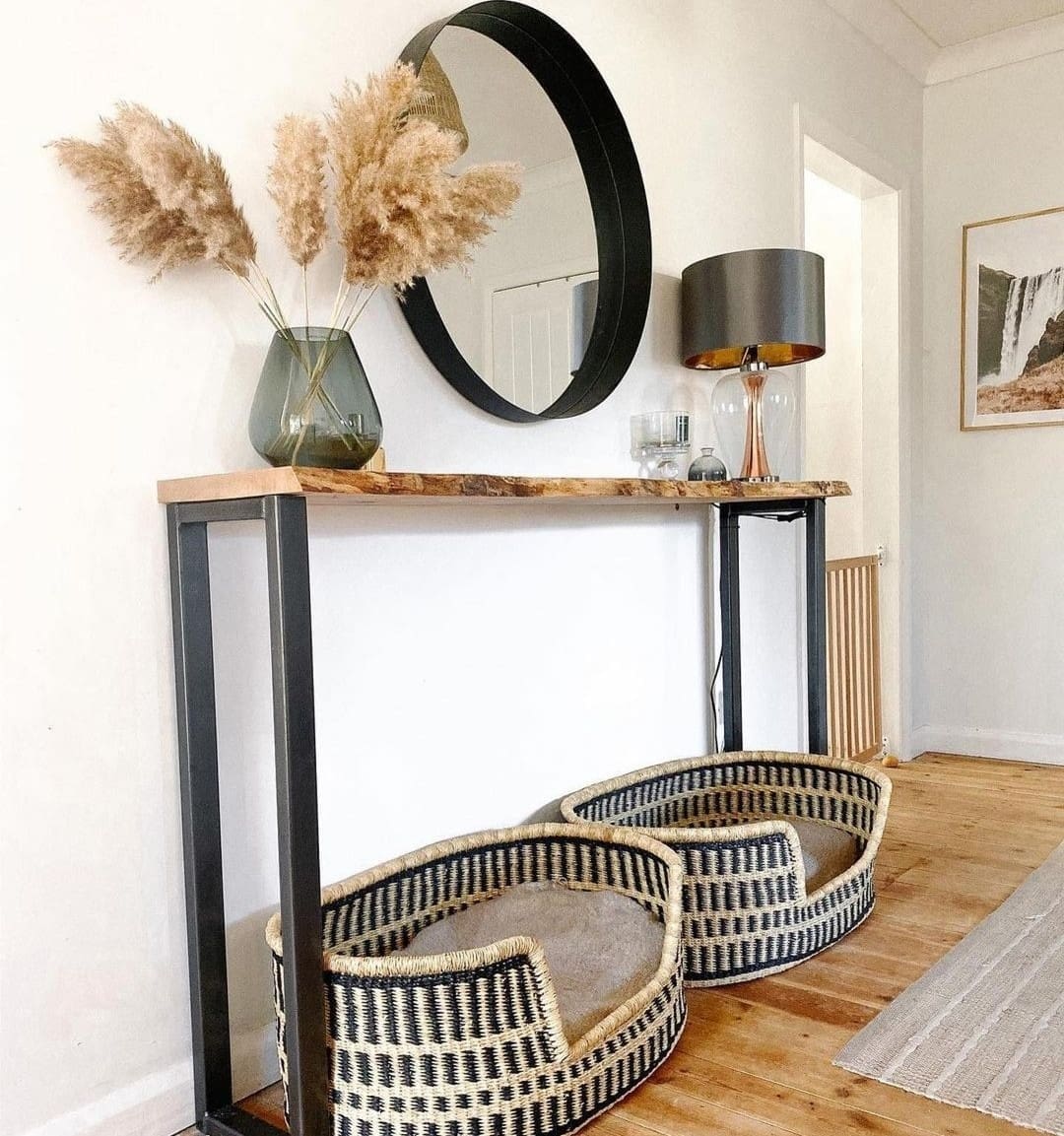 Go green with life
We've said it before… plants bring life to every space in the home and the hallway is no exception. If you're looking for an entry level idea for how to style your hallway, plants are an ideal pick.
They instantly bring style, colour and life into a space as well as helping to purify the air. Need help picking a hardy plant to use to style your hallway? Check out this handy guide of 20 hard to kill indoor plants.
Add a splash of colour or art
If you love colour, why not make an entrance and showcase it from the get go? Perhaps a bold painted wall or a colourful gallery wall? You could even paint your front door with a beautiful pop of colour. This article will provide endless inspo.
For a less in your face approach, try a colourful piece of furniture, some decor pieces, or simply add some indoor plants.
Artwork is also an ideal way to add colour to a space without going too OTT. Use it as inspiration to set the tone for the rest of your hallway.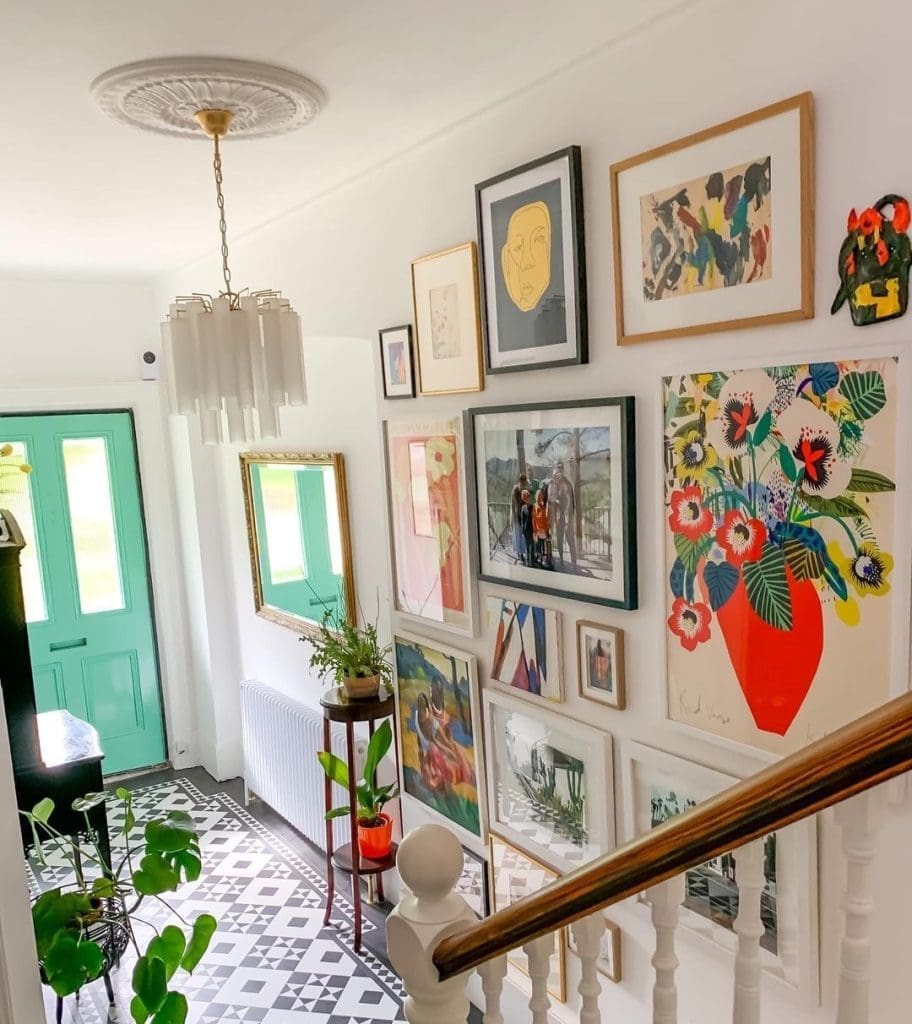 Make a statement with your floors
We love a statement floor! Whether it be black floors, bold tiles or a classic timber herringbone, these are a sure fire way to make a lasting impression in your hallway.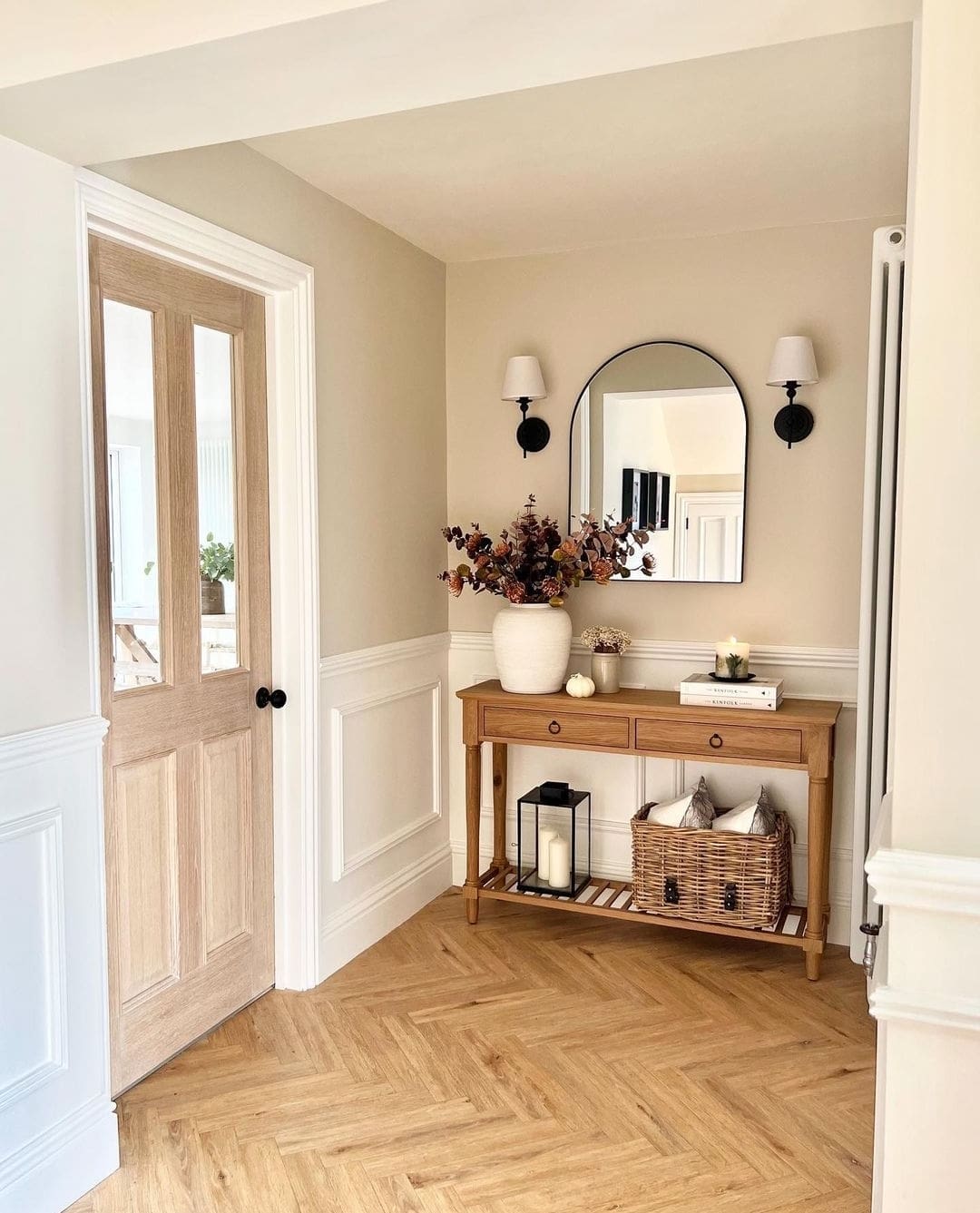 Decor, decor, decor!
Bringing decor into the home is one of our favourite pastimes! It's a simple and stylish way to update your hallway. For hallway decorating ideas, think vases, flowers or foraged pieces. Stacks of books, candles and woven baskets. Trinkets, photographs, wall hooks and trays — there are so many items to use for your hallway styling.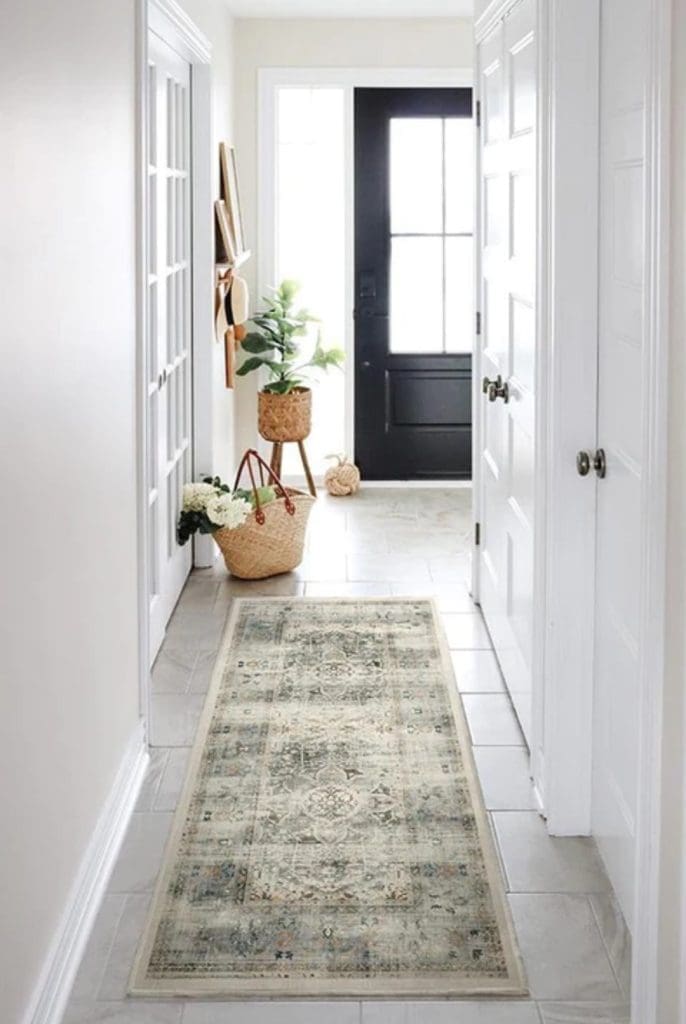 We hope this article has given you some tips, hints and inspo for how to style your hallway. Whether you're starting from scratch or working with what you've got, there are plenty of ideas for ways to style up your space.