Every once in a while, it's interesting to see how we got to the modern furniture we're accustomed to enjoying today. Every piece in your house, whether it be a king size bed or a piece for your living room, every piece of furniture has to start from somewhere. The Barcelona Chair is an iconic, yet luxurious chair that has a rich history.
Source: flickr.com/photos/guysie
In 1926, German architect Ludwig Mies van der Rohe and German modernist designerLilly Reichmet for the first time. Van der Rohewas one of the pioneers of the minimalist era and coined the term "less is more." Reich was known for embroidery and did some furniture and clothing design.They worked together on many projects over a 13-year span.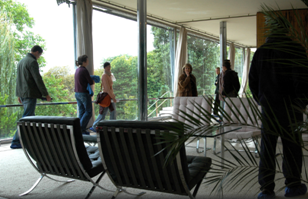 Source: flickr.com/photos/ottolien
The Barcelona Chair was first shown at the 1929 International Exhibition in Barcelona, Spain. Van der Rohe designed the pavilion, while Reich was the artistic director for the expo. The VillaTugendhat (pictured above) in Brno, Czech Republic was the first place outside the exhibition that it was shown. The building was actually built by Van der Rohe.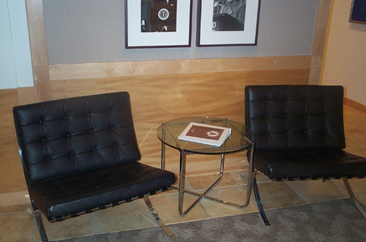 Source: flickr.com/photos/stuart_spivack/
In the 1930's, production and manufacturing of the Barcelona Chair expanded to the rest of Europe and the U.S. It would be prevalent in many luxurious office buildings starting in the 1950's. The original Barcelona chair was tough to produce. Just sewing the pillows took 28 hours. According to the British newspaper The Independent,the upholstery consisted of 40 individual panels from a singlecowhide.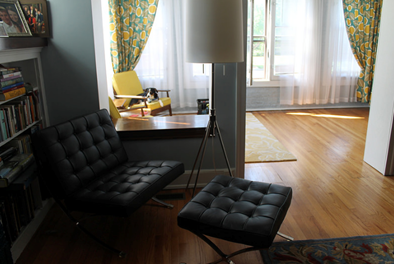 Source: flickr.com/photos/ironypoisoning/
The Barcelona Chair continues to be a staple in many places, even in the home. It can be a great accent piece for your living room. Knoll creates the version that you see today. Even after 80 years, the Barcelona Chair's legacy lives on.
What piece of furniture do you think is monumental? Leave us a message on Facebook and we may be able to cover it.