Your bedroom furniture is somewhere you go to get away from the stress of everyday life. As such, it should have a relaxing and calming atmosphere. But it should also have a sleek and luxurious feel. The modern style is full of life and personality. The ideal modern style is captured with Aico's After Eight Collection. It is a perfect blend of old school feel with modern grandeur.
Designed in the Hollywood Regency Style
Aico Furniture makes the After Eight Collection. Born during the golden age of Tinseltown, the After Eight Collection is designed in the Hollywood Regency style. The Hollywood Regency style uses bold colors, often with metallic and glass accents meant to signify both opulence and comfort. The After Eight Collection is not fully modern and not contemporary or traditional in style. It's a mix of bold tonal contrasts and fun geometric shapes that combine for a striking collection.
Neutral Colors and Clean Bases
The After Eight collection features many pieces neutral in color. The bed, dresser, mirrors, and nightstands are painted black, gray, and white in color. This allows for a clean and contemporary look; creating a clean base to include your own style into your room. You can add your own pieces to create a bold look or continue the simple feel by including other neutral pieces.
Bringing the Elegance of the Past to Modern Homes
The After Eight collection is meant to portray luxury and opulence. It is not a thing of the past however. The After Eight collection combines the Hollywood "Golden Era" with a clean, contemporary feel. The beauty of the collection is in the details. The textures and patterns on the bedroom set combine wonderfully to give a clean look.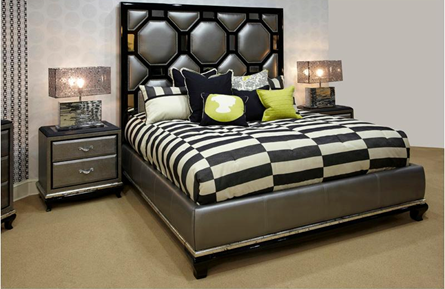 Looking for ways to mix different themes seamlessly within your home? Check out our design ideas for the entire home.