Feng Shui is the practice of promoting harmony and well being by balancing the environment around us. Under the principles of Feng Shui, everybody and everything contains energy, or chi, and the placement of objects in the spaces we inhabit can affect all areas of our lives. If you are looking to restore order and increase positive energy, putting some simple Feng Shui basics into practice may be just the change you need.Here are some of the ways you can implement the principles of Feng Shui for each room in your house.
Bedroom
Your bedroom is essentially a more ying, or inactive, space. When possible, choose bedroom furniture with rounded edges. Corners establish a sharp environment and decrease the flow of positive energy. Consider removing your television set or possibly placing it in an armoire or cabinet. Your bedroom should be a place of quiet reflection and peace, and technology could decrease the positive energy.
When adding touches of Feng Shui to your bedroom, the position of the bed is of the utmost importance. You should be able to see the entrance of the bedroom from your bed, yet be far from the door. Ideally, your bed should lie diagonally from the door. This can also help make a smaller bedroom feel better.
Bathroom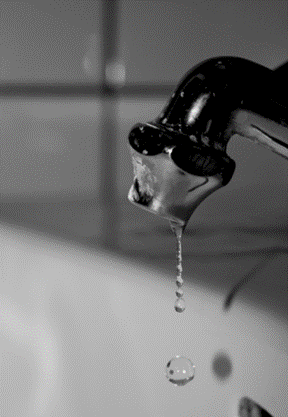 Bathrooms get a bad reputation as being the leakers of positive energy. It is thought that positive energies can be drained from a home through the bathroom drains, and proper strategic placement of the bathroom itself is vital. Do not fear if you cannot restructure your house. Simply implement these tips to improve the Feng Shui of your bathroom:
Declutter – The fewer the items, the better off you are. Negative energies are amplified in bathrooms, so the fewer hindrances there are, the better. If necessary, purchase bathroom furniture to assist in organizing your space.
Clean Up – And don't just "clean". Clean, clean. A sparkling bathroom will help prevent the negative energy from forming.
Choose Your Colors Wisely – By choosing white or pale hues, you are creating an inviting and welcoming environment for your body. White is also known for cutting through feelings of confusion and slowness and can help you get a good jump-start to your day or declutter your mind before heading off to bed for the night.
Living Room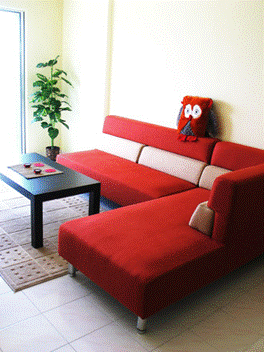 Where you place your sofa can immensely affect the energy of your living room. It must be placed on a solid wall. Failure to do so is thought to contribute to a lack of support in life. This means no windows should be behind the main seating piece in this room. Smaller chairs may have windows behind them.
Place your TV on an angle in a corner to avoid making it the focus of the room. Add plants and other greenery. Finally, add a clock, as it is thought that clocks assist in drawing in help from friends, as well as bringing good luck in travel.
Kitchen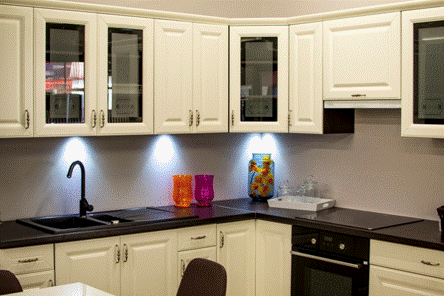 The kitchen is one of the most active, yang areas of the house. Keep things bright and cheery. Get organized by clearing out your refrigerators, drawers and cupboards. Clear your counter tops of any non-essential, everyday use items, and remove any technology, such as televisions, to help aid in digestion and communication.
Your stove is of particular importance, and it is believed that your stove brings in prosperity energy, or positive chi with regards to your finances. Rotate which burners you use and be sure to keep it clean and in excellent working order to increase full-flowing, financial energy into your household.
Feng Shui for each room in your house is achievable without building a brand new home. A few adjustments here and there can make all the difference in the world, establish order and create a sense of balance and inner peace.