If you are familiar with us, you know that we always have a sale going on. Offering customers the lowest prices in New Jersey, the Greater New York, and Philadelphia areas is something we've prided ourselves on since our parents ran this family home furniture business several years ago. Every season, we always have a few pieces of furniture that need to leave our Howell and Middletown showrooms in order to make room for the following season's new products. This season's clearance home furniture is available at extra low prices on a first come, first basis. We've marked down a wide selection of sofas, dining tables, beds, entertainment units, chests, chairs, and more. Read on for some of those markdowns that won't last long.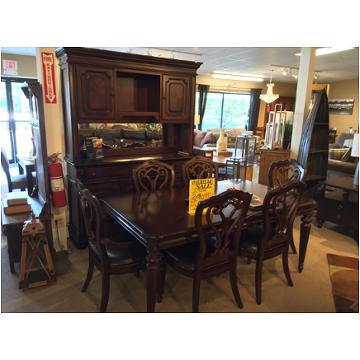 Does your home have enough seating for your holiday guests? This dining table by American Drew Furniture comfortably seats a family of nine. It has that rich old world charm with intricately carved details, taking you back to the colonial era. As far as material goes, it has been made with ash swirl and birch veneers with Asian hardwoods. The table measures over 90 inches with a spacious 64 inch wide open breakfront.
If you've been thinking about upgrading your bedroom, now is the time. This gorgeous bedroom set features everything you need to get settled in for the winter. The queen poster headboard, footboard, and rails are stained with a warm cherry that shows off the grain of the wood. The top of the headboard is enhanced with rose gold rosette hardware. The headboard and footboard are accented with faux stone. The dresser and matching mirror will bring the room together and showcase the traditional style beautifully.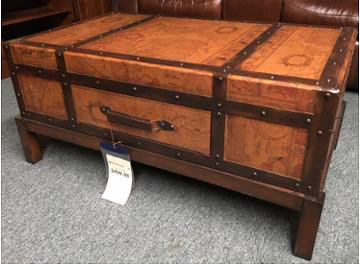 Don't count on finding this storage solution anywhere else – it has been discontinued. The price has been dramatically reduced making it an amazing value. The old world maps that cover the piece will instantly evoke a feeling of luxury travel on luxury ships of the early 20th century. The attention to detail makes it feel like an authentic piece of luggage that has been carefully repurposed into a gorgeous cocktail table. The piece's brass nail head trim, leather, and wood create a stunning and unique conversation piece; it even has a hidden drawer that can be accessed with the leather handle to keep your treasures safe from prying eyes.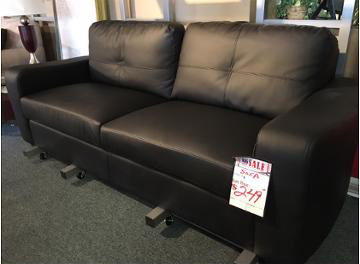 Have you been looking for the perfect sofa to unwind on after a long day? This sofa is a great mixture of soft and solid. The solid hardwood frame and wooden legs ensure a comfortable and sturdy lounging experience. The supple black bonded leather and plush cushions make it ideal for a Netflix binge session. The traditional style can easily be integrated into most rooms seamlessly and accented with pillows and throws of any color.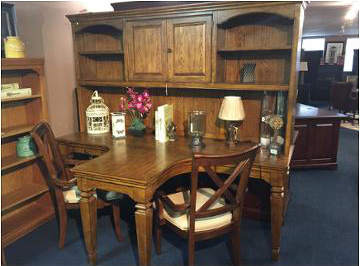 Now is the perfect time to transform your home office area from an afterthought to a focal point. There is no reason you shouldn't surround yourself with style while you pay bills, help the children with their homework, or complete a work project after hours. This gorgeous desk and hutch combo is deeply discounted and more affordable than ever. It includes a dual desk area and two distinct hutch areas with plenty of room for two people to work and store important books and office accessories. It also includes matching arm chairs in the same warm oak finish to ensure the entire set provides a cohesive design element in any room.
The products we have listed on our website are just a handful of many we have on clearance. For an even wider selection, stop in our New Jersey showrooms. Our Howell showroom is located at 4461 Rt. 9 North and our Middletown/Red Bank showroom is located at 349 US Highway 35 North Middletown. We can also be reached by phone during normal business hours: 800-275-4647.