Attics range from cavernous areas with more room than one living space could use, to tiny hideaways that require creativity in order to transform into a functional space. No matter the size of your attic, these three tips will help you make the most of this living space.
Say Yes to Shelving
Open shelving has been gaining popularity for several years for some very good reasons. They require less space than traditional cabinetry due to the lack of backs and doors. They visually open up an area and allow collections of items to become functional pieces of artwork that can be viewed and enjoyed by all.
Attics frequently have awkward ceilings that make the exterior walls of the room difficult to utilize. Open shelving can be used to display books, movies, sports memorabilia, or any number of other items. Items that need to be tucked away can be placed in baskets or boxes that fit stylistically with the rest of the room.
Pictured: Aico Furniture Metro Lights Barstools
Creating a larger lower shelf can also provide a convenient desk or bar area depending on the purpose of the room. Simply place stools like the ones pictures above when not in use to quickly make it a functional place to work on a laptop, put together a model plane, or complete a craft project.
Incorporate Hidden Storage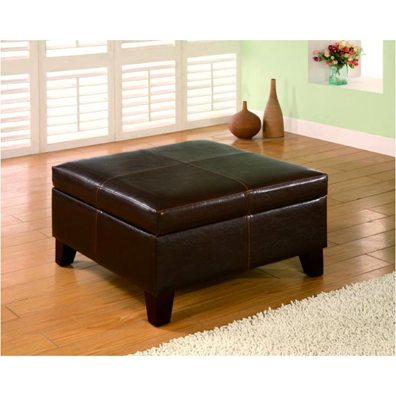 Pictured: Coaster Furniture Storage Ottoman
Hidden storage is essential in rooms that small or will be used for multiple purposes. Ottomans such as our piece pictured, with storage inside can serve as foot stools for people sitting in arm chairs, as a table with a tray placed on top, or even as extra seating. A large trunk can be used as a table between chairs and also hide blankets, yoga equipment, children's games, or crafting supplies.
A built in window seat, or custom bench between bookshelves, can easily be customized to hide compartments under the seating. These could be used as filing cabinets, storage for holiday decorations, or as a toy chest if the room will be used as a play area.
Creative Flooring
Even if the attic space is one big room, there is no reason you can't create a feeling of individual spaces with creative flooring choices; this allows for a clear visual differentiation between two areas such as an office and yoga space, play area and craft room, or media room and library.
Choosing the flooring that best matches the intention of the space makes it possible to create unique areas that do not have to be defined by walls that would take up valuable floor space and cost more money during the renovation process. As an added bonus, it may be possible to find flooring for smaller spaces at deeply discounted prices by asking shop owners about any remnants from larger projects.
Putting it All Together
Let's say there is a medium sized attic space and the family is divided between the desire for a crafting area and a media room. Because these two spaces would be unlikely to be used at the same time it is possible to combine techniques and create two unique rooms within the same space.
First, determine where the media screen will be placed so that the floor plan for the attic can be determined. Ideally it would be in the location furthest away from any natural light in order to have the best visual experience even during the day. Thick carpeting would be ideal for this area to help reduce noise levels and to add a feeling of comfort and luxury. Wood, vinyl, or tile would be more appropriate for the section that will be used for crafting and will make it easy to differentiate between the spaces.
Open shelving running the length of the walls can be used to display movies, music, and games as well as hold baskets of craft supplies at the crafting end of the room.
Find seating that is appropriate to the size of the room. Moving a sectional all the way up to an attic may be impractical but a collection of overstuffed rocker recliners will give everyone a comfortable place to relax and enjoy a movie. Floor pillows can be stacked under the open shelving to offer extra seating without taking up valuable room when not in use. Stools are great for crafting and can be tucked under the shelving when not in use.
Decorating an attic space requires more creativity and careful planning than many other rooms due to the location and often unusual dimensions. However, taking the time to create a space that is beautiful and functional for the family will be an investment in time that will continue to pay dividends