Ashley Furniture is a popular brand of furniture due to its affordability and craftsmanship. Its Ledelle B705 Collection is one of our best sellers that our customers who come into our Howell and Red Bank/Middletown, New Jersey showrooms love! Read on to learn more about this exquisite collection.
Ledelle comes in an Old World Traditional style with brown finish, ash swirl, and birch veneers with Asian hardwoods. The collection features several pieces.
Ledelle Poster Bed
This poster bed that comes in a Queen and King size is a four poster bed of grand proportions, truly making a statement. It was inspired by the grandeur and grace of European tradition, Ashley told us. Its scalloped headboard complete with an upholstered section for extra comfort while reading or watching TV has intricate details along its edges. The bed and headboard are made of veneers, wood, man-made wood, and resin. The Queen bed measures 69.5 inches wide, 95.5 inches in depth, and 71.5 inches in height. The King bed measures 85.5 inches (width), 96 inches (depth), and 71.5 inches (height).
Nightstand
Every bed needs at least two nightstands one on each side. The Ledelle nightstands offer three spacious drawers, giving you a ton of storage. In addition, they measure31.5 inches in width, 30.75 inches in height, and 19 inches in depth. The tops of the nightstands are marble parquetry with natural variations in marble every single piece is unique. Their operating drawers are made of dovetail construction and the top drawer comes with a felt bottom.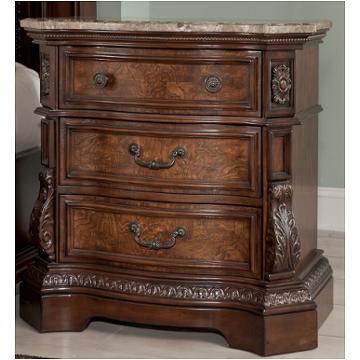 Upholstered Bench
Not only does this bench offer a place to sit (besides on your bed) while in your beloved bedroom, but its bottom shelf offers an opportunity for additional storage. Measuring 54.75 inches in width, 26.5 inches in height, and 21.25 in depth, it comfortably can sit at the end of your Ledelle bed holding books, baskets (for tucked away storage), or whatever small items your heart desires. The top of the bench features vinyl upholstery and the corners of the beach are blocked frame.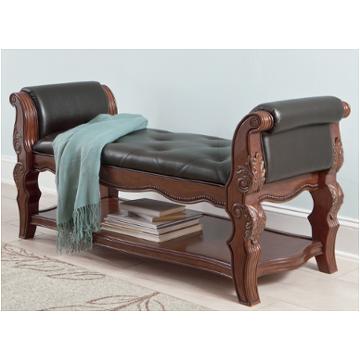 Dresser
Our Ledelle Dresser by Ashley Furniture exudes a sense of romance and comes in rich elements with dark brown tone hardware. In total, it has nine smooth operating drawers (top drawers come with felt bottoms). The drawers are spacious to organize a larger wardrobe. The measurements of this dresser are 71 inches (width), 84.75 inches (height), and 20.25 inches (depth). Top it off with the Ledelle Bedroom Mirror. The mirror type is "large portrait". It's shaped with fine details of beveled edges.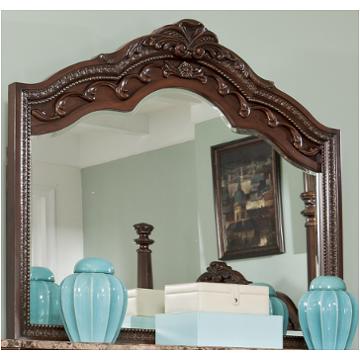 Ashley Furniture Ledelle Brown Chest
Complete your master bedroom and satisfy your need for extra wardrobe storage with the Ashley Ledelle Brown Chest. This tall chest measures 58.38 inches in height, 41 inches in width, and 19.5 inches in depth. Like the dresser, the chest's drawers glide smoothly and the top drawer has a felt bottom. As with the entire collection, this piece of furniture was inspired by grandeur and grace of European tradition.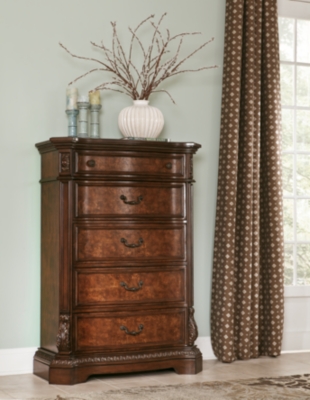 Rectangular Cocktail Table
While not officially part of the B705 Collection, we would like to include this piece of furniture as part of it when recommending the collection as it adds more of an "IT factor" to a bedroom. The Ledelle Cocktail Table has that same Old World Traditional style that the rest of the collection comes has. It measures 52 inches wide, 20.25 inches tall, and 32 inches deep.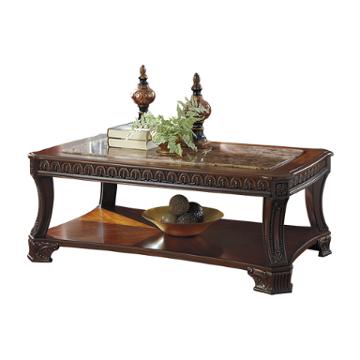 For more information on this collection or to speak with one of our team members about ordering yours, contact us. Ledelle is also on display at our Howell and Red Bank/Middletown, New Jersey; stop on by and see how special this collection is, in person!