We spend one-third of our life in bed according to Apartment Therapy. Unless you travel often for work or spend nights out for other reasons, that's one-third of your life in YOUR bedroom!
In 2015, Premier HealthNet reported (citing National Sleep Foundation) "bedroom design can play a vital role in the quality of sleep an individual gets and have an effect on their overall health."
Needless to say, having a cozy bedroom is a must!
Depending on the current state of your bedroom, creating a cozy bedroom might entail making a few minor adjustments. Let's start with some of the bigger changes then move down to the smaller ones.
Step 1:Assess your mattress. If it has been causing you problems, what are you waiting for? Replace it!
Having a poor mattress can cause sleep problems tossing and turning, back and neck pain, and more. Oftentimes you'll need to lie on a mattress for a bit before you can determine how comfortable it is. Sometimes, it takes getting a mattress home and sleeping it on a few nights to know if it's right.
There are a ton of different types of mattresses for different folks: waterbeds, foam mattresses, pillow tops, gel mattresses, airbeds, memory foam , latex, hybrid (the well-known Serta Hybrids), and innerspring. These mattresses are manufactured by so many different factories: Serta, Simmons, Sealy, Amerisleep, Tempur-Pedic, etc.
Needless to say, having a cozy bedroom is a must!
Pictured: Part of our mattress display at our Howell, New Jersey Furniture Showroom.
Step 2: Take inventory of your bedroom lighting and create ways for light to be completely blocked out during bedtime.
Where is the light coming from in your bedroom? Electronics, windows? Can it easily be blocked out?
Health.com writes: "Even if you doze off, light can be detected through your eyelids and your brain won't produce melatonin if it's confused between day and night."
Quick fix? There's something in the market known as blackout shades. Some of those shades keep outdoor light out completely which is exactly what your body needs when it sleeps.
Now how about those electronics
The Washington Post noted: "blue light from electronics disturbs sleep."
The article went onto note that blue light disturbing sleep in teens' bedrooms is especially problematic as the "lights from their computer screens, smartphones, and tablets often stay on throughout the night."
Quick and free fixes: turn the computer and television off at night. If you have to keep your smartphone in your room, keep it in a drawer or closet.
Step 3: Time to take out the paintbrush and give your walls a little makeover splash a cozy color onto those walls.
Yes, there is such thing as "cozy colors" or colors that naturally tend to make rooms feel a bit more relaxing than others. Country Living calls outgreens (moody and deep), yellow, white, and purple:
Greens pull inspiration from the earth tones outside. Moody green and deep green would work well in a bedroom, best used as accent color painted onto one or two walls.
Yellow can give small spaces "sunnier" looks.
The classic color of white can look "crisp and cold but its creamy yellow base makes it versatile", writes Country Living.
Purple is not a color we would advise painting a whole room with but when using a shade of purple as an accent color, it can truly add warmth to a room.
Pictured below: we painted the walls of a display bedroom at our Middletown/Red Bank, New Jersey store. Stop by to get a true feel of how this color would work in a bedroom.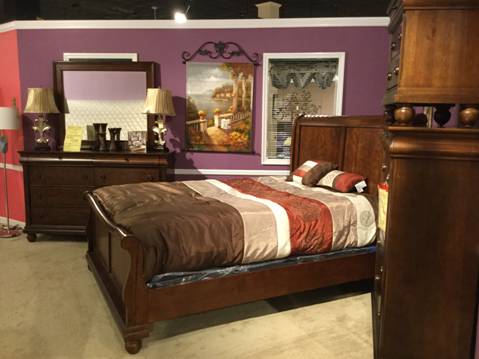 Step 4: Cozy up your room dcor.
Fireplaces naturally lend themselves to being cozy due to their warmth and fire color.
Pillows and blankets are everything. Our favorite type of blankets that truly embody cozy are down comforters and soft throws like a chanel or fleece and then there's oversized pillows to go with them. Down comforters are especially luxurious.
How does your carpeting feel? Some carpeting can be hard; in the bedroom you want something on the softer side. When adding a new carpet to your room, texture is one of the key factors in creating cozy. We love the following types of carpeting for bedrooms:

Frieze: It tends to have a luxurious feel while being strong to walk on.
Cable: Cable carpeting is a casual type of carpeting that we especially love in the form of area rugs.
Plush: This type of carpeting feels soft and cushiony and is made to be soft.

When using throw rugs, you could also layer rugs for extra comfort.

A canopy could work, but isn't for everyone. If you're feeling crafty, you can easily

create a canopy

around your bed yourself without having to buy a canopy bed. Canopies create an extra sense of warm.
Step 5: Complete the design of your cozy bedroom with calming scents.
There are certain scents that can transform your mood. Lavender for example is a very calming scent. Has been associated with helping people relax and sleep. Other calming scents that work well in a bedroom are: vanilla, jasmine, and bergamot. Many calming scents come in form of oils and candles.
We hope this article has given you some ideas on how to create a cozy bedroom. If you need any additional help, we have designers on standby at our Howell and Middletown/Red Bank stores.