Preparing for a big move to a new home can feel overwhelming at first but with appropriate planning it can be a positive and productive experience.
Evaluate Everything
Moving to a new home is the perfect opportunity to make the time to evaluate your life and your environment. People often hold onto mementos, furniture, and clothes without consciously asking themselves if they really want the item in question. While we love furniture, naturally (being in the industry and having our home living furniture stores in NJ for the past 15 years), we are also big fans of only keeping what you need and use.
When you begin the process of moving to a new home it is the perfect opportunity to evaluate all the possessions that have accumulated in your current home.
You buy a new hat but don't donate your other three that are never worn anymore because it simply isn't a priority. You pick up a few magazines and save them for future reading it has been a two years and you've only read them once. Like I said evaluate everything. Prepping for a move is an ideal time to check in with yourself about what is in your home because you love it and what is simply taking up space.
Those items which are not truly loved and enjoyed can be sold or donated to make moving easier. If you find there are pieces you have kept simply because they are functional but they don't fill you with joy to be around, it may be time to upgrade.
Upgrading doesn't always mean making a new purchase (despite how amazing it feels to roll in furniture). Sometimes the luxury of removing unwanted items creates the feeling of upgrading one's life by having less visual and emotional clutter. However, you may find as you remove the excess from within your current home you decide to commit to only filling your new space with purchases that make you feel happier with their presence.
Upgrade with Purpose
Many people start their adult lives with the furniture of friends and family who have previously decided to evaluate their belongings and upgrade their own possessions. If this is where some of your furniture originated, it probably isn't a true reflection of your stylistic preferences.
If the new home to which you will be moving is larger, it may be time to consider choosing larger furnishings. The Ashley Furniture O Kean Sectional with Sleeper Sofa, pictured, is a large statement piece that provides ample luxury seating for your new home. It has the added benefit of unfolding into a comfortable queen bed for guests.
One of the nice things about upgrading furniture during the process of a move is having someone else move the old items away and the new furniture into your new home. When donating to a charity they will typically arrange to pick up larger items. If gifting or selling a piece of furniture it will fall on the new owner to arrange for transportation from your home to theirs. When you purchase your new furniture, simply arrange to have it delivered at the new location.
During the evaluation process of going through your existing home you may have removed substantial amounts of clothing, books, kitchen accessories, and old toys. Wait to upgrade any of these areas until you have settled into your new home. This will limit the work required to move between locations.
Pack with a Plan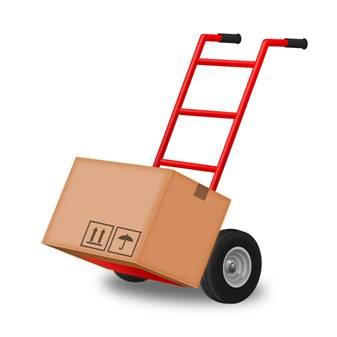 Image source: Pixabay user Hitcom
After going through the process of evaluating all your belongings and deciding what to upgrade or eliminate, it is time to begin planning how to pack. It can be tempting to take each room one at a time and put everything into a box. However, if the rooms in the new home do not correspond exactly this can cause extra work and frustration.
Instead, take a moment to look at the floorplan of the new home and decide what each space will be used for. Is the extra bedroom going to be turned into an office with a large writing desk and extensive bookshelves? If so, then it makes more sense to take all office related items and books from every room and box them together with a label that indicates they belong in the new office.
Use this principle in all areas of packing. If toys are currently stored in a family room but will be kept in a child's larger bedroom after the move, box them separately from other family room items and label them with the child's name. This will help quickly identify where each box should be brought during the moving process and make unpacking and finding items quick and easy.
Moving to a new location is an exciting adventure. It will require work but it will lay the foundation of a joyful new home designed with intention to create the environment and life of your dreams.