Creating a dedicated craft area for your child is a wonderful way to nurture their creativity and keep them engaged in constructive activities. It's also a fab idea to fill an empty corner in your home, such as in your home office or living room. But the nature of a craft zone is that they can quickly become messy. So in this guide, we're sharing our top tips to create a fun and organised kids craft area that will encourage their inner artist while maintaining a clutter-free home.
Related article: Genius toy storage solutions: Get organised with the best storage ideas for kids toys
Related article: 6 tips to create a stylish and functional kids bedroom
1. Choose the perfect spot
As we mentioned in the intro, you can set up a craft area for your child just about anywhere in your home. Ideally you want to find a spot with at least 1.5 metres of blank wall space so you can fit a small table and use the wall for storage solutions.
Some popular zones of the home for a kids craft area:
child's bedroom
kids playroom
corner of the living room
home office
open landing/void area.
It's a good idea to find an area in your home that allows for creativity to flourish while keeping messes contained. And plenty of natural light is a bonus!
2. Select the right furniture
When designing any space, our tip is to start with the largest items first and in a kids craft area, that's the furniture. Consider the ages of your children and what kind of art and craft they enjoy most. 
Are they into messy play, such as clay and paints, where a laminate table that's easy to wash would be best? Or do they prefer intricate pencil drawings where an ergonomic desk and chair would be the priority?
Before purchasing any furniture, be sure to measure up your space. Too often eyeballing furniture purchases can backfire. As well as fitting in your area, you want to allow at least 900mm of free space around the table to allow chairs to pull out comfortably.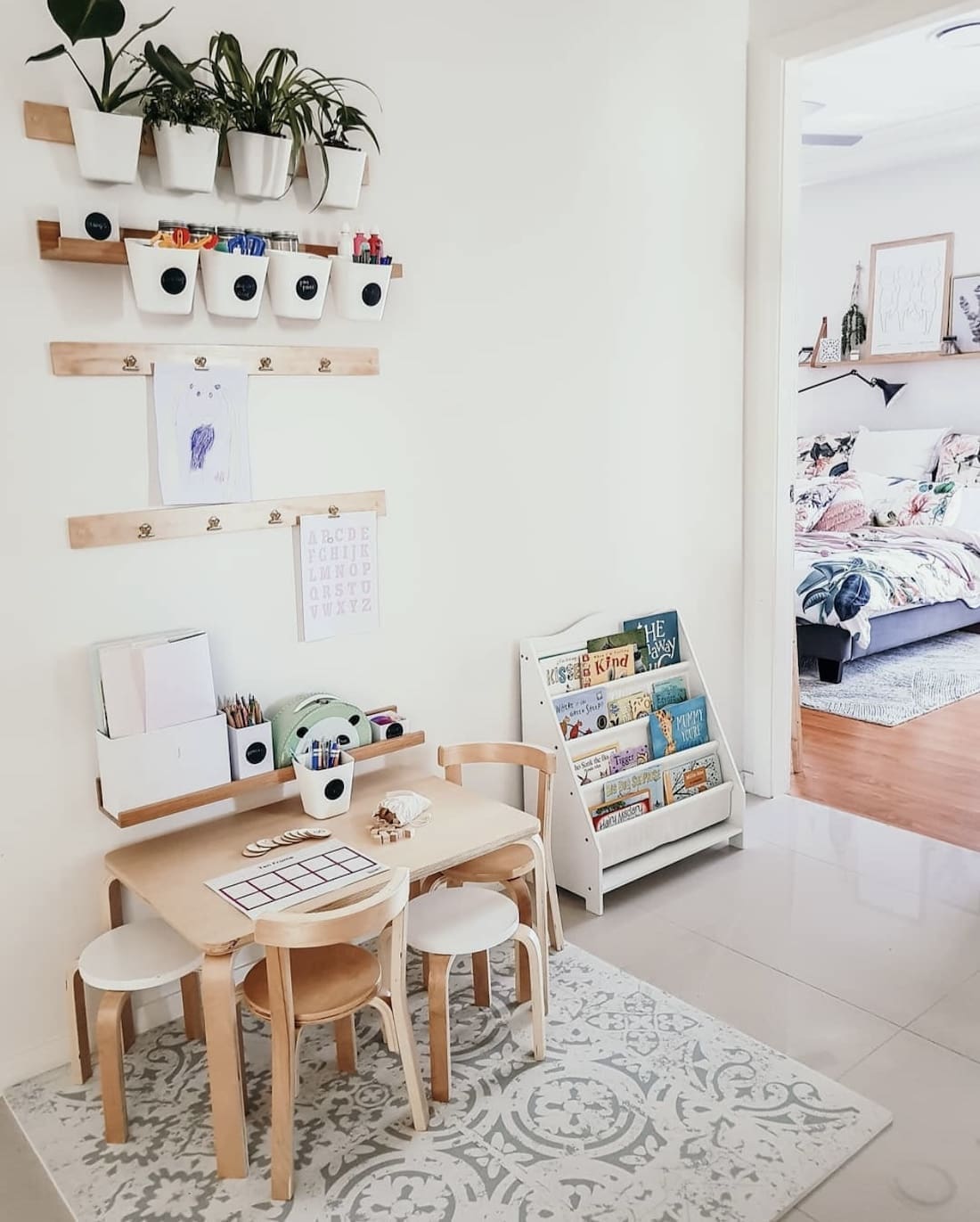 3. Invest in kid-friendly storage solutions
To maintain an organised craft area, storage is a must!
Some popular storage solutions for a child craft zone:
under-desk drawer units
rolling cart
open shelves with clear containers for stationery and craft
floating wall shelves
pegboards
wall pockets for smaller items like pens and scissors
wall hooks, such as for hanging aprons.
It's a good idea for everything to have a designated spot and to install child-friendly storage solutions so your little one can be responsible for tidying up. Using stylish labels can also be a great way to maintain an organised craft area.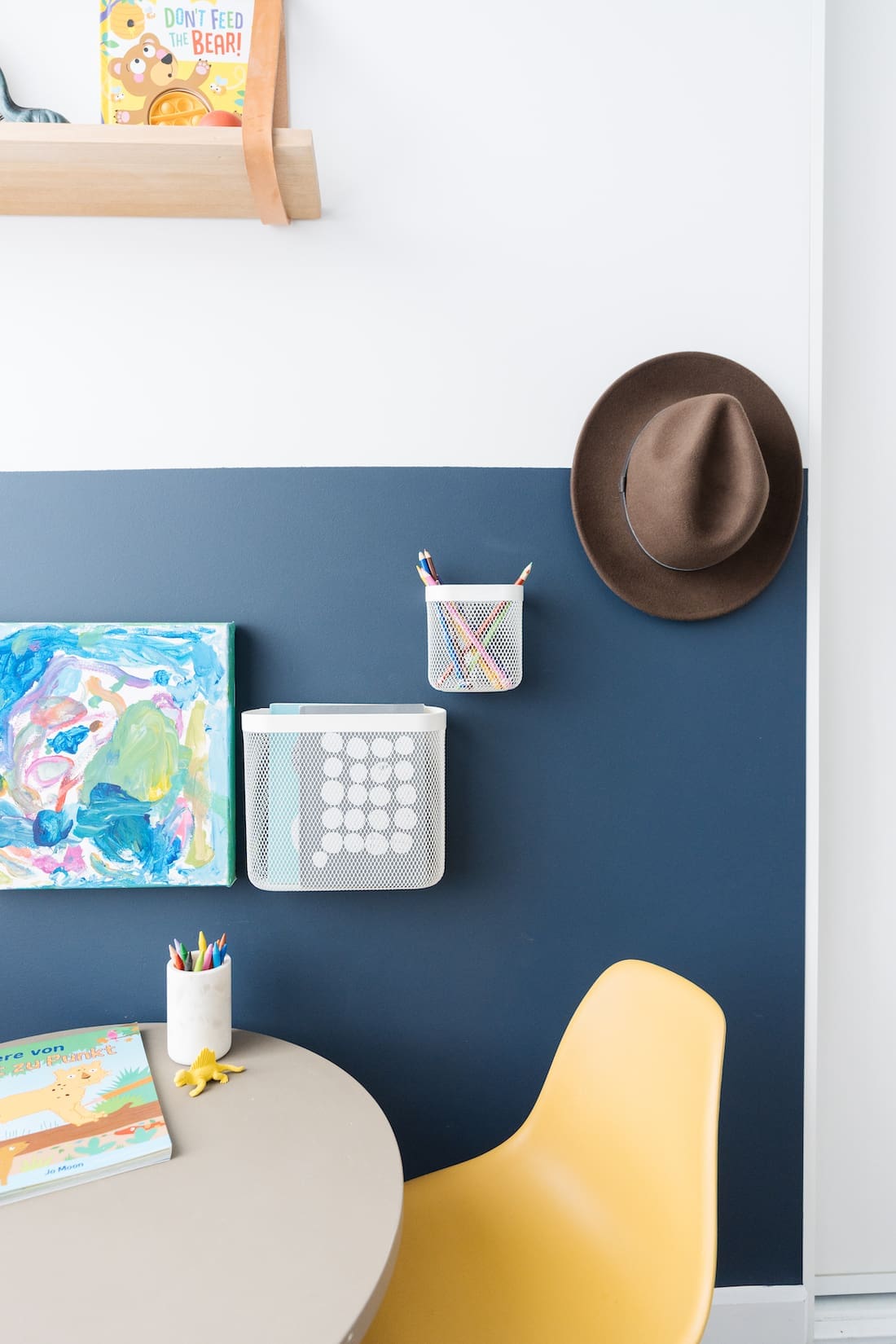 4. Use stationery as decor
With the bones of your craft area in place, it's time to style it up! And with stationery looking so stylish these days, why not use these functional items as décor?!
You can find on-trend personalised pencils, paper rolls that mount to the wall, brightly coloured craft supplies and many other creative materials that all look great when on display. Having these items readily available also invites your child to use the craft area rather than having everything packed away behind closed doors.
Once they've created a masterpiece, whether a painting or clay sculpture, we say display that too! It's a great way of making the space their own and to stimulate their creativity.
5. Consider their growing needs 
This final tip is about creating a kids craft area that will grow with them.  It's incredible how quickly your child learns, grows… and tires of things! 
So just because your child may be really into playdough this week, doesn't mean you should create the most epic playdough zone. Consider how you can create a craft area that nurtures their interest now but can easily accommodate changes. 
Flexible storage solutions, temporary wall decals and adjustable furniture, are just a few ideas you may like to consider.
We hope these tips on how to create a fun and organised kids craft area have inspired you. Do you have more tips you can add? Post them in the comments below.