Moving into a new home or simply need to give your existing space an update? We put a call out for home design inspiration and got a ton of great responses! Here are our favorite original ideas for your inspiration. For ideas designed to fit your New Jersey home, be sure to stop by our furniture stores in New Jersey for a free consultation with any of our on-site designers.
Anna Shiwlall, owner of 27 Diamonds Interior Design, an award-winning interior design firm in Orange County, California shared this photo:
"There's a round entry way that splits off into different rooms. The living room being one you see immediately. The ceilings are a lot higher in the living room but the footprint wasn't as big," she said.
As a result, she opted to go for big bold stripes in the room for something fun and unexpected. She topped the design off with long dramatic drapes and a chandelier that is glamorous and modern (as she describes it).
When choosing the sofas, she explained they were done in a neutral tone so the owners can change out the accent colors throughout the year in the pillows and rug.
Shiwlall describes the look as Alice in Wonderland meets Hollywood.
"While the whole house has a more classic contemporary vibe, there are touches of fun in the paint and in some of the furnishings in the other rooms. For example, in the dining room, the wallpaper is a charcoal color with a glass bead pattern. While it's a more sophisticated look, we did tall dramatic whimsical head chairs in two different fabrics."
Mitchell Channon, ASID, and principal Mitchell Channon Design submitted the following insight and photos of his designs. Photo credit: photographer Tony Soluri.
First, a den/lounge that provides a perfect place for the evening wind-down. Anchored by a black sectional sofa, the room is wrapped in a romantic wall-covering of gondolas floating in a sea of lanterns. Modern elements sit perfectly in this envelope, including a Verner Panton throw and the Eames coffee table.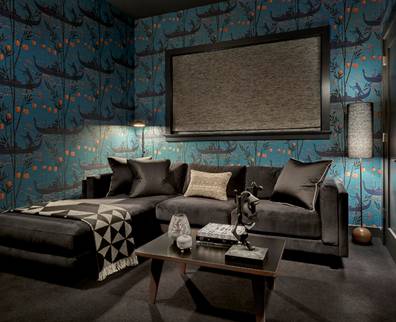 The second photo he shared is of a master bedroom. In this space, he explained there isgentle white, gray and beige of a geometric-patterned Romo wall covering that envelops a room full of rich textures and translucent forms. The effect is to awaken the senses gently. Crisp white linen drapes, gray linen sheets, and a sensuous wool rug create a sequence of contrasting textures. Noguchi table lamps upon Lucite tables and a Verner Panton pendant fixture with fluttering mother-of-pearl discs soften the light.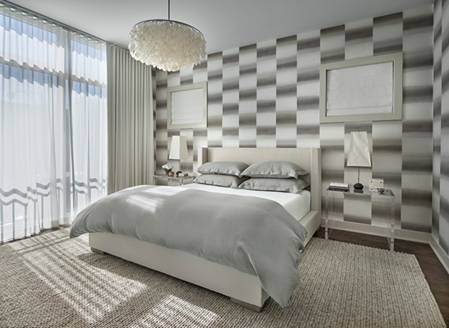 Our final photos and ideas come from Interior Designer JacklynGraniczny of Sublime Homes.
"Add visual interest with vertical board and batten. This look turns a rather bland wall into a charming, dimensional finished treatment, creating geometry and adding a sense of texture to the space. To keep the look clean, considering painting the walls floor to ceiling in one color," Graniczny said.
Be bold and take risks! "A funky tile can make all the difference. Fun colors, shapes and textures can create quite the unexpected showstopper in a walk in shower," Graniczny offered.
Despite bathrooms often being the smallest rooms in our homes, we can still liven then up with a great design. Graniczny advised, adding getting natural light in is a must.
"Having natural light fill and illuminate the bathroom is a great way to make the space seem bigger and brighter. There's nothing like a shower first thing in the morning to wake you up and get you ready for the day ahead. By bringing natural sunlight into the shower with you, you can bathe in refreshing golden drops of sunshine along with the warm water to invigorate mind and body, giving you the best start to the day."
White ceilings are typical but they don't need to be white Graniczny said.
"Ceilings are often neglected; you can easily create a bold look by adding a color of paint. The black ceiling emulates the ebony oak floors and black interior doors, while the white walls keep this look classy and not overdone."
And last but not least, colored and metallic groutis a fun way to update an existing space or spice up a traditional design, suggested this interior designer. "Metallic grout adds an industrial edgy flair to any tile project."
Did you create a room you love and want to share it? Email it along with your inspiration for it to sales@homelivingfurniture.com.