Ever notice that a lot of furniture stores have the same type of furniture? There's the six-seated dining room table with the clean lines and your typical leather loveseat, for example. While these styles appeal to the masses (and hey, we love them too), sometimes you just need something that is different something that is more you, something custom. At our New Jersey furniture stores, we offer a wide selection of custom furniture. Design a collection that meets your needs and embodies your personal sense of style.
The most popular type of custom furniture we offer is in our seating category: sofas and chairs (recliners and stationary). Getting a seating look that truly fits your needs means getting the right sized seating you need in the look you desire. Short on space or have plenty of it? Select your furniture depth. Desire a plaid fabric, floral, bright yellow, checkered, or something else that you don't see everyday? We have almost every possible pattern you could think of between our selection of fabrics from Kincaid, Klaussner, Craftmaster and more from different fabric types like the basic microfibers or textured fabrics to worry free fabrics like Sunbrella and Revolution fabric lines
Sunbrella is a 100 percent acrylic fabric that's made for both indoor and outdoor use. The technology that it's made with has gotten so advanced creating a durable soft fabric that can be cleaned with part water and part bleach without causing any damage to it. In addition, it's guaranteed not to fade for ten years and is a waterproof fabric. While our customers typically request Sunbrella for seating, Sunbrella can also be used for shade structures. Matching shades? That's a win!
Revolution fabrics are made from upcycled fibers without any chemical treatments, making them gentle on the environment. Like Sunbrella, Revolution is resistant to fading. We especially love Revolution for families who have pets and kids.This brand of fabric is extremely stain resistant and can simply be cleaned with a few blots of water. However, also like Sunbrella, it's always a good idea to clean this fabric with part water part bleach to kill bacteria.
Customization Options
In addition to customizing fabrics, we have the ability to let you customize your configurations. Choose from a wide range of dimensions from different vendors, corner wedges, pie wedges, and more.
Custom Furniture Brands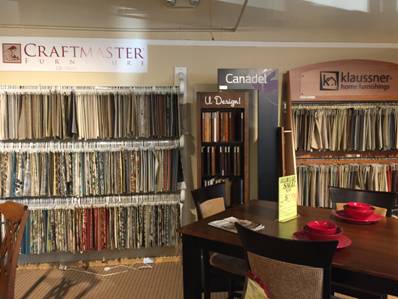 The top custom furniture brands we sell are Craftmaster, Klaussner, Canadel, and Kincaid. We have several hundred fabrics to choose from in our stores and if for any reason you can't find a fabric you love, our store associates can help you locate more fabrics in our extended catalogs.
Getting to Know Our Custom Brands
Craftmaster is the exclusive upholstery manufacturer of the Paula Deen Home Collection and makes more than 800 different kinds of fabrics, more than 150 living room styles, and more than 100 accent chairs and ottomans.
With Klaussner Home Furnishings , choose from classic, casual, and contemporary lifestyles in more than 500 styles, 600 fabric choices including more than 75 leathers.
Canadel is widely known for making furnishings from solid birch. Each piece of Canadel furniture is assembled by hand and coated with synthetic lacquers modified with nitrocellulose which produces a finish that is highly resistant to staining.
Kincaid Furniture uses solid wood construction for a heavier design that's built to last. The brand also believes in comfort. "And what good is upholstery if it isn't comfortable? We offer three cushion choices, each paired to its own back and arm pillows, to make it fit just right," notes Kincaid's website.
For more information on custom furniture, contact us. If you are not able to make it into either of our furniture stores, we would be happy to email you samples of different patterns.