Supported by Cosmic Cookware
Cooking shouldn't be a chore but busy lifestyles means so often it feels that way! At the end of the day, I want to be able to easily prepare a healthy and YUMMY meal for me and my boys so when the team at Cosmic Cookware reached out, I was thrilled to collaborate. With a motto of "making cooking and cleaning easy so that it becomes a chore no more", they peaked my interest. 
Keep on reading for my product review of the Cosmic Cookware range and my favourite quick seafood risotto recipe.
Related article: How to create a gorgeous grazing board
Related article: Your guide to putting on a winner high tea
My experience cooking with Cosmic Cookware range
At the very least, I knew the Cosmic Cookware bundle would be a stylish addition to my kitchen with their on-trend muted colours of cream, green bean, and pink berry. Certainly a big step up from the old blue granite stone set I've been using for the past 10 years, ha ha.
But there's a lot more to this cookware brand than its good looks. Using only safe materials (free from Teflon and synthetic coatings), every piece features their world class non-stick coating so you can cook with less oil and spend less time cleaning up. Certified Swiss-made, you've gotta know it's high quality!
I've been using my 5 piece cookware bundle for a few weeks now and have been so happy with the cooking experience! Every piece is beautifully crafted, in ideal sizes, and the non-stick coating has been a dream.
The product packaging of every Cosmo item also needs special mention. Coming in a stylish yet recyclable box with a fabric drawstring bag to keep the items protected, they make an ideal gift for anyone moving into their first home, as an engagement gift or just because!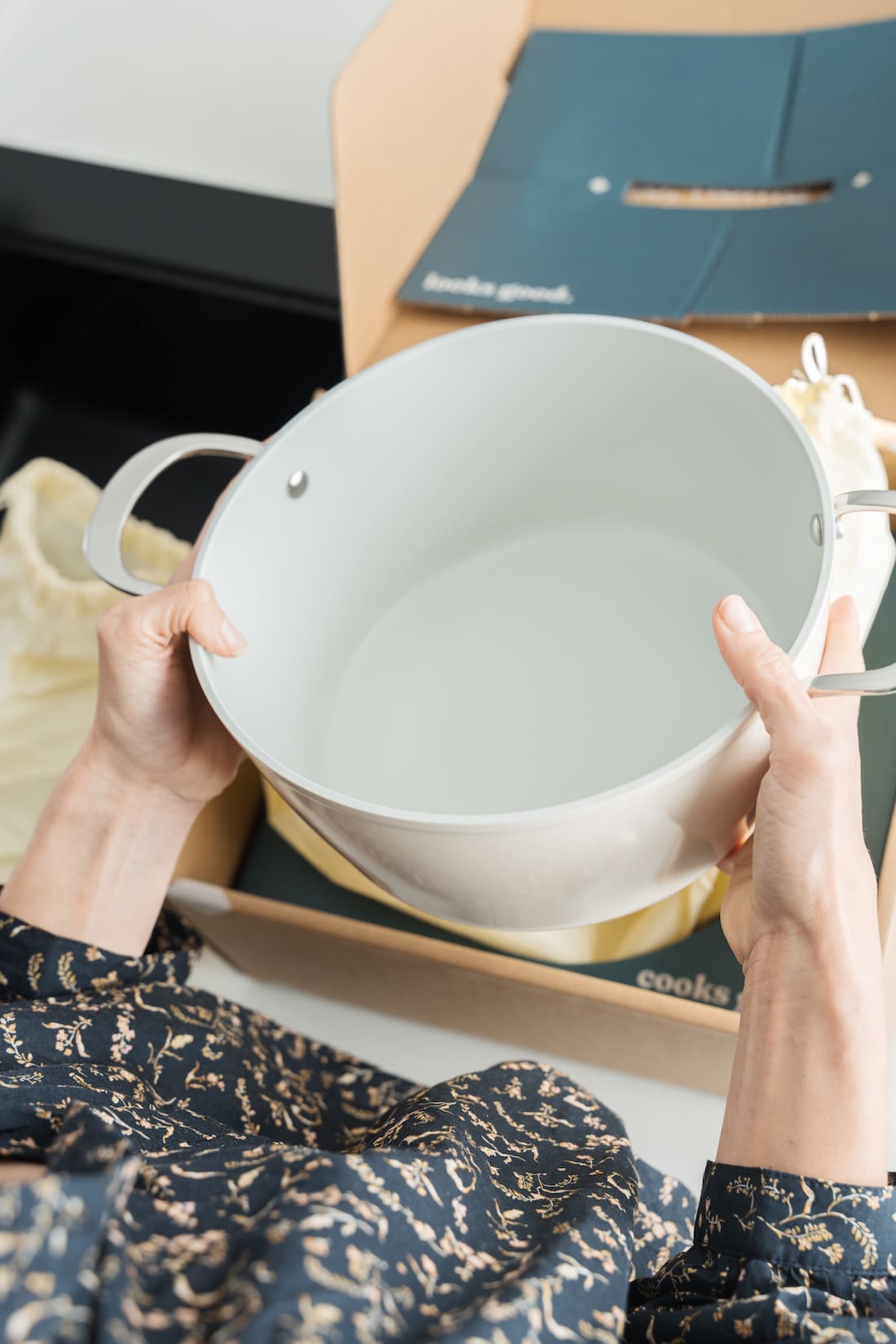 Make my easy seafood risotto
One of the best recipes I've whipped up in my new Cosmic Cookware is an adaptation of Jamie Oliver's simple risotto. I use similar ingredients and steps but also add in crushed tomatoes and seafood marinara. Here's how to make it.
Ingredients you will need:
1.5 litres of hot stock (I used vegetable stock but you could use fish/seafood stock if you have it)
500g marinara
1 can crushed tomatoes
Extra virgin olive oil
1 medium onion
1 celery stick
2 carrots
400g aborio rice
Large knob of unsalted butter
Freshly grated parmesan cheese
Parsley
Lemon
Salt and pepper
If you like, you can also add in 250ml of white wine. Pour it over the rice (just before adding the stock) and cook it until it bubbles and evaporates. Then begin adding your stock and continue with the method below.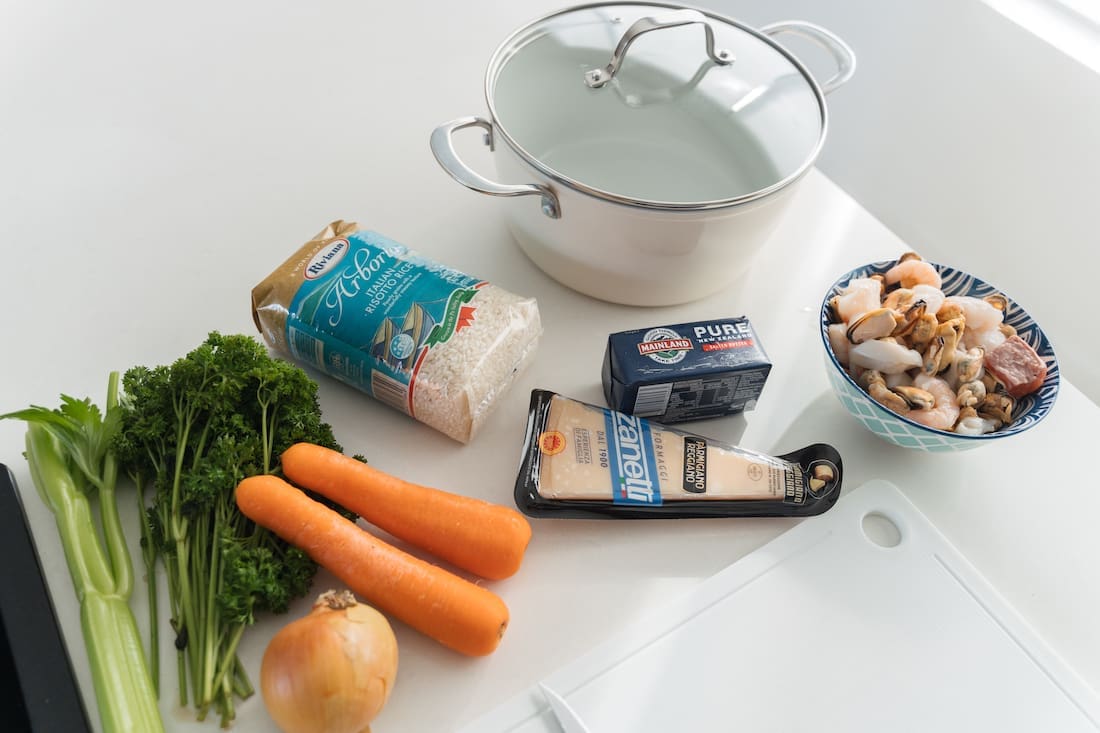 Steps:
1. Start by making the soffritto — a combination of finely chopped onion, celery and carrots — and fry it in the pan with the butter and a dash of olive oil. I used the Cosmo Casserole pan as it's deep enough to fit a large portion and has a two-coat system that retains heat with even distribution.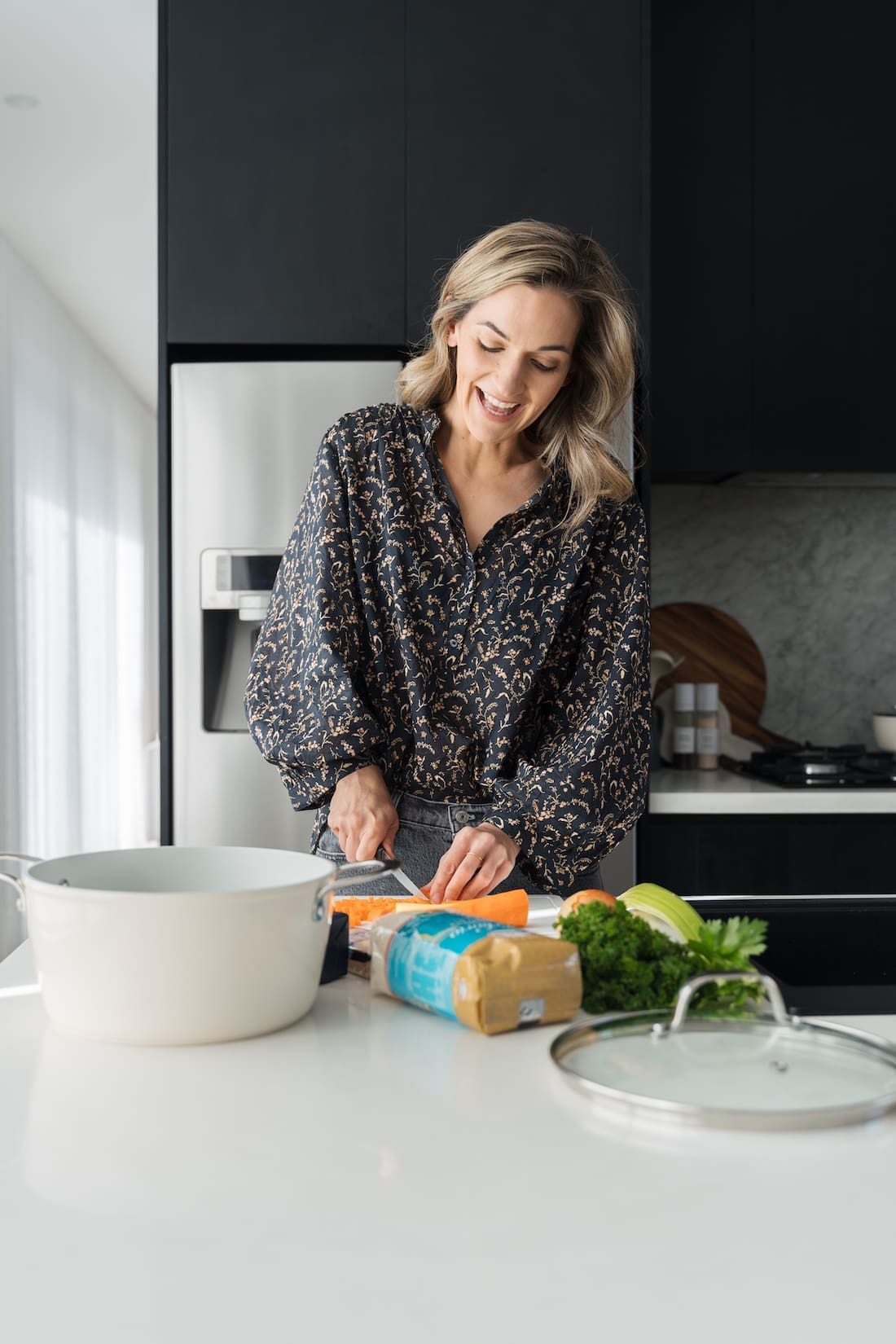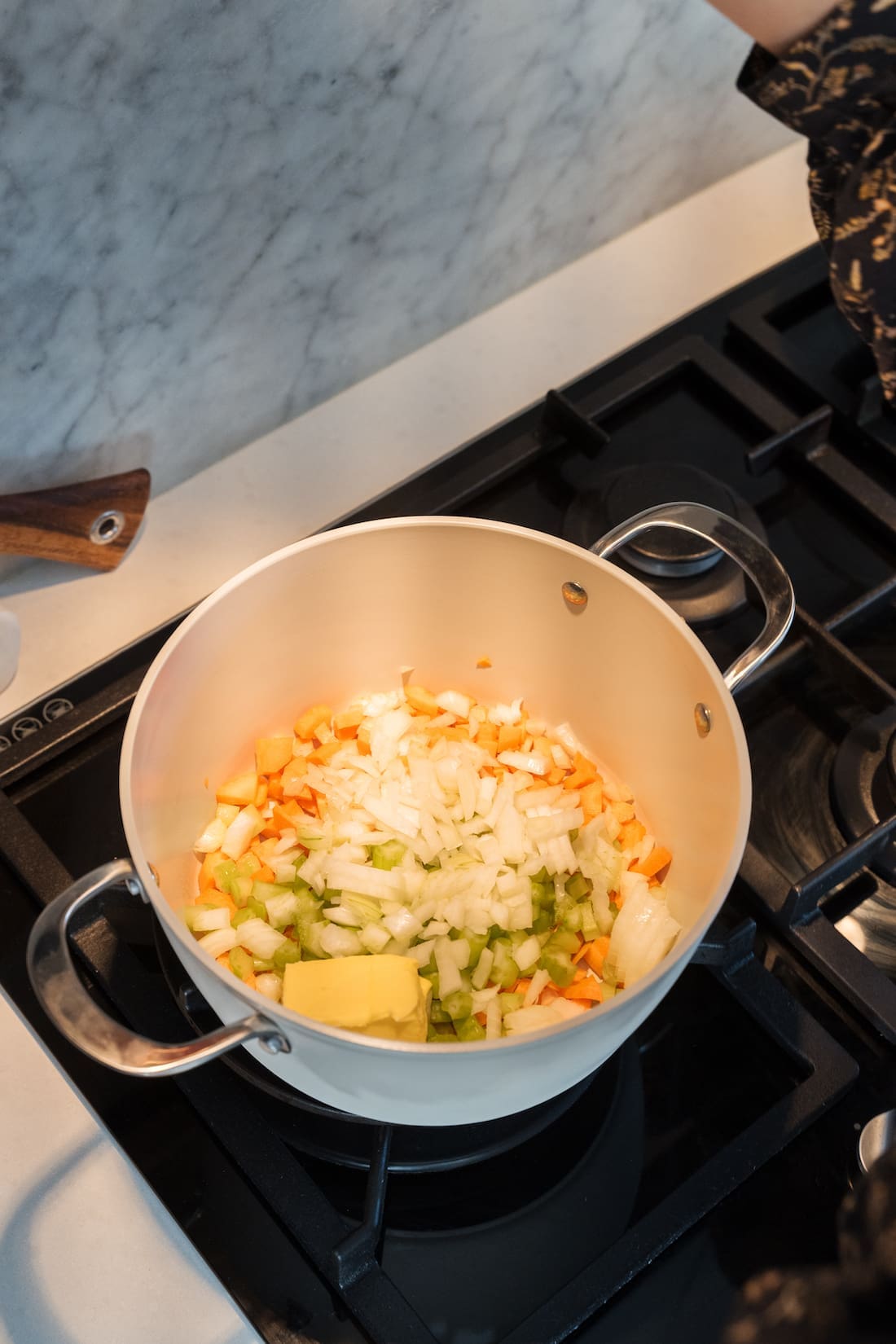 2. Once the soffritto begins to soften, it's time to add in the rice. Stir it well to coat the rice in oil and if you choose to add white wine, do it now.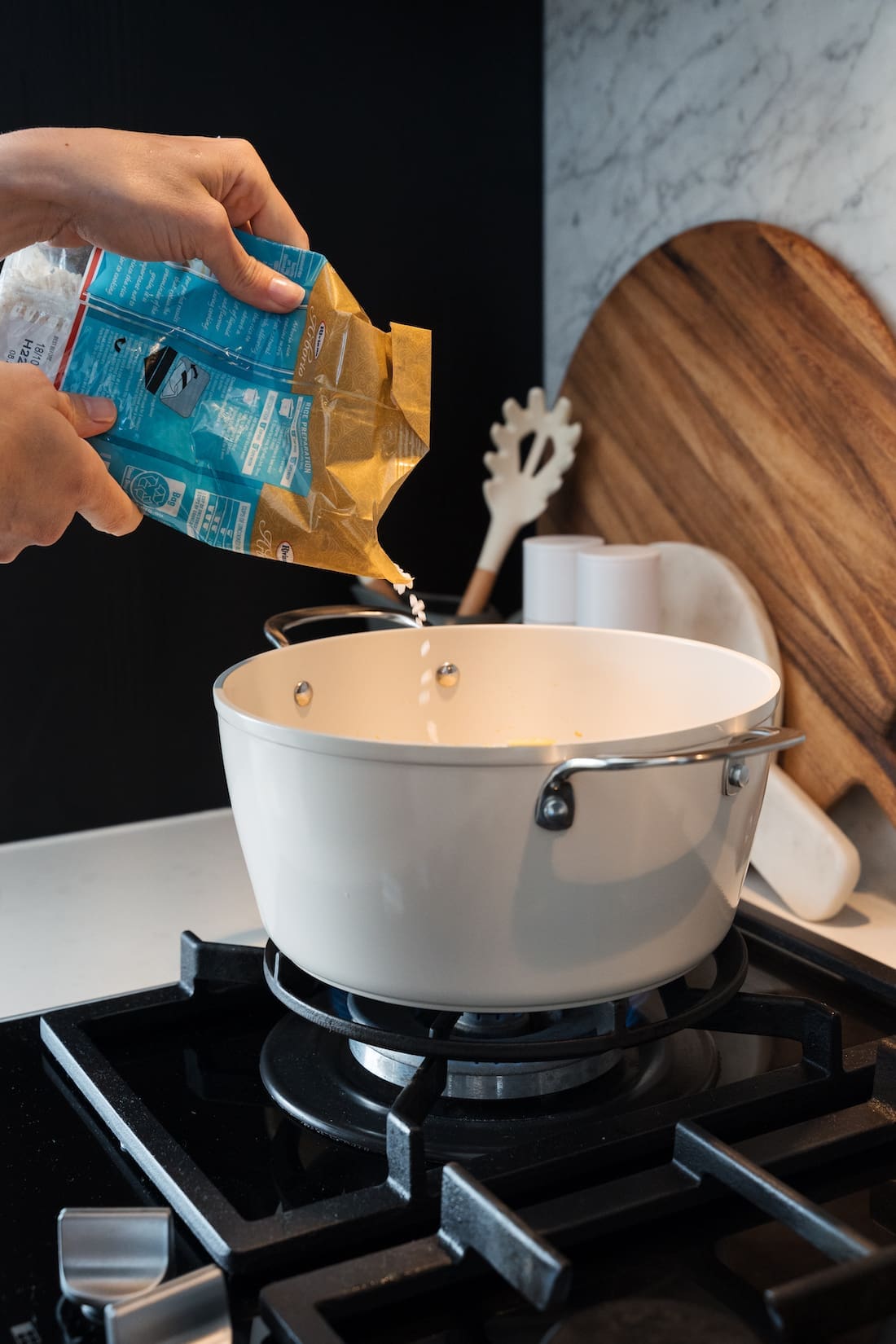 3. Then begin adding in your hot stock, one ladle at a time. Gently stir in between each ladle of stock and allow it to absorb before adding more. 
(This is the base of any risotto and from here you can make any variation, such as chicken, roasted vegetable… the limit is your imagination!)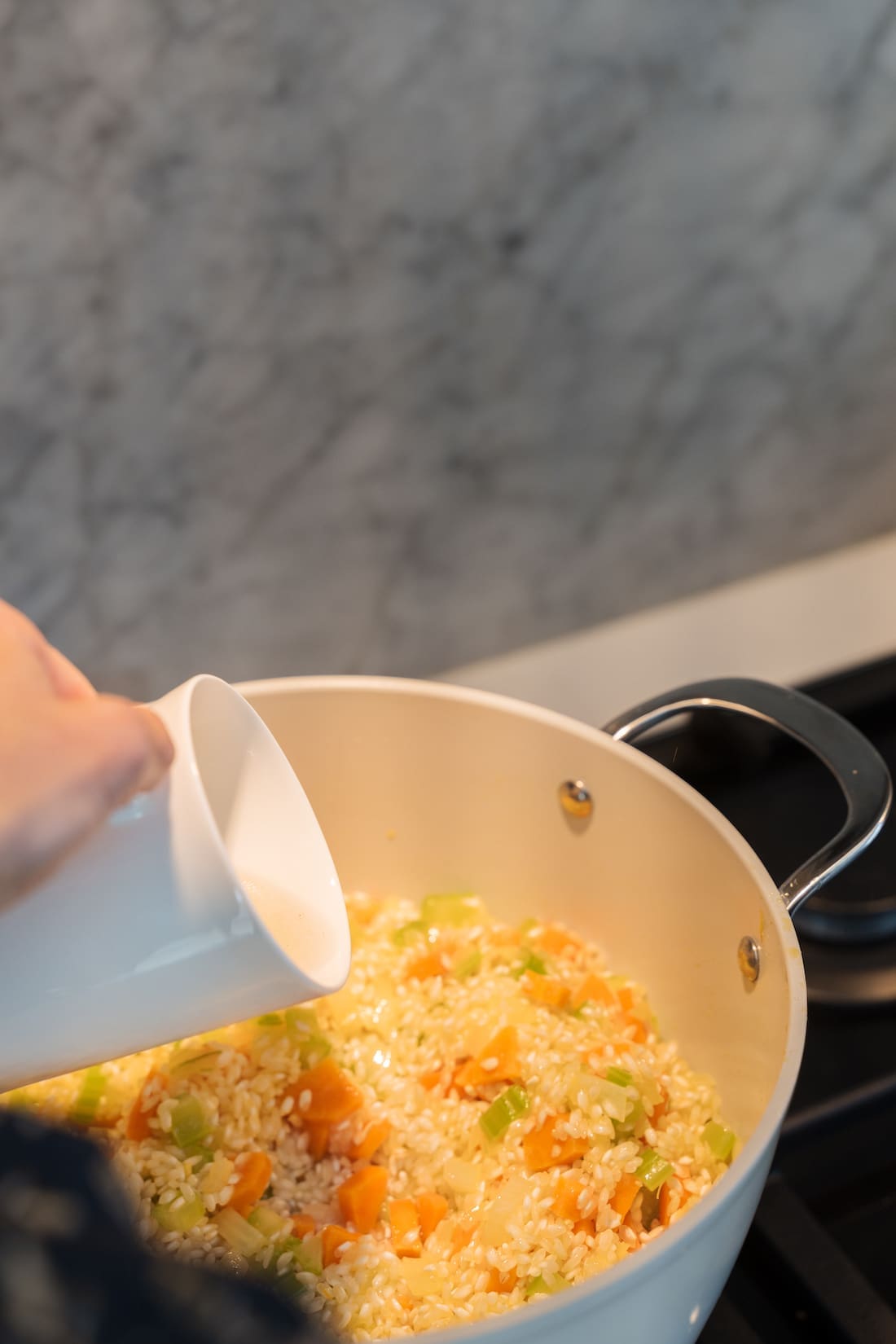 4. Next, add your can of crushed tomatoes and stir. Taste the rice to check if it's done. It should only take about 15 minutes to cook and the rice should still have a little bite.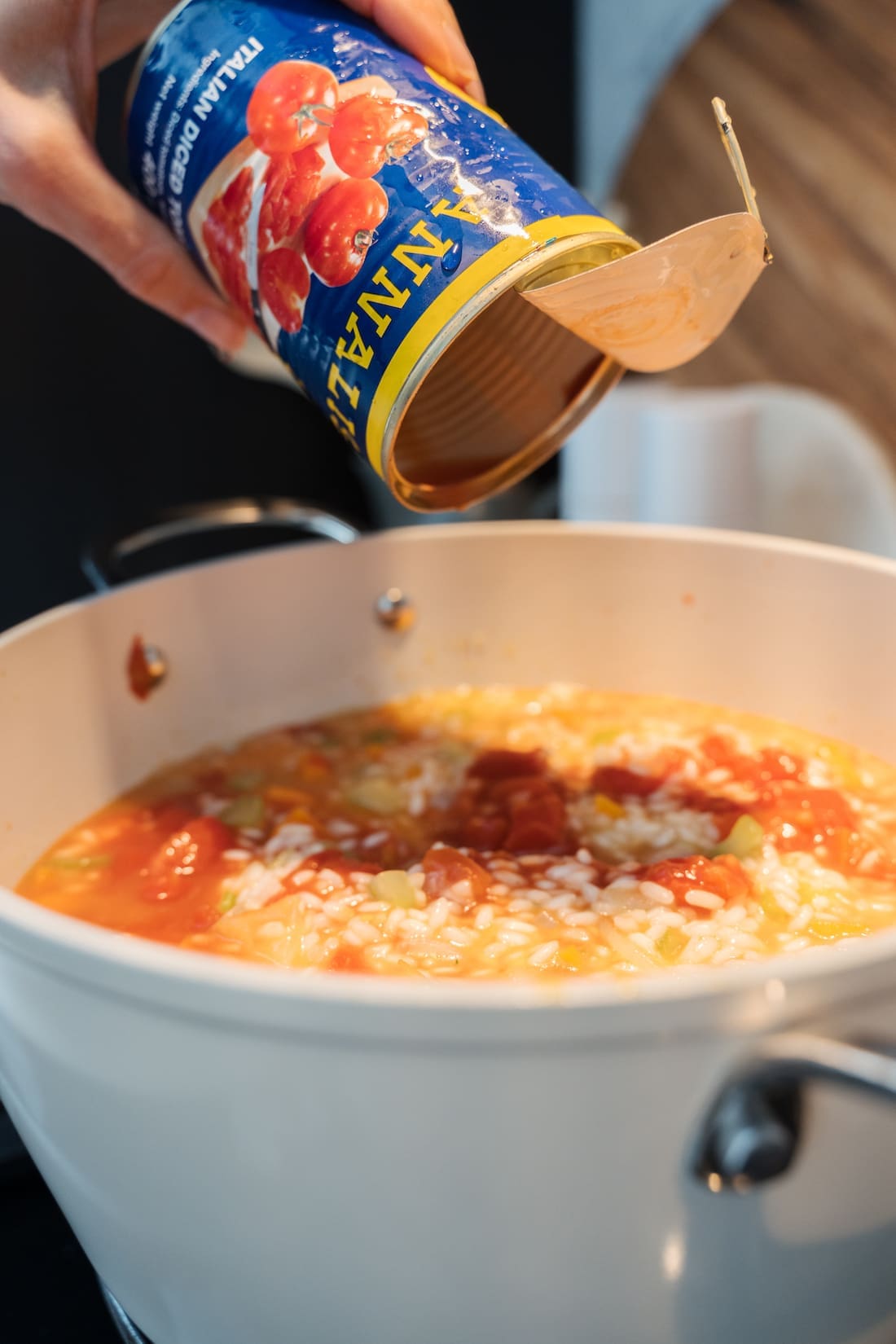 5. Finally, add in your marina mix. Give it a gentle stir until the seafood is covered, pop on the lid and turn the heat off. Allow the pan to work its magic for 5-10 minutes, cooking the seafood to perfection. Because the pan is non-stick, it makes cooking risotto so easy and effortless — you don't have to constantly watch over the dish making sure rice doesn't get stuck to the bottom.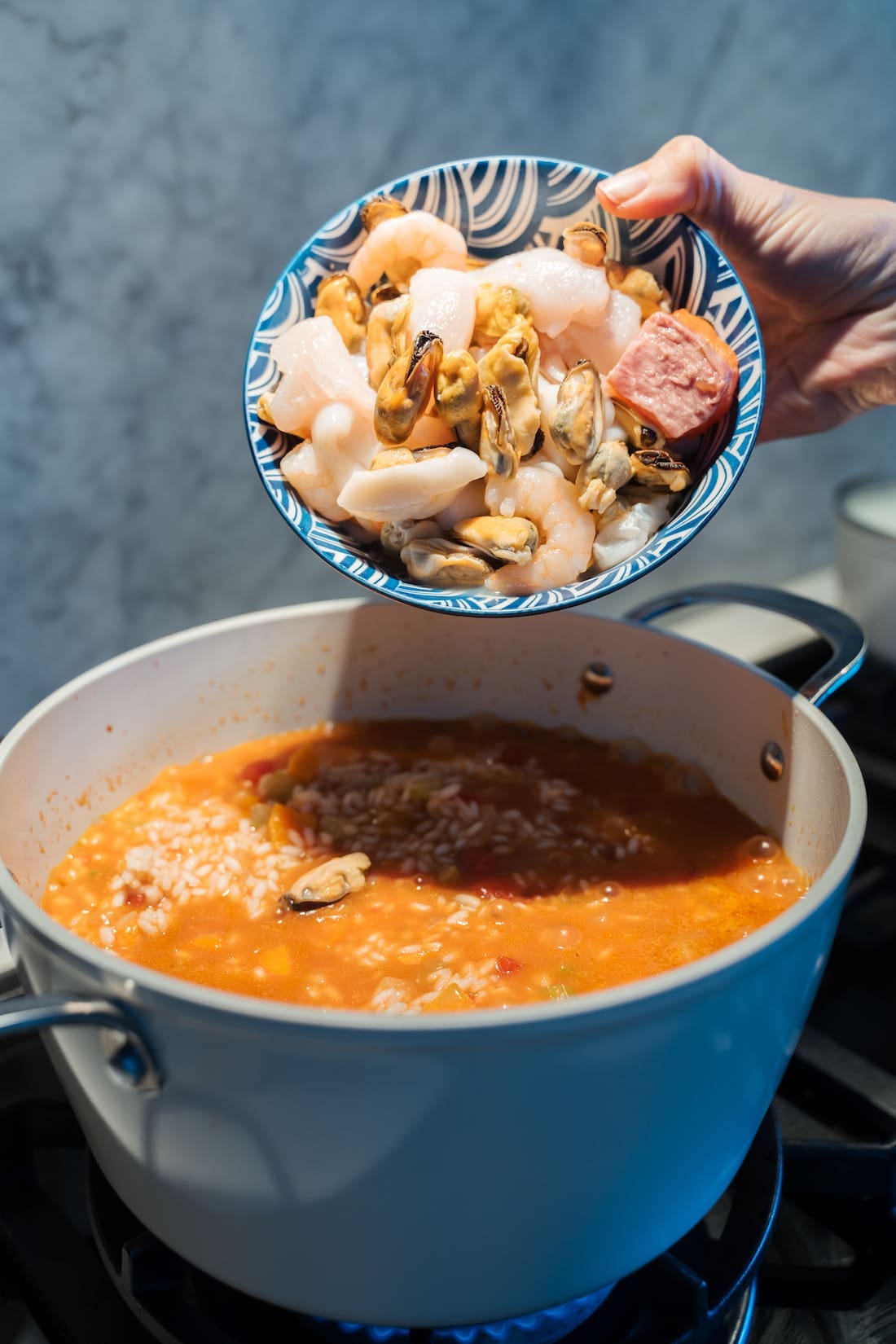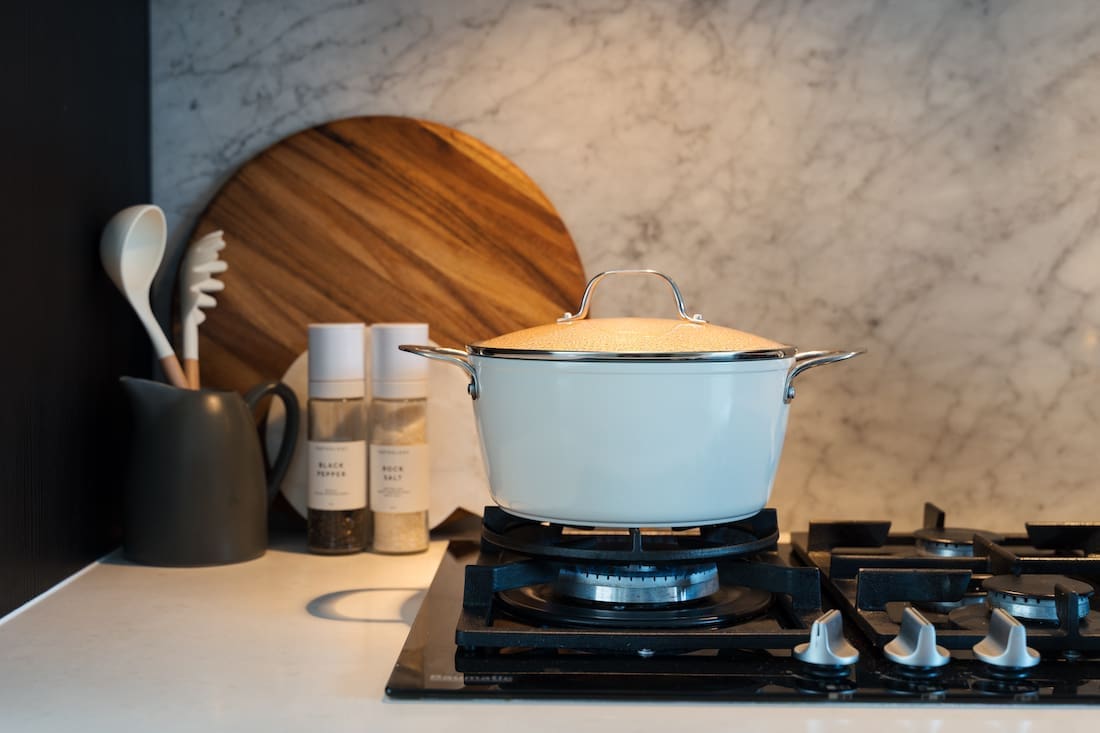 6. Serve up a bowl of risotto and finish with a generous amount of parmesan cheese, squeeze of fresh lemon juice, finely chopped parsley and season with salt and pepper.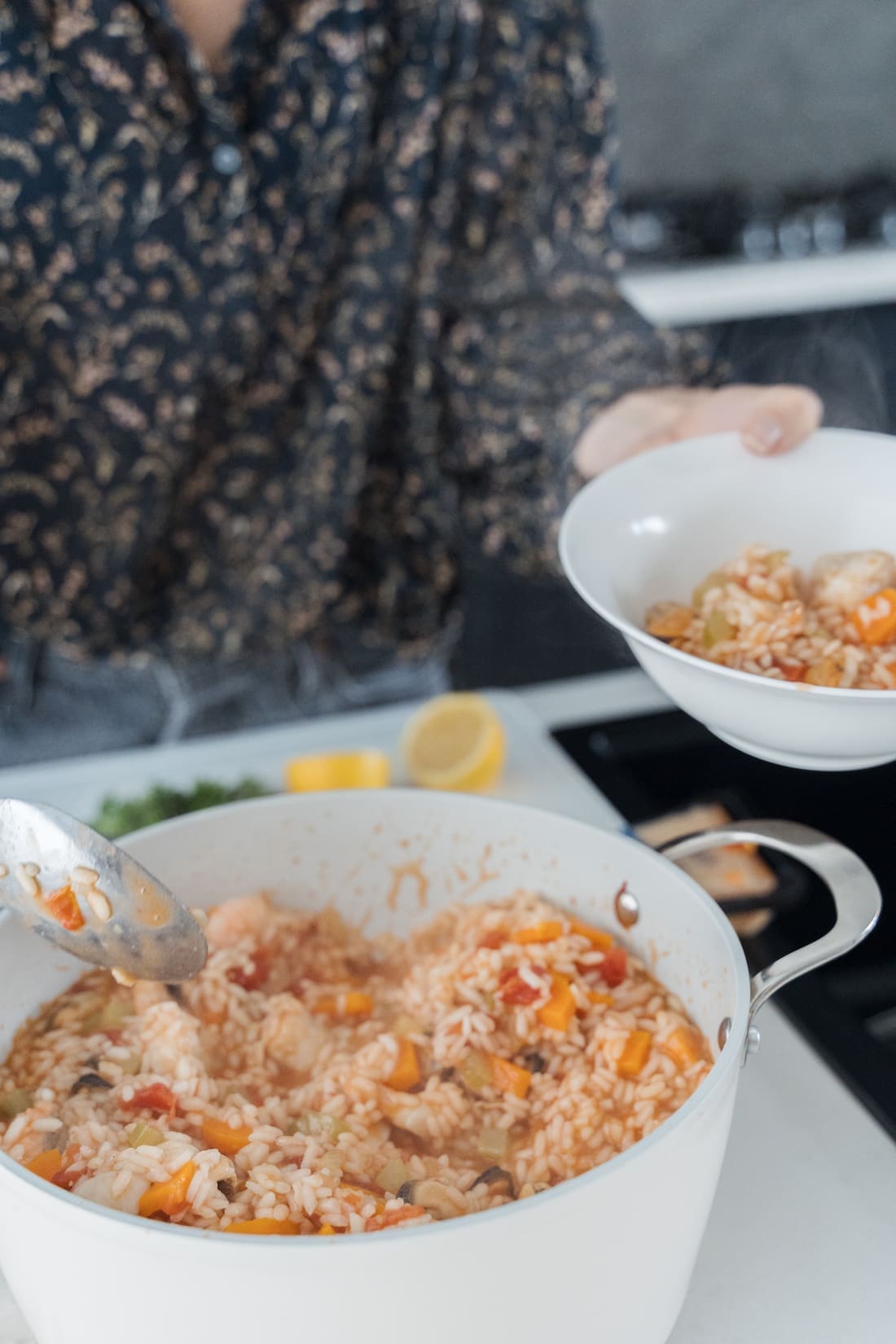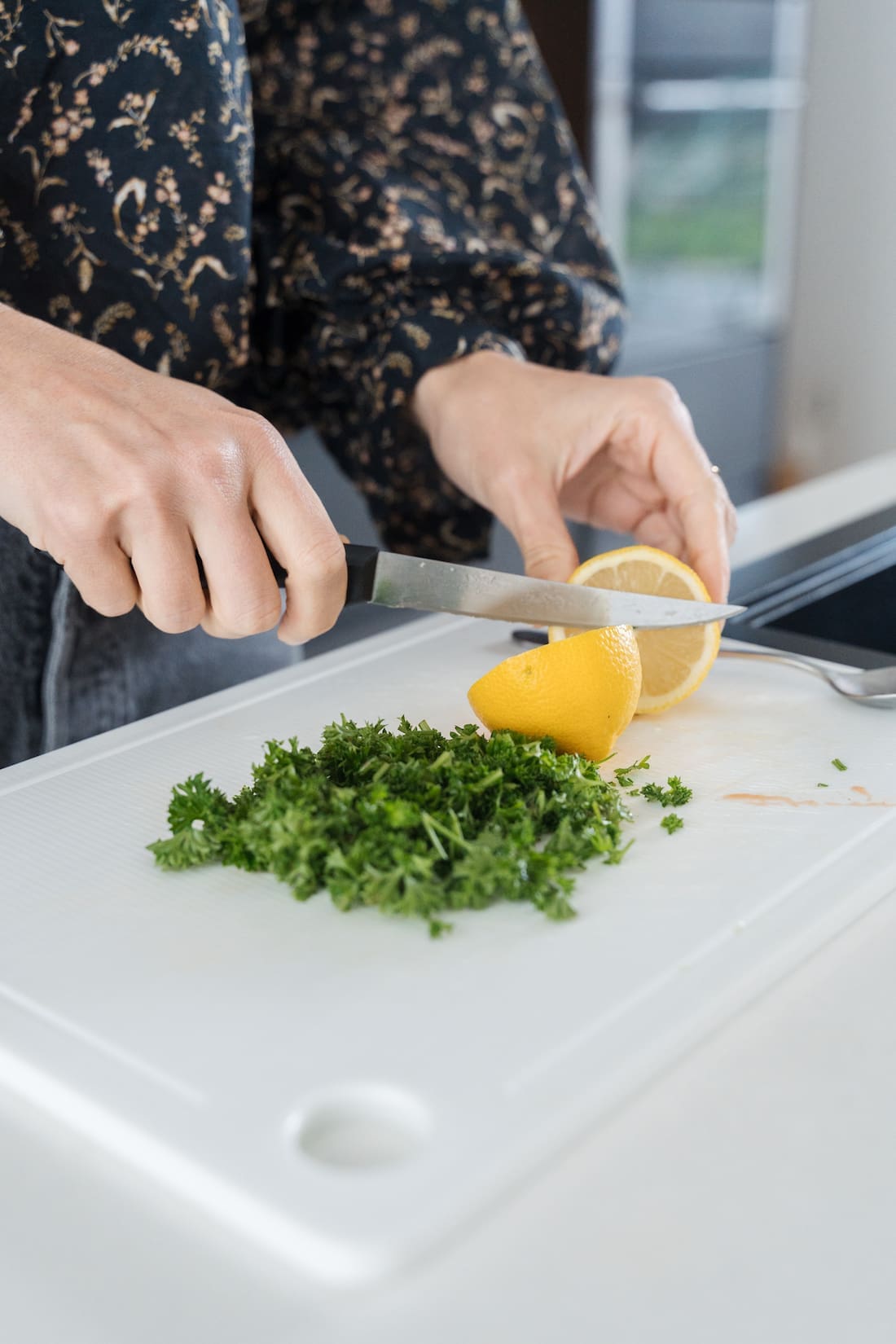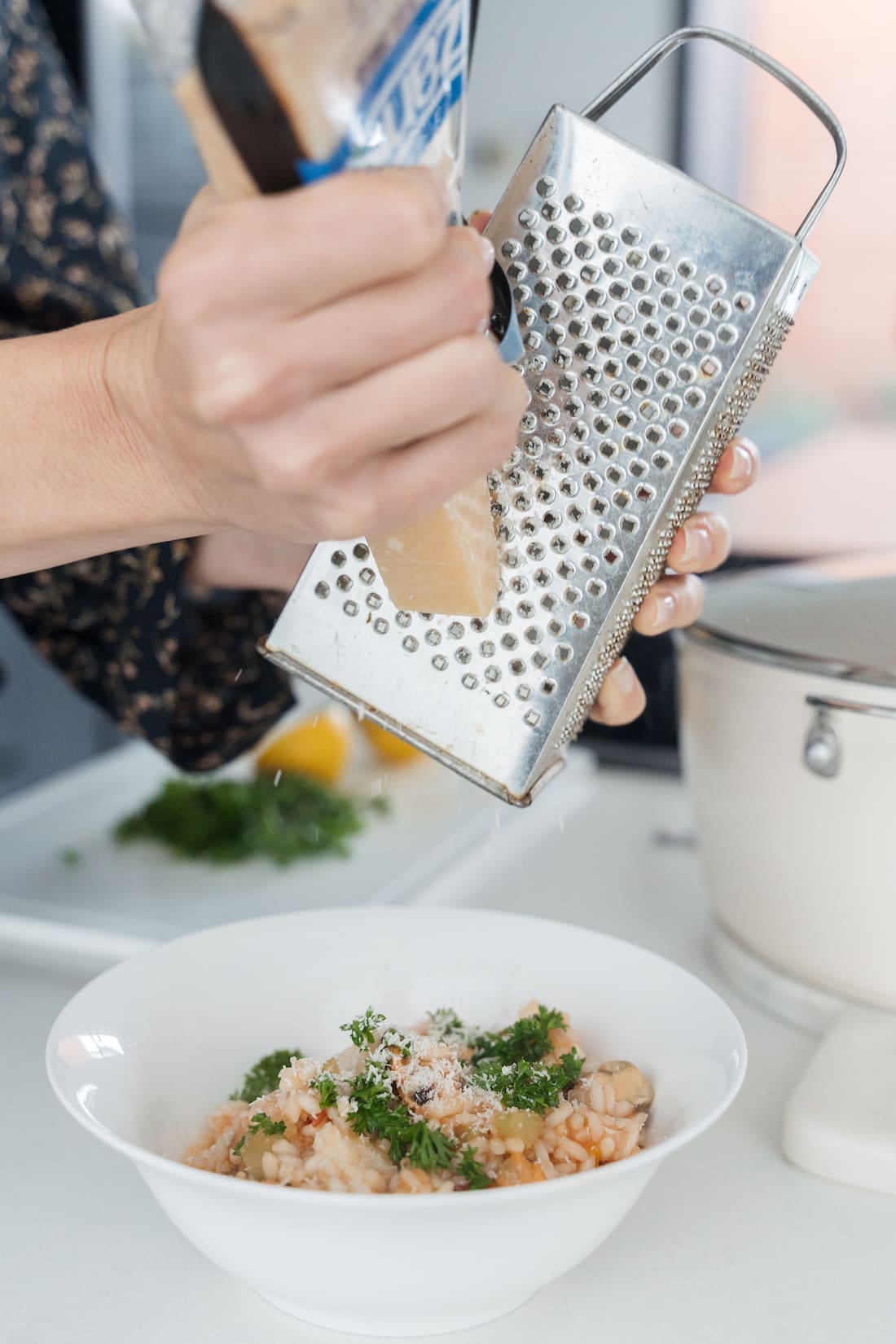 This is a seriously simple recipe! It's an affordable dish that makes a large portion, and it also freezes well. Will you give it a go?
If you're on the hunt for high quality cookware, be sure to check out the Swiss-certified range from Cosmic Cookware. They also have a range of bundles (currently on sale), saving you big while setting you up as a home chef.