Decorators know that custom furniture and distinctive decor can go a long way toward adding a personalized vibe to your home. Many of today's furniture manufacturers provide custom options that give your home a unique touch to make your home a showplace.
These are some custom options you can find from name brand furniture companies like Canadel, Craftmaster, ART and Kincaid.
1. Custom Designs
Many name brand furniture manufacturers offer options like chair backs, arm styles for sofas and the type of cushions. An easy way to achieve a custom look is to choose a sectional sofa with a wide range of choices, like left or right facing arms, chaise seating and consoles between seats placed where you choose. The same goes for many
entertainment centers that offer left and right piers, TV stands and a bridge up above to tie it all together.
2. Custom Upholstery

Many furniture brands offer a wide variety of fabrics and colors. From sumptuous leather and durable leather-like fabrics to synthetics and natural fabrics like cotton and silk, the choice is yours. Find the basics in neutral tones like white, black, gray and beige, and look for accent pieces in bolder shades to add a pop of color. Performance fabrics are perfect for families with young children and pets, as well as the outdoor patio.
3. Custom Dimensions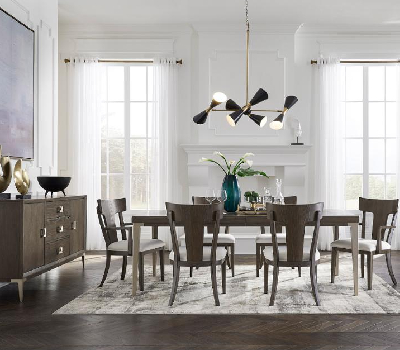 Dining spaces come in all sizes, but finding the right furniture to fit is not a problem. Whether you have a large formal dining room or a cozy little breakfast nook off the kitchen, you can find furniture scaled to your dimensions. If you have an unusual space, or if you need a dining set to fit in a specific area, you may be able to ask for custom dimensions from the furniture manufacturer.
4. Custom Finishes
Manufacturers may provide options for a range of finishes, which gives your furniture a custom look. The protective coating can enhance the furniture's durability as well as its appearance. Custom finishes include brushing for a distressed look, matte finishes for a natural look and high gloss finishes that protect against scratches.
5. Custom Embellishments
Distinctive embellishments can change the look of your furniture to achieve the look you want. Embellishments include custom hardware like knobs and handle on cabinets and consoles, and nailhead trim on sofas, loveseats and chairs.
Find custom furniture and decor options at Home Living Furniture in Howell, New Jersey to make your home unique. For further information, visit homelivingfurniture.com.