Supported by Amart
Nurseries are one of our all-time favourite spaces to style. But speak to any parent and they'll tell you a great nursery isn't just about aesthetics — it's one that functions well too. So today we're sharing with you our top tips to prep a stylish and practical nursery that will support you.
Family favourite, Amart knows that preparing your perfect nursery in advance of bringing your baby home will help you in those early days and weeks as you find your footing. And their newest range of nursery furniture ticks all the right boxes without breaking budget.
Related article: Boho sanctuary boy's bedroom: Take a tour of Archer's nursery
Related article: DIY garland bunting flags for nursery or child's room
How to prepare your nursery
Before you get swept up in deciding on colour palettes or themes, start with the basics. What do you really need in a nursery?
The essential items of a nursery are:
bassinette and/or cot
changing table with accessible storage
sleep-safe blankets and cot sheets
baby monitor with audio and/or video
comfortable feeding chair and footstool (yes, this is essential! Just think, you could be feeding bub for over 10 hours a day… so make yourself comfortable)
lamp or light fixture with a dimming function
blackout blind.
With Amart's new nursery range, you'll have everything you need to furnish your newborn's room, including cots and mattresses, changing tables, nursing chairs, and storage solutions. 
The range features classic and contemporary designs, so there's something for everyone. Amart also offers a great selection of cot mattresses made from quality materials to ensure a safe sleep environment for your baby. Their full range complies with Australian and New Zealand safety standards.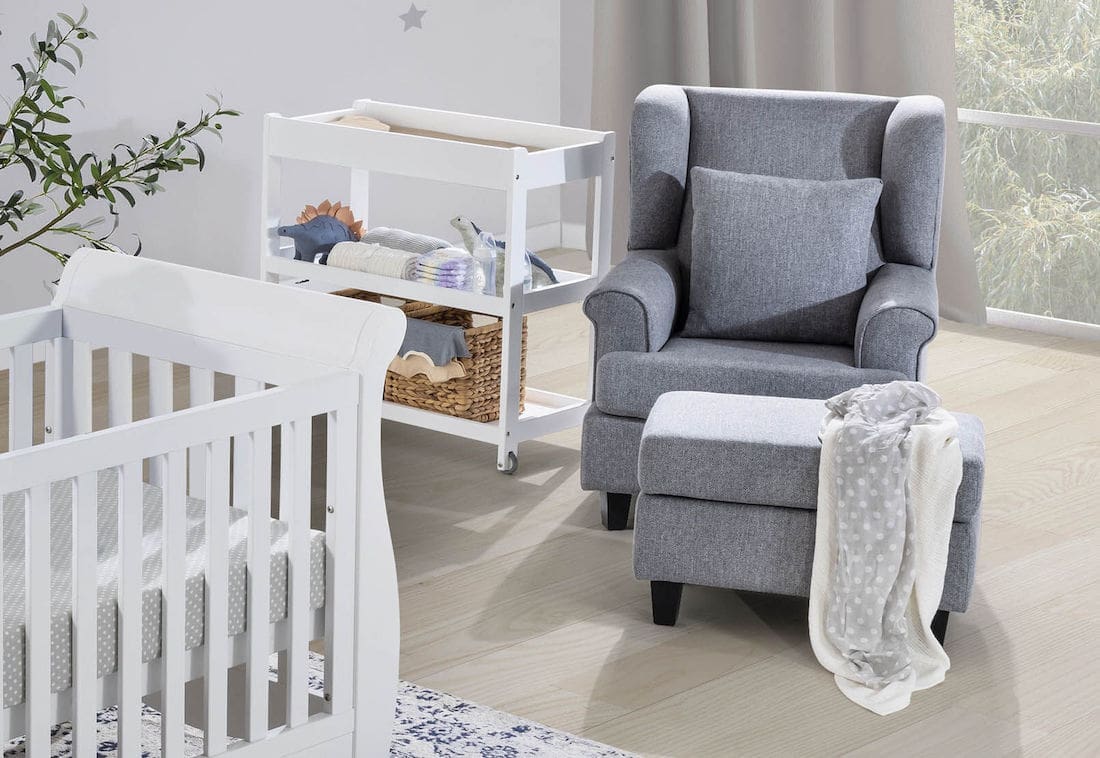 Develop a design concept for your nursery
Once you know what you'll need, you can start to think about the overall design, aesthetic and colour choices you'd like to incorporate throughout the space. Essentially, a design concept for your nursery.
While there really is no wrong or right answer here, it's important to keep in mind that the number 1 goal of any nursery should be to create a tranquil space that supports sleep. So a little insight into colour theory and interior design can go a long way. Most importantly, we suggest avoiding energising colours such as orange or red, and opting for grounding and relaxing shades of blue or green instead. Neutrals or pastels are also popular choices for their calming effect.
A timeless way to decorate a nursery is to use a clean, classic white palette throughout the furniture and inject subtle pops of colour with soft furnishings and decor. This is a great idea if you are planning more than one baby and want gender-neutral furniture that can effortlessly work in any style of nursery. But keep in mind this might not be ideal for fabric pieces like armchairs due to cleaning upkeep. 
Another fail-proof way to furnish a nursery is with a natural aesthetic, opting for natural wood finishes. Timber brings a sense of warmth to your nursery and is also a timeless option that works well with almost any interior style.
All of the pieces in Amart's nursery furniture range have been designed with timelessness in mind, ensuring you'll get plenty of use out of these pieces beyond the nursery days.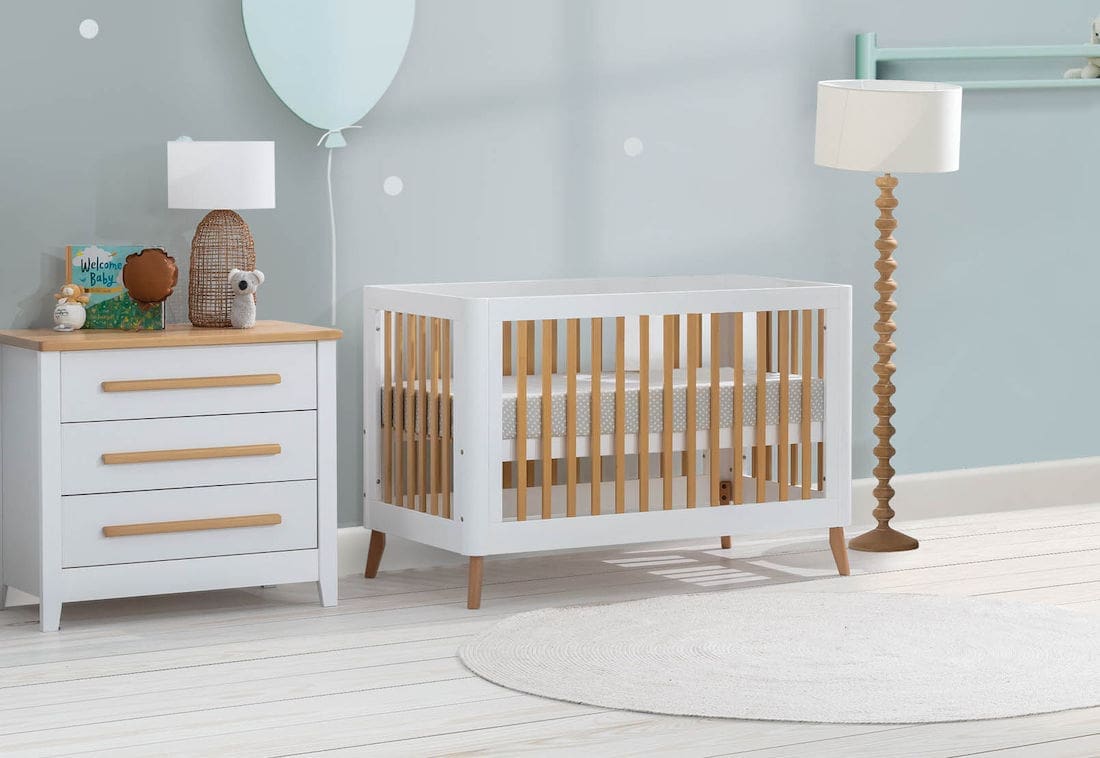 Consider your space
Every decorating project has constraints. Whether that's the size of your space, budget or perhaps you're renting and cannot make permanent changes.
It's important to know what your constraints are and factor these into your nursery project so you can make the most of what you've got.
These are some of the most common factors to consider:
the size and layout of your space
whether you want to invest in a complete redesign or just add a few styling elements
your colour preferences
any existing furniture you'd like to incorporate into the space.
We always suggest measuring your room, and making notes of any windows and door frames, so you can be sure any items you select will fit in the space. 
Something to keep in mind is that most often, a parent will stand at one end of a change table to change a nappy (rather than in front) so it's a good idea to allow plenty of free space around the change table.
Add that final layer of style with decor
It's amazing how just a few decor items or textiles can tie a whole space together — adding a sense of warmth, softness and personal style.
You don't have to go overboard, just 3-5 items scattered across a room is enough to establish a theme or colour palette. For example, a stylish wall print, cushion and lamp can set the tone for your nursery. 
Amart has a fantastic range of vibrant, stylish pieces to help you achieve the look you want. From playful cushions and stuffed toys to non-toxic faux plants, lamps and rugs — you can find everything you need in one handy destination.
We hope these tips on how to create a stylish nursery helps you. You can check out Amart's full range of beautiful range of functional, safe, and durable nursery furniture online and in-store now.