Between cleaning, cooking, and eating, so much time is spent in the kitchen! The holidays tend to be extra hectic and holiday cooking (especially for a lot of guests) can get exhausting.
I grew up in a large family and every holiday I would watch my mother get so stressed out during the weeks leading up to our winter holiday. She would spend days in the kitchen preparing our holiday feast. By the time the holiday would come, she would completely exhausted. Now that I have my own family, I understand how much work all that cooking was for her. I mean, really, as great as our kitchens are, who wants to spend all day and night in them, especially if that time is spent over a hot stove? I'll sleep in my bedroom, thanks.
While I have my holiday recipe favorites, I asked a few people across the United States (who know way more about food and cooking than I do) what their quick and easy holiday recipes are. Here are a few that I think you're going to like, from entrees to drinks.
Entree
Lazy Man's Homemade Chicken Noodle Soup
"I spend most of my time testing vacuum cleaners (boring, but someone has to do it) on ModernCastle.com. But I am an avid cook and over the years I've created a handful of recipes that are especially good for this time year," said Derek Hales.
"My absolute favorite is my homemade Chicken Noodle Soup recipe. I have made a few different iterations of this soup. Below is what I call my Lazy Man's Homemade Chicken Noodle. This version is the fastest and exceptionally good."
Ingredients
Egg noodles, 1 bag, 8 ounces
Celery hearts, 1 bunch / bag
Baby carrots, 1 large bag
White onion, 2 large
Garlic (minced, in a jar),1 tablespoon
Oregano, 2 tablespoons
Chicken Broth, 96 ounces
Chicken (pre-cooked rotisserie chicken or pre-cooked chicken breasts from the grocery store), 2 to 2.5 pounds
Olive oil
Salt and pepper to taste
Directions
Coarsely chop celery hearts, baby carrots, and white onions. Add to large stockpot. Add garlic, oregano, salt, and pepper. Cook over medium heat with olive oil for 15 to 30 minutes, depending on desired vegetable tenderness.
Bring water to boil and cook egg needles in a separate pot. Tip: if you start the water when you start cutting the vegetables, they will usually both be done around the same time. Drain (do not rinse) and set aside.
Coarsely chop chicken.
Add chicken, egg noodles, and chicken broth to stockpot. Heat over medium high heat for 10 minutes (if it starts to boil, turn it down to low. It's ready!).
As soon as everything in the stockpot is hot you're ready to eat! I generally leave mine on the stove for another 1 to 2 hours on low which just helps the flavors marry more together.
Red Wine Chicken Skillet
A beautiful holiday dish that only takes 45 minutes to whip up! A few of the ingredients include: thyme, balsamic vinegar, honey, and garlic cloves. For the full recipe visit Genius Kitchen.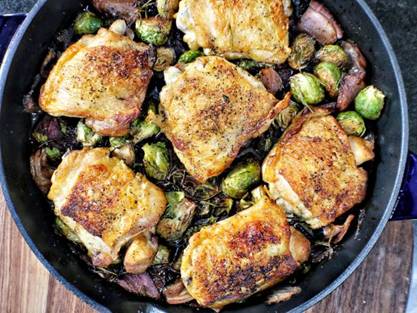 Attribution:Dan Churchill for Genius Kitchen
Delish Side Dish
Roasted Romanesco Steaks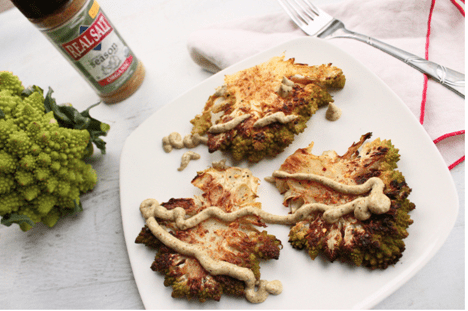 "This recipe takes just 5 minutes to prep and requires only a few simple ingredients. It's vegan, gluten-free, seasonally inspired, and is sure to please everyone as a delicious healthy side dish for any holiday," said creator Julianne. Visit her blog for the recipe.
Dessert
Chef Via Melissa's Pumpkin Energy Balls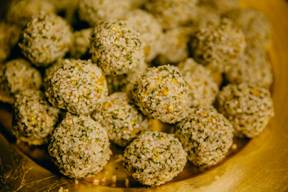 Ingredients
1 1/2 cup GF oats
1 1/2 serving Amazing Grass vanilla protein powder
1 teaspoon each: cinnamon, ginger, and nutmeg
3 tablespoons honey
1/2 cup coconut oil
1 cup pumpkin puree
Directions
Place oats, protein, and spices in a bowl.
Mix together
Add pumpkin, honey, and coconut oil in a blender or food processor and mix for 15 to 20 seconds
Add wet ingredients into the bowl of dry ingredientsand blend all together by hand
Roll balls in palm of hand
Makes 12 to 16 balls with dough
Place in refrigerator for 30 minutes.
Eat and enjoy!
Submitted by Chef Via. Visit her on the web at viaMelissa and viasKitchen.
Raspberry Pastry Roll-ups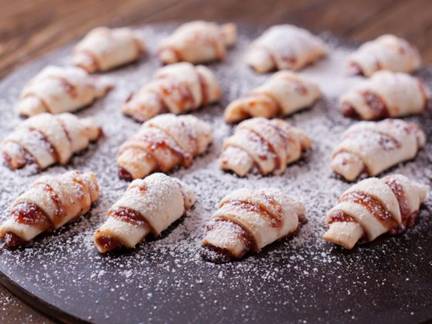 You'll need pie crust, raspberry jam, and powered sugar to make these pretty pastries; that's it, just three ingredients!
Unroll piecrust onto countertop. Spread 4 tablespoons of jam over piecrust leaving a half inch borderat the dough's edge.
Using a pastry wheel or pizza cutter to cut piecrust into 16 wedges.
Starting at the outer edge of the pastry, roll wedges into crescents. Place on parchment-lined baking sheet and bake for 15 to 20 minutes at 375* or until lightly browned.
There's one last step. View it along with ingredient measurements at Genius Kitchen.
Attribution: Recipe courtesy of Genius Kitchen user @DianaEatingRichly.
Drinks
Homemade Holiday Liqueur
"Pomegranate Green Tea Liqueur brings together the sweet taste of pomegranate and tea with Everclear ensuring holiday cheer is never in short supply. Combine with simple syrup and water and within two hours it'll be ready to bottle and enjoy withHoliday Road Punch (recipe below) or gifted in a mason jar with festive ribbons and labels," said Kelsey Arends.
Pomegranate Green Tea Liqueur
Ingredients
8 Pomegranate green tea bags
6 ounces Everclear
7 ounces Filtered water
3 ounces white

simple syrup
Instructions
Combine tea bags, Everclear and water in a sealable container.
Steep two hours.
Remove tea bags and add simple syrup. Mix thoroughly.
Bottle and enjoy.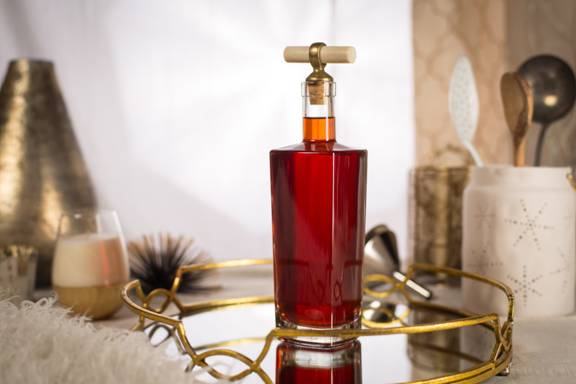 Holiday Road Punch
Ingredients
15 ounces

Pomegranate Green Tea Liqueur

5 ounces vodka
5 ounces white rum
10 ounces lime juice
10 ounces champagne
Instructions
Combine all ingredients except champagne in a pitcher or punch bowl.
Mix and chill in refrigerator eight hours or more (overnight works best).
Just before serving, add chilled champagne and stir carefully.
Add ice, along with 10 lime wheels.
Serve in punch glasses, ice optional.
Garnish with lime wheel (also optional).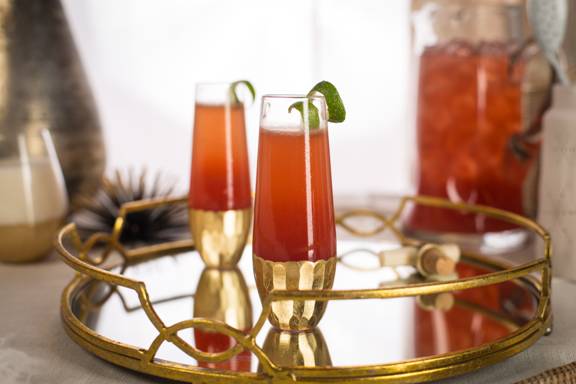 Recipes and photos submitted by said Kelsey Arends.