The Glam Look has experienced a slight makeover this year. Gone are the stark colors of 2016 and shiny finishes. Instead, homeowners are leaning toward softer finishes, infusions of color, and luxurious components that bring a room together with classically inspired details.
Satin Luxury Finishes
Metallic accents have become increasingly popular over the past several years. Brass, copper, chrome, and other reflective materials have been used in kitchens, bathrooms, and bedrooms to bring a feeling of luxury to these spaces.
There is a shift in 2017 in how these metals are being used. Instead of the shiny surfaces of the past few years, satin or brushed brass and nickel are quickly becoming the darlings of the design world. This can be seen in the luxury satin silver finish of the Ashley Furniture Coralayne line, pictured below.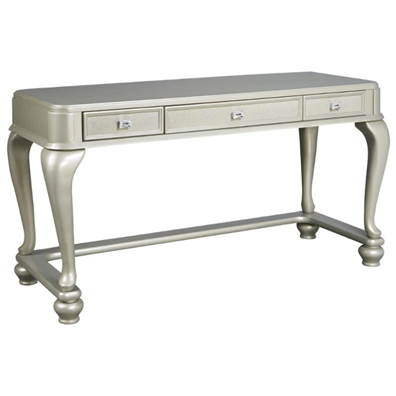 The brushed finishes instantly evoke a more glamorous era. A period during which the world was slower and people took the time to dress with care and surrounded themselves with finely crafted furnishings designed to last a lifetime.
Other ways to introduce this updated glam look into your home design is to replace the cabinetry hardware in your kitchen or bathroom for brushed copper or nickel pulls.
Another easy way to add the wildly popular brushed brass of the updated glam look into your home is with a stunning end table like the one from the Curata line by Hooker Furniture, pictured below. This allows you to keep the foundational pieces in your living space while incorporating one of the hottest interior design trends of the year.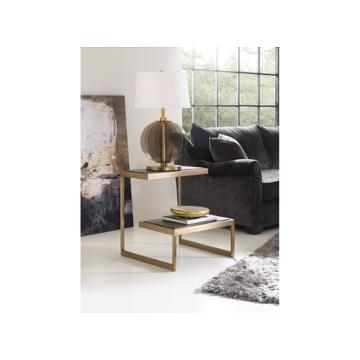 Other small details can be artistically added to the decor such as brushed metal picture frames, lamps, small sculptures, or desk accessories to instantly upgrade the feel of a room.
Exquisite Entrances
The entryway to your home is the first place you and your visitors will see. Just because the space has perhaps the smallest square footage in the home, doesn't mean it should be overlooked. It's an excellent opportunity to introduce a high impact piece that will set the tone for the rest of your home.
Don't underestimate the power of choosing a statement piece for your entryway. Some people will shy away from a table, painting, or sculpture in this area but it can make the difference between an exquisite entrance and one that is merely functional.
The Hollywood Swank line from Aico Furniture has several stunning sideboards and console tables that would be ideal for an entryway. Paired with one of the matching mirrors, one of these tables could easily function as a landing space and serve as a last-minute place to check your outfit before heading out the door.
Add a large bouquet of flowers each week to freshen up the space and slightly change the appearance and to add an extra layer of luxury to greet you and your guests when they enter your home.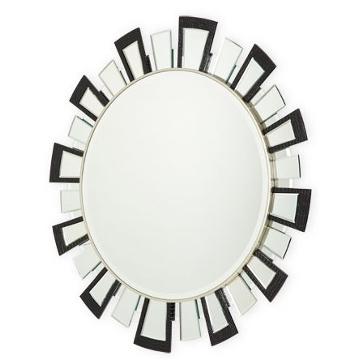 How's this for a statement piece? Introducing Aico's Hollywood Swank Facet Mirror, a easy to install furnishing for your glam home that's available online or either of our furniture outlet New Jersey stores.
5-Star Bedrooms
Who doesn't want to wake up every morning in a 5-Star hotel and be served breakfast in bed?
While this may not be possible on a daily basis, it is possible to recreate that feeling in your own home.
There are several important factors to take into consideration when updating your bedroom to the glam look. First, choose a bedroom set that makes you feel as though you are surrounded by luxury.
The Birlanny collection by Ashley Furniture does an admirable job of creating an old-world luxury feeling in even the most modern home. If you feel pampered and relaxed imagining yourself in the French countryside, this collection has a lot to offer.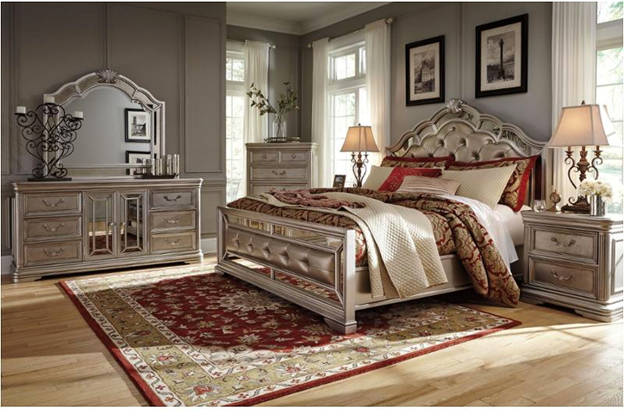 We are the largest Ashley Furniture reseller on the East Coast. Contact us for the best savings on Birlanny and other Ashley collections.
If you want modern luxury, the Hollywood Loft upholstered platform bed from Aico Furniture may be more of what you're looking for. The set has a feeling of contemporary country club luxury that is masculine and refined all at once.
Once you have the foundational pieces for your new bedroom look chosen, it is time to finish the theme with carefully chosen details. Fit your bed with new linens and pillows. Overstuffed pillows and a decadent blanket to hide under will make the space feel more like a vacation retreat than a weeknight routine.
Need some more ideas on how to create a glamorous interior? Stop in any of our discount furniture stops and ask to speak with one of our fabulous designers. Be sure to also browse our website for additional glam looks.