It's a new yearand that means the release of the new Pantone Color of the Year in the design industry. For 2018, Pantone.com has released the beautiful shade of ultra violet, a blue-based purple that in our opinion, is going to give you "ultra" design envy when used in home design.
The hue emits a celestial and mystical feeling as noted by Refinery29 and is often used to portray a unique and calming energy while inspiring creativity, originality, and imagination.
Take a look at how to incorporate this dreamy statement color in your home design.
1. Think Big Picture
Get started by taking a look at your home's big picture and what could use an update. If you're ready for new decor or a fresh paint job, you can use the color in a variety of ways. Evaluate each room to see what could have the best effects with the new hue.
In a small room or walkway, cool hues like purple can look aesthetically pleasing when covering every wall, but you can also simply add an accent wall to any room for a change of pace, as suggested by Mansion Global. Also as noted by the source, the gorgeous hue will add a dramatic effect to your home even in small doses, like a flower vase or ottoman. The source also suggests choosing between featuring the color in common spaces or allowing it to reveal itself in more surprising places around the home, such as a guestroom or home office.
Ultra violet would really pop against this grey Aico Furniture Melrose Plaza Ottoman.
For some, it's preferred to incorporate thecolor into a few pieces and design elements in order to have the option to swap it out in the future with new trends (ie. next year's new color)!
2. It's All About the Mood
After last year's Pantone color choice of the yellow-green hue called "Greenery", as well as trends toward neutral colors, Mansion Global notes that it's time for a splash of something rich and vibrant to bring life to your home. It's easy to create different moods with this year's dark purple, especially when paired with other complementary colors.
For a sophisticated mood: Work it seamlessly together with neutrals like black, cream, and metallic gold (Mansion Global).
For a romantic mood: Architectural Digest suggests to use the color in a textured accent piece like a velvet loveseat alongside dark wood or leather.
For a soft and calm room: The same source describes pairing the hue with other shades of purple, as well as pinks, blues, and neutrals including lilac, mauve, blush, or periwinkle, especially in a well-lit room.
For a happy or artistic space: Incorporate ultra violet into your area rug, your artwork, and throw pillows that feature complementary shades of the hue for a happy or artistic feeling, writes to Mansion Global.
For a timeless effect: For a timeless effect, Mansion Global says to combine the color with emerald green and a chocolate brown.
3. Create a WOW Factor
You can create that WOW factor in your home by going a step further. Make big updates by changing out your backsplash or wallpaper. Refinery 29 suggests trying a faux glitter tile or patterned design in your bathroom or kitchen paired with a brass faucet, and linen wallpaper in an office or bedroom.
The unexpected updates will make all of the difference. Replace doorknobs with purple glass knobs, as shared by Architectural Digest, and swap your cabinet drawer pulls with a purple quartz option, sold at Anthropologie. Add your favorite violet or jewel-toned flowers, such as lilac and hyacinth – Architectural Digest says doing so will brighten a dark space.
Your mornings will stand out with your new violet mugs and cookware, while an ombre rug in violet and lavender along with new agate coasters, as featured on People.com, will make hosting your new favorite weekend activity. Bring more vitality to the room with a violet amethyst planter, as suggested by Refinery 29, cozy throw, and bookshelf.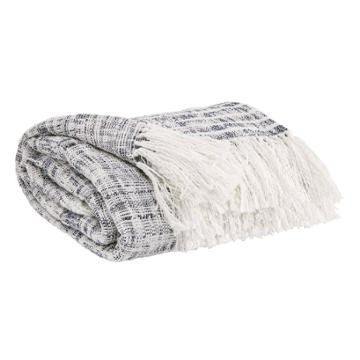 Pictured: Ashley Furniture Throw
If you're seeking more mindfulness this year and a place to seek refuge from a chaotic week, coming home to elements of ultra violet will make you feel at ease, a sense of healing, and re-energized, according to Pantone's website. Use these tips to bring this year's color to the forefront of your home design.