For over 15 years, we have been a trusted furniture store in New Jersey. Currently, we have 199 5 out of 5-star reviews, two 4 star reviews, and two 2 star reviews on the reviews section of our website. We encourage you to check in with this section and ask us for testimonials as you decide on the best furniture store to give your business to. Here's a look back on several reviews our customers have left us. Click here to view all the home living customer reviews
From the moment I walked into the store and Roberto helped me, to when the purchase was complete, I couldn't have been happier. Roberto was knowledgeable and very patient as I sat on every couch in the store. No high-pressure yet a big purchase was made. Thank you again for your help and follow up Roberto.- Blayne R., December 27, 2017, 5 stars
We purchased a large sectional, recliner, coffee table and area rugs. The owner and sales people assisted in ensuring all pieces would fit perfectly in our space. All items were delivered timely. The table had a very slight manufacturer's defect and they replaced it without any questions or delays. Would highly recommend this store!!! Shari C., September 2017, 5 stars
Photo by Shari
I absolutely love this bedroom set. BiBi was wonderful to work with as well. Buying a set like this is a huge investment and I was very pleased from beginning to end. I get so many compliments on my new bedroom set. I definitely would buy from them again. Julie Y., August 2017, 5 stars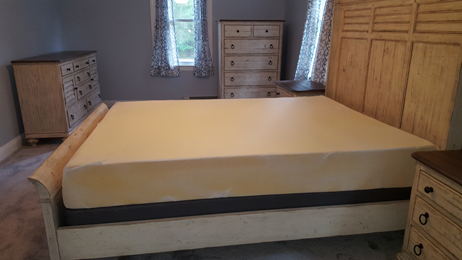 Photo submitted by Julie.
The easiest and most efficient ordering process. Saw the sofa bed, ordered it on Wednesday and it was delivered before 10 am on Friday. Couldn't be more pleased. It is the second time I have purchased furniture from Home Living in Howell and I couldn't be more pleased. Sam Falcone was a pleasure to deal with. Highly recommend this store for any furniture purchase. Joan S., June 2017, 5 stars
From the salesman, John McGrath, to the delivery men, it was perfect. John was well versed in the product and the manufacturer and "knows his stuff". More importantly, his service and demeanor was second to none. The other associates also made you feel comfortable. We are very pleased with the sectional. Hopefully, the upload of the photo was successful. Thank You to all. – Joe and Maryrose M, April 2016, 5 stars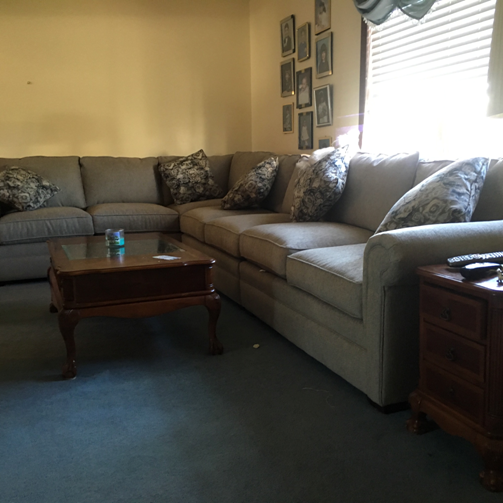 Photo submitted by Joe.
This will be the fourth time working with Gina at home living and each time is better than the next. Gina is patient, attentive, passionate about her job and it shows with each item she helped us select. Gina went above and beyond with helping us pick our furniture pieces for our house. She responded in a timely manner to countless phone calls, stops into the store and emails just to make sure we had exactly what we needed. Gina went as far as to check in with us once delivery happened to ensure everything went perfect and it did. Gina spent hours with us showing us beautiful fabrics to which will last a long time. The pieces we selected are perfect for our space. She exceeds all expectations when it comes to customer service. The delivery was fantastic as well!!! Thank you for taking the time to make sure our house is now a home. Please see below our bedroom, second bedroom, the kitchen table and basement sofa! Brooke T., September 2015, 5 stars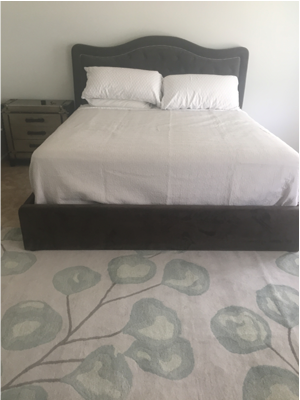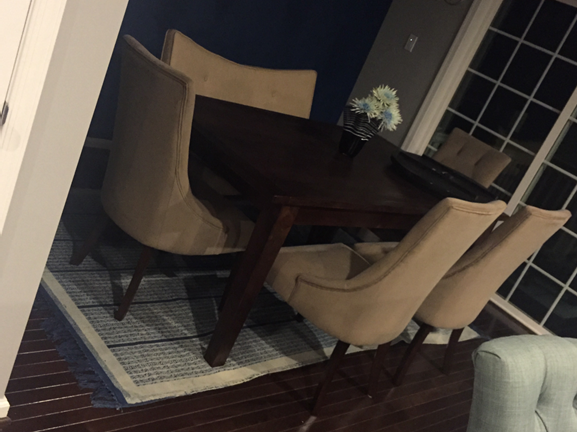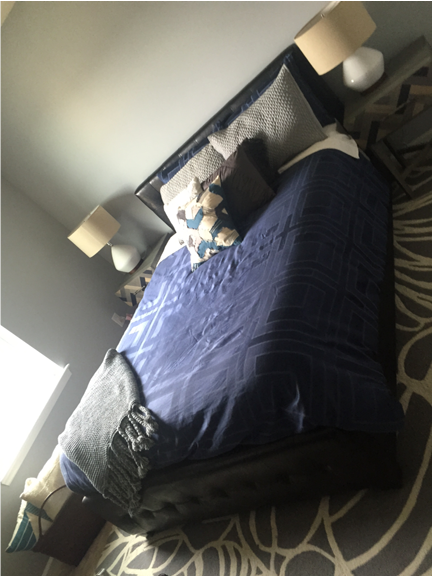 Thank you so much for helping in the selection of our new sofa. Your time, expertise and professionalism made a tough choice much easier. It is absolutely beautiful. We will and have already been back for more furniture. Please also thank the entire staff for the exceptional service. – Lisa & Peter Pflug, July 2015, 5 stars