Supported by Canberra Outlet
A calm, organised pantry makes way for a calm, organised life… well it helps!
There's a long list of reasons why an organised pantry is a
good idea but the two main ones are efficiency and environment.
As a busy mum, I don't want to waste time rummaging through the pantry every time I need to get breakfast or dinner ready, or pack lunchboxes. I much prefer stepping into an organised pantry where I can simply glance and find what I need without feeling the weight of mess or frustration of a disorganised pantry.
Since organising my pantry, I also feel like I've reduced food wastage. I'm not doubling up on buying foods I already have and I'm using foods before they expire (and helping to keep them fresher for longer in airtight containers).
Watch the short video below or keep reading for my top ways to style and organise your pantry.
Related article: Top 7 products to style your home
Related article: Take notes: 7 great ways to style your kitchen
1. Declutter
Like with most areas of the home, it helps if you start by
decluttering — you'll be able to clear away unused or unwanted items, and
actually discover everything you've been storing in your pantry!
So how do you declutter?
Remove everything from the shelves and decide if it's
something you'll use again and should keep or if it should be discarded or
given away.
Obviously expired foods (and I bet you'll find more than a few) should be thrown away but anything you bought during a random health kick that you're never going to touch again, for example, could be given to that healthy friend of yours.
You can find more decluttering tips here.
2. Create zones and decide on logical placement
An easy and logical way to organise your pantry is by
grouping 'like' items.
What makes sense and works for you, won't necessarily work for everyone. Personally, I like to keep all my baking items together, all my food staples (flour etc) together, pastas and other carbs together… I think you get the picture.
Place the items you use most often front and centre so they
are easy to access. I keep my breakfast cereals and snacks (for daily
lunchboxes) at shoulder height and the foods I use less frequently above or
below.
3. Find storage solutions to suit your needs
Is there anything more satisfying than a row of matching canisters? Surely, I'm not alone here!
One of the triggers for me to style and organise my pantry was the amount of food I was wasting — items going stale, or simply forgotten about and expiring. I decided to put most perishable items in clear (BPA-free) plastic containers so I could easily glance and see how much of each product I had left. Most of the containers are by Décor from Howards Storage World but I did treat myself to one shelf of luxe containers from Freedom too.
Depending on the design of your pantry, you may like to pick up some other storage solutions to make life easier. For example, the 'MIMI' tubs from Howards Storage are a great solution to keep packet items together — they can be used similar to drawers and pulled out so you can easily access all items on the shelf without having to reach behind or rearrange things. Some people also find a 'Lazy Susan' (the round spinning trays) are a useful tool to use in the corner of pantries.
Whatever style of pantry you have, you can't go wrong with a trip to Howards Storage World!
4. Sort appliances
If you find your pantry is looking chaotic or you have very
little usable bench space, the issue may be there are too many appliances
taking up prime real estate.
My pantry was feeling cramped so I was very selective about
what appliances would stay on the bench — coffee machine, toaster and kettle
were the only ones to make the cut. A few appliances I no longer used were
donated and all other commonly-used appliances were put in the cupboard.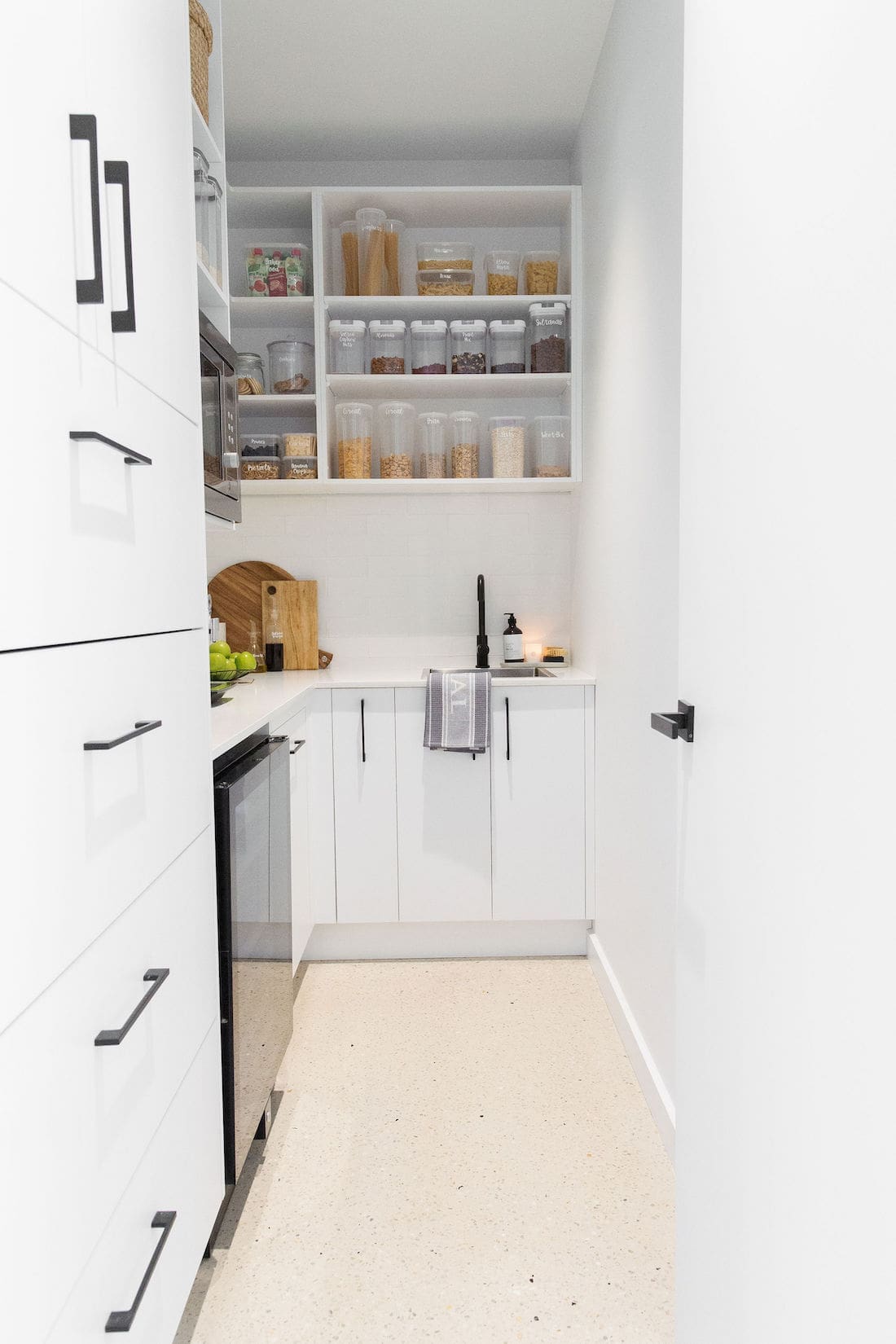 5. Look for opportunities to save space and hide mess
To make your pantry as functional as possible, it's a good
idea to see if there's any way you can save space or keep your pantry tidier
for longer.
I love using baskets as they help make packet foods and smaller
items appear neat and tidy. I've placed all my baking items in one basket, and
all my teas in another etc.
The inside of cupboard doors or behind the pantry door are areas that often aren't utilised. Perhaps a spice rack, paper towel holder or other storage solution could be added here? Space is a precious commodity in your pantry so make the most of it!
6. Create a kitchen vignette
A vignette, or styled arrangement, is a way of adding serious style to your pantry.
If you have bench space or open shelves, you could rest several cutting boards in different shapes, sizes and materials, and place some vessels or salt and pepper grinders in front. In mine, I've used a mix of cutting boards and glass oil vessels from Freedom, a marble canister from Howards Storage World with wooden spoons and a fruit bowl also from Howards Storage World to the side.
Watch this quick video with some of my favourite kitchen decorating ideas.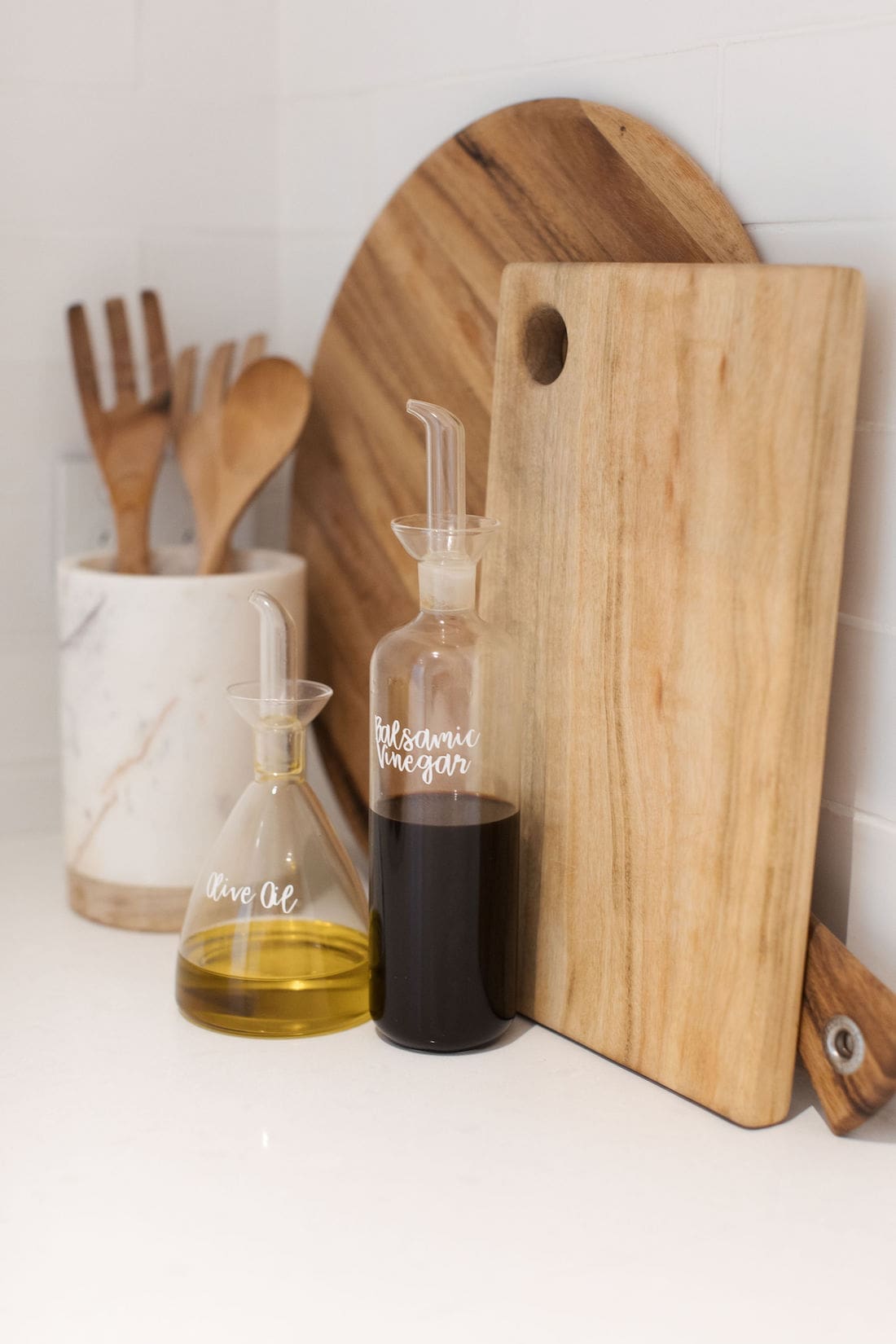 7. Embrace natural elements
Finally, soften the appearance of your pantry and add warmth
with some natural elements.
In the pantry, a plant can feel a little out of place so
I've used a large fruit bowl for that living element and pop of greenery.
Introducing natural materials, such as a woven basket or even a cotton tea towel draped over the sink, are great ways of softening the hard edges and materials in your pantry.
There you have my favourite ways to style and organise your pantry! Do you have more to add to the list? Share them in the comments below!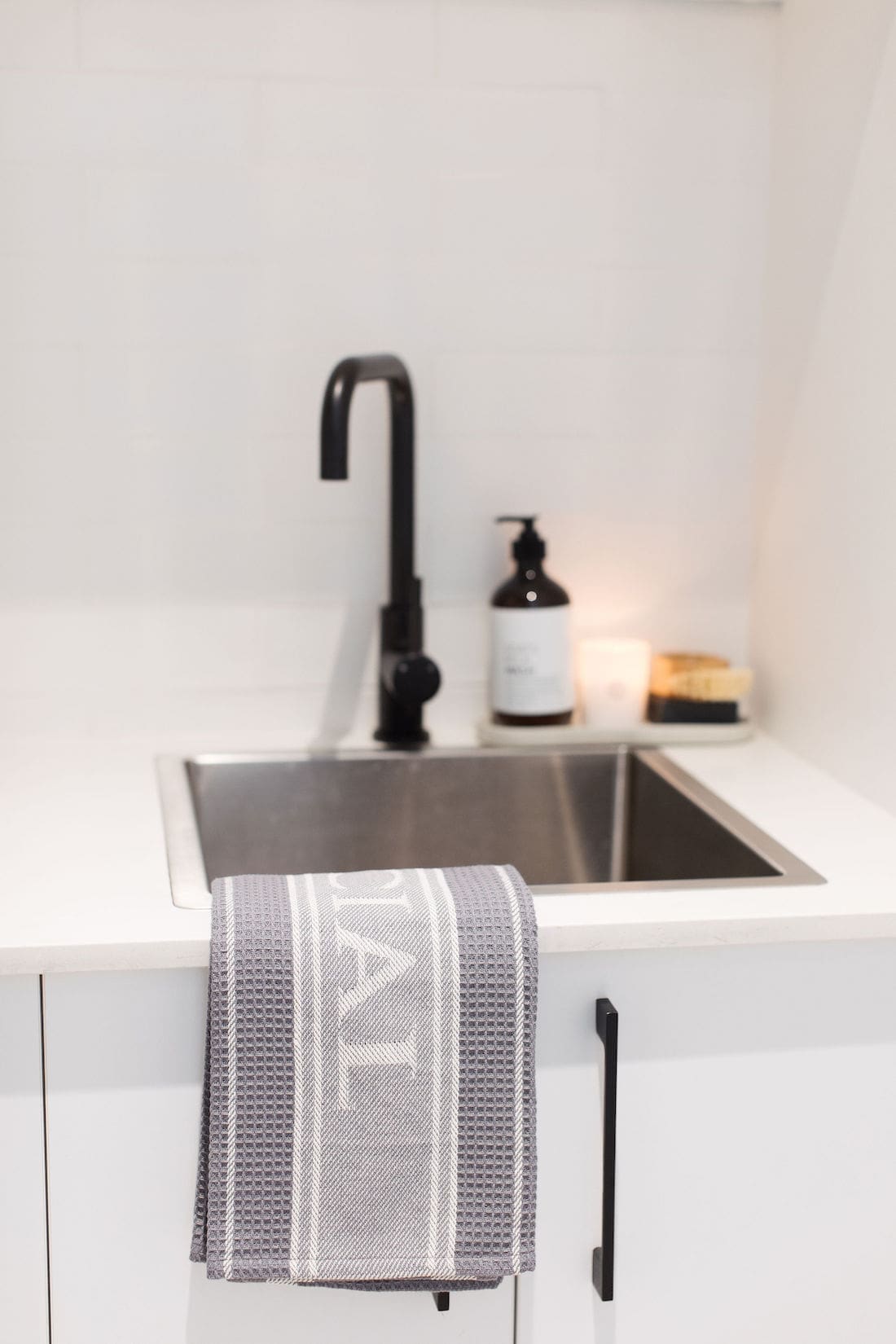 This article was first published in May 2019 and continues to be updated with the latest tips and images.