We love our pets. We also love our plants! But pets and plants don't always mesh well — in fact, some plants can be toxic for pets. Keep reading for 15 of the best house plants that are safe to have around pets (and which ones to avoid!) as well as our tips and tricks to keep your furry friends noses out of your plants.
Related article: How to create a stylish, pet-friendly home
Related article: 7 ways to display indoor plants
15 plants safe to have around pets
Yes. It's true. Some plants are toxic to cats and dogs (we've listed some of these at the end of this article) but let's focus on the positives, shall we?! There are a whole heap of fab plants safe to have around pets.
Having said that, it's always a good idea to avoid temptation and place houseplants out of reach from little paws. Just to be extra safe!
We've done some research and come up with our list of the top 15 plants safe to have around pets.
1. Parlor palm
Parlor palms are lovely and fairly easy to grow. These are plants safe to have around pets and will grow well indoors in bright filtered light, or outdoors in a place protected from strong winds. It doesn't like to have damp soil so don't be too generous when watering and give it some well-draining soil.
2. Pilea Peperomiodes
Ok. So… the pilea isn't the easiest plant to keep alive. It's pretty unforgiving if you over (or under!) water it. However, heaps of people have great success with their pilea plants so perhaps it's just us!? We've got a great article — written by a pilea expert, clearly not us, haha! — with plenty of pilea care tips for you to check out.
3. Ponytail palm
Super low maintenance and easy to grow, the ponytail palm is a great house plant option. We can't guarantee your pets won't leave this one alone though! Its long leaves are practically begging for your cat to play with them! But at least you know it isn't toxic and it's one of our fave plants safe to have around pets.
4. Calathea Medallion
The Calathea Medallion is oh so pretty! They handle low-light levels, but thrive in indirect sunlight. Fun fact… Calatheas symbolise new beginnings. The saying, to turn over a new leaf originates from Calatheas since they close their leaves at night and re-open in the morning for a fresh start!
5. Boston fern
Ferns can often get a bad rap at being tricky to grow, but the hardy ol' Boston fern is a total winner. It thrives in a hanging planter (also a great one for the bathroom) where they'll generally be out of reach from your pets but should they get their paws on it, this one won't cause any harm.
6. African violet
The African violet is not only beautiful with its fabulous rich, purple flowers, but it's a good one if you have curious pets at home. It can be a little tricky to grow but just give it some rich soil, a regular fertilise to keep those flowers blooming and a little TLC.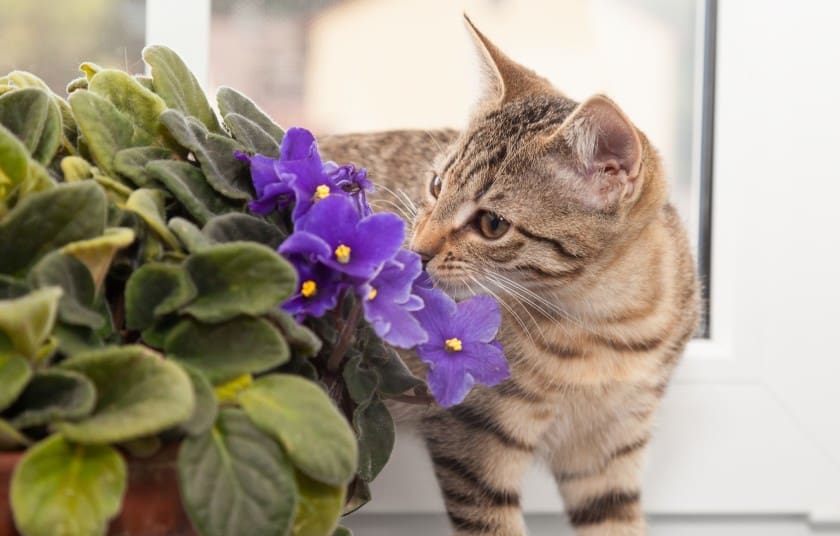 7. Zebra haworthia
We're not sure why your pet would want to chew on this little guy — it's a touch on the spiky side! The zebra haworthia plant is a top choice for pet owners. It's easy to grow, requires minimal care and looks fun, too!
8. Spider plant
The humble spider plant is a real winner. It's easy to grow, forgiving and another of our fave plants safe to have around pets. It's also one of the plants that made it onto our list of indoor plants that thrive in the bathroom. You can check out that article here.
9. Zygocactus
The Zygocactus is a popular house plant thanks to its beautiful flowers. They come in lovely shades of pink, red, purple and orange. It's a great one to propagate and the flowers bloom for ages. In the northern hemisphere, it's often called a Christmas cactus because it tends to blooms during the winter (their Christmas).
10. Sedum burrito
Sedum burrito is such a cool looking plant! It's also known as burro's tail or donkey's tail and is easy to grow in good draining soil. It's leaves are a little on the delicate side (they fall off easily) but at least you know it won't cause your pet harm… we can't say the same for your plant though!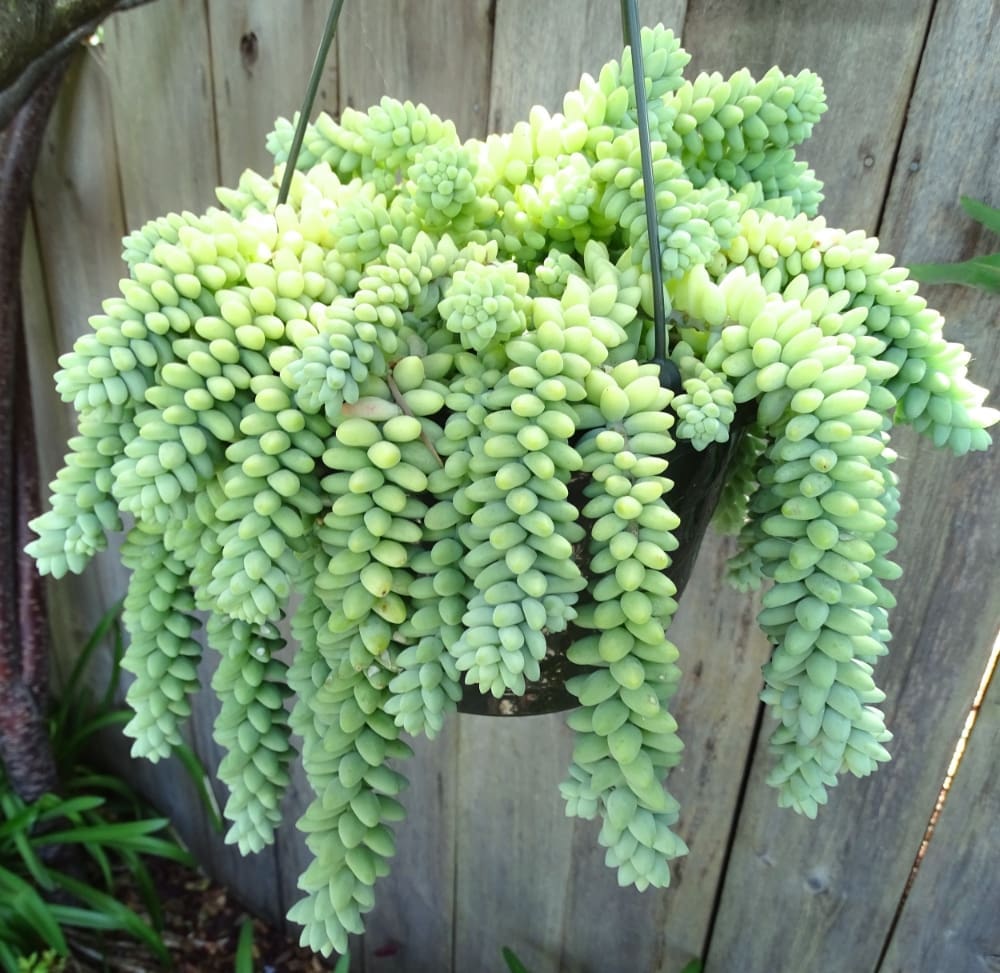 11. Bromeliads
Another top choice for those brown-thumbs among us. Bromeliads are hardy plants and easy to grow. They require minimal care but do prefer bright light and humidity. They come in lots of different shades and are easy to propagate too!
12. Polka dot plant
The polka dot plant is a pretty little plant that is non-toxic to pets. Hooray! They don't like to be overwatered so be careful of that, but otherwise they're a great one to have at home.
13. Cast iron plant
If you're searching for something that's hard to kill and is pet friendly, the cast iron plant is for you. It's virtually indestructible, tolerating poor light, cold air and even sparse watering (sign us up!). And while it may be a tempting plant for your pet to chew on, you can rest easy knowing it's one of the best plants safe to have around pets.
14. Moth orchid (Phalaenopsis orchids)
Moth orchids just add a touch of class to any space, don't you think?! They do appreciate special orchid soil but other than that, these guys are a total winner.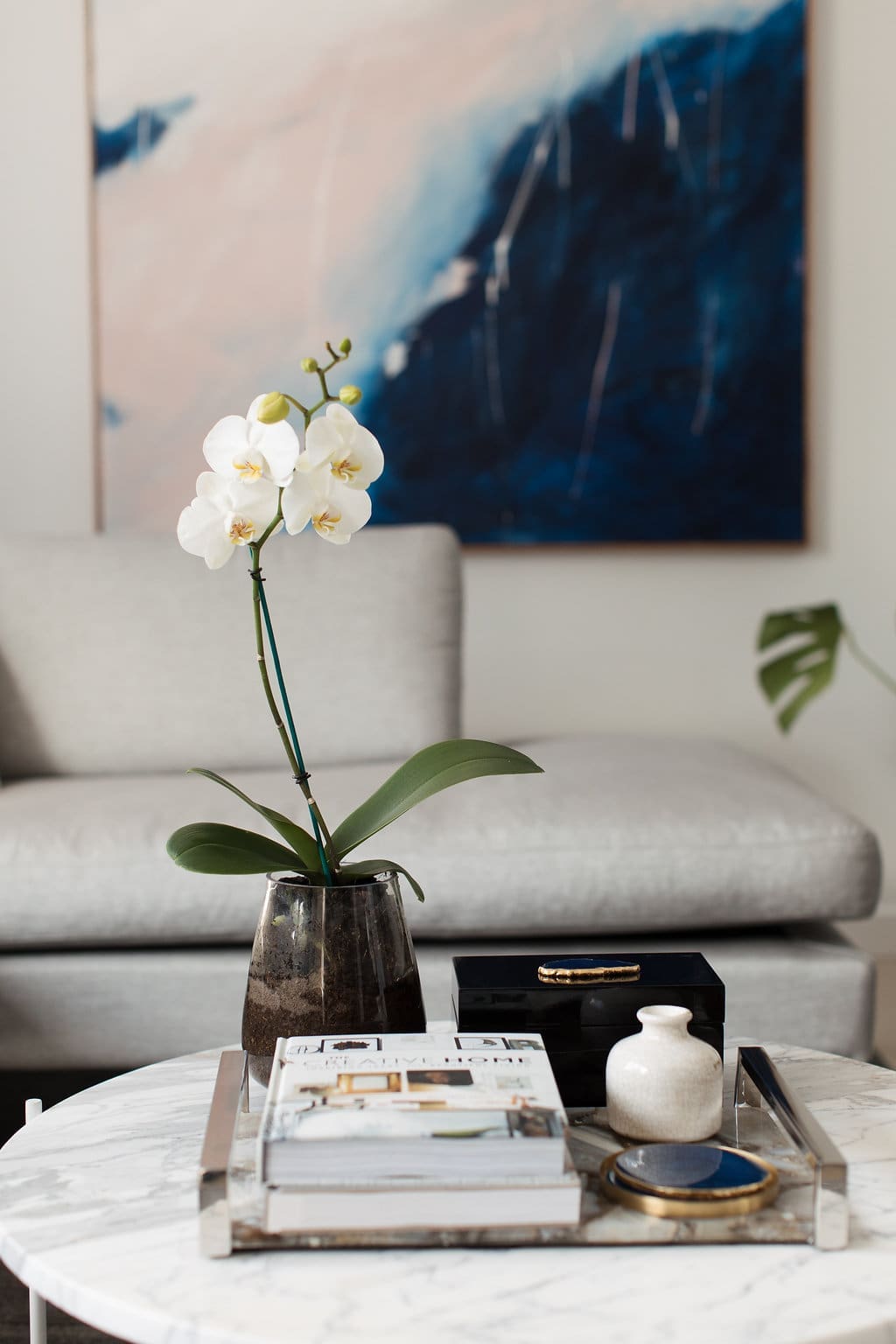 15. Nerve plant (aka mosaic plant)
With its pretty patterned leaves, the nerve plant (also known as the mosaic plant) is a great contender for plants safe to have around pets. Don't give these guys too much sunlight as too much can burn their leaves. They like humidity and are great plants to pop into a terrarium.
Natural tips and tricks to keep pets away from plants
There are plenty of products on the market to help keep pets away from your plants but we thought we'd explore a few natural, homemade ideas. If you've got a digger or perhaps a furry friend who likes to rest in your plants (like Gigi, below!) here are a few tricks you can try to keep your pets away from your plants.
Citrus and coffee grounds — Many pets hate the smell of citrus. Whether it be placing citrus peels in and around your pot plant or, using a citrus oil spray. A sprinkle of coffee grounds may also do the trick, which is great because coffee grounds make for a fantastic fertiliser!
Rubbing alcohol — It's a strong smell that apparently your pets won't be fond of. Soak cotton wool balls in rubbing alcohol and pop into the base of your pot plant.
Vinegar — Soaking cotton balls in vinegar is another trick we've heard to keep your furry friends away from your plants. Don't pour the vinegar directly on to your plant though — this could be a fatal move.
Chillies — A simple sprinkle of chilli powder should be enough to keep your pets noses out of your plants!
Ammonia — It's not a nice smell for us, but to dogs, ammonia is next level yuck! Again, soak cotton wool balls in ammonia and pop into your plant pots. Don't pour ammonia directly onto your plant as this could kill it.
Plants to avoid
There are a few popular house plants that can be toxic to pets. We're not going to pretend we're experts in this field, so we've sourced our information from the RSPCA NSW. This is not an exhaustive list. And remember, plants often go by various names, so always check all the names before you bring a new plant home.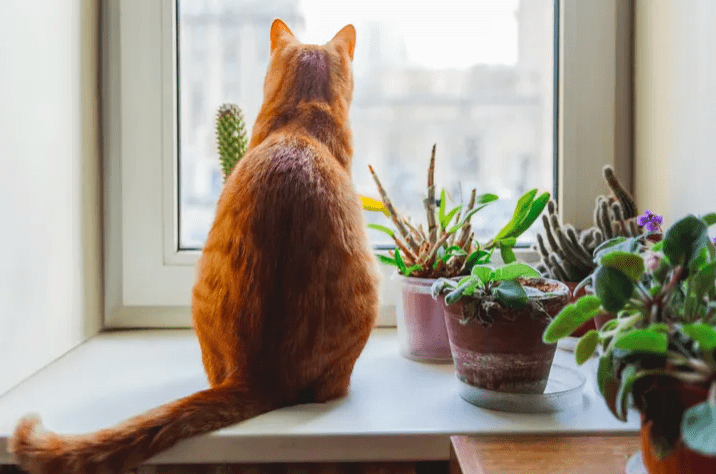 Plants toxic to pets:
Aloe vera
Alocasia (elephant ear)
Arrowhead vine
Asparagus fern
Autumn crocus
Azalea
Cannabis
Chinese evergreen
Cyclamen
Daffodils
Desert rose
Dieffenbachia (dumb cane)
Dracaena (lucky bamboo) — including Dracaena fragrans
Eucalyptus
Ficus benjamina (weeping fig)
Foxglove
Ivy — including devil's ivy and English ivy
Lantana
Lilies — including peace lily, flame lily, kaffir lily and calla lily
Oleander
Rhododendron | Rubber tree plants — including Japanese, Chinese and jade rubber plants
Philodendrons — including the Swiss cheese, heart leaf and fiddle leaf
Sago palms
Strelitzia (bird of paradise)
Tulips
If your pet does nibble a plant, contact an animal hospital or your local veterinarian immediately. You can also find a more comprehensive list of plants and their side effects here.
We hope this article was helpful and you've found a few plants safe to have around pets to add to your collection! Have we missed one? Tell us in the comment section below so we can add it to the list.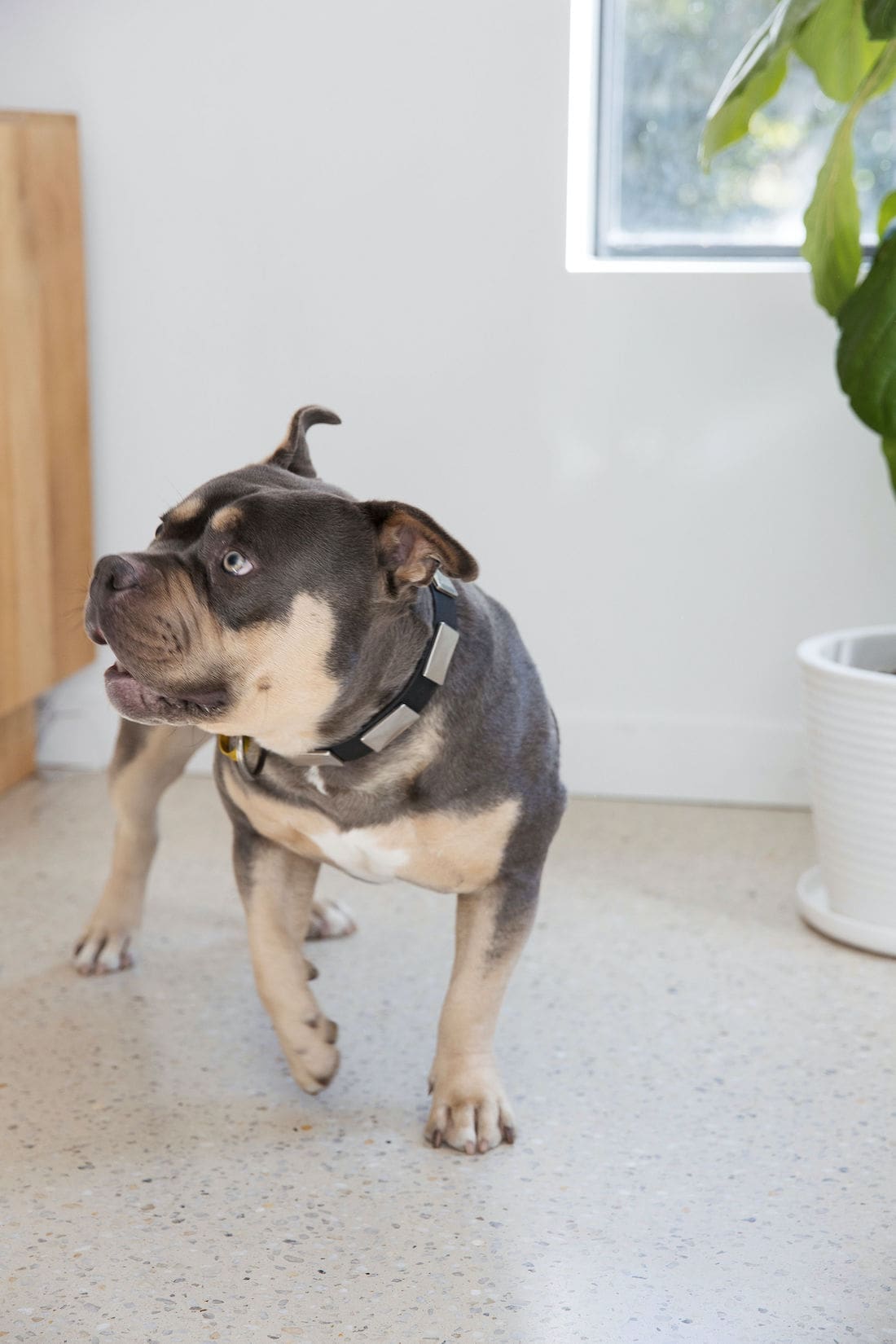 This article was first published in May 2021 and continues to be updated with the latest information.