Every dollar you spend on your home is an investment. Some purchases such as buying the house, putting up a deck, or adding a pool are obvious choices for purchasing decisions that take a lot of thought and consideration. But at the end of the day, no mater how big or small the purchase, you want to get the best bang for your buck and something that is going to make you feel good in the long run. Believe it or not, there are some things you should think through when purchasing an accent chair! Here's what we suggest.
1. Size and Measurements
When was the last you measured a chair before purchasing it? If you can actually recall a time, congrats, you are ahead of the game. When it comes to sofas, yes, people measure. We've seen measuring for accent chairs be much less common, especially when our customers already have a table and are just updating its chairs. Some accent chairs and dining tables just don't fit right together. It's always best to get the measurements of the new accent chairs you are considering to make sure they check out with the space you will be putting them in.
2. Fabric
Is a pet-friendly fabric important to you? Do you have patterns or colors in your home that could conflict with some accent chair fabrics? How often will these chairs be used? If they will be for daily use, you're going to want chairs that have some of the most durable type of fabric any of our sales reps can help you with this.
3. Style
There are: club chairs, slipper chairs, side chairs, occasional chairs, wingback chairs, Bergere chairs, arm chairs, swivel chairs, barrel chairs, and so many more. Each style has its own unique look. Here are some examples.
Swivel Chair, pictured is the Aico Studio Swivel Chair
Wing Back Chair, pictured is Aico Furniture's Studio Leather Accent Chair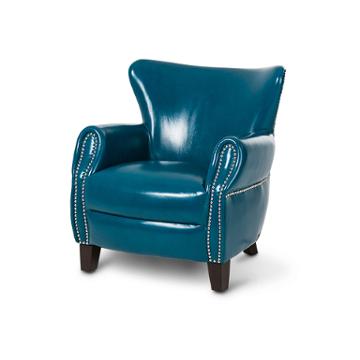 Club Chair, pictured is Ashley Furniture's Wilcot Linen Accent Chair
4. Placement
If you are purchasing accent chairs to be used at a table, you're going to need to be selective as to make sure the chairs will fit under the table. But, if you are purchasing chairs to be used as extra seating in a living space, your options are endless.
5. Usage
How much usage will your accent chairs be getting? If they are chairs that will be used everyday or at least several times a week, naturally you're going to want something that is as comfortable as it is pretty. Chairs that will get a lot of usage should be tried before purchased to ensure comfort.
If you have any questions, stop in either of our furniture showrooms, give us a call, or email us. Our Howell, New Jersey store is located on Rt. 9 North just after the Gold's Gym and our Middletown, New Jersey store is located on Rt. 35 North right before Whole Foods.