No mater how busy you are, if your kitchen is well stocked there's no reason not to prepare a tasty meal at home. There are certain foods that taste delicious and dont require much time to prepare. Whip up a tasty meal with these foods you should have in your kitchen at all times.
Eggs
There's so much you can do with eggs and they're often on sale for less than$
2 a dozen. Eat them alone, mixed in a salad, as a salad, scrambled, and more. They are an every meal kind of food from breakfast to a late night snack. See far below for a great spice to add to eggs.
Sun Dried Tomatoes
Whip up a snack or appetizer in five minutes or dinner in 10 to 12 minutes with sundried tomatoes. One of our favorite brands is Bella Sun Luci (which has been produced by the Mooney family for over 25 years) makes sun dried tomatoes that are packed with flavor and the star of any dish (like bruschetta). You get healthy and tasty all in one meal. As a snack or light lunch, toast a piece of multigrain bread then spread some avocado on it; top with sun dried tomatoes and a pinch of sea salt this is one of our employee's personal favorites that she thought of one day when she had leftover bread and leftover avocado. For more recipes visit Bella Sun Luci's website.
Rice
We eat a lot of rice in my house. There's rice bowls, rice as a side, rice in soup, rice with beans, and the list goes on. This is another inexpensive food that you could do a lot with in not a lot of time. When paired with meat, it can create a meal that leaves you feeling full. If you're health-conscious, brown rice will be your obvious choice. Some may find this odd but a friend of ours had mentioned that when she has leftover rice, she boils it in chicken broth, making a second meal out of it. She said it reminds her risotto but is easy to make; she has even added fresh asparagus to it. Give it a try!
Extra Virgin Olive Oil
"Olive oil may be the most versatile and one of the healthiest fats to keep in your kitchen. Whether you are using it to make dressing, create a marinade or simply drizzling over pasta or roasted vegetables, olive oil adds a nice burst of flavor", says Natural Grocers'
Director of Scientific Affairs Jon Clinthorne, Phd.
"There is a common myth that the fats in olive oil make it too unstable for cooking–however recent research shows that the antioxidants in olive oil can protect it from heat, making it useful for low to medium heat cooking as well."
Bone Broth
"You can now buy pre-made bone broths that are shelf stable and keep them in your pantry for whenever you may need them. Bone broth is a nutrient-dense alternative to your typical broths or stocks and has even more flavor. Bone broth can be added to soups, stews or simply heated up and sipped on alone. This is a great drink to warm you up on a chilly day", adds Clinthorne.
Pasta
Not only is pasta inexpensive, but there is so much that can be done with it. If you've sworn off traditional pasta because it's not healthy, a healthy alternative is Banza. Banza is a better-for-you chickpea pasta that's naturally gluten free and packed with double the protein, four times the fiber, and 40 percent fewer net carbsthan traditional pasta. Here are some recipe ideas.
Avocado Cream Penne with Herbs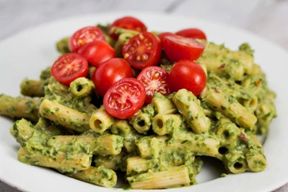 Creamy Tomato Basil Rotini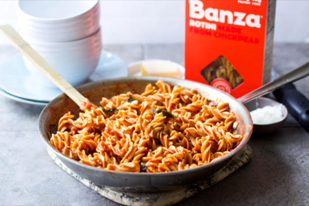 Baked Ziti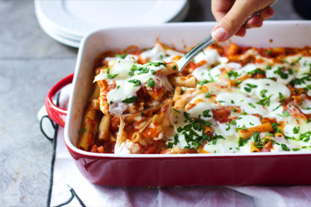 Photos used with permission from Banza.
Turmeric
"This Indian spice is becoming more and more popular, and rightly so. It is perhaps one of the best researched botanical compounds on the planet and its health supportive properties include its ability to modulate inflammation, support joint health, and may reduce age-related cognitive decline
", says Clinthorne.
"One of the amazing things about turmeric is it is easy to sneak into some of your favorite foods: add a pinch to your soup, put some in your mac n cheese, include a little in your scrambled eggs, or you can even learn how to make golden milk, an ancient drink used to support the mind and body. You can buy the fresh herb (it looks a lot like ginger) or the dried spice."
What are some of your favorite foods that you keep in the house at all times? Let us know on our Facebook page.