One of Mumbai's biggest theme parks, Imagicaa Water Park has many exciting and entertaining attractions. The 130-acre park near Khopoli spans a vast area and offers top-notch services. Imagicaa is a great option for visitors who want to experience various activities in one location because of these exciting features. Prepare yourself to have the time of your life with family and friends. The water park, themed after the Greek island of Mykonos, offers 13 exhilarating rides and 7 dazzling food outlets serving palatable food. Imagicaa Water Park is the place to satisfy your need for adventure and is a must-visit location for those still young! These unique rides take you on an adventure filled with twists, turns, and tons and tons of watery fun! Take your pick, then gather your loved ones for a jam-packed picnic with excitement, fun, and adventure. You'll undoubtedly wind up amassing memories that you'll cherish forever.
There are food booths dotted throughout the park so that you can enjoy more time riding rides and exploring the surroundings. This park is a place for all.
The water park is well-known as a preferred daytime partying gathering location with a live DJ party on the weekends due to its exhilarating slides, including gravity-defying solo loops, fun-for-the-group mat races, and restaurants selling delicious food & drinks.
Source: Pinterest
Location: 30/31 Sangdewadi, Khopoli-Pali Road, Near Lonavala, Khalapur, 410203, Maharashtra, India
Theme Park Timings: 10:30 AM to 6:00 PM
Theme Park Ride Access: 11:00 AM to 6:00 PM
Water Park Timings: 11:00 AM to 6:00 PM
Activities at Imagicaa
Get entry using your Imagicaa Theme Park Tickets by arriving at the location 15 minutes before opening (to get a hassle-free, easy and early entry).
With your Imagicaa Theme Park Tickets, you may have fun on 24 thrilling rides with your friends and family.
Prince of the Dark Waters from Cinema 360 will have you screaming in the fortress of Salimgarh as you explore mermaids and underwater realms.
The variety of kid-friendly thrill rides, such as Humpty's Fall and the Wagon-O-Wheel, will excite youngsters.
Check out the amazing performances and events there, as well as the characters strolling the streets of Imagicaa to say hi.
Feel the rush with your family and young children in the water park, which offers about 15 water rides.
Join the snowy world as you will also get access to the snow park, where you can engage in several fun activities like the snow slide, real snowfall, snow hiking, and more. Enjoy a voyage into the depths of your imagination—a magical world is waiting there.
Source: Pinterest
How to reach?
Travelling to Imagicaa by car, bus, air, or train is simple. It is roughly a 90-minute trip from Mumbai, 20 minutes from Lonavala, and 20 minutes from Khopoli to get there by car. Imagicaa is around 4 kilometres from the Khalapur Toll Plaza, directly off the Mumbai-Pune Expressway.
By air: Chhatrapati Shivaji Airport in Mumbai and the airport in Pune are the closest airports. To reach the location, use a taxi or an auto-rickshaw.
By rail: The two closest train stations, Karjat and Khopoli, are 11.1 kilometres from the theme park. The duration and fare for the CST – Khopoli Fast local are 2 hours and 15 minutes and Rs. 25 to 30 per passenger, respectively. From there, you can board a Tam-Tam sharing auto rickshaw for Rs. 50 to 100 per person, which will take you right to Imagicaa.
By car: The distance between the theme park and Khopoli's main city, 8.9 KM, may be travelled in around 18 minutes if you drive yourself. You can either reserve an outstation cab (like Ola) or use Imagicaa's AC cab service. A decent car costs about Rs. 2500 for four passengers and Rs. 3000 for six (big car).
By bus: Imagicaa operates a bus service that travels directly to the destination from several pick-up locations throughout Mumbai. It offers pick-up and drop-off services at specific times. You can pay roughly Rs. 400 per person or use a local bus. Once you get to the bus terminal, take a shared rickshaw, which departs from the station and costs about Rs. 50 per person.
How to plan your visit?
You should organise your trip accordingly depending on the day you are travelling. Always choose the weekdays because the weekends are extremely busy. Although expensive, express tickets save you time. How much money you have to spend is up to you. On weekdays, choose regular tickets, and on weekends, express tickets.
So, here is how you ought to plan your day,
Buy the tickets online (saves 20 min of standing in a queue, plus any offer you can use).
Bring your swimwear (save Rs. 400). Otherwise, you will have to rent the swimming suits from there, which will cost you a lot of money and time. Entries are not permitted in the water park without swimming costumes. Also, Shorts & t-shirts made of nylon will do.
Reach the entrance by 10:30 a.m.
They will transport you via a lovely skyway to the Aquamagica entrance.
Change your clothes quickly and leave all other items—including cash, a wallet, a phone, and any jewellery or accessories—in the locker (this will cost you around Rs. 400, of which Rs. 200 is refundable).
There are 7-8 fantastic rides, and the average wait for each is 25 minutes, so beware of the lines. Quickly move to that queue that needs less time to join.
Don't stop at the first tower when the rides begin because they are regular rides, and you may return later to finish them.
Do everything by 3:00 p.m., then return to the locker room to get your belongings.
Enjoy the meal while relaxing at the nearby buffet (Rs. 400 per person).
Between 4:30 PM and 5:30 PM, enjoy the wave pool while dancing to great DJ music.
Start leaving, take pictures, etc.
They will offer you a Rs 99 offer per person as access to Snow Park as you leave. You're good to go if you want to take advantage of the deal and stay 45 minutes.
Arrive at the exit gate at 7:30 PM and make your way home after a fun-filled day.
Rides
Four main rides that will give you an adrenaline rush:
Nitro (Tallest Roller Coaster)

Scream Machine (Pendulum)

Dare Drop (Vertical Drop)

Gold Rush Express (Roller Coaster)
In total, the four major rides run for five hours throughout two different time slots:
First Slot: 11:00 AM to 1:30 PM
Second Slot: 4:00 PM to 7:00 PM
Therefore, it is suggested to arrive at the park early in the day, around 10:00 AM, ride at least two major rides before 1:00 PM, and then eat. Any outside food products are not permitted inside. The food at Imagicaa is expensive; a standard dish costs Rs. 330 on average.
Visit every attraction; they are all stunning and worthwhile. Here is a list of all attractions:
Alibaba Chalis Chor (fantastic for children)

Salimgarh

Wog

MR. India The Ride

I For India 

360 Cinema 

Deep Space

Rajasaurus

Motion Box
Remember to request Imagicaa brochures when picking up tickets because each attraction's opening and closing times vary.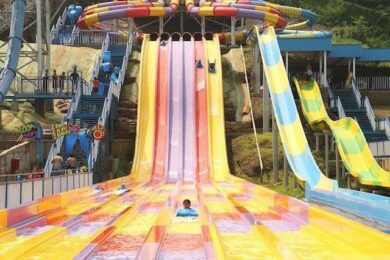 Source: Pinterest
Tickets
Online booking
Even though you book your tickets online, you must still line up and get barcode tickets at the front desk (There are more than 15 counters for collecting tickets present there to make the task easier).
Offline tickets: You can purchase tickets in person immediately (you have to follow the same procedure).
Express entry
You can pay an additional Rs 1,000 per person to avail express entrance to save time because there are always queues.
Tickets price: Rs 1,500 on weekends and Rs 1,000 on weekdays.
Snow Park: Inside the theme park, there is a separate Rs 400 entry fee for Snow Park.
FAQs
Where to buy tickets for Imagicaa Water Park?
Tickets can be bought at the Park gate, over the phone, through authorised travel agencies, or online.
Is it necessary to buy a ticket before entering?
Yes! One must buy the tickets before entering the Imagicaa Water Park. Your entry ticket provides a single entry into the park and access to any rides, slides, and other attractions and activities running that day. Other park amenities are separately charged.
Got any questions or point of view on our article? We would love to hear from you.
Write to our Editor-in-Chief Jhumur Ghosh at 
jhumur.ghosh1@housing.com