Showcasing a mix of classic elements together with pieces collected from around the world, today's home tour is a special one. It's old versus new, done to perfection — welcome inside Global Retreat.
We take a look around this beautiful home with Tamee Rene' Brancati, one half of the husband and wife team at Varroview Homes.
Related article: Parkway Residence: Where heritage meets North American farmhouse vibes
Related article: Country living meets classic architecture: A tour around this timeless coastal farmhouse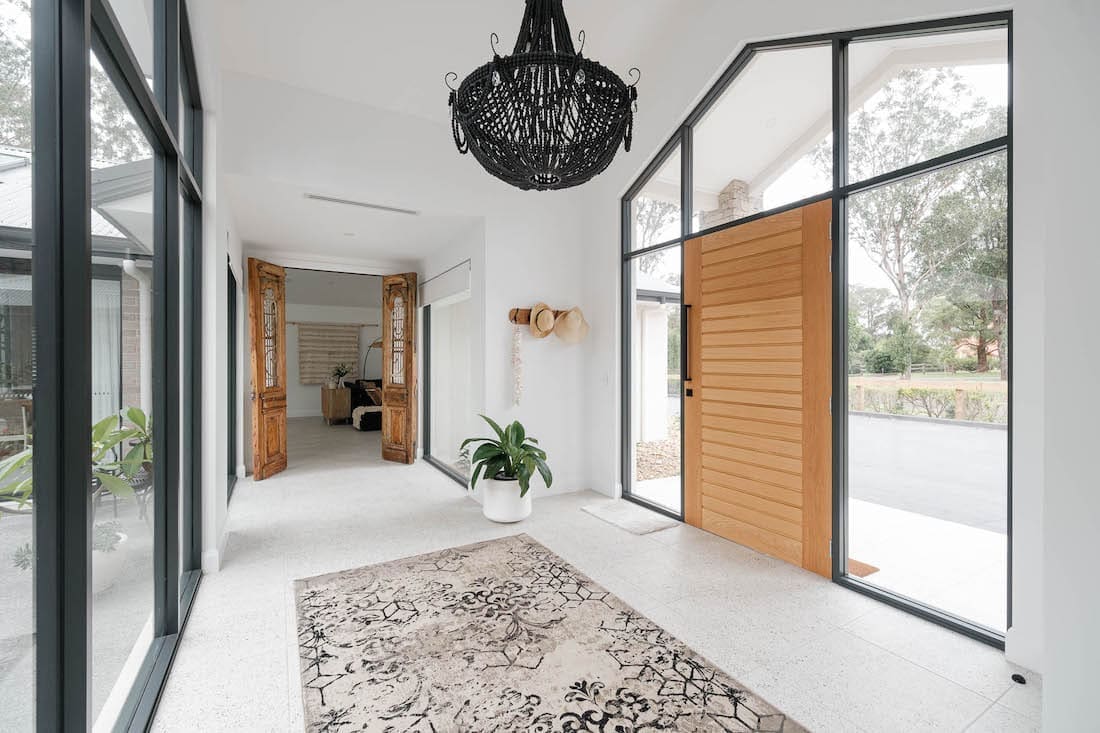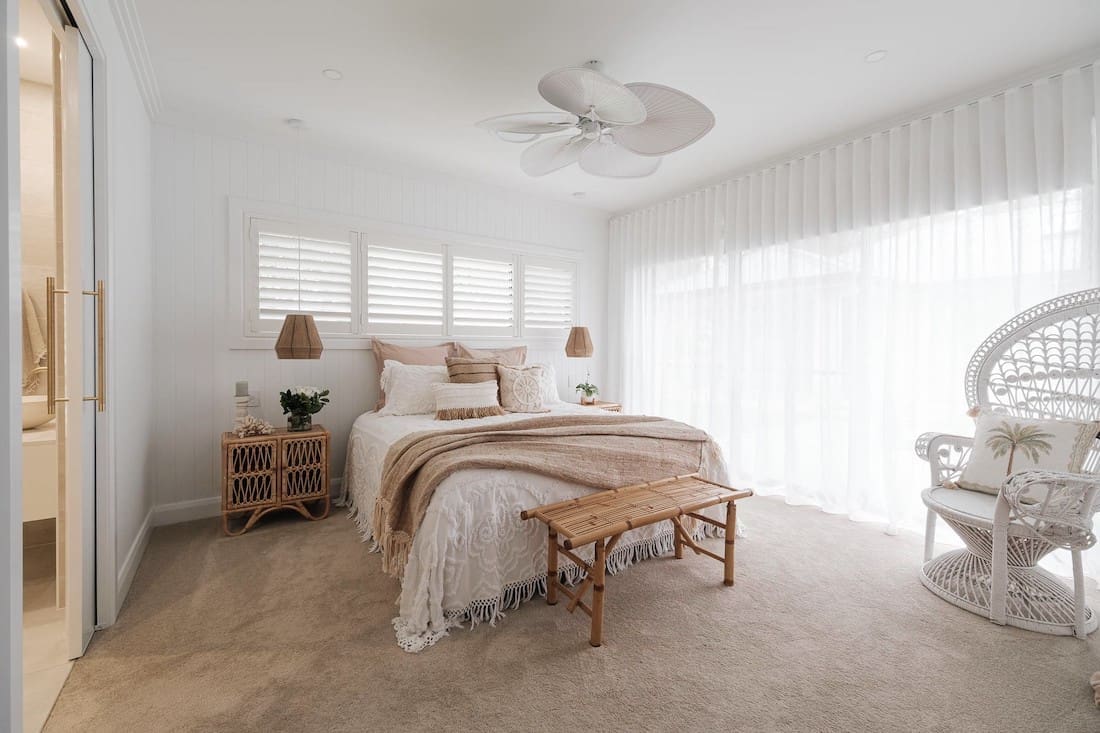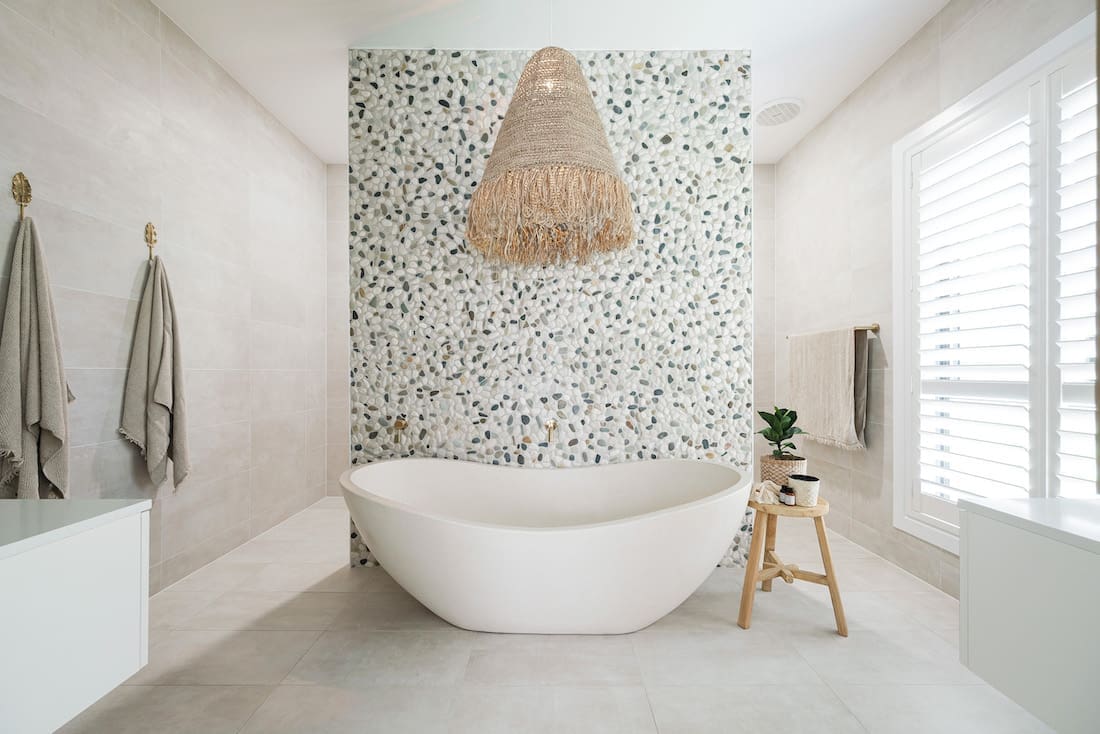 Home to a family of 4, this impressive custom home took just 8 months build and has a subtle boho feel to it.
"This home has been nicknamed the Global Retreat and is home to John and Cathy Scullino and family, including their dog Molly the dachshund. Cathy styled the home herself (@my_globalretreat) which made the home all the more special to her," Tamee explains.
"The home features 4 spacious bedrooms, each with their own ensuite. Plus the grand his and hers separate walk-in wardrobe in the master bedroom.
"Even with excessive delays and challenges caused by Covid lockdowns and material shortages, we're proud to say this beautiful home was constructed in just 8 months."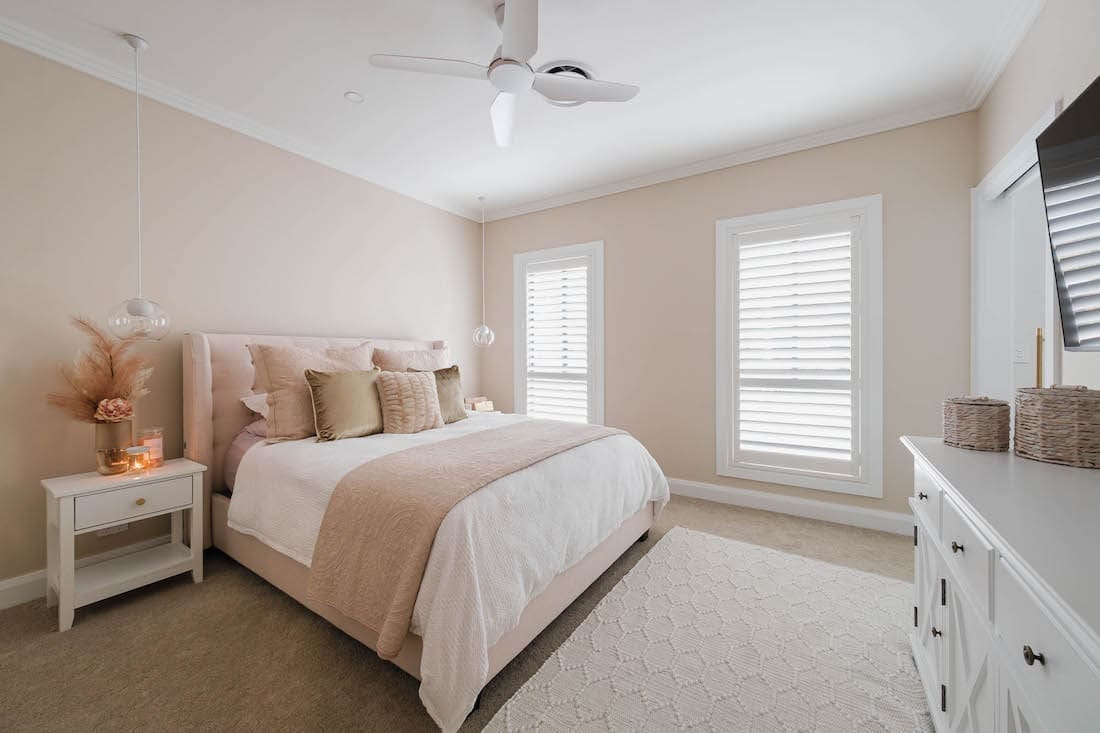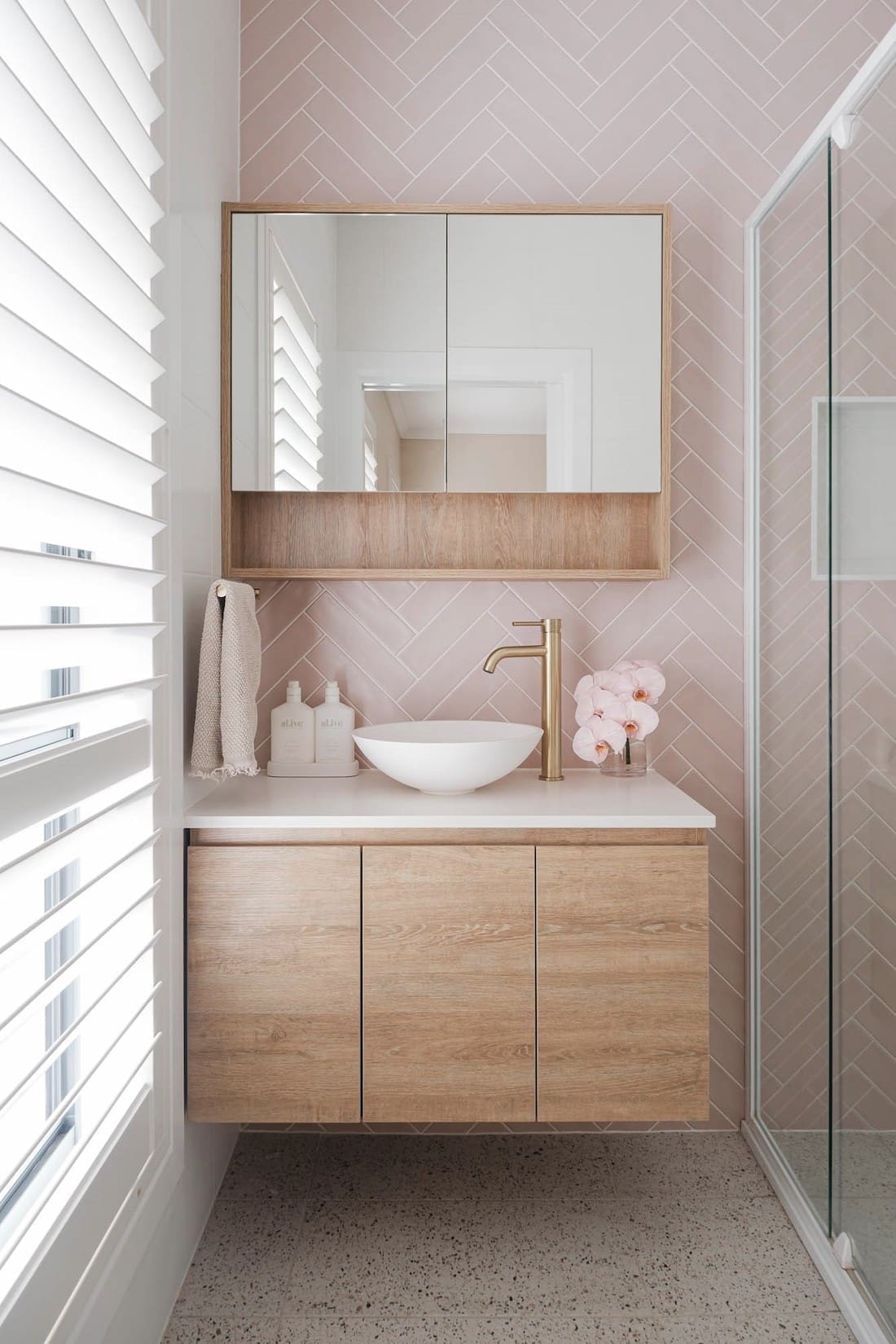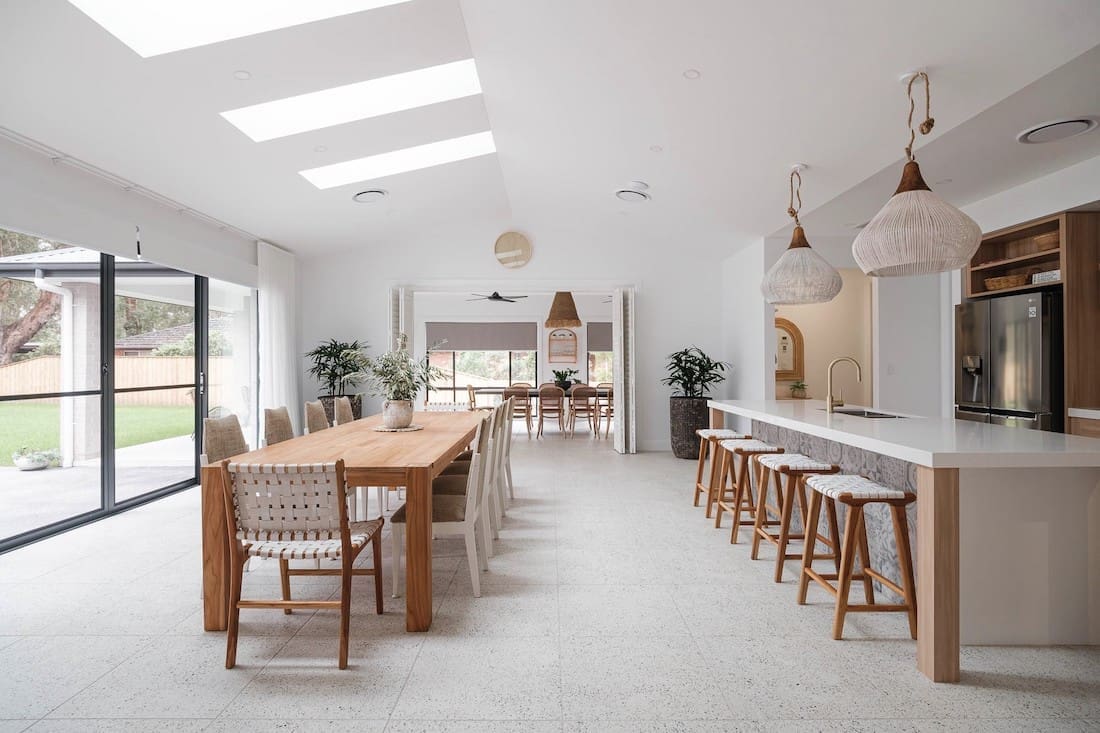 On 1 acre of land, John and Catherine wanted a home with maximum street appeal. And they certainly got it with that stunning entrance and breezeway.
"When The Scullino's approached us to build Global Retreat, they had a pretty clear view of what they wanted. The bedrooms were to be away from any living / entertaining areas. They also wanted a large, open plan kitchen, living, dining and entertaining space.
"One item on their must have list was a grand entrance. We think you'll agree, they certainly got that!" says Tamee with a smile. "The breezeway was to look out onto an open courtyard."
"They wanted their home to have raked ceilings, an abundance of natural light, skylights and a fireplace. They had a really clear vision of what they wanted to achieve for their home in both the design and material selections."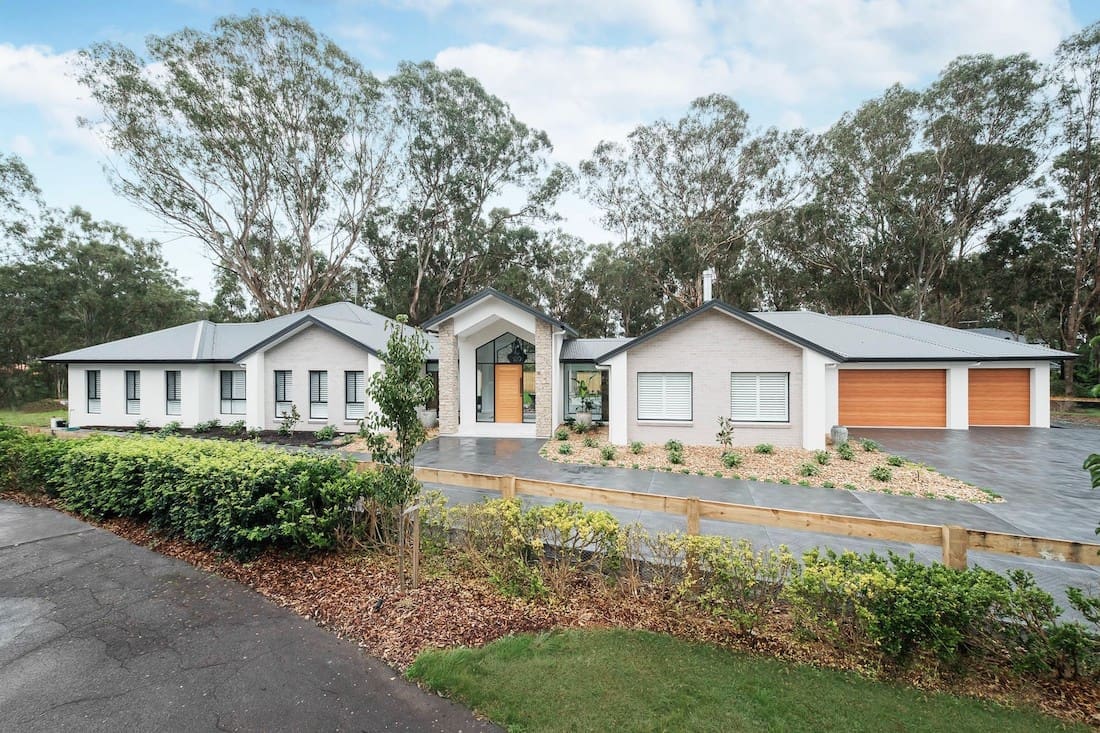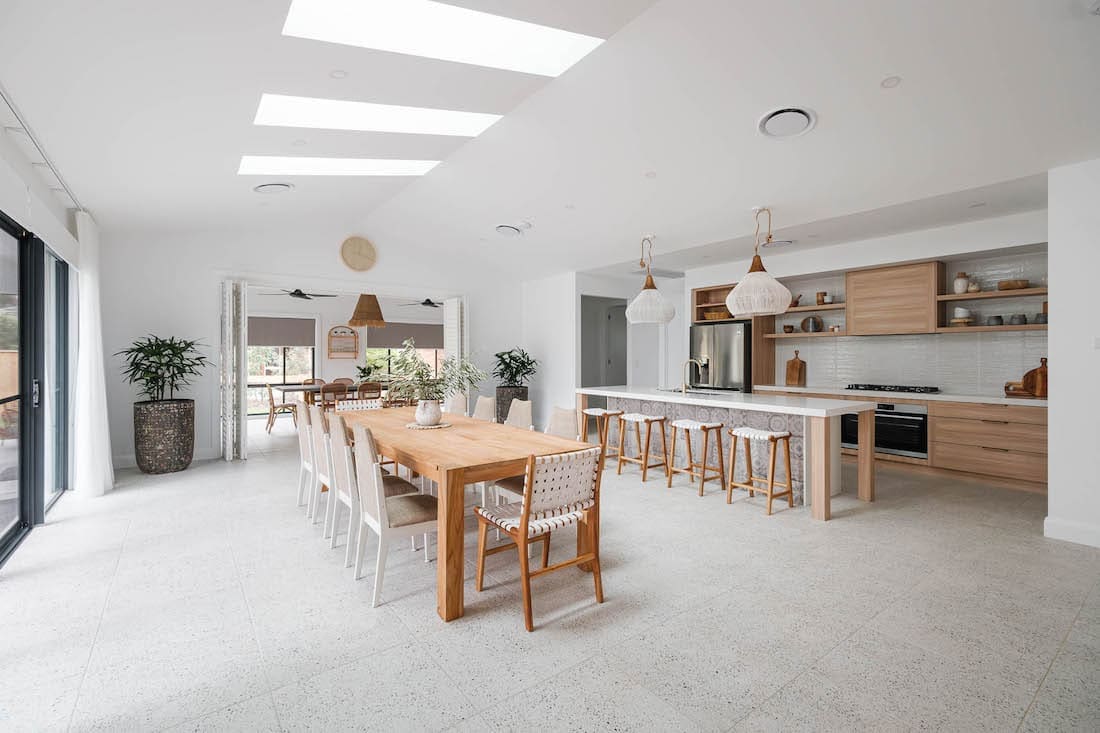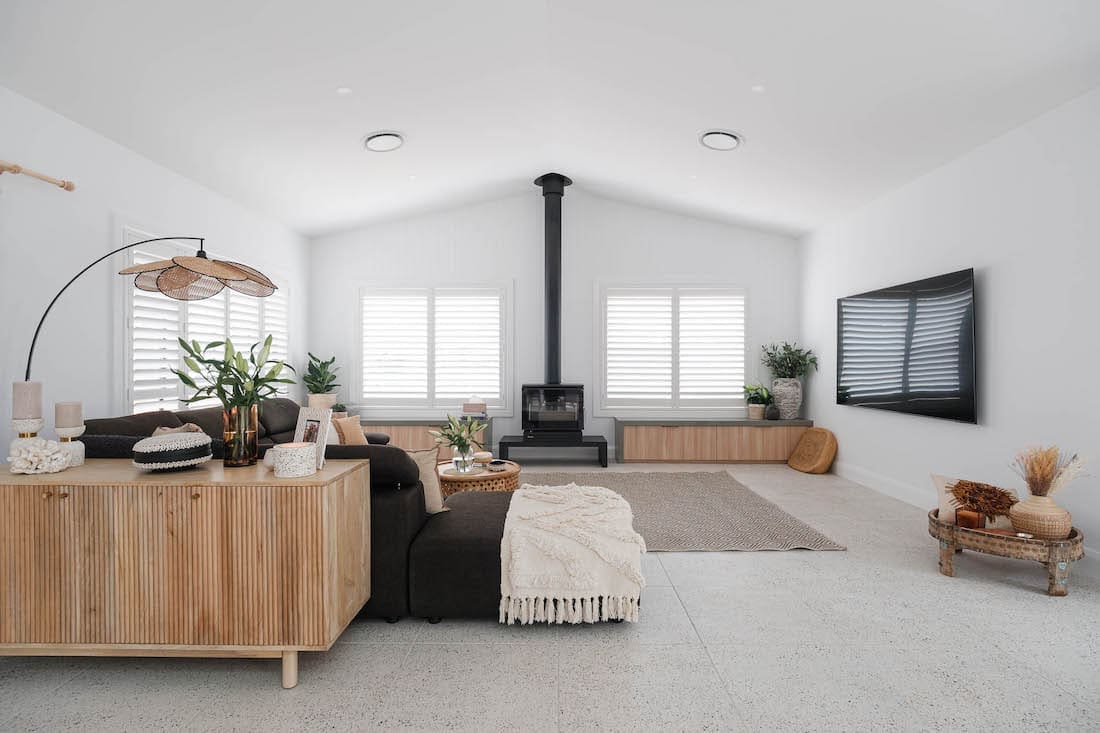 The home's nickname — Global Retreat — comes from the stunning details thoughtfully added along the way.
"Our clients had some exquisite materials imported from various countries abroad," Tamee tells us.
"The lovingly handmade, hand rolled clay beaded chandelier hanging from the raked ceiling in the foyer of the breezeway is from Klaylife in Africa.
"And the detailed ornate timber doors at either end of the breezeway are from Egypt. Catherine told me they were purchased before the house was even at the design stage. They're over 100 years old and the breezeway was specifically designed to suit the size of these doors.
"Catherine was keen for her new home to feel warm and inviting and didn't want that clinical 'new home' feel. She said the home already feels like a sanctuary and one which feels like they've lived there for years, even though its only been 1 year."
Photography — Max Visuals
Builder — Varroview Homes
Stylist — Catherine Scullino, @my_globalretreat
Thank you to Tamee for showing us around this unique home. We love the mix of old vs new — do you have a favourite feature or space inside Global Retreat? Tell us in the comment section below. For more information on Varroview Homes, visit their website or Instagram page.