Expressive abstract art rich in colour and texture is bound to get our attention. But hearing the story behind how this art came about is just as exciting as the artwork itself.
Lena Baumgartner, the talent behind Lena B art, shares how her mood dictates her colour palette and that imposter syndrome almost stopped her from sharing her art.
Related article: The abstract florals and landscapes from Canadian artist, Kelly Dean
Related article: The colourful, textural delights from artist AM Coolick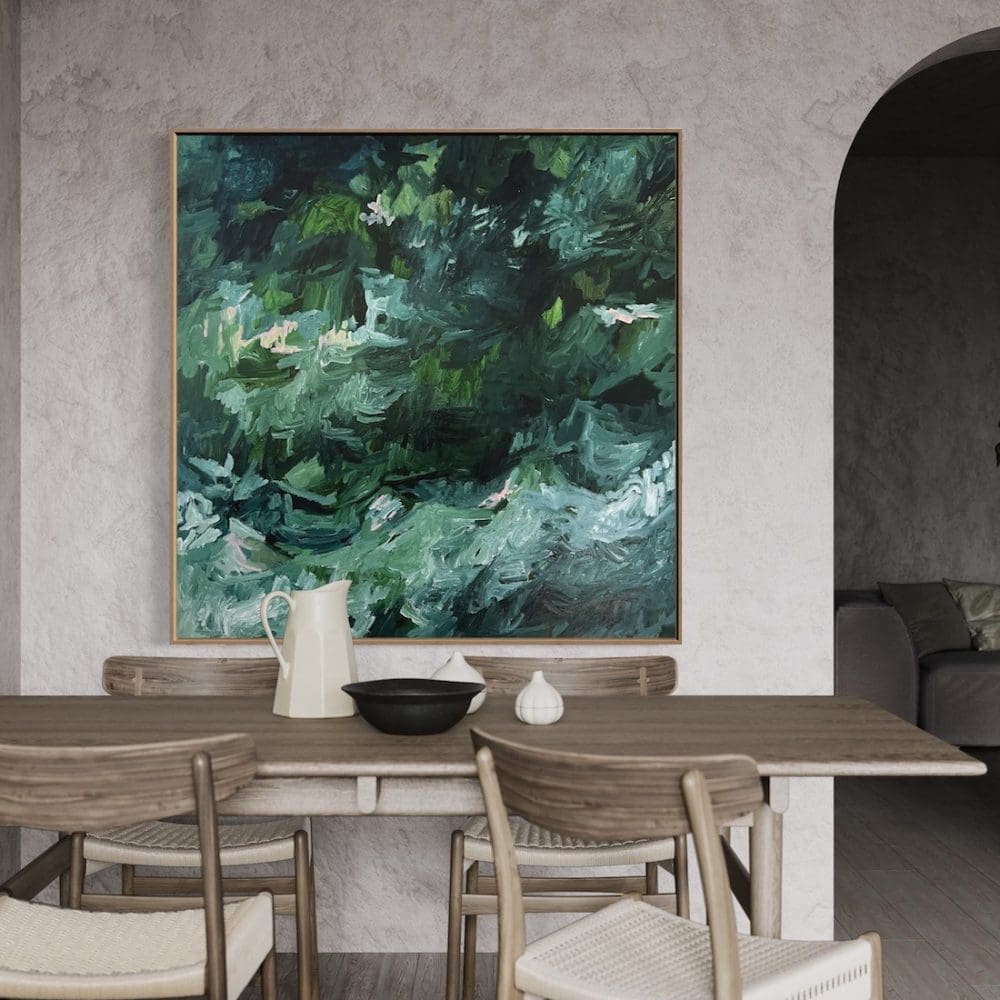 Juggling motherhood, a career in aviation and a passion for yoga, art took a back seat for a while for Lena.
"Our little family — my husband, 5 year old and 3 year old sons and our cat — live at the foot of the Adelaide Hills in South Australia. It's the ideal location with plenty of nature walks and room for our crazy boys to burn energy," Lena says with a smile.
"I never used to be a coffee drinker but these days, after 2 kids, I need multiple coffees a day otherwise I can't seem to function late through the night which is when I do the bulk of my painting.
"As well as my life as a wife and a mum, I am also a yoga instructor at my local hot yoga studio. Yoga has been my constant through my busy job in aviation and motherhood."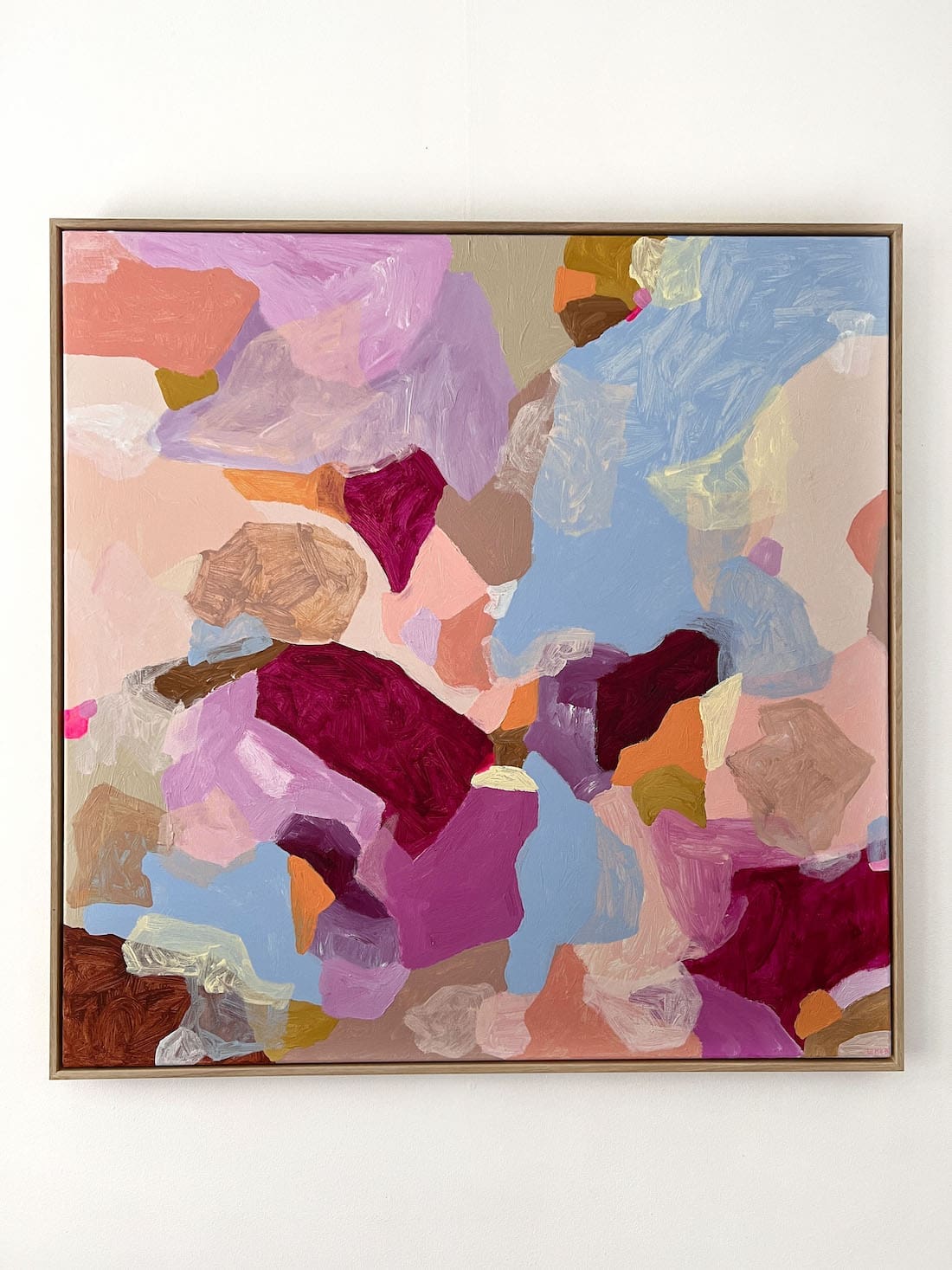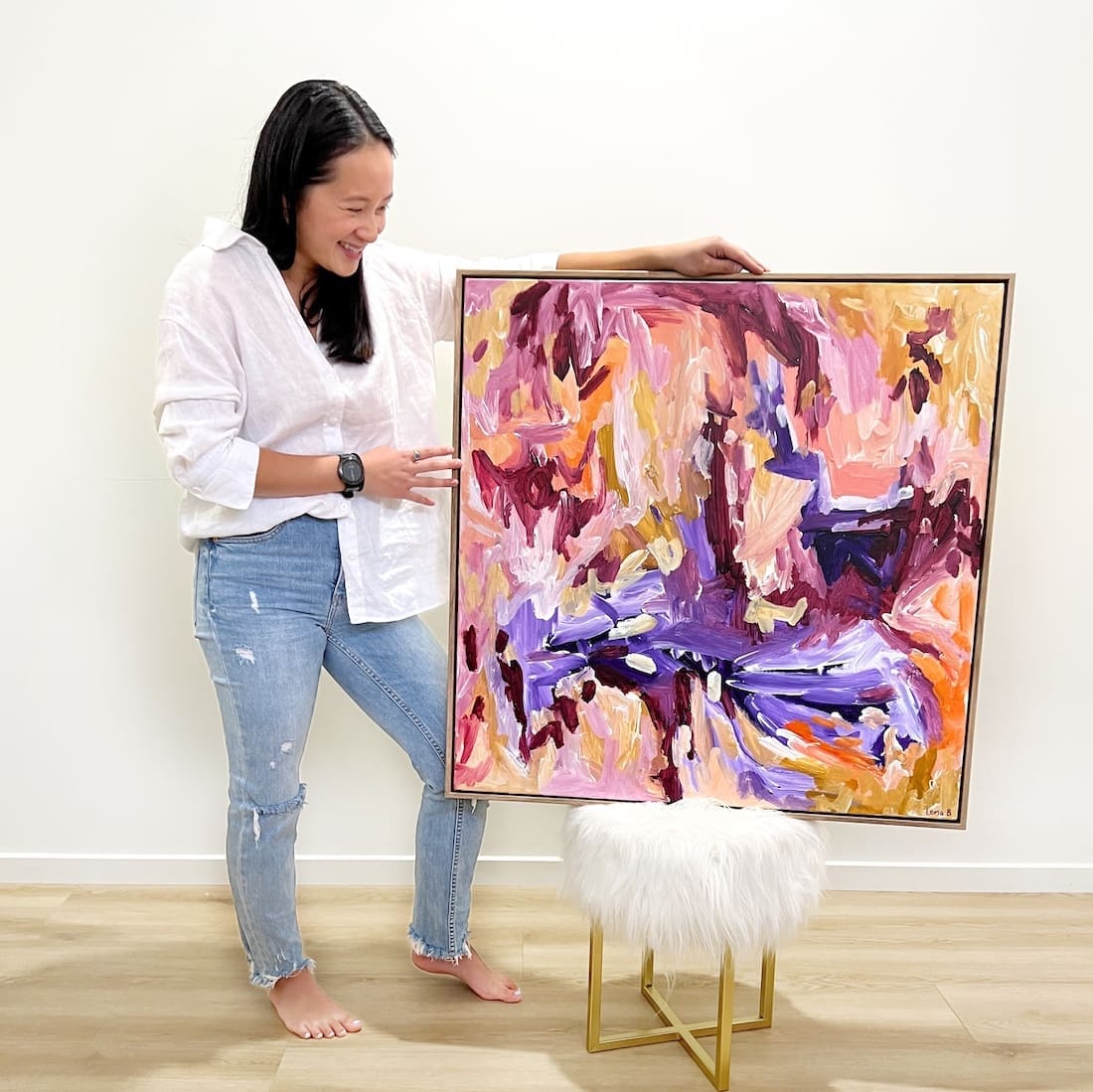 Lena took a bit of a long road until she found her niche in expressive abstract art.
"I have always been creative, even as a little girl. I remember when I was 10 years old, my then neighbour introduced me to the world of knitting. This was a key point in my life and I can honestly say this was the moment that sparked the artist inside me.
"I discovered painting in high school. I really enjoyed art classes and found mindfulness in the practice. In my senior years at high school, sadly I didn't pursue art because I thought that I had to choose subjects that would get me the best score to get me into the fields that I thought would make me happy," Lena recalls.
"It was my mother in law who gifted me a sewing machine for that first Christmas at home. I started painting cotton fabrics which I would then sew into plant pot covers. I started selling these through my local brick and mortar shop which did really well.
"Soon, I started to not enjoy that part of my creative process and it was actually my husband who suggested I just paint on stretched canvas and I haven't looked back since!"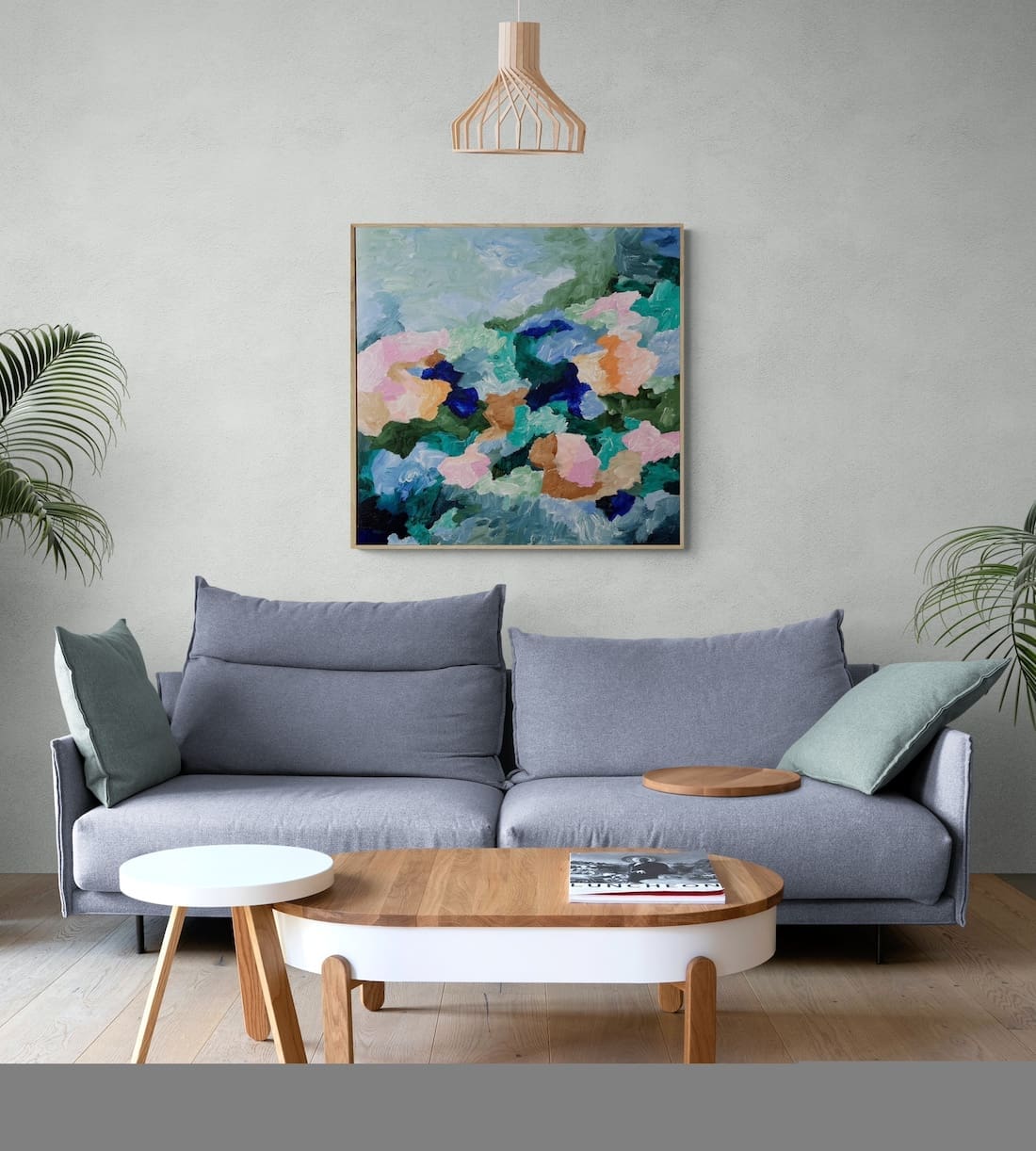 Her talent is obvious to us, however Lena struggled with self-doubt until she decided to take the plunge and leave her job in aviation.
"While on maternity leave, for a long time I struggled not to work and take on the identity as 'just' a stay at home mum. For a long time, work was my identity. I worked closely within the operations teams and coordinated pilot training for a company that held the contract for Border Force Surveillance of Australia," Lena explains.
"I was great at my job and enjoyed it, but it was a job that was constantly all take and no give. It never felt like I was doing something with a purpose. It wasn't until I went on maternity leave that I had the time to think about what else I loved doing.
"I wanted to make sure I had a job that would be worth me leaving my children for. Something that would make me smile and jump out of bed. I am incredibly grateful for my supportive husband and to be in a position that I could leave my 'safe' job and pursue my passion in art.
"It has taken me almost 2 years to say it and tell people that I am artist. It even took a few years before I felt I should sign my name on my artworks! Feeling vulnerable through this journey has been my biggest strength and weakness.
"Now that it is heading into a full time job, it's something I love and couldn't imagine doing anything else with my life. I still don't think of it as work or a job and to me, that's everything!"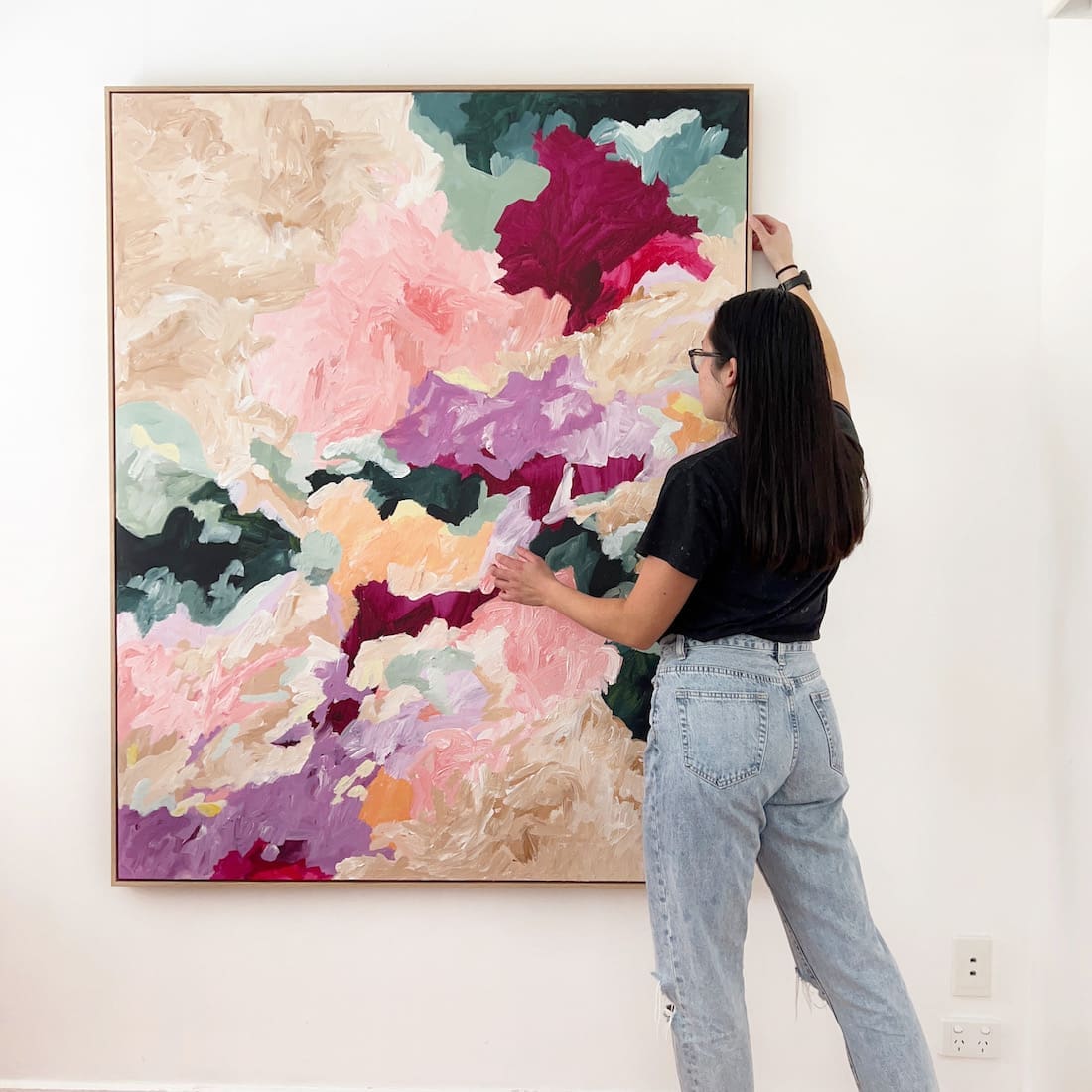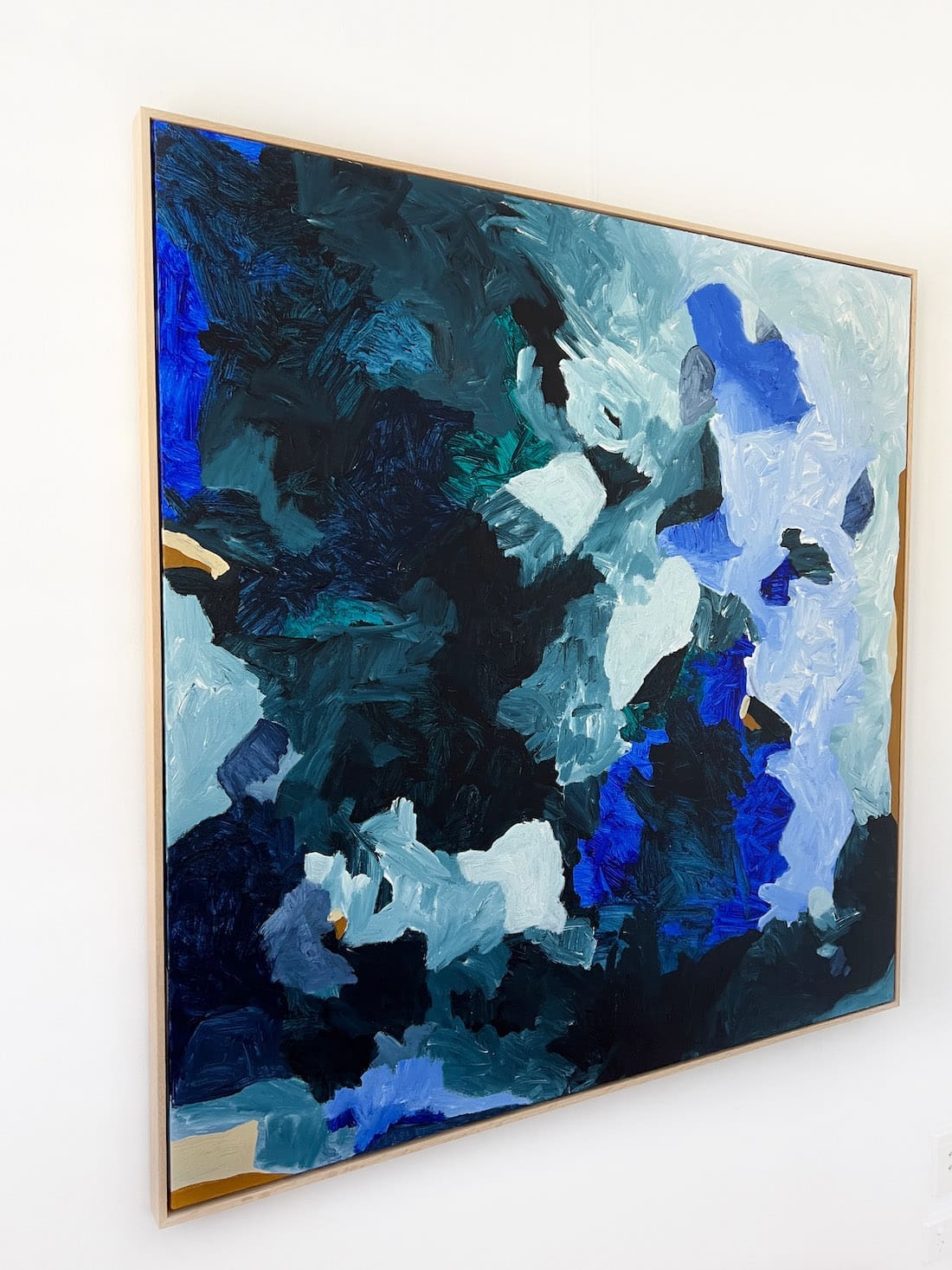 The abstract art Lena creates if driven by her mood and experimentation.
"I would call my current style expressive abstract art. I am very driven by mood and tend to paint what I feel," says Lena.
"Often I like to think and tap into the feelings I have towards a certain memory or situation. I use this as inspiration for the flow of my brush strokes on my paintings.
"Colour is my greatest love and it's something that has slowly crept into my wardrobe too, now that I'm not working in the corporate world. I never went to art school so I actually have no idea how the colour wheel works! It's all just an experiment.
"Not all of my colour combinations are eye grabbing or vibrant. Generally, I tend to choose colours that represent my mood. I'm drawn to greens and blues. I have to make a conscious choice a lot of the time to not just use these colours.
"I don't do colour swatches as I want to experiment, play and explore through every painting and learn on this journey. So far the colours seem to be working!"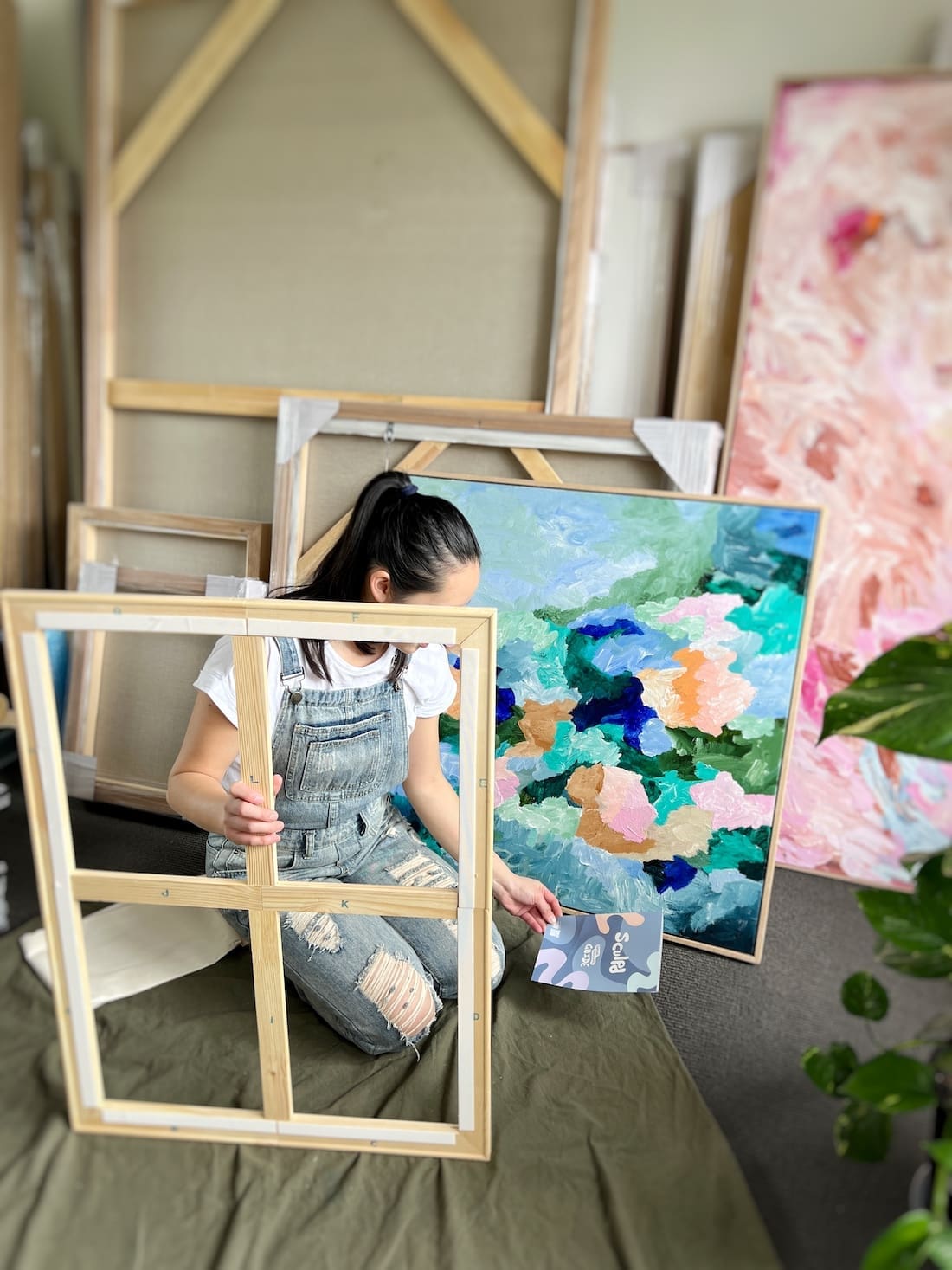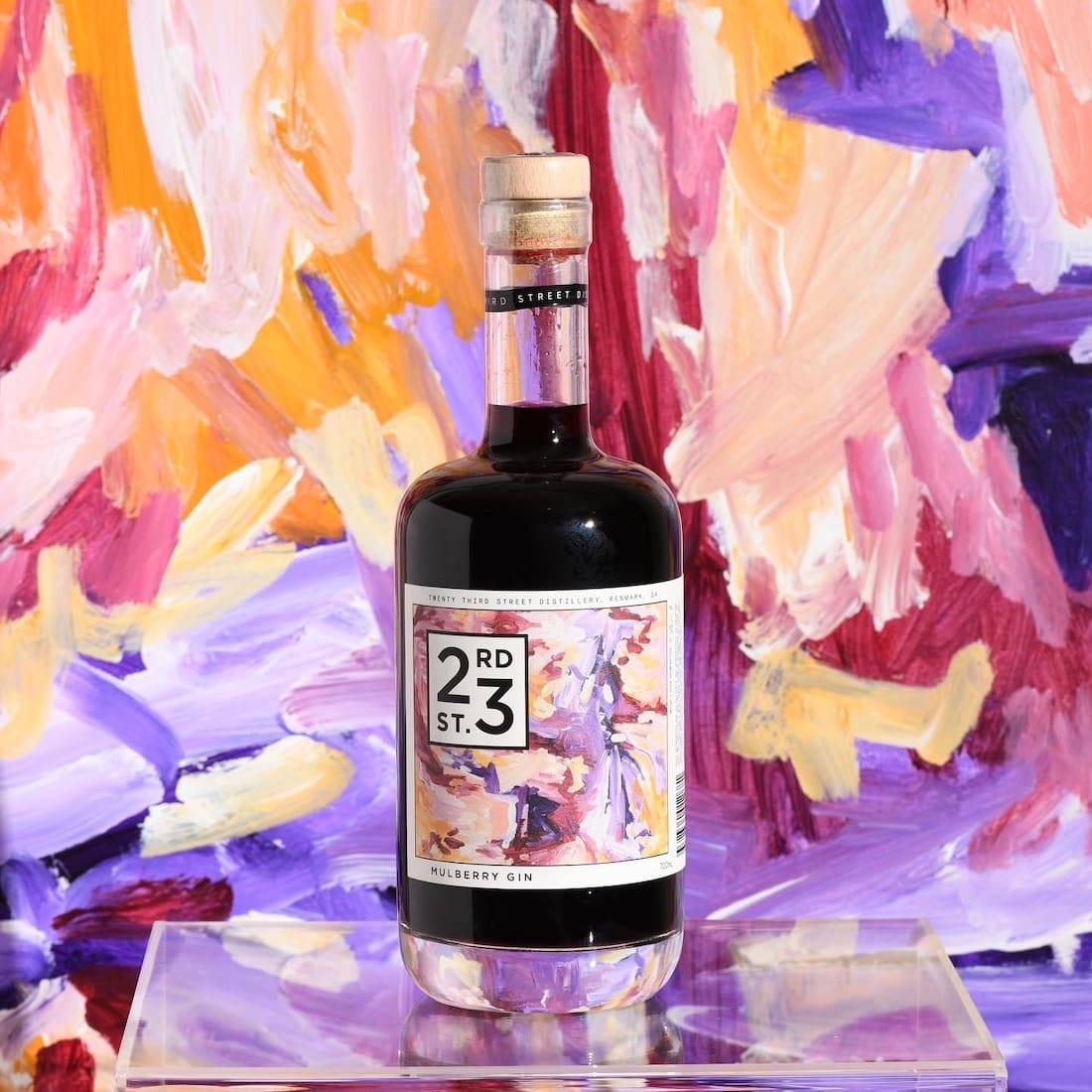 It's not hard to be impressed by Lena's paintings but her collaboration really takes the cake (or should we say, gin!).
"A real highlight of this year was definitely completing a commission piece for a local distillery here in South Australia. Having my artwork featured on the gin bottle was something I had been dreaming of since I discovered their gin.
"However, hands down, the greatest highlight this year was when I was chatting to another parent. My son corrected me and said, "Actually my mum is an artist." I think that really cemented this career for me and made my heart dance."
We loved hearing Lena's raw and real chat about her journey to overcoming fear and self-doubt. So inspiring and we thank her for sharing it with us. To discover more of her expressive abstract art, visit her website or take a scroll through her Instagram account.