Painting your living space is a great idea if you want to try something new and different but don't want to spend a lot of money. Painting your living room in bright, neutral colours can open up the room and bring life to your entire home. Then, you can experiment with your home's interior design by adding new curtains, bringing plants inside, creating a stunning mahogany bookshelf, and more. There are a lot of drawing room colour ideas that you can consider if you're thinking about renovating your living space.
See also: Ways to design your small drawing room
Lovely drawing room colour ideas
Here are some of the best drawing room colours to pick from.
White for that extra luxury
Source: Pinterest
If you want your living room to look opulent and expensive, painting the exterior of your home white is a great idea. Since white goes well with almost all other colours, you can select any kind of furniture you like or even keep your current set. White is a rich colour that stands out on its own, as seen in this image. It personifies splendour and luxury. It's also the perfect colour if you frequently host gatherings and parties at your home. You can give the illusion that your living room is larger than it is by painting the walls white. Additionally, you can add colourful drapes or gold accents, such as vases, to your living room if you feel like the white is too plain.
A touch of glamour with grey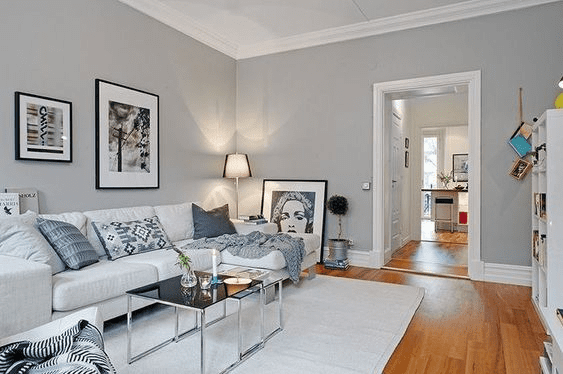 Source: Pinterest
The colour and shade of grey is elegant and perfect for your walls. This one is one of the best neutral paint colours for drawing room walls. If you value class and professionalism, it gives your living space a modern, polished look that is perfect for you. You can see how well the colours dark brown and grey are blended in this image. This room is extremely elegant with grey walls, a white and grey carpet, a glass centre table, a grey couch with blue pillows, and some colourful glam from the flowers.
Grey is a great choice for a neutral drawing room colour if your living room doubles as your home office, studio, or meeting space for guests and business meetings. As we previously stated, grey gives off a sense of professionalism and elevates your appearance. Do not be concerned about how to incorporate grey into your living room decor. Given that grey is so adaptable, styling it isn't at all difficult. Grey goes well with any vibrant colour, including bright lime green, mustard yellow, queen pick, and cherry red. Simply combine the grey with black and white if your style is a little more understated.
Beige for the aesthetic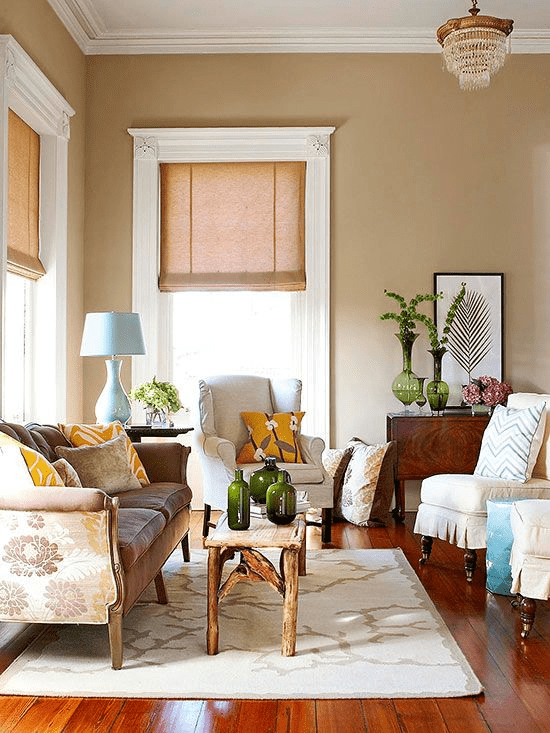 Source: Pinterest
Your quirky, colourful furniture will stand out against the background-blending neutrality of the walls. Bohemian and adventurous individuals who value spontaneity and enjoy vibrant pops of colour favour this aesthetic. If you find minimalism and monochrome boring, this is your best option. To highlight the vibrant furniture in your room, design your space with neutral drawing room colours.
Metallic accents
Source: Pinterest
A living room with neutral colours is given flair, glamour, and style by the addition of a metallic finish mirror, a metallic wall accent, or even a metallic cloth accent chair. Brass or gold accents in warm, neutral spaces create an opulent atmosphere.
An aqua wall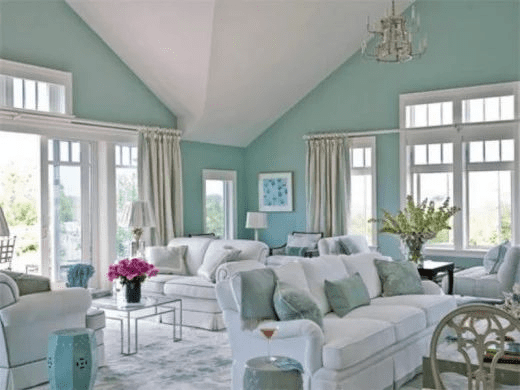 Source: Pinterest
One high-impact colour brightens the space, and neutrals rule in a neutral colour scheme for the living room. When paired with an aqua wall, seat, and wall shelf, a calm white backdrop that occasionally grows monotonous comes to life.
FAQs
What effect do neutral hues have on a living room?
Neutral colours complement various tones and patterns and serve as a natural foundation for any background. For instance, in an art deco room, neutral tones help balance geometric patterns, whereas darker neutrals give a modern room a streamlined, sleek appearance.
How should a neutral living room be decorated?
For a calming effect, use one neutral living room colour in large doses. Muted colours that don't detract from the overall neutral look are introduced by accent pieces like throw pillows and furniture.
Got any questions or point of view on our article? We would love to hear from you.
Write to our Editor-in-Chief Jhumur Ghosh at 
jhumur.ghosh1@housing.com