There are many different kinds of plants that can help compliment the luxe design of your outdoor living space. A smart plant design cannot only add height and drama to a space but can also provide areas of intimacy and fragrant scents. Check out these plants to help complete the look of your luxe outdoor design:
Topiary Plants
Photo by Thanos Pal on Unsplash
Potted cedar or boxwoods that sit near a doorway are the ultimate in luxurious plants. These specialty items take time and a lot of care to reach artistic levels in their delicate spirals or rounded shapes. Topiaries are a great addition to a luxe outdoor space in that they provide interest and movement to the space. Consider adding other topiaries into garden beds with permanent plantings of evergreen trees sprinkled throughout your outdoor living area as well.
Calla Lily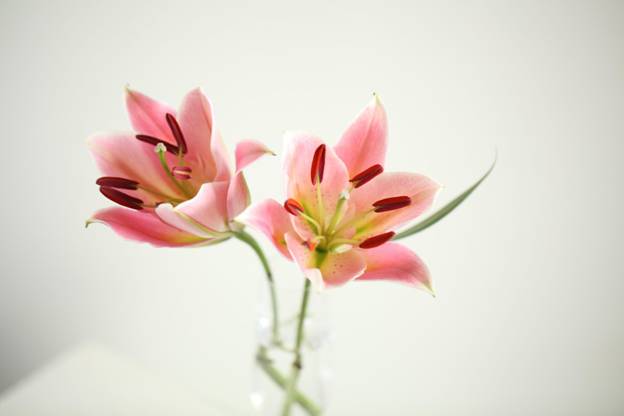 Photo by PietroJeng from Pexels
This beautiful flower is a gorgeous addition to any luxe outdoor design. The delicate pointed shape of calla lilies is not only beautiful but also creates interest and depth to the garden. Consider choosing a few different varieties of Calla Lily like the new Picasso that has a purple middle surrounded by white edging. Another interesting variety includes the Red Alert Calla Lily that starts yellow and green on the bottom and then mixes to a beautiful light red hue.
Saffron Crocus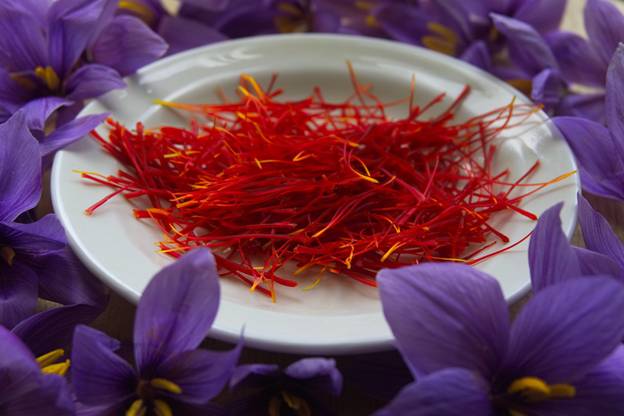 Photo By Extendo on Pixabay
If you are looking for a great addition to add to a luxurious outdoor dining table consider the Saffron Crocus. This amazing plant provides the most expensive spice, saffron, that is widely known for its exotic addition to many dishes. The Saffron Crocus features a beautiful purple flower with orange stamen that is used for the saffron spice. It takes over 80,000 of these flowers to produce just 500 grams of saffron making this plant an exotic choice for a luxe backyard.
Japanese Maple Tree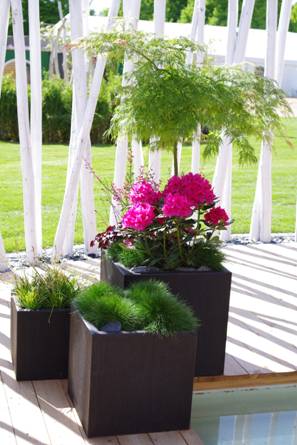 Photo by Gartensicht on PixabayIf you are looking for something a bit larger for your luxe outdoor space consider planting a Japanese Maple Tree in a few areas of the yard. Japanese Maples are great at providing lots of texture and interest to a space without getting too large. Keep them manicured and they can stay quite small while providing a pop of beautiful crimson coloring to your outdoor space. Consider planting them in areas like corners and near walkways to provide beauty and interest in all areas of the garden.
Succulents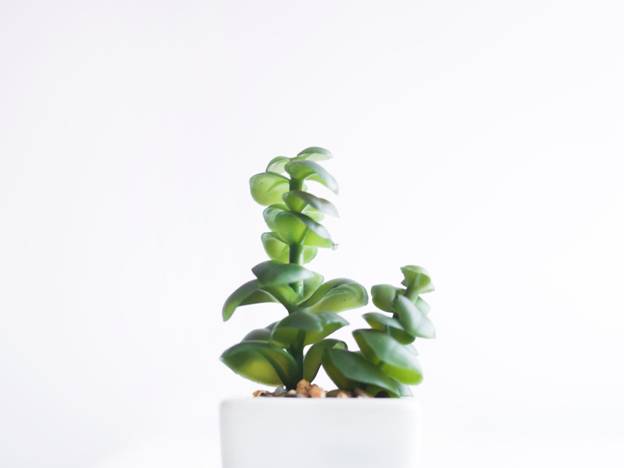 Photo by Studio 7042 from Pexels
Another great option for a luxe design that doesn't cost much at all is to create a succulent garden in areas of your outdoor living space. Succulents are great in that they don't take up much room and can be potted together to form an interesting conversation piece. Different shapes, sizes, and colors all add depth and interest to an outdoor space and they require little to no maintenance. Consider planting a row of succulents in a long wooden tray placed on the outdoor dining table for a modern look.
There are many different kinds of plants that can help compliment a luxe outdoor design. Consider using different potted topiaries to generate a modern and upscale look. Other plants, like the Saffron Crocus or a mixture of different Succulents, can do well on tables and dining areas. Japanese Maples and Calla Lilies are also other options that will add beauty and style to any luxe outdoor living space.
To top our outdoor design off, be sure you have the perfect-for-you outdoor furniture.
Rachael Baihnis an avid gardener, both indoors and in her backyard sanctuary. She can often be found exploring nature off the beaten track or enjoying the company of local neighborhood dogs.