When your children get home from school, they need a comfortable and productive space to study and do their homework. A comfortable home student desk is key in helping them get their work done in a timely and productive manor. We've selected several desks we love that will get the job done! Few have a more "child" appeal to them, but for the most part, these desks won't go out of style through college and beyond and can be used by adults as well. For even more desks, visit our desk category page or stop in our Howell or Middletown, New Jersey showrooms.
Aico Furniture Melrose Place Writing Desk
While this is called a writing desk, it can easily hold a computer or laptop. With its decorative crystal mesh frame, it has more of a feminine and glam look to it. Its drawers will easily accommodate writing instruments. We love that this desk has a modern clean look to it but pizzazz because of its crystal.
Ashley Furniture Bertmond Desk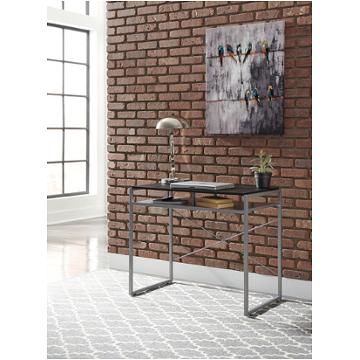 If you're seeking something simple that gets the job done and has an impressive price tag, hold onto your seat for this one for a limited time this desk is on sale for just $94.35! This piece of furniture is also great for small spaces, such as small children's bedrooms, measuring 34.88 in width, 29.13 in height, and 19.38 in depth.
Ashley Furniture Laney Adjustable Height Desk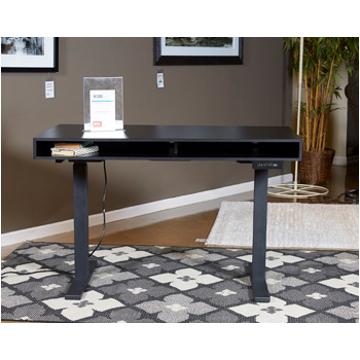 This desk will come in handy as your children get taller because of its adjustable feature. Because of its sleek design, it can also be aesthetically pleasing in any space no mater it's style. This is one of our best selling desks and can often be shipped to homes in New Jersey in 10 days or less (check with a sales rep for the most up to date shipping times).
Magnussen Home Furniture Kenley Hutch Desk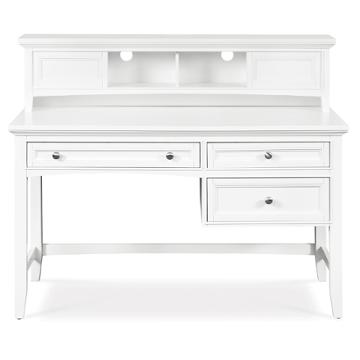 Charming white, contemporary yet traditional, sturdy cherry veneer, and made with immaculate construction are all ways this desk can be described. Plus, it has just enough storage for pens, pencils, rulers, paper, notebooks, and books. This desk would like nice in a bedroom, living room, office, and even a kitchen. Because of its style and color, you can really get away with it matching anything.
Ashley Furniture Baraga Adjustable Height Desk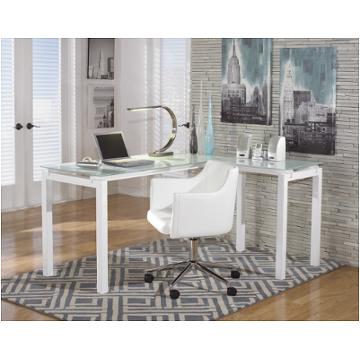 This special desk requires some space but is not overwhelming in size and is helpful for students who need a lot of room. Since it has a tempered glass top, we only recommend it for students who are at least in middle school and you'll want to get a desk mat to protect the glass. Because of its clean, sharp style, we couldn't resist adding it to our list.
Ashley Furniture Mirimyn Small Desk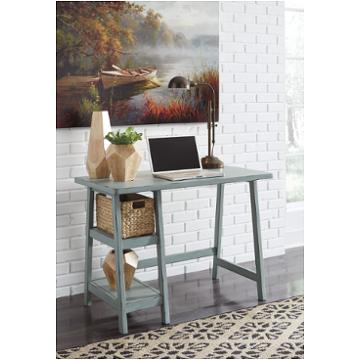 This desk will add a pop of color to your space with its distressed vintage paint in a tone of blue green. Add a basket to each of its shelf to store writing instruments, paper, and everything your children need to help them be A+ students. Currently priced at just $151.70, it's an excellent choice for small spaces or students who don't need a lot of surface area. If you like the desk but don't like its color, it also comes in an antique white and black.
Riverside Furniture Lean Living Driftwood Leaning Desk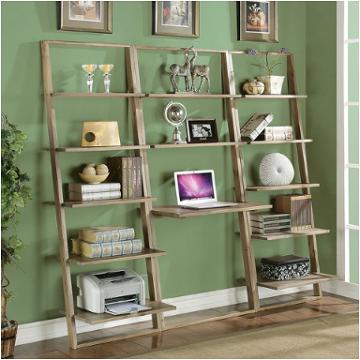 This piece of furniture is more than a desk – it's a piece of home decor that makes a statement. Can you just see it now holding your kids' trophies, books, and picture frames? It's a great piece for a family room or finished basement and compliments coastal decor well because of its smoky driftwood finish. Like it but want a darker color? Inquire about Lean Living in the color burnished brownstone. Since it has a lot of pieces, don't worry about putting it together we'll do it for you as part of our while glove delivery.
Do you kids need more than a new desk? Give them a bedroom makeover.