An epic wardrobe is on the dream home design wish list for many! In our years of touring beautiful homes, we've spied more than a few incredible designs. Plus we love any excuse to stalk Pinterest and design blogs all in the name of 'work' (we're at your service, ha ha!). So we've gathered all the best walk-in wardrobe and closet inspo. Covering a range of interior styles and best design inclusions to steal, this article is chockablock of ideas.
We hope this round up offers you all the inspo you need for your next beautiful, organised wardrobe. Or perhaps you'll be inspired to join the legion of DIYers hacking their own dream wardrobes using IKEA cabinets and hardware supplies. In any case, get ready for the walk-in wardrobe and closet spam to begin!
Related article: The major dos and don'ts of wardrobe design
Related article: How to organise your wardrobe: A guide to keep your closet organised forever
Go green with envy
Your wardrobe is a fabulous opportunity to really express yourself. It's a space that is often quite private so why not take the bold move and go with wallpaper, panelling or like the space below, paint!
We love the elegance of this rich green dressing room at Black Beauty, a house from Kate Walker Design. You can take the full home tour here.
The bold and the beautiful
This is what made us want to create this entire gallery of walk-in wardrobe and closet inspo pics. We mean, just look at it! It's stunning!
The simple, repeated arch and classic rattan inset design is just so unique, and adds so much interest and texture to this walk-in wardrobe space. The skylight elevates this wardrobe it to the next level. Obsessed!
Make your accessories into art
It's hard to go wrong with a classic white space. But what's so special about this walk-in wardrobe from Three Birds Renovations is the mix of open and closed shelving, accented with a clever lighting design.
We adore the use of glass fronted cabinets, turning that impressive shoe, bag and accessories collection into standalone works of art.
Or, for another take on making your accessories your main form of art, there's also this glamazon from Jimmy and Tam on the 2020 series of The Block.
The open shelves and strip lighting give this walk-in wardrobe major boutique shopping vibes!
Add warmth with walnut
For walk-in wardrobe and closet inspo, it's hard to go past these next 2 spaces. We love the warmth the walnut timber brings and those leather recessed pulls are beyond gorgeous.
This materials palette suits any style, but is especially popular for achieving a more masculine aesthetic.
White rattan retreat
Ok, the luxe Colonial style Kate Walker Designs achieved in this space is beyond.
Painted white joinery pared with aged bronze handles, it's a winning combo. And against the gorgeous texture in the seagrass flooring and chic striped curtains… we can't fault this space. We're moving in immediately!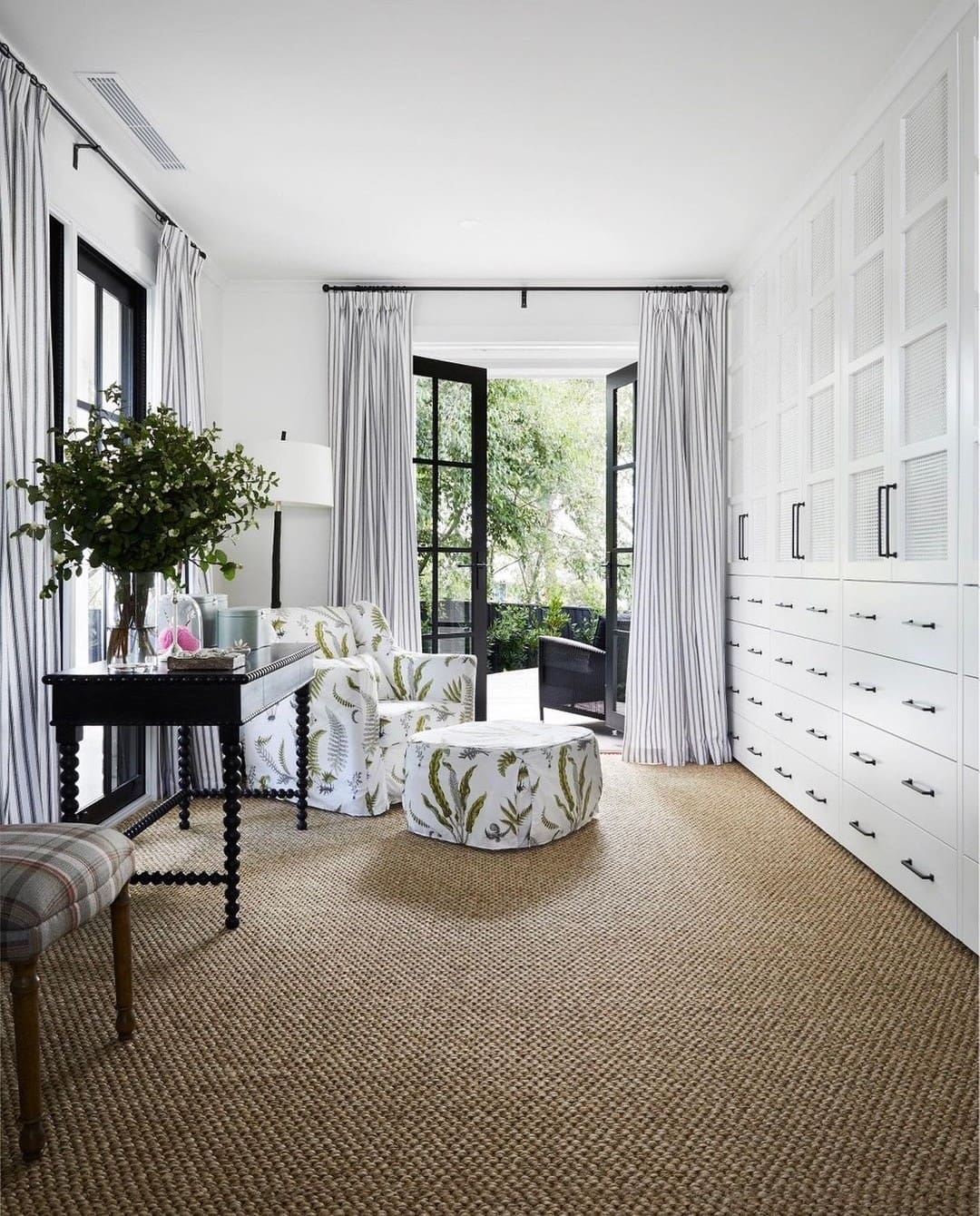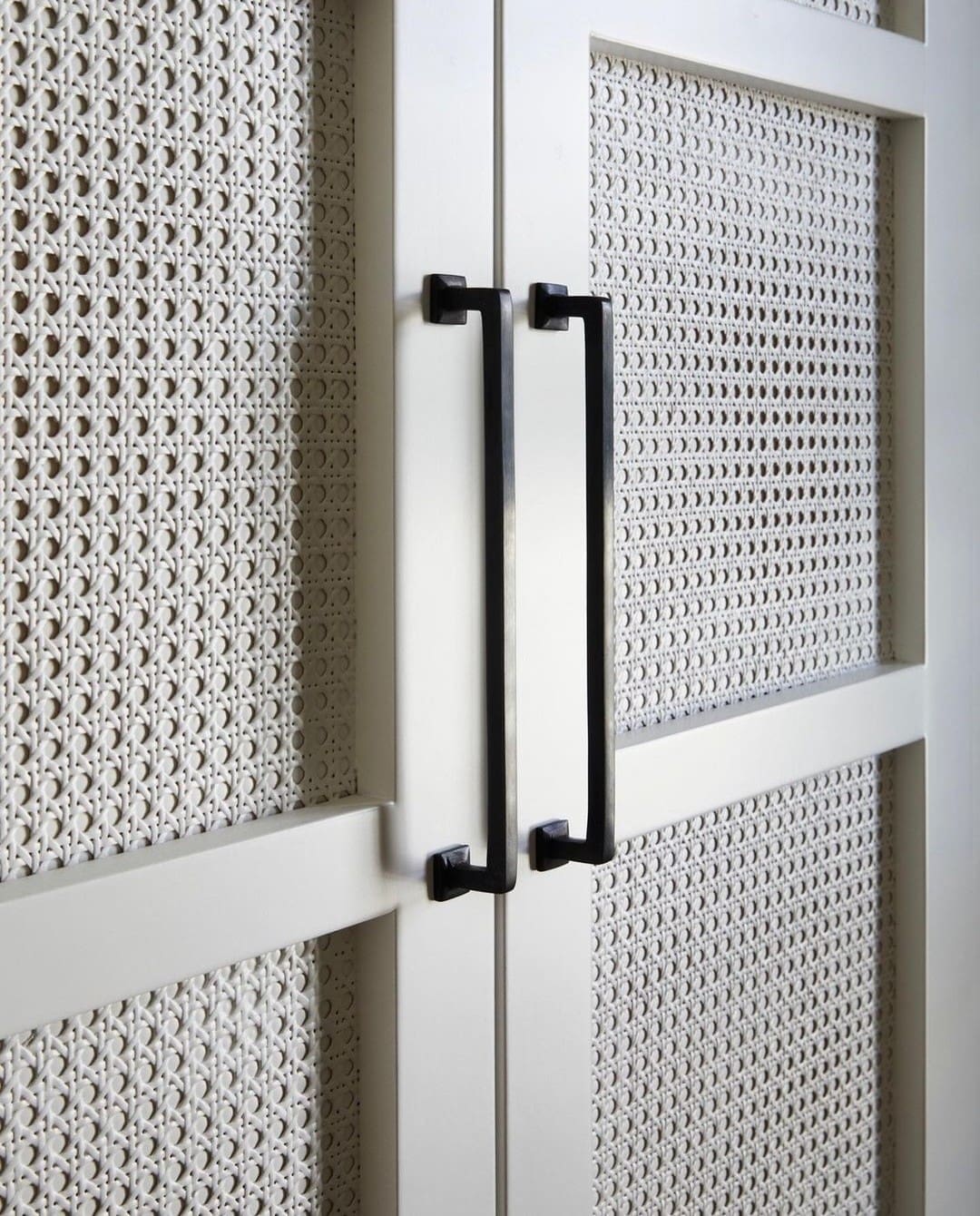 Elegant timber
Timber is always a beautiful way to add texture and warmth to a space. For a timeless material that works in any design style, timber is our go-to.
Elegant simplicity at its best, this next wardrobe example is for all our minimalist lovers and showcases how you can pull off a modern wardrobe in a period home.
Laminate looks luxe
Have you noticed how much better laminate has gotten in recent years!? Tongue twister title aside, we were drawn to this fab closet and built-in set up with its warm timber-look tones.
And we're loving the hidden mirrored make up desk built into the benchtop — how clever (and tidy!) is that?!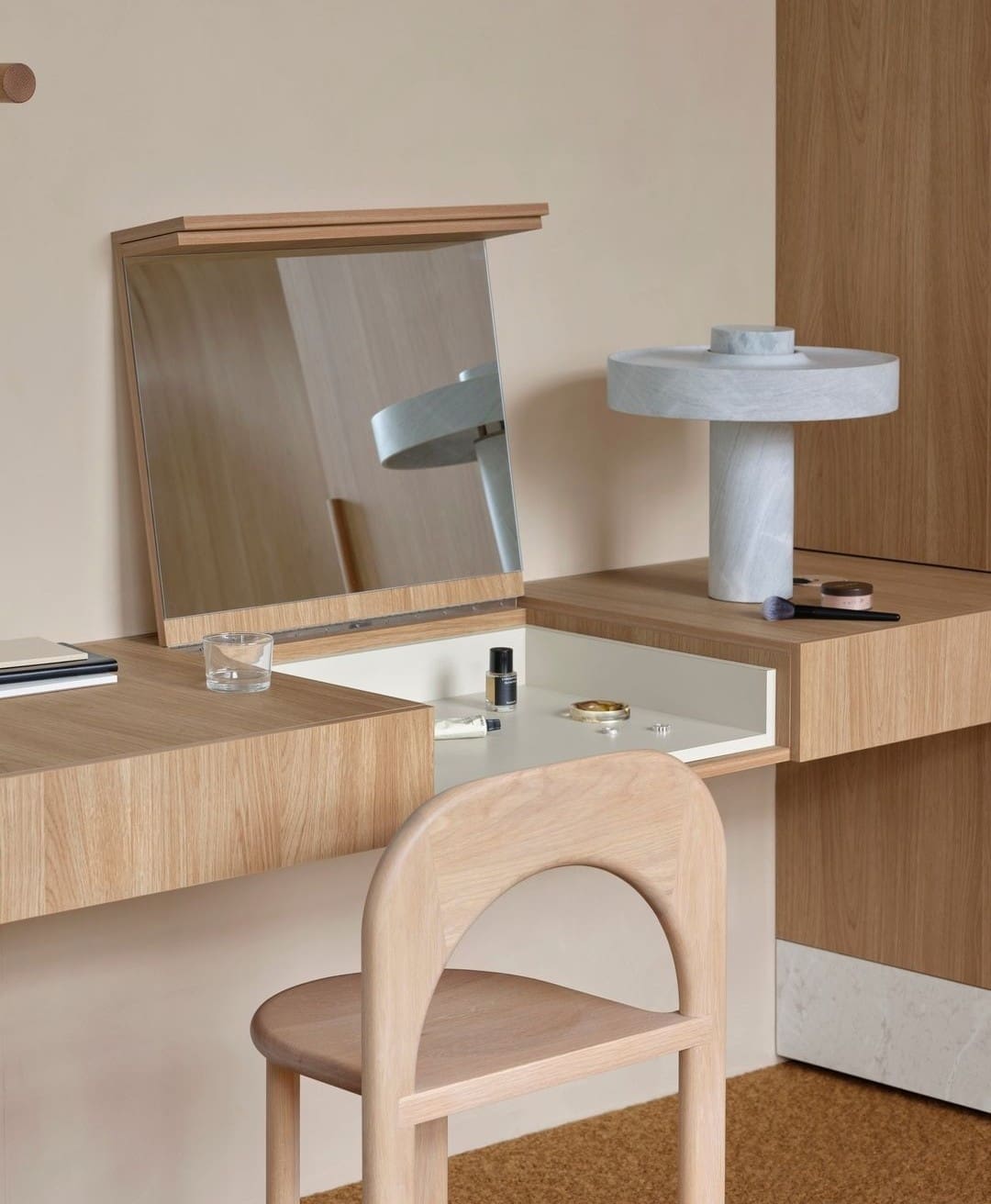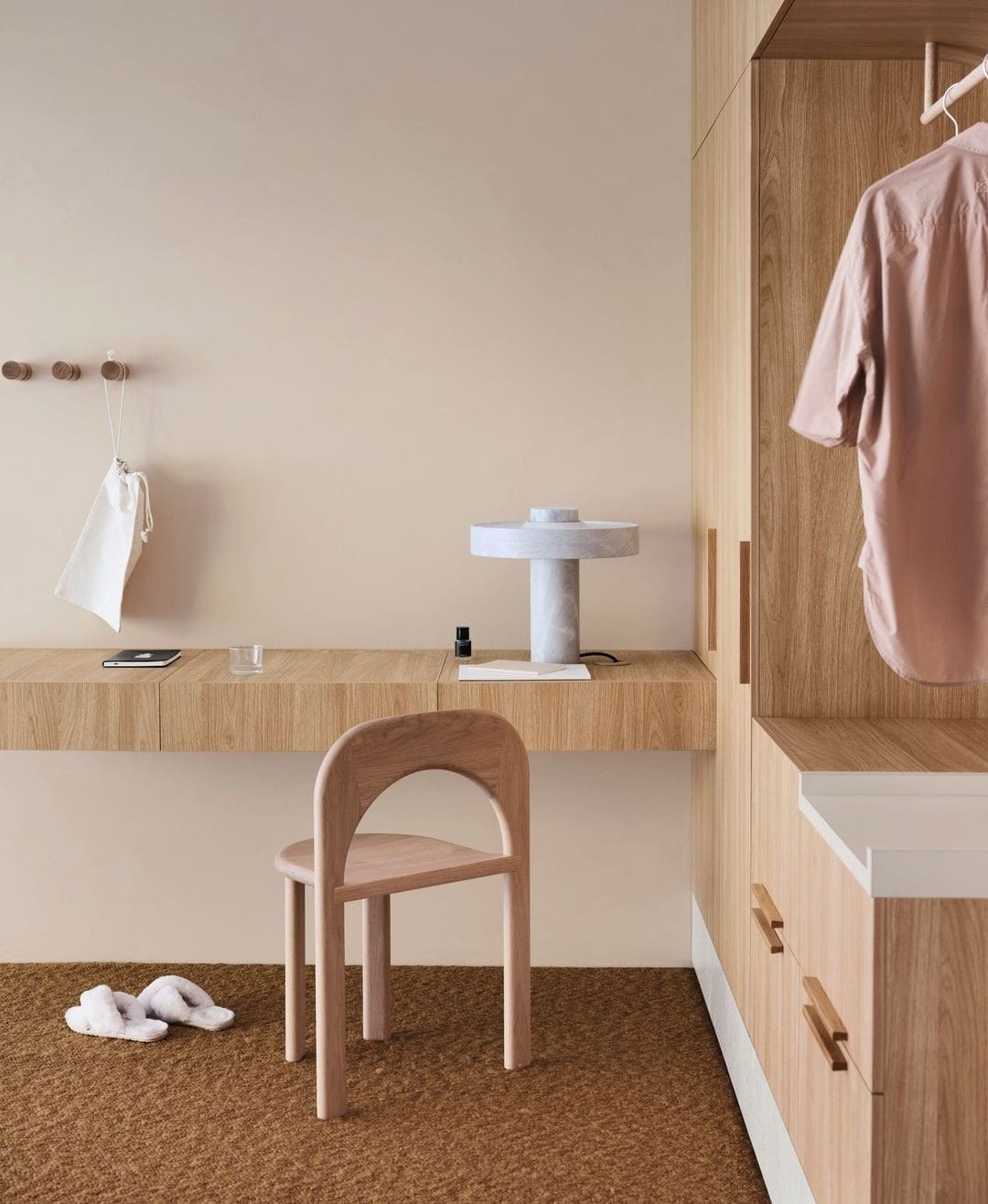 Sophisticated and slim
For closet inspo suitable for a smaller space, look at this stunner. Incorporating floor to ceiling cabinetry to get in as much storage as possible, this design from GIA Renovations shows you how to work with what you've got.
And the gold fixtures just make the space. Perfection!
Moody interiors
If you're searching for masculine energy inspo, here are a few more options for you to consider. You could go with stunning charcoal grey, a deep chocolate, or even black interior.
But don't be mistaken! These options are not just for the men! There's nothing sexier than a sleek, dark interior in our minds!
This bespoke space includes leather rounded handles and valet hooks for the ideal mix of elegance and texture.
The centre console is what sells the luxe vibes for us on this beauty from Concord Residence. Just look at how much space there is for your shoes! You can take the full home tour here.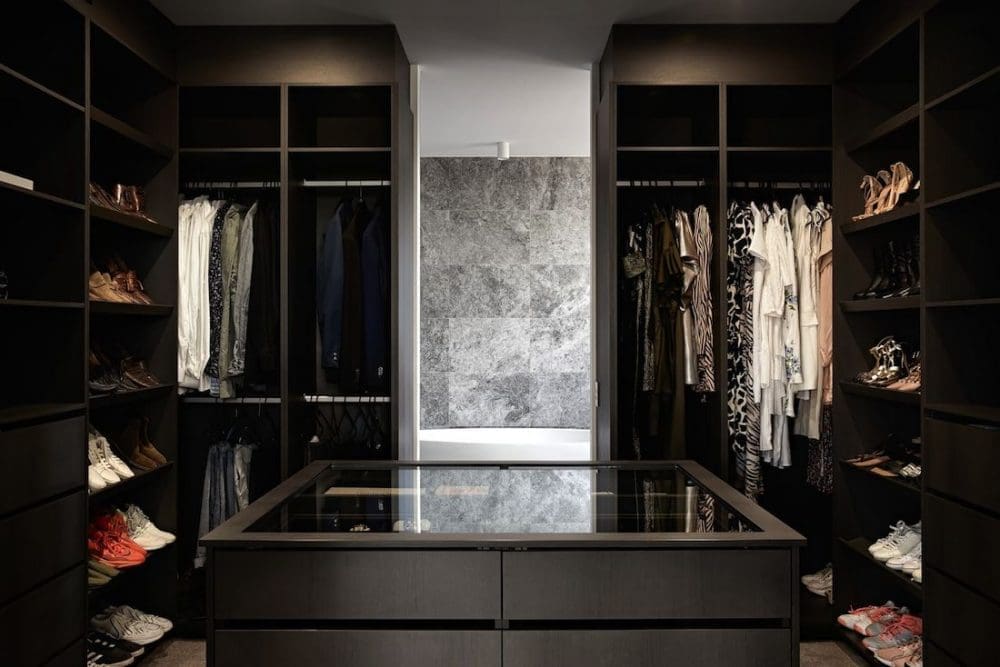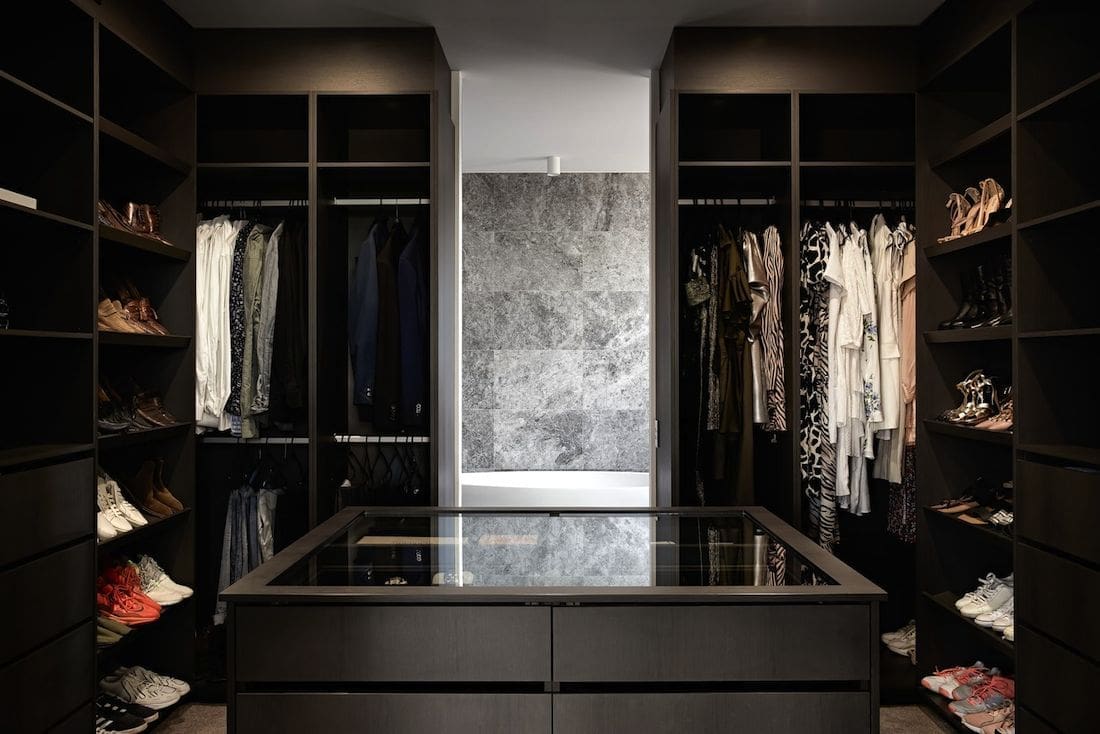 Isn't this space dreamy?! It has sooo much storage with that floor to ceiling joinery. It would be a total joy to deck this space out! Take the full home tour here.
Hollywood glam
For something a little on the lighter side, this all white beauty is where it's at. With a mirrored-back built-in bench seat, marble-topped centre island for tonnes of storage and a statement light, it's everything Hollywood glam and more.
The warm tones and texture in that gorgeous flooring ground the space and the skylights draw in plenty of natural light.
Coastal boho vibes
If you're chasing those coastal boho vibes in your closet or walk-in robe, it's all in the details. Go for an arch or two. A bit of rattan or woven inset detailing never hurt. Or simply make a feature of your handles.
Handles are like your wardrobe's jewellery — the finishing touch. And they can make all the difference to the look and feel of a space. We've got a helpful list of all the best places to buy handles and knobs here.
Rattan in its natural form and colour. It doesn't get much more boho than that. And yet, this style would look equally at home in a modern or Scandi inspired space.
Rattan not quite what you're after? Try a tight weave inset like this one here. Just as elegant but something a little bit different. And those handles — talk about the icing on the cake!
Elegant curtain closure
Make a real entrance to your wardrobe or closet with luxe curtains. It makes a gorgeous feature and also means it's super easy to hide away the mess if you forget to fold the laundry once in a while 😉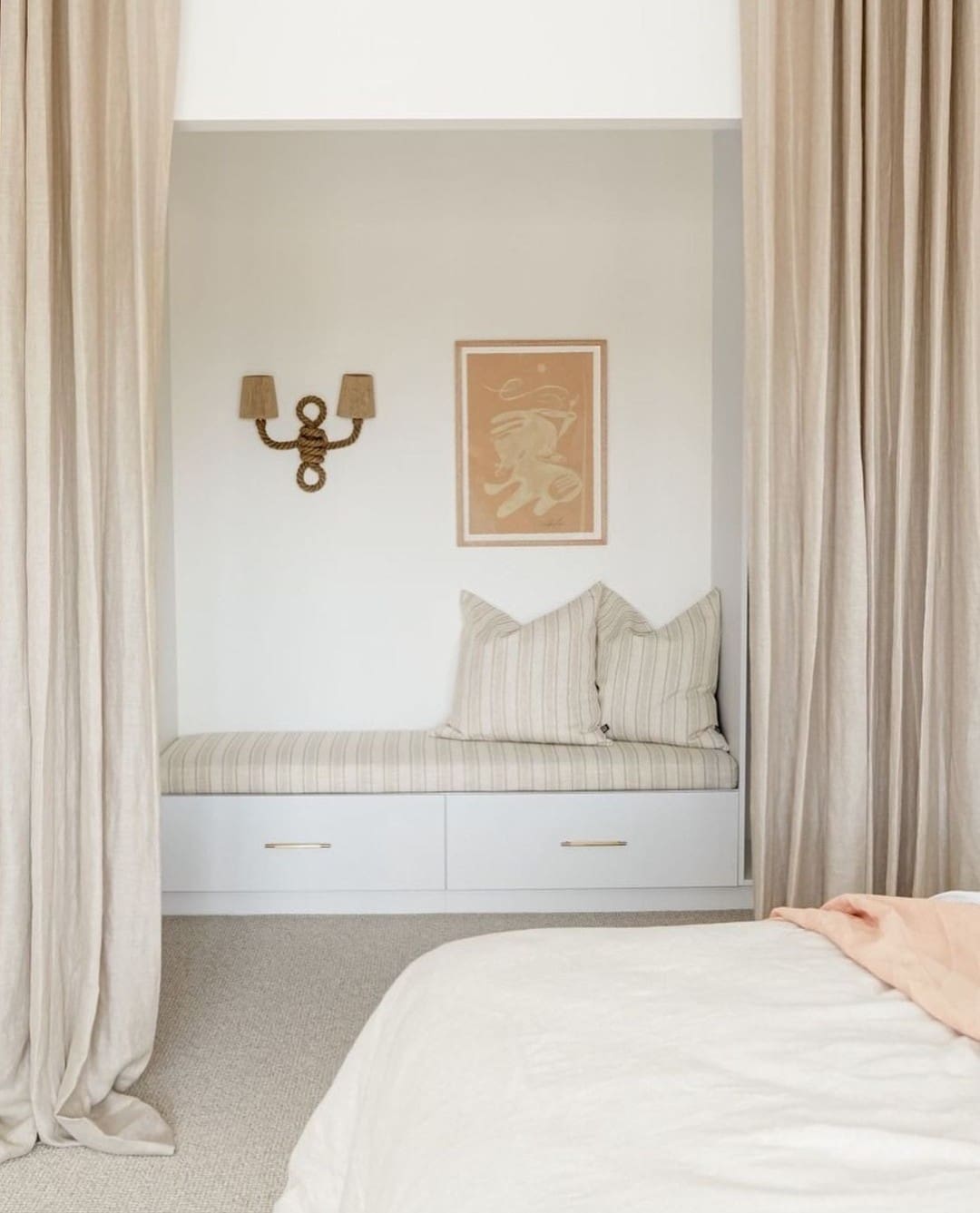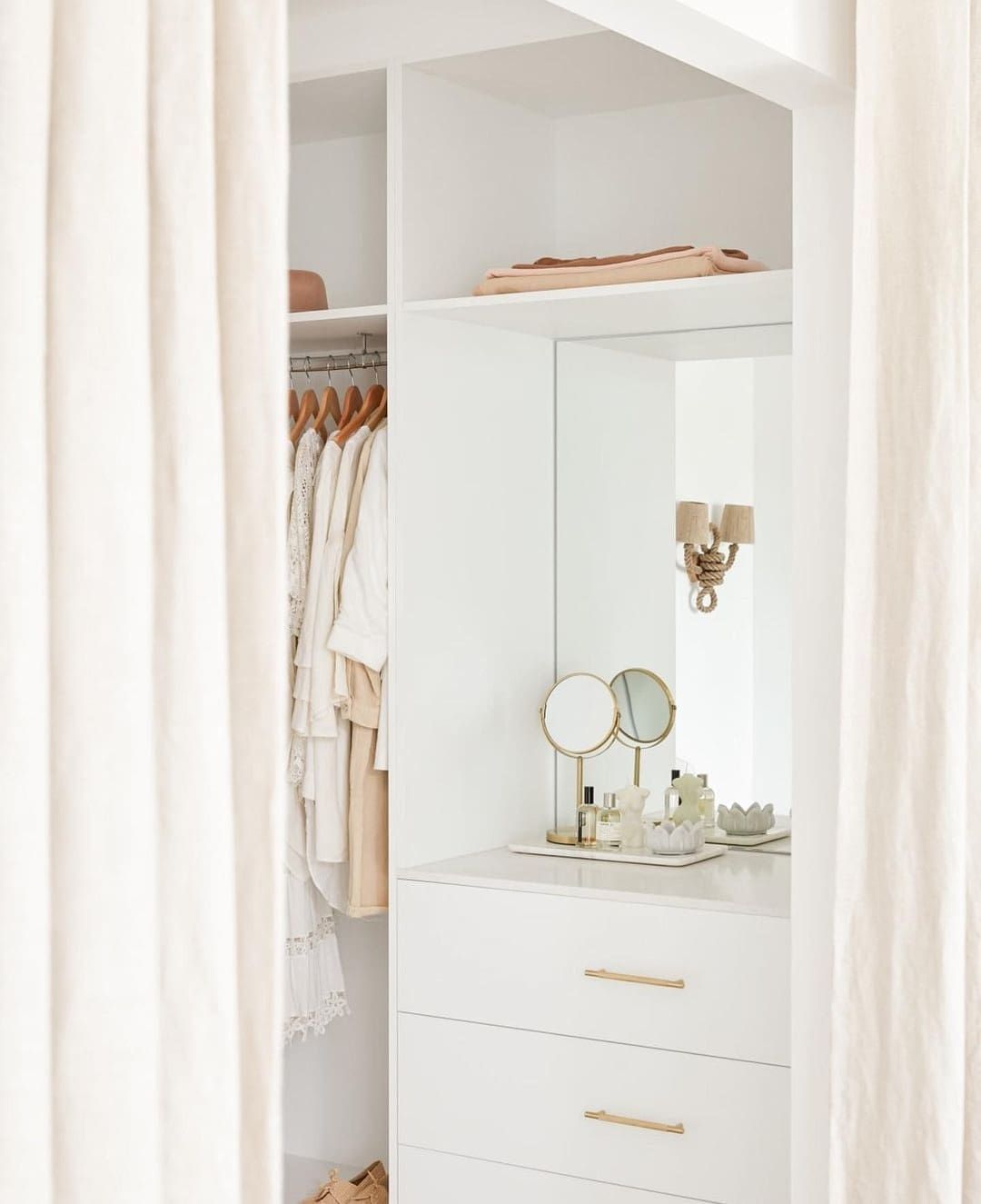 Perforated metal doors
For a sleek modern take on wardrobe doors that are something a little bit out of the ordinary, take a look at these perforated metal doors. They scream sophistication and are modern, without being too OTT.
They're the perfect balance between masculine and feminine style and we just can't get enough.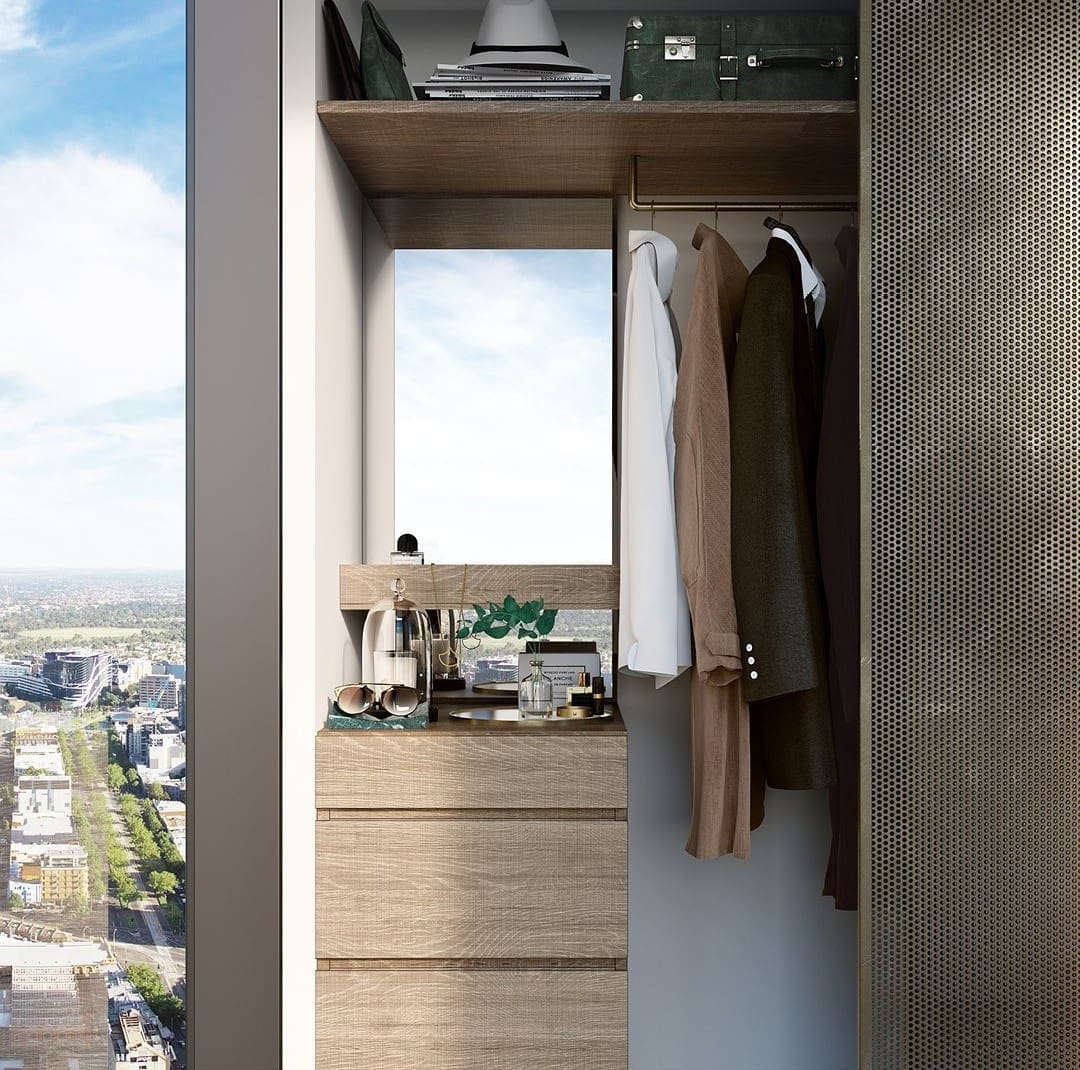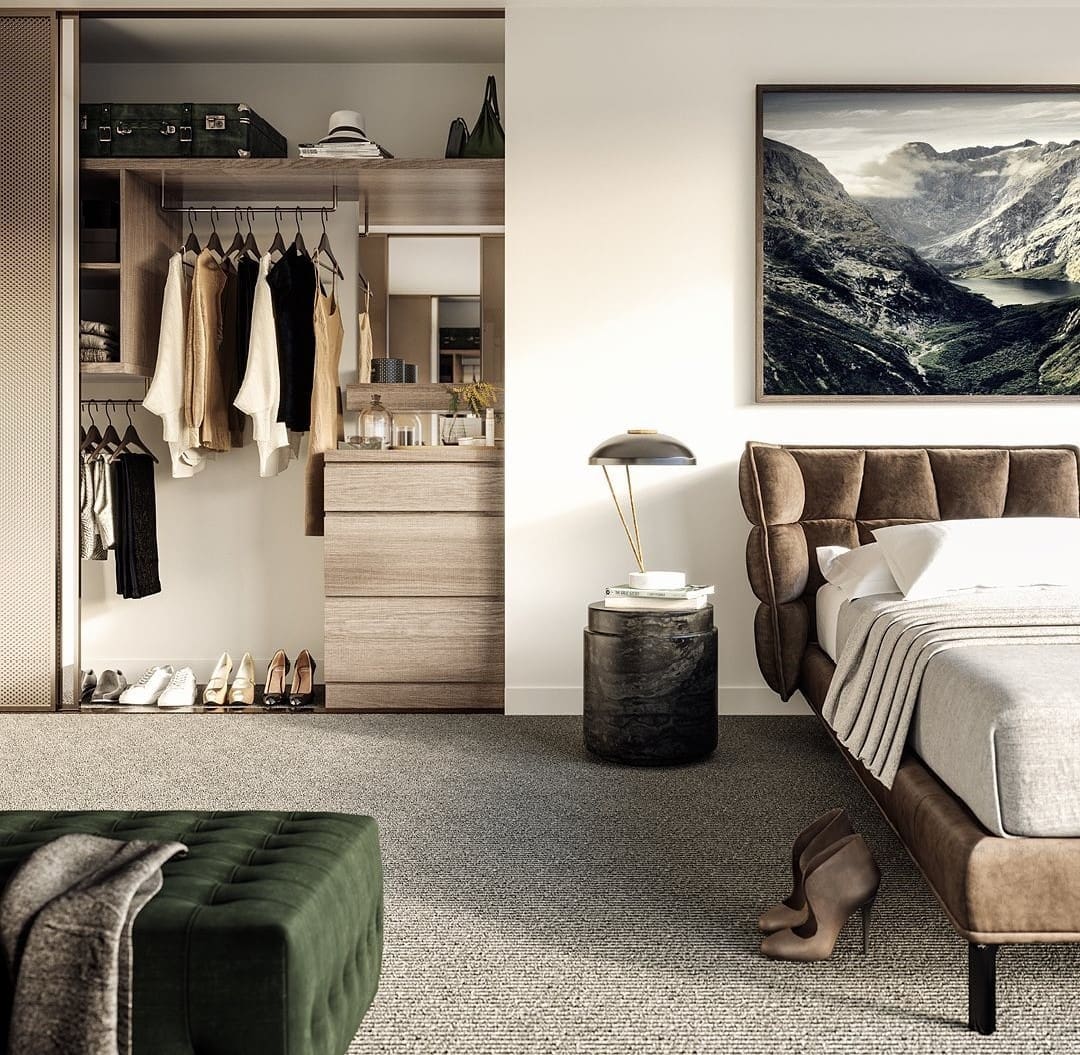 Hamptons chic
If this set up doesn't have you scrambling to build your very own Hamptons home, we don't know what will! It oozes holiday vibes, we can almost feel them from here!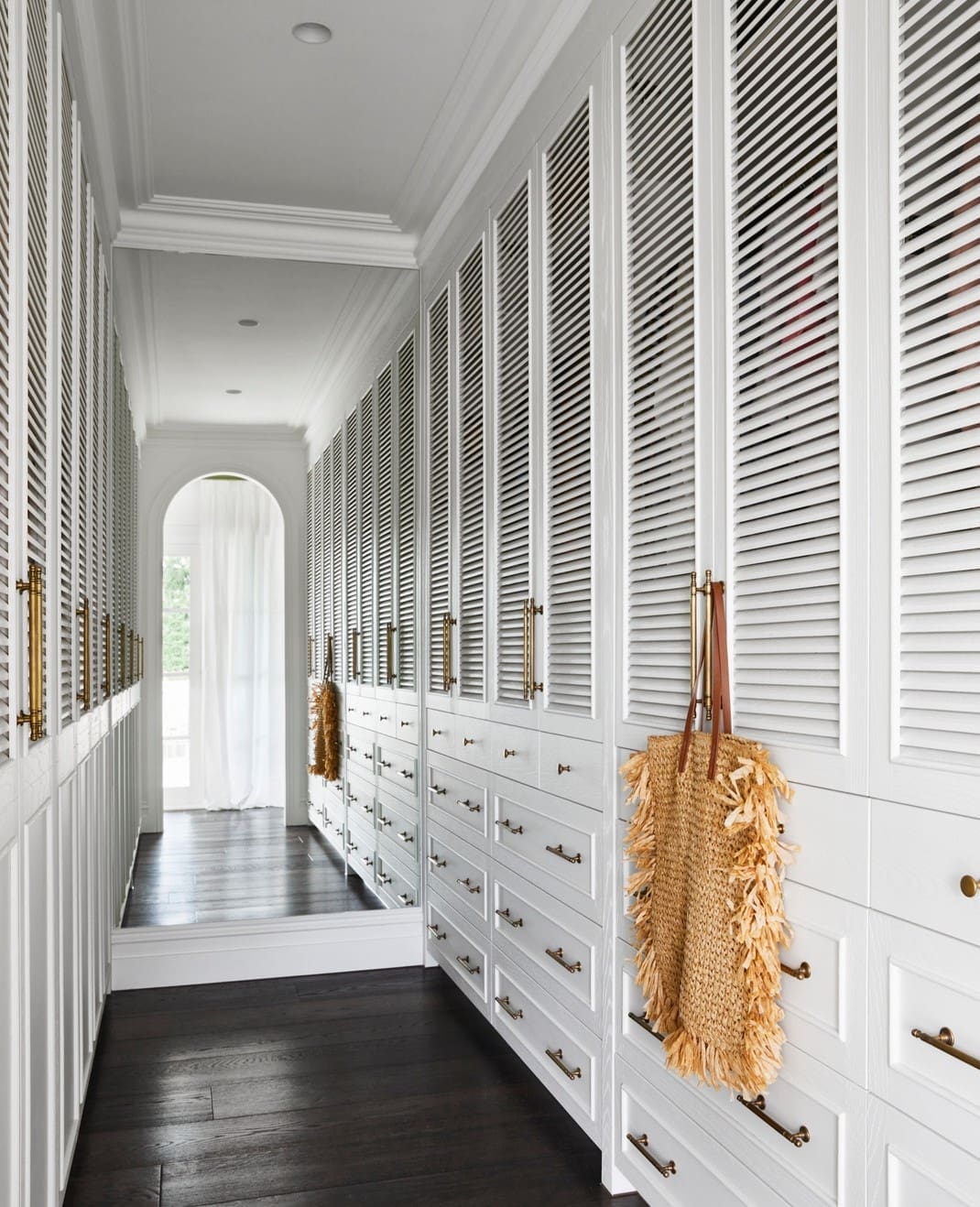 Scandi sleek
If the minimalist look is more your vibe, take some style inspo from this space.
Huge floor to ceiling wardrobe doors hide more storage than you can poke a stick at. But what really caught our attention were those sleek Scandi-style handle. Super long, black handles that just look so classic but add the touch of interest this space needs.
IKEA… but not as you know it
When we first saw this gorgeous boho-style walk-in wardrobe, we just loved it. Tonnes of storage, pant hangers and those glass fronted drawers. And then we learnt that it was an IKEA flat-pack job!
Yep, this stunning luxe-looking closet is made up from the IKEA PAX cabinetry range. How's that for stylish yet budget-friendy inspo!? We did warn in the intro that this article might inspire your very own DIY walk-in wardrobe!
You wouldn't guess it, but this is another PAX creation! We love the gorgeous archway and added originality with the wallpaper detail in this walk-in wardrobe from Villa Styling. You can explore the full home tour here.
Monochromatic magic
For a sophisticated take on coastal style that's not rattan, we can't go past this stunning criss-cross inset detailing from another stunner by Kate Walker Design.
It's a great example of using pattern and shape to add interest rather than colour.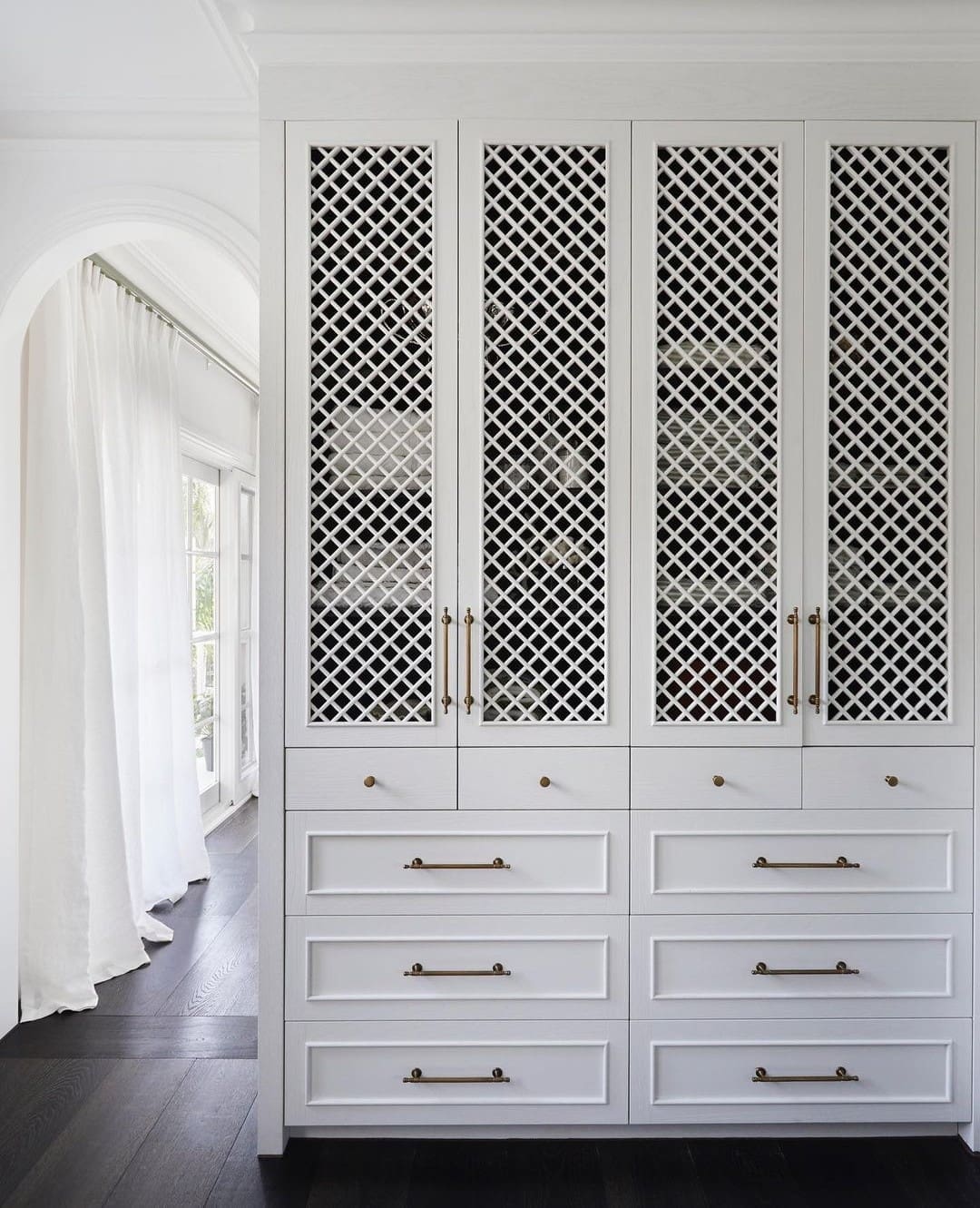 Go above and beyond
The inset panelling around the the subtly textured handles really caught our eye on this wardrobe design. And then we looked up! There's additional storage cleverly disguised behind that chevron timber paneling.
Yet another great example of how to make the most of the space you've got.
Go luxe or go home
Look. This style won't suit the average household, but this is an inspiration gallery so we thought… why not?! This beyond stunning set up by Poliform Australia is definitely not for the faint hearted.
The glass cabinet design is ultra luxe, giving you the chance to showcase all your glamorous wares.
Why should grown ups have all the fun?!
We're the first to admit it's a bit of a luxury for kids to have a walk-in closet. But if you have the space, we say, do it!
We love this practical and affordable kids walk-in wardrobe. The coloured roof is our fave feature, along with the double level hanging rack so little people can easily reach what they need.
Or consider adding a fun, vibrant pop of colour. Do you recall this pistachio green number from Mitch and Mark's winning home from The Block 2021?!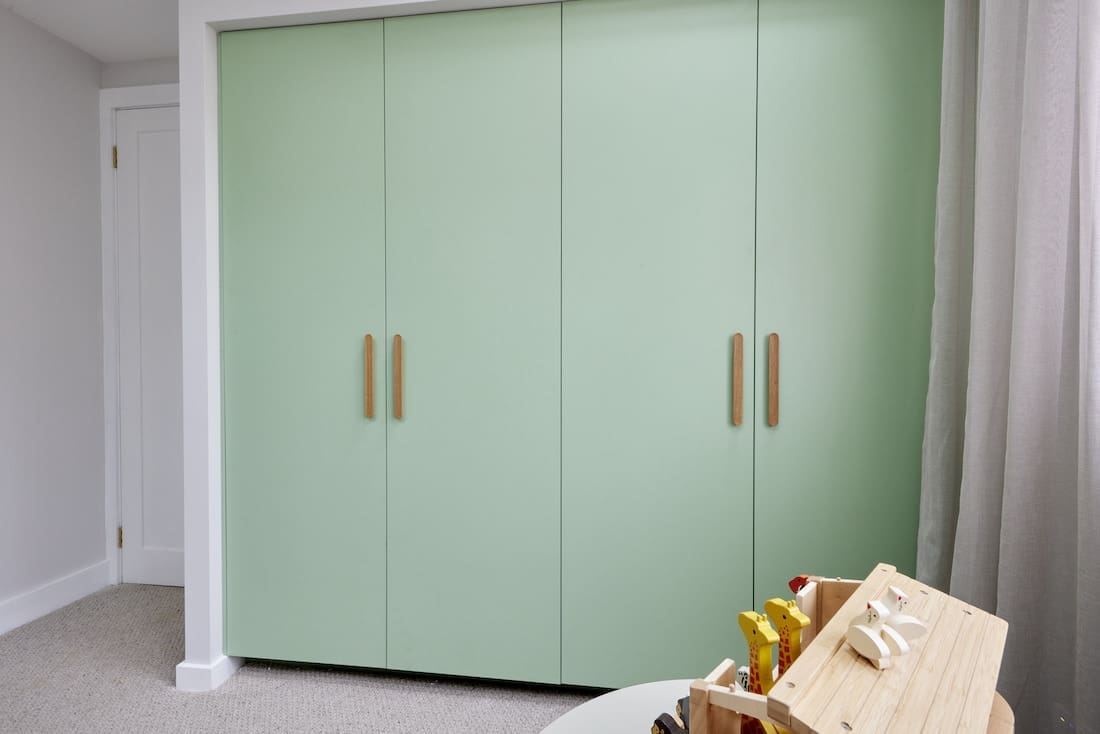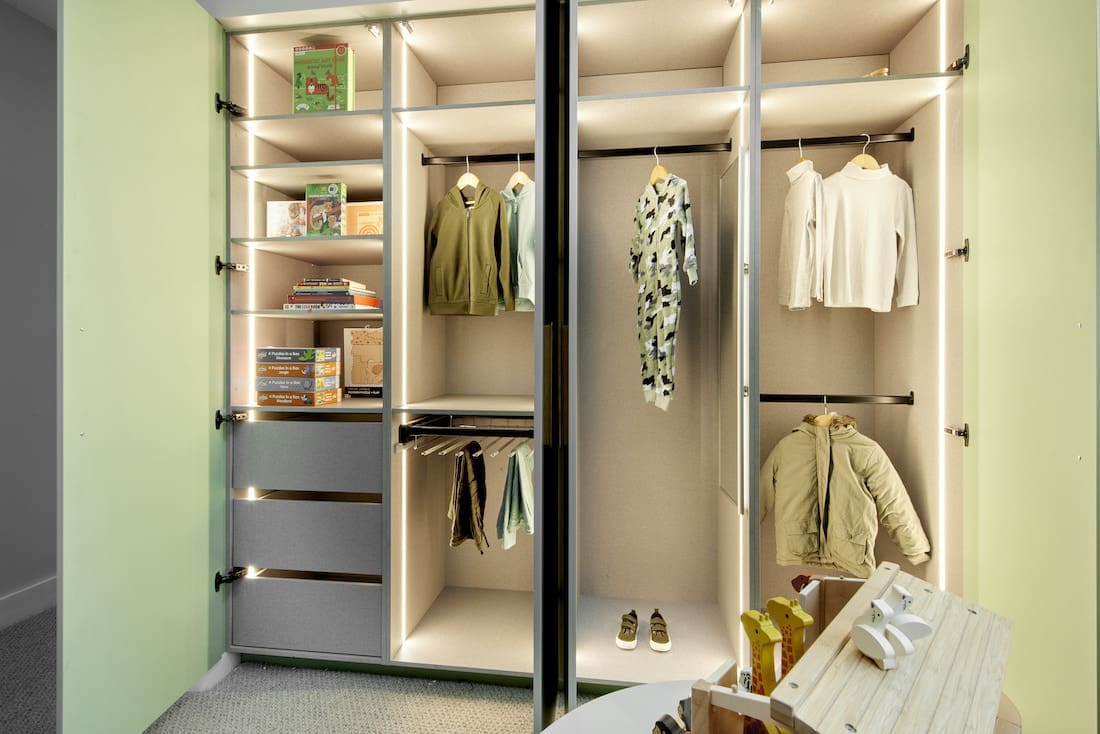 Have you gotten your fix of walk-in wardrobe and closet inspo now?! Do you have a fave space? Or has it got you wanting to redesign your own wardrobe?! Chat to us in the comment section below!