Looking for something to do in New York either on a vacation or a staycation? There's plenty in and outside New York City. Here are a few ideas.
1. Visit the Hudson Valley wineries.
You don't have to go to Napa Valley California for good wine. While Napa is wonderful, good wine is right here on the opposite end of the United States. The Hudson Valley is filled with a plethora of wineries that offer tours, tastings, and special events. In addition, learn about the history of wine making and see wine in a whole new light. Did you know that America's oldest winery is located in the Hudson Valley? Not California, but New York! It's Brotherhood Winery and it has been around since 1839. Aside from wine tasting at Brotherhood, grab something to eat at Vinum Cafe and experience art at the Art Space. You're bound to have a relaxing day at one of the Hudson Valley's fine wineries.
2. Take a stroll back in time to explore the remains of the Olympics in Lake Placid, New York.
Visit the Lake Placid Olympic Museum that commemorates the 1932 Winter Olympics and 1980 Winter Olympics. Lake Placid is the birthplace of North America's first Winter Olympics. The museum features unique designs of Olympic medals, ski jumping history, the strategy behind curling, the history of the bobsled, and more. Lake Placid is especially pretty in winter because of the Adirondack Mountains. But, if you visit in summer there are plenty of places to hike along with water to be enjoyed at Lake Placid Public Beach.
3. Go for a ride at Coney Island in Brooklyn.
Adventure awaits at the iconic Coney Island which is opened between Easter and Halloween. Take a ride on one of Coney's roller coasters such as the Soarin' Eagle, Cyclone, or Steeplechase and be sure to visit the aquarium, arcade, beach, and boardwalk. If you visit on a Friday night, be prepared for a fireworks show. If you get hungry during your trip, there's plenty of places to grab a bite: Gargiulo's Italian Restaurant with deep city roots, Steeplechase Beer Garden, Parkview Diner, and others.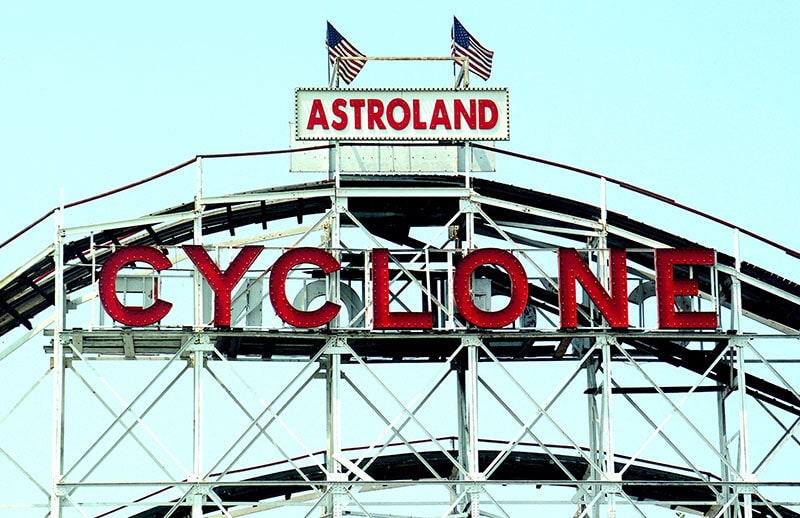 4. See a Broadway show.
This is the obvious option but if you have not seen one yet, you must. The talent on Broadway is outstanding and typically, there's a show for everyone. A few of our favorites: Wicked, Aladdin, Matilda, Mama Mia, and Harry Potter. To get the best deals on Broadway shows, visit the TKTS Ticket Booths to purchase same day tickets for up to 50 percent off. If you feel better about purchasing your tickets in advance, sometimes you can get better deals on weekday shows or day shows.
5. Explore history in the Catskills.
The Catskills are located in the southeastern part of the state and are typically best known for its hiking. But, the Catskills offer so much more. A few places to visit for a history lesson include:
The Museum at Bethel Woods – This is the Woodstock music and art fair museum where you can learn a lot about the festival.
Hanford Mills Museum – This is one of the only operating waterpower mills left in the country. Learn about the workings of the mill and the area's industrial innovations.
Empire State Railway Museum – Experience an authentic 1900 train station.
Olana State Historic Site – A national landmark, Olana State Historic Site is the home of Hudson River School well-known painter Frederic Edwin Church.