First impressions are always remembered. It is particularly true of our impression of a place before entering it, whether it be a home, a place of work, or an enclosed environment. Sometimes, especially when looking at apartment entryway designs, we form judgments based on the first design aspect we encounter. The residence's main or entry door has a decorative element in addition to its functional usage in many establishments.
Real estate developers and designers are experimenting with different materials to produce a distinctive flat entryway design. As a result, your visitors will have a better image of you from the outset.
What should you consider when choosing the right flat entrance design?
When creating a main or entrance door, there are two key considerations.
Weather conditions:
The weather affects the door's size, stability, durability, and thickness. Most main door designs include a protective layer of paint or varnish to help the doors withstand inclement weather.
Material available:
The location of the area, and the method to be employed to make the most of the space surrounding it, are other elements that decide a good and attractive flat entry design. In the design of the main entrance, style and utility go hand in hand. The door is more functional and easier to use when the surrounding space is larger.
5 materials and design options for flat entrances
Wood & timber doors
Timber is the most popular material for making main doors among the several flat entry designs that are available. Timber and other wood species have a variety of elaborate inlays and patterns that make them seem stunning. It provides the door with a nice look and lets the artist exhibit their creativity. 
The design, as a whole, is appealing because of the natural material and feel. Wooden doors provide the advantages of insulation and soundproofing. Wooden doors are the most dependable in terms of security. They are popular among many since they are simple to install and simple to clean, thanks to the material.
Know about: flat entrance designs exterior
Source: Pinterest 
Glass doors
They offer a property with an upscale, contemporary, and stylish appearance. But glass doors must be handled with great caution and safety since they are fragile. If your main doors are glass, it is imperative that you handle them carefully. Concerns about maintenance and cleaning are also possible. Glass doors have been a security concern. However, the problem may be solved by using toughened glass, which is becoming more and more popular these days.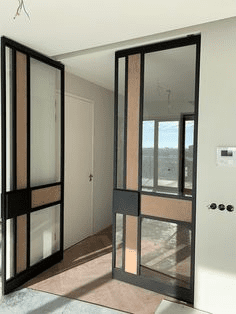 Source: Pinterest 
Steel main door 
Steel is a recently developed material in which doors are made with a steel front and an insulating foam core. For its fashionable appeal, it is often used with brushed steel. They are incredibly secure since they are stronger than the other doors. They are a preferred material since they are durable and dependable. They are not used in as many homes since they do not look as appealing as wooden or glass doors.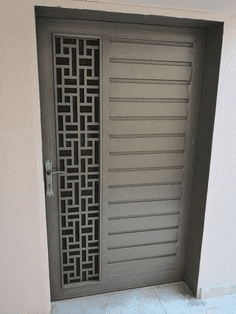 Source: Pinterest 
Fibreglass doors 
Fibreglass is one of the next most used materials for flat entry design. It has the elegance of glass but is easier to keep and handle, making it a favourite among many. These doors feature a wide range of design choices and are simple to shape and create. Consequently, it is fashionable and robust. They are chosen for inexpensive homes since they are more cost-effective than glass doors.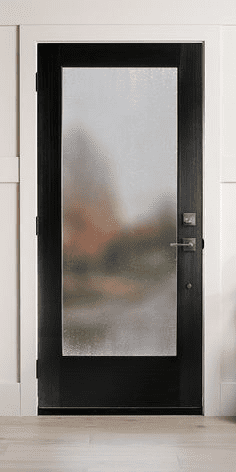 Source: Pinterest 
3D pattern doors
It's an easy way to incorporate patterns into the traditional door without sacrificing your current aesthetics. This contemporary main entrance design quickly grabs the eye thanks to the 3-D designs with simple and mosaic patterns, and its random arrangement maintains it in a stylish and laid-back way.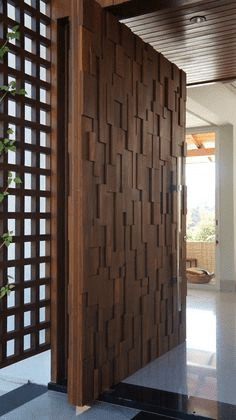 Source: Pinterest 
Maximising space in small apartment entrances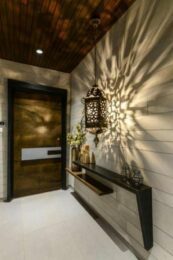 Source: Pinterest
You can maximise space in small apartment entrances by installing a wall mounted shelf to keep decor pieces to decorate the entrance way.
Elevating aesthetic with modern main entrance designs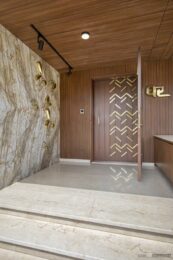 Source: Pinterest
Modern main entrance design with wooden paneling from ceiling to side walls elevates the aesthetics.
Functional and stylish: Designing a flat main entrance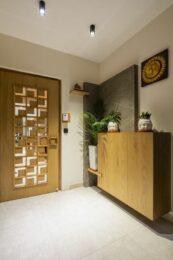 Source: Pinterest
You can place a shelf outside the main door entrance which can be an element to decorate the outside area and also be functional by acting as a shoe shelf.
Creating a warm welcome: Entryway design ideas for flats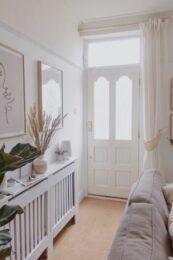 Source: Pinterest
You can create a warm entryway by doing up wall with beautiful paintings and including a sleek side console table that blends with the entry way.
Designing an efficient and attractive flat main entrance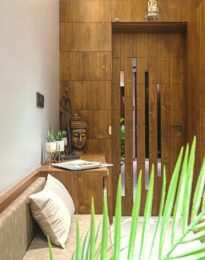 Source: Pinterest
You can make a small seating that can be used to wear footwear. Show piece, plants etc. add to the aesthetics.
FAQs
What advantages can steel door designs offer?
Compared to conventional wooden or plastic doors, steel safety doors have several benefits since they are significantly stronger and more secure. Contemporary steel door designs look pleasing as well. Steel doors are the best choice if you want a sturdy, safe door that doesn't appear too unattractive.
What is the term for the entrance of an apartment?
A foyer is a sizable entryway to a home or structure. A house, office, or apartment building's entryway will generally be larger and finer the bigger and fancier the structure is. This is to create a strong first impression.