Make this the year you finally get around to doing all those home projects you know you have been pushing back. Make this the year you get rid your old home furniture that's not comfortable anymore, is falling apart, or is downright not making you happy. Make this the year you clean out your attic and garage. And make this the year you fall in love with your home with these new year home resolutions.
1. Get organized.
Having a clean and organized home has been said to help you eat better, maintain a workout schedule, improve your relationships, help you sleep better, boost your productivity, and even reduce stress and depression. In general, people have too much stuff cluttering their home. Start getting your place organized by:
Getting rid of any clothes that don't bring you joy when you hold them.
Donating your children's old toys that they don't play with anymore.
Spending the $10 on a Lazy Susan or spice rack to organize your spices.
Sticking 3M hooks inside your closet doors to hang purses and belts that have ended up on the floor.
Back up the loads of important papers you have stuffed in the back of a closet onto a Cloud.
Remove everything from your counters that you don't use at least once a month – we would say a week but assuming you have a heavy mixer on your counter, you may not get around to baking so often.
2. Use less energy.
If you're like many of us in New Jersey, we don't have a thermostat that controls each floor in our home. It's such a waste to have equal temperatures running through the house when we spend most of our time on one floor. When it's cold, instead of turning up the heat, utilize a fireplace to reduce energy usage and your heating bills.

Pictured: Dimplex Windham Silver Charcoal Winham Media Console with 25 in. Fireplace with Real Logs – our furniture store that's practically outside of Freehold Raceway (located on Rt. 9 in Howell, NJ) has the best prices in the USA on Dimplex Fireplaces.
There are also plenty of other comfortable ways to stay warm at home such as with warm comforters on your bed, fuzzy socks on your feet, delicious tea that you sip while sitting in your favorite recliner, and with the proper floor coverings – either a wall-to-wall carpet or a simple area rug.
3. Make sure your house is safe and secure.
With improvements in technology, it's easier than ever to keep your home safe and secure. Check these tasks off your list:
Verify that carbon dioxide and fire alarms are working.
Make sure all windows and doors are secure.
Install a security device – either or security camera or a motion sensor like the one we mention in our Gift Guide.
Secure proper signage around your home. If you have a home security system already, make sure its signage is properly displayed and if you have a large dog, be sure to secure a 'Beware of Dog' sign.
Inspect your grounds making note of any cracks in the ground that could cause trips and pieces of your house that may need repairs, such as shingle that has been partially blown off your home.
Inspect your outdoor and indoor lighting. When was the last time you changed your light bulbs? Lighting tends to be a deterrent for thieves. Your home should be well lit from the front of it to the back of it.
4. Cook better, eat better.
After a long day at the office, especially after a long commute from New York City or Philadelphia, it makes sense to want to take the easy route for dinner with fast food and TV dinners. But, cooking healthy and delicious foods in your kitchen does really require all that much effort when you plan ahead. Prepare all your meals on a Sunday night for the week. Make a crockpot your best friend – if you can slice, measure, and pour, you can make a delicious crockpot meal. Some simple and healthy meals you can prep ahead include:
Breakfast: Set aside multi-grain toast to dress with an avocado and sun dried tomato spread. (Sun dried tomatoes are one of the foods we recommend having in your kitchen at all times.)
Lunch: Protein rich salads – mix your favorite leafy greens with a combination of grilled chicken (you can buy the chicken already made), tofu, chickpeas, lentils, or nuts.
Dinner: Crockpot chicken soup – try the variation we published in our Holiday Recipes blog post but add brown rice instead of noodles.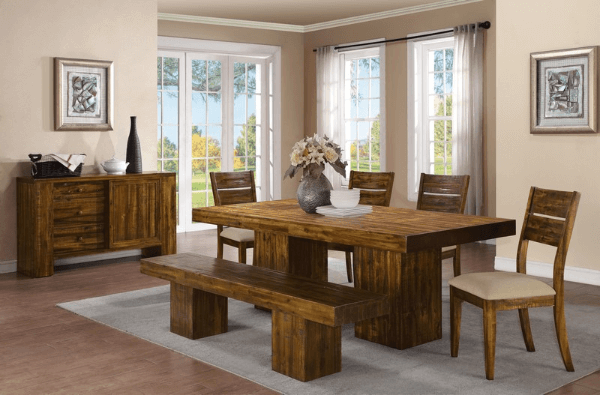 Pictured,
Valley View Dinette Set by Riverside Furniture
– a nice and large table to prepare your meals on.
We know it can be hard to stick to any kind of resolutions. If possible, ask a friend to hold you accountable and in no time, your goals will be met.
Share your resolutions with us on our Facebook page.