It's an old Soviet tradition to have rugs on walls. Wall rugs first started out as a solution for heat and insulation. At the time, owners did not care what the rugs looked like, according to Russia Beyond. In the 16th century Europe, carpets received as gifts signified "high status". Today local to where our home furniture stores are located – New Jersey, Manhattan, Bronx, Brooklyn, Queens, Staten Island, and Philadelphia, wall rugs are a trendy way to decorate a wall without painting, plus, they could help keep a space warm. No longer do they cater to the rich – discounted rugs make owning a rug more achievable.
Tired of a style? Easily take it down and put up a new one. Some wall rugs cost less than painting a room. And in New York City, every landlord does not allow painting. Find your perfect wall rug all from the comfort of your home with these tips: What to Look for When Shopping for a Wall Rug Online.
Size
This should go without saying, but everyone does not have a tape measure, especially not apartment renters. Save yourself the hassle of a rug not fitting in a space by measuring the size of the desired space you wish to hang the rug. Make note of the vertical size and horizontal size along with the size of any furniture you may place partially in front of the rug, as to not cover some of its most attractive parts.
Pictured, Ashley Furniture R402972 Accent Medium Rug measuring 60 inches wide and 12 inches tall.
White Glove Delivery
Most home furniture and rug stores will ship rugs directly to you. Can you imagine carrying a heavy rug up several flights of stairs in your New York City apartment? Or what about dragging it from your foyer to the grand living room in your Middletown, New Jersey mansion? If you plan on ordering a rug online that does not come with white glove delivery, we hope you have been practicing your heavy lifting! With white glove delivery, our team comes in and places the rug where you need it.
Delivery Time
Some sellers can take a month or longer to deliver a piece of furniture. If you have a certain timeframe for when you would like your rug, ask about delivery times. If you buy local products that are in stock, delivery should not take more than a few days.
Material
Some materials such as shag require more work to keep clean. Be mindful of the various rug materials. Popular materials include:
Wool – strong, great for helping to keep a space warm, most popular, easy to clean.
Cotton – on the less expensive side, comes in a lot of colors, tends to have a more casual look, often durable and can be washed in a washing machine.
Polyester – inexpensive, easy to find in a variety of colors and patterns, conceals stains well, easy to clean.
Style
Rugs are such a fun piece of furniture and come in all different styles, shapes, and colors. Animal print rugs are becoming trendy this year. As an alternative style, we love a good shag rug – they help keep a space warm and cozy. There's also traditional rugs, oriental, Persian, tufted, hand knotted, braided, flat weave, and the list goes on. As part of the style, since a wall rug is a piece of art, you'll want to examine the rugs as if they were a painting. Consider where your eye is drawn on the rug. Typically, a solid color rug would not do a wall justice. Perhaps something abstract or colorful is more your style. For your inspiration, a few discount rug suggestions: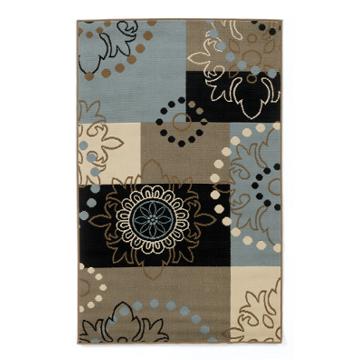 Ashley Furniture R276002 Medium Rug
This is a great piece for achieving an earthy space. If you have brown hardwood floors, the browns in the rug will compliment them well.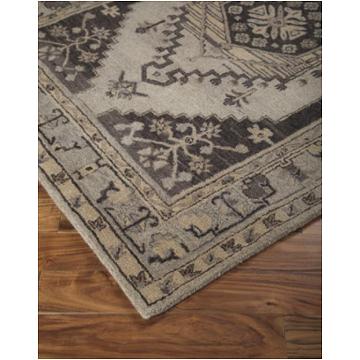 Ashley Furniture R400011 Accent Area Large Rug
This piece has fine details and reminds us of the Roman times. It will especially go great in an old-century styled space.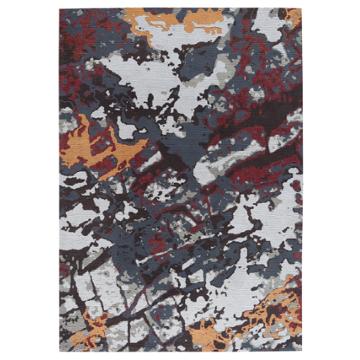 Ashley Furniture R403231 Accent Area Large Rug
This rug looks like it could be a work of art that's hung in the Philadelphia Museum of Art. Its abstract design will make you do a double take.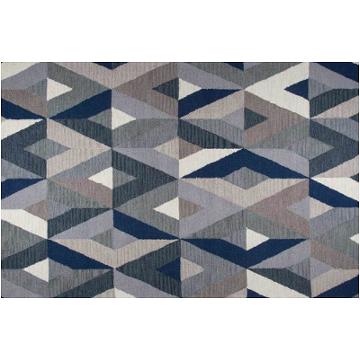 Coaster Furniture 970199I Accent Area Rug
Another abstract piece we love. We can see this on a wall in a Jersey shore home. The blues in it remind us of the ocean.
Have a question about purchasing a wall rug for your space?
Contact us
. Be sure to check in with our Clearance Center for highly discounted rugs with limited availability. Our
Clearance Center
is typically updated monthly. If you end up deciding that shopping for a wall rug online is not for you and that you rather see them in person and touch them, stop by our Central, New Jersey furniture stores.