Introduction to types of beams
A beam structure is used in engineering and construction to provide a safe and effective load passage that evenly distributes weight across a building's foundation. A structural member known as a beam can support weight primarily by resisting bending. The shafts are most commonly deflected by bending. 
Beams can sustain vertical loads as well as shear and bending moments. The beam structure is placed below the foundation and column to offer more comprehensive support across the building.
see also: about i beam
Reinforcements used in beam structure
Several alternative reinforcements can be utilised in a beam structure, depending on the type of building being constructed and the beam's intended usage. The most often employed underpinnings are:
Main bars: This kind of reinforcement is utilised to support the weight.
Support bars: Support bars are reinforcements installed on the top of a beam to hold the stirrups of the beam in place.
Stirrups: This reinforcement balances the structure's shear stresses or forces.
Why is the building of beams crucial?
A building's floors, ceilings, and roofs are supported by beams, which then pass the load to a vertical load-bearing element of the structure.

The framing for a building structure is provided by the lintel beam, which supports the above wall or partition material between openings.

The accumulated weight of stacked walls or other beams may occasionally be supported by larger, heavier beams called transfer beams, which then transfer the load to the supports.

I-beams are frequently employed in construction due to their remarkable load-bearing characteristics.
Source: Pinterest
See also: All about sand replacement method
Common types of structural beams
The following criteria are used to categorise the various types of beams:
Based on the construction method 

Based on the equilibrium condition 

Based on cross-section shapes 

Based on geometry 

Based on support conditions 

Based on construction materials
Overhanging beam
A beam type known as an overhanging beam has an end part that extends beyond its supports. Both cantilever and simply supported beam characteristics apply to this structure. A beam with double overhanging can have the overhanging portion at either end or both ends.
Cantilever beams
Cantilever beams are defined as those with one end fixed and the other end set to be free. The support is strained for a moment, and shear stress after the beam transfers the weight back to it. Bay windows, balconies, and even bridges can be built using cantilever beams. Typically, the cantilever is a beam with dimensions of length (l), thickness (t), and width (w), although it may be two beams joined at an angle.
Simply-supported beam
A supported beam has its ends supported or resting freely on supports. The most straightforward kind of construction is typically thought to be this beam. Since there are only three unknown reactions and three equilibrium equations, this shaft form is exceedingly typical and definitive—one ray from the roller support and another from the pinned support.
Curved beam
On their horizontal axes, these beams have a curved contour. Additionally, reinforced at their ends, they can withstand bending moments and shear and torsional pressures. They are most frequently used in the construction of arches and circles. They are also employed in building balconies, cranes, and cranes that give pre-camber for bridge-like structures. These beams don't have a linear strain distribution along their axes, making them difficult to design.
The T-section beam
This beam is often built monolithically from a slab of reinforced concrete. Isolated T-beams may occasionally be constructed to improve the concrete's compressive strength. Additionally, an inverted T-beam can be built following the loading specifications. Since the beam's depth is lessened than standard, more headroom is gained. T-beams are employed instead of regular shafts to reduce beam deflection across longer spans.
Reinforced concrete beam
Concrete and steel rods are combined to create reinforced concrete. Steel reinforcement is typically passively inserted before the concrete sets to augment the comparatively poor flexibility and tensile strength of concrete. The majority of construction projects use these beams. Due to its ability to withstand large compressive loads, reinforced concrete has advantages.
Precast beam
Precast concrete beams are versatile building materials that constructors can use for flooring, external and interior walls, concrete frameworks, staircases, wall cladding, and other construction purposes. In factories, this kind of beam is created. In contrast to on-site construction, the construction environment is easier to manage. The beam's concrete would be of a higher grade as a result.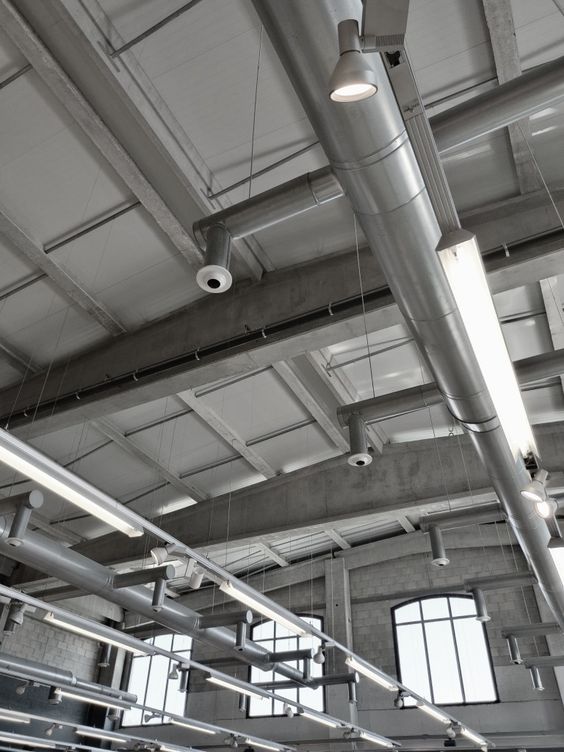 Source: Pinterest
By sandwiching a loose plate between two structural steel plates that are embedded in the cast-in-place concrete panel and the precast concrete panel and are then joined by welding, the connections of the beam are often made.
see also Design of Steel Structure: A complete guide
Fixed beam
A fixed beam has both ends attached to or constructed into walls. A built-in, encastre beam or fixed beam is another name for it.
For the same loading condition, it can hold greater weight than a beam that is just supported. Its maximum deflection is lower than that of a beam that is only supported. Compared to a supported shaft, it experiences a quieter ultimate bending moment.
Composite beams
These structures are made of two distinct materials: steel and concrete. Various appropriate cross-sections for the composite beam are available. Shear connections that join the two materials are essential components of cross beams. Shear connections for steel-concrete composite beams are typically installed into the concrete slabs and stud-drilled into the steel beams.
Timber beam 
Timber beams are wooden horizontal structural supports. These beams are standard in wooden-frame buildings like houses. The type of construction affects the wood choice. The building constructors can use sawn lumber or engineered wood products to make wooden beams. The twisting and warping resistance of engineered wood products is higher. The earliest kind of beams utilised in construction historically are made of wood.
Choosing the right beam for your project
To choose the right beam, first note the total load and the load that will be spread per foot of beam. Next, note the type of load that will be supported by the beam and choose the span that is needed. On accessing these data, you will be able to find the right beam.
Steel Beams: Advantages and disadvantages
Advantages
Strong
Durable
Can be customised
Involves quick fabrication time
Environment friendly
Affordable
Disadvantages
Involves high initial costs
Heavier than other beam structures like concrete and wood
Prone to incidents of fire
FAQs
What is a continuous beam?
More than two supports are scattered along a continuous beam's length.
Which beam shape is the strongest?
The most durable beam shape is the I-beam. It responds uniformly and equally in all directions and is robust in the standing order.
What shows the largest span of a beam?
The most significant allowable deflection determines the maximum span at the end.